Reading Time:
5
minutes
10 places guaranteed to cultivate your quirky side and spice up your après-ski chat. Ski Canada rates which slopes really are worth the detour.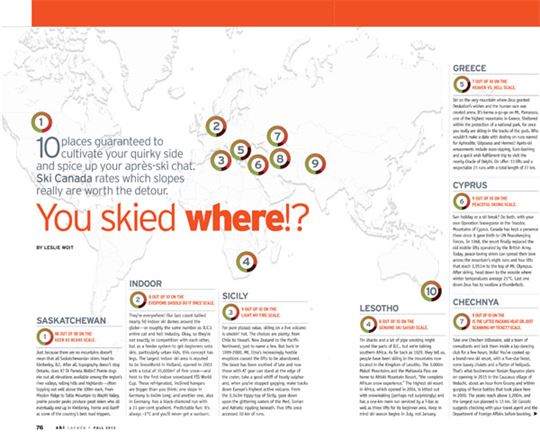 1. Saskatchewan
RATING: 10

 out of
 10
 on the 
Keen as BEANS scale.
 Just because there are no mountains doesn't mean that all Saskatchewanian skiers head to Kimberley, B.C. After all, topography doesn't stop Ontario, does it? Or Pamela Wallin? Prairie dogs eke out all elevations available among the region's river valleys, rolling hills and highlands—often topping out well above the 100m mark. From Mission Ridge to Table Mountain to Wapiti Valley, prairie powder peaks produce great skiers who all eventually end up in Kimberley, Fernie and Banff as some of the country's best road trippers.
2. Indoor
RATING: 8 out of 10 on the Everyone Should Do It Once scale.
They're everywhere! Our last count tallied nearly 50 indoor ski domes around the globe—or roughly the same number as B.C.'s entire cat and heli industry. Okay, so they're not exactly in competition with each other, but as a feeder system to get beginners onto skis, particularly urban kids, this concept has legs. The largest indoor ski area is reputed to be SnowWorld in Holland, opened in 2001 with a total of 35,000m² of firm snow—and host to the first indoor snowboard FIS World Cup. These refrigerated, inclined hangars are bigger than you think: one slope in Germany is 640 m long; and another one, also in Germany, has a black-diamond run with a 31-per-cent gradient. Predictable fun: it's always -1°C and you'll never get a sunburn
3. Sicily
RATING: 3. 9 out of 10 on the Light My Fire scale. 
For pure pizzazz value, skiing on a live volcano is smokin' hot. The choices are plenty: from Chile to Hawaii, New Zealand to the Pacific Northwest, just to name a few. But back in 1999-2000, Mt. Etna's increasingly hostile eruptions caused the lifts to be abandoned. The beast has been soothed of late and now those with AT gear can stand at the edge of the crater, take a good whiff of heady sulphur and, when you've stopped gagging, make tracks down Europe's highest active volcano. From the 3,343m tippy-top of Sicily, gaze down upon the glittering waters of the Med, Ionian and Adriatic rippling beneath. Five lifts once accessed 10 km of runs. 
4. Lesotho
RATING: 8 out of 10 on the Genuine Ski Safari scale. 
Tin shacks and a lot of pipe smoking might sound like parts of B.C., but we're talking southern Africa. As far back as 1929, they tell us, people have been skiing in the mountains now located in the Kingdom of Lesotho. The 3,000m Maluti Mountains and the Mahlasela Pass are home to Afriski Mountain Resort, "the complete African snow experience." The highest ski resort in Africa, which opened in 2004, is kitted out with snowmaking (perhaps not surprisingly) and has a one-km main run serviced by a T-bar as well as three lifts for its beginner area. Keep in mind ski season begins in July, not January.
5. Greece
RATING: 7 out of 10 on the Heaven vs. Hell scale. 
Ski on the very mountain where Zeus granted Deukalion's wishes and the human race was created anew. It's karma a-go-go on Mt. Parnassos, one of the highest mountains in Greece. Sheltered within the protection of a national park, for once you really are skiing in the tracks of the gods. Who wouldn't make a date with destiny on runs named for Aphrodite, Odysseus and Hermes? Après-ski amusements include ouzo-sipping, Euro-bashing and a quick wish fulfillment trip to visit the nearby Oracle of Delphi. On offer: 13 lifts and a respectable 23 runs with a total length of 27 km. 
6. Cyprus
RATING: 9 out of 10 on the Peaceful Skiing scale. 
Sun holiday or a ski break? Do both, with your own Operation Snowgoose in the Troodos Mountains of Cyprus. Canada has kept a presence there since it gave birth to UN Peacekeeping Forces. In 1968, the resort finally replaced the old mobile lifts operated by the British Army. Today, peace-loving skiers can spread their love across the mountain's eight runs and four lifts that reach 1,951m to the top of Mt. Olympus. After skiing, head down to the seaside where winter temperatures average 21°C. Last one down Zeus has to swallow a thunderbolt. 
 7. Chechnya
RATING: 9 out of 10 on the 
Is the Liftee Packing Heat or Just Scanning My Ticket? scale. 
Take one Chechen billionaire, add a team of consultants and lock them inside a lap-dancing club for a few hours. Voila! You've cooked up a brand-new ski resort, with a five-star hotel, some luxury chalets and a flutter of helipads. That's what businessman Ruslan Baysarov plans on opening in 2015 in the Caucasus village of Veduchi, about an hour from Grozny and within gunplay of fierce battles that took place here in 2000. The peaks reach above 3,200m, and the longest run planned is 13 km. Ski Canada suggests checking with your travel agent and the Department of Foreign Affairs before booking.
8. Armenia
RATING:  8 out of 10 on the mystic mountain scale.

Tsakhkadzor might seem to warrant a hearty Gesundheit in response but actually it deserves full kudos. Former training ground for the Soviet Olympic ski team, this southern Caucasus beauty (the world's first country to officially adopt Christianity as the national religion) straddles the spiritual border between Europe and Asia. These days, Leitner lifts serve 30km of slopes and the Republican Ski School (not sure whether that's its proper name or just an observation) is on hand to whip you into shape. The ski touring amid neighbouring volcanoes in the 3000m-plus club is where it's at.
9. Gulmarg, Kashmir
RATING:  9 out of 10 on the Rockin' Raj scale.

Disputed territory schmerritory. If the Pakistani and Indian armies spent more time in the powder, the world would be a more peaceful place. In the past decade, Gulmarg has earned a serious cult reputation for adventurous powder. A relatively new gondola reaches nearly 4,000m and a new chair installed in 2012 serves the top part now too, handy when the gondola shuts down when the Himalayan wind starts to blow. One of many quirks and privileges visitors can expect in such a magical mountain setting. Bootpacking within sight of Nanga Parbat is de rigueur up here, as is hot curry and fine tea. Tour softly, and carry a big gun.
 10. Tasmania
RATING:  7 out of 10 on the Scenery for Daredevils scale.

You've got to want to get there. Head for Australia and turn south for 240 km to alight on Tasmania. With only half a million people on the entire island, you shouldn't encounter many crowds at Ben Lomond Snow Sports—Tasmania's only vehicle-accessible alpine resort. Nestled in the heart of Ben Lomond National Park (almost half the island is reserves, parks or UNESCO sites so the wilderness is impressive), you'll pass through rain forest to reach the mountain plateau village at 1,453m. Seven drag lifts are open all winter (July through September).