Reading Time:
6
minutes
Keeping the public safe is one thing. Keeping the public happy is another altogether.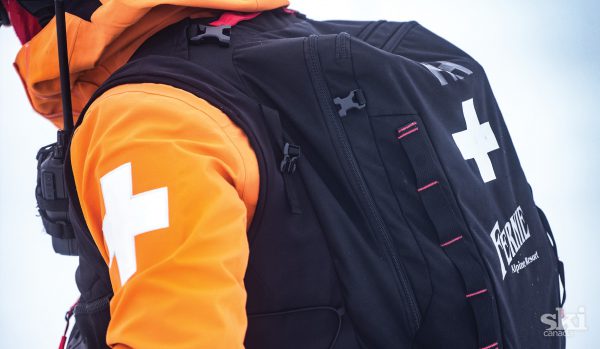 My legs were burning, chest heaving, lungs fighting to expel carbon dioxide and absorb oxygen. I was lying in a heap somewhere in the middle of Cedar Bowl at Fernie Alpine Resort, trying to catch my breath. As I lifted my snow-covered goggles, I watched ski patroller Mike Tonge drop-in from atop Snake Ridge. With a huge smile on his face, he deftly dominated the same 45-degree terrain that had just turned my legs to jelly.
"Fairly steep, eh?" laughed Kevin Giffin, another ski patroller who was the first one down the chute. It was late in the afternoon and many laps had been made that day. Our ski patrol hosts were showing no sign of slowing down, but after hours of chasing professional ski patrollers around Fernie, I was ready for some much needed après.
Long before sunrise that day, a group of Helly Hansen gear testers met at the bottom of Fernie's Timber Bowl Express Chair. Our group of writers and photographers were kitted out alongside members of Fernie Ski Patrol. As we rode the chairlift in the dark on the way to their morning briefing, I was already happy to be wearing a new merino baselayer and Lifaloft insulation—the same lightweight gear on Fernie's patrollers. Once we reached the top of Timber Chair, however, talk quickly changed from our new gear to safety and planning.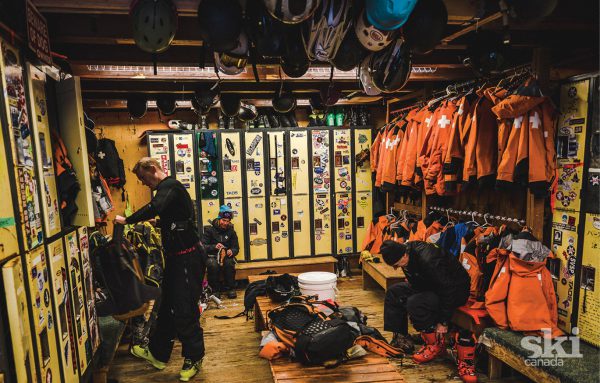 Fernie Ski Patrol manages an immense variety of alpine real estate and its mandate is mountain safety. The morning briefing is essential in ensuring everyone knows his or her responsibility for the day. When it comes to safety, nothing is left to chance.
"Snow and massive terrain, combined with intense weather, make this a particularly challenging place," said Matt Mosteller, vice-president for Resorts of the Canadian Rockies and one of our hosts. "That's why some of the best ski patrollers in Canada reside here."
Mosteller's boasting is backed up by facts. Fernie has an average annual snowfall of more than 900 cm. The resort spans five alpine bowls and 143 runs. Looming high above the resort is a massive Rocky Mountain headwall that adds to the complexity of the terrain and the constant avalanche danger. To ensure public safety in this dynamic environment, ski patrol staff must be qualified in first aid along with toboggan, rope, lift and avalanche rescue. They are also avalanche forecasters and control experts, and de facto mountain ambassadors. Some of them, Tonge included, are also fully trained paramedics.
The patrollers at Fernie have a lot on their plate, but according to Tonge, they wouldn't have it any other way. "It's a real team environment," he said modestly, "and a really tight-knit family, which makes the work easier. We all do everything around here."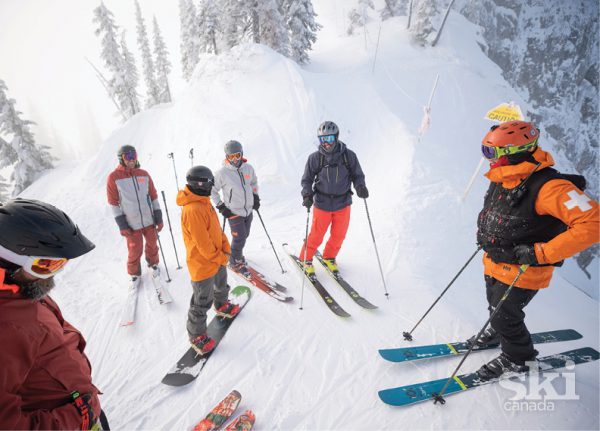 After the morning meeting, while most of the ski patrollers were fanning out to conduct trail checks in their assigned zones, we skied with Giffin and Tonge to the base of the White Pass Chair, then up to a patrol hut at 1,925m elevation. Here we met Paul Wright, another veteran patroller, who spent some time teaching us about Fernie's world-leading avalanche control techniques and forecasting. He explained that weather, snow conditions, visibility and temperature are constant variables that patrollers must face.
When asked about the toughest part of the job, Wright confirmed that "uncertainty can be challenging, plus long days when we're in a pattern of storm snow and weather." But without hesitation he was quick to put things in perspective when asked about the best part of the job. "It's the people, the co-workers and the guests. I love riding the chair with guests and talking to them." Keeping the public safe is one thing. Keeping the public happy is another altogether, but it's a priority for this team.
Wright told us that Fernie Ski Patrol strives to open terrain fast enough to keep the public content, while working carefully enough to maintain the proper level of safety. Balancing those two things is no easy task.
"We take a systematic approach," agreed Giffin. "Nothing is subjective. We work through the terrain as a team. As [data] becomes available to us, we start mitigating the hazards."
Mitigation of risks on the mountain involves tackling the big jobs first. This means firing-up Fernie's two avalaunchers early in the morning to trigger some controlled snow slides. The avalaunchers are nitrogen-powered cannons that launch explosive charges into avalanche territory in order to create controlled slides. From the launch hut atop White Pass, patrollers can shoot the headwall above the Timber and Curry bowls, helping to move massive amounts of snow away from dangerous areas. From a second hut at the top of Great Bear Express Quad, the same work is done on the other side of the mountain.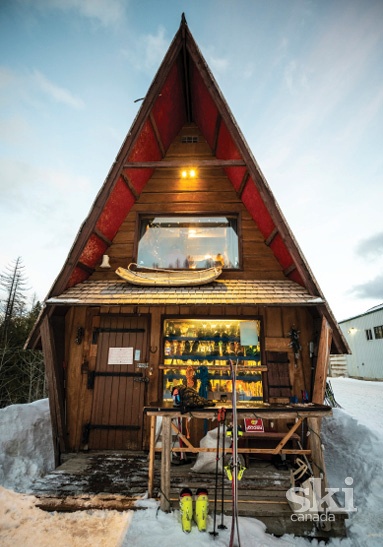 After the gun work is complete for the morning, teams of patrollers ski into the various zones to take visual assessments. This vital information is passed along to the forecasters. Then, section by section, patrollers begin bootpacking, throwing hand charges and ski-cutting smaller terrain features to make them safe. "We work from large to micro features," said Giffin. Once this extensive work is complete, the terrain can be sign-marked and opened. This gives the public what they came for: plenty of steep and deep skiing.
All three ski patrollers with us in the White Pass patrol hut are quick to name camaraderie, team spirit and a shared ethos of hard work as the highlights of working at Fernie. This is likely why Fernie Ski Patrol has such a low rate of attrition. When pushed, though, they all end up talking about how great the skiing is and how much champagne powder falls in the region.
"Yeah, the skiing is right up there," chuckled Wright.
"It's an awesome place to ski," agreed Giffin.
As the conversation turned to skiing, right on cue we were told to buckle our boots. It was time to ski.
We exited the patrol hut at the top of White Pass and squinted up at Polar Peak, which was shrouded in a sea of white clouds. With the morning's poor visibility, the Polar Peak Chair was closed, but Giffin had another destination in mind for us anyway. "I'm an Old Side skier for sure," he said with a glint in his eye.
Those familiar with Fernie will know that the mountain is unofficially split between the Old Side, encompassing the Cedar and Lizard bowls, and the New Side, made up of Currie, Timber and Siberia bowls. Our destination was Snake Ridge, on the Old Side, but not directly. We had some work to do first.
We made a traverse below Polar Peak to a ridgeline offering access to Currie Bowl. We dropped in behind Wright and Giffin, flying down a double-black ominously named Concussion. Tonge, out of a sense of duty, followed behind the group, presumably to pick up anyone who found himself with an actual concussion. We lapped Currie and Timber bowls for a few hours, each time finding well-spaced trees, fantastic stashes of snow and steep terrain.
Another trip up the White Pass Chair led us to a much-needed stop for lunch at Lost Boys Café. After refuelling, we were led in the opposite direction across Currie Bowl to a run called Corner Pocket. Navigating the run's unique entrance was sporty before we were sent hurtling into Lizard Bowl, which produced some of the best snow of the day.
From Lizard, we skied back down to the lower mountain, my legs screaming the whole way, before heading up Bear Chair. Another traverse took us from the patrol hut at the top of the chairlift, around the saddle of Cedar Bowl, to Snake Ridge. We made it to the Old Side.
"You won't find Frazillion on a trail map," joked Giffin, as he shot out of sight.
It was at this point, as I looked down a super-steep run that didn't exist on a map, that I noticed I was sweating profusely. My fresh new Helly Hansen baselayer was definitely keeping me dry, but it wasn't keeping my nerves in line. Before I let my doubts stop me, I followed Giffin down the steepest, gnarliest run of the day.
Lying in my sitzmark at the bottom of Frazillion, burning legs, heaving chest, I knew I was outmatched. The ski patrollers at Fernie manage some of the toughest avalanche territory in North America, but they also flat-out rip the mountain when they get the chance. I was glad that convincing Tonge, Giffin and Wright to make the transition from Cedar Bowl to the Griz Bar didn't involve any arm-twisting. For the partollers at Fernie, it was just another day at the office, but I was spent.