Reading Time:
4
minutes


NEW! latest app update includes two additional features:
* FIND SHOP – using a GPS equipped smartphone, SkiFinder can let you find a ski shop carrying the selected brand up to 100 km radius from your location in Canada
* Search by brand. Now you can see all posted ski tests for each participating brand.
2015 Ski Canada Test reports now in SkiFinder for expert all mt., slalom and big mt. categories. Additional categories added by late November.
Here's how to use SkiFinder.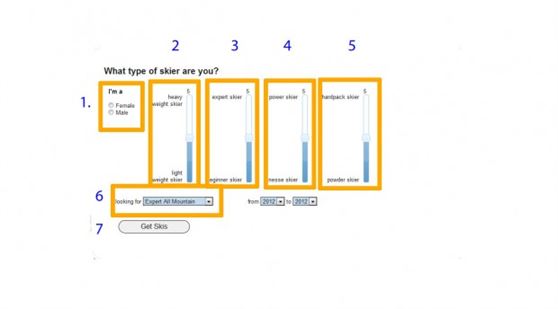 NOTE: Tester recommendations are averages of all tester scoring and, depending on the test category, affect the relative positions of the sliders. Ski Canada recommends adjusting the sliders a few times to see how they change model rankings.
Step 1. Select gender
The slider adjustments select numeric values that are the average of tester reports on each ski. It's the nature of ski testing that the values are subjective. For example, our lightest tester may feel almost all the skis tilt toward heavier skiers while the heaviest tester feels that many skis favour lighter skiers. All scores are averages so they sort to a general consensus. 
Ski Canada recommends leaving sliders at neutral (mid-point) for first selection then move sliders to your settings for a second selection. Compare results.
Step 2. Select your weight. For men, mid-point (5) is approximately 175 lb/80 kg. For women, mid-point (5) approx. 125 lb/57 kg
Step 3. Select your skiing ability – mid-point (5) approximately advanced level
Step 4. Select your skiing style. Low slider (less than 5) is finesse style skier with a fluid, technical approach; high slider (more than 5) is power style skier where strength, 'attack-the- mt.' best describes your skiing style.
Step 5. Select the snow conditions that you usually ski. Hardpack, groomed slopes above 5; soft snow, ungroomed, powder below 5
Step 6. Choose a test category. Expert all mountain. Adventure all mountain. Big mountain. Slalom. On-Piste Cruisers. Easy Cruise 
Step 7. Click FIND SKIS
Definition of terms in Ski Canada Test reports
Each tester evaluates a number of characteristics out of 10 points to help present a complete picture of how a ski stacks up after a single run. This data is provided for the reader without alteration. At the end of each day, the testers meet to compare their impressions and offer a consensus on which type of skier would enjoy the ski. Testers have their preferences relating to their skiing background and style, so factors such as the length of the ski tested and the tune affects each skier's opinion. Weigh their comments against what's important to you and how you ski.
Sample test report.
Score: 7.6 .. an average of the scores below
Initiation: 7.7   How easily the ski releases its edge and enters into the turn when steering is applied. Skis with greater shape usually initiate more easily.
Edge grip: 8.3   How well does the ski hold its line once it's tipped on edge. Usually the stiffer the torsion, the better the edge grip. Edge grip is important for carving. Remember the test skis were tuned by factory technicians for the test day and checked during the day for any deterioration. It makes a huge difference.
Stability: 7.6  As speed and snow conditions vary, so does the feel of the ski underfoot. A ski that is too soft may feel loose and floppy, while a stiff ski may feel heavy and be diffi cult to initiate into a turn. Well-balanced skis tend to be stable at designed-for speeds, but still retain liveliness for turning.
Agility: 6.8    The result of easy initiation at a variety of speeds, energy transfer from edge-to-edge and good acceleration. When the wow factor is there, the skis are matching the skier's weight and skiing style, and feel light, responsive and inspire confidence. For big cruising turns, agility is a good thing but don't confuse it with wandering instability.
Versatility: 7.2   Versatility continues to be one of the most important factors and for good reason. Ski manufacturers continue to offer innovations in ski profi les and materials to defi ne the perfect ski. Conditions change with every run and skiers live for the freedom of moving from the bumps, through the crud to carving at speed. In some cases the changes feel seamless to the testers, while in other cases the testers (who are only allowed one run per ski) have to really look for the sweet spot.
Short radius: 7.3   How the ski performs in short radius turns. Testers look for characteristics such as quick edge to edge turning which is a strength of deeper sidecut, smaller turn radius and shorter length skis.
Long radius: 8.1 How the ski performs in long radius turns. Testers discover if the ski's strength is in GS style turns with large arcs
Overall: 7.6   How much (or little) did the tester enjoy skiing the test ski.

Mobile app screen