Ski culture's crass class
---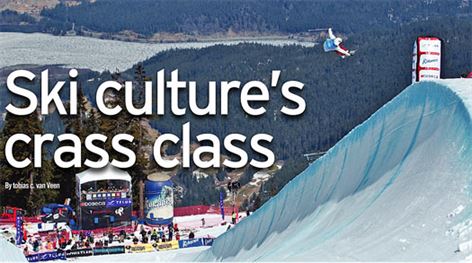 by tobias c. van Veen from the Spring 2011 issue. All photos: Mike Crane.
Underneath the polished veneer of sponsors and competitions of Whistler's Telus World Ski & Snowboard Festival thrives a serious shindig. On any given night you might just end up bumping hips, and lips, with your favourite X-Gamer/jibstar/big-mountain huckster while worshiping the beats of a talented turntablist.
Whistler is like that. The seemingly polar extremes of commercial and crass meet in what some liken to a pool of dirty spring meltwater, but what in Whistler is called "culture." Hell, it's even classy for the cesspool it is. Ditch the clothing (it's optional) and get schooled on the survival skills Whistler teaches all comers: how to party all day and ski every night. Or something like that.
"The fest is your best chance to ski acres of pow on an empty hill because everyone is too smashed to ski," says Athan Merrick, director with Nicolas Teichrob of Dendrite Studios, whose flick Out of the Shadows garnered the Best Big Mountain Movie at the IF3 last year. Local ski legend Chris Turpin agrees. "The best park conditions of the year bring more tall tees into town than a big and tall store," he proclaims, before leaping off the Sushi Village balcony, casually throwing a pole-tap D-spin into the snowbank below.
That said, nearly everyone in Whistler gets caught up in some aspect of the festival, be it the photo and film showdowns, nightly fire spinning and big-air shows, the free outdoor concerts and DJs, endless après and parties featuring local and imported talent, and the many opportunities to demo and sample next year's gear. Then there's the World Skiing Invitational, with the people's favourite Big Air and Superpipe finals drawing on-hill crowds of thousands, as local new school aerialists go tip-to-tail against the world's finest. New this year is an invitational Slopestyle, combining air with dare as competitors jib through boxes, rails and ramps.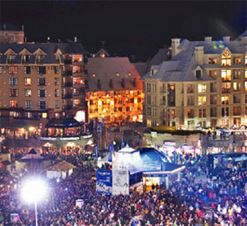 "It's a bangwhiz opportunity to catch the world's top winter sports photographers and filmmakers," says Mark Richards, landscape photographer. Indeed, the arts component has been ramped up for 2011, with prize money for the Pro Photographer Showdown topping $17,000 and the 10-year anniversary edition of the Filmmaker Showdown doubling to $10,000. Going into year two is 3PO, a showcase of digital shorts combining film, photography and animation, while State of the Art, the nine- day gallery event featuring everything that can be nailed to the wall or screwed to the floor, is where the art scene goes to be seen.
As Feet Banks, notorious film critic and one of the crew behind the Heavy Hitting B-Grade Horror Film Festival, puts it, "It's the only time of the year when the art geeks are just as cool as the jocks."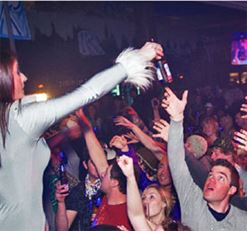 The town is, of course, hard at work preparing for what is informally known as "the second coming of the Mongol horde." Given that the festival is the blowout party for many of the resort's seasonal employees, it's a miracle the mountains continue to operate at all.

"It's Ullr's debauchery for the snow heathens," says Merrick. Indeed, in fewer than 10 days, the wage slavers tend to drink away all the funds scrimped and scrounged over the winter for that all-important plane ticket home.

So is it family-safe? Yes, indeed. Though the night is mainly adult playtime (or what passes for adult in Whistler), events such as Mascot Mayhem (may the best mascot win!), the hoop-jumping Whistler DogFest (just watch where you step) and the Freeze Dance Competition (like reality dance TV—but real) ensure good times for all but the wee-est of ages. And what the hell—you can always go skiing.

Add to your To Do list:

Go to Whistler, April 15-24, www.wssf.com.

Tags: British Columbia, Fimmaker Showdown, IF3, Pro Photographer Showdown, Whistler, Whistler-Blackcomb, World Ski and Snowboard Festival, World Skiing Invitational