Reading Time:
4
minutes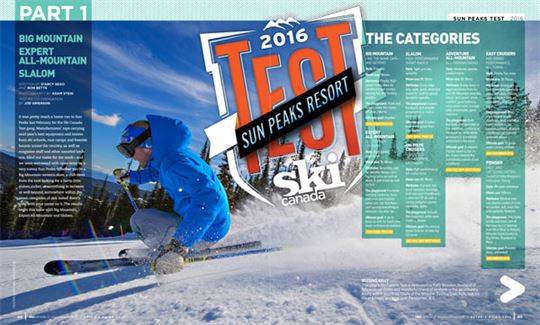 photo: ADAM STEIN * tester: Christian Armstrong
 Part 1  
WRITTEN BY D'ARCY SEGO AND RON BETTS
PHOTOGRAPHY BY ADAM STEIN
TEST PIT CO-ORDINATION BY JOE GRIERSON
It was pretty much a home run to Sun Peaks last February for the Ski Canada Test gang. Manufacturers' reps carrying next year's best equipment and testers from ski schools, race camps and freeride haunts across the country, as well as magazine staff and other assorted latch-ons, filled our roster for the week—and we were welcomed with open arms by a very sunny Sun Peaks. Whether you're a Big Mountain western skier, a club racer from the east looking for a turny little slalom rocket, or something in between or well beyond, somewhere within the seven categories of skis tested there's a ski with your name on it. The results begin this issue with Big Mountain, Expert All-Mountain and Slalom.
Ski Canada Test results from past years here and on SkiFinder. Mobile apps for SkiFinder, now including 'FIND SHOP' within 100km of your location in Canada, for iPhone and Android.
THE CATEGORIES
 BIG MOUNTAIN
Like the name says—and beyond
Style: Freeride
Waist size: 90mm+
Attributes: Playful, high-speed riding, likes air, camber/rocker combo, varying flex and binding position
The playground: Trees and bowls, under the ropes, off-piste, hike-to…
Ultimate goal: Powder
EXPERT ALL-MOUNTAIN
All-terrain cruising
Style: High-speed, aggressive
Waist size: 76-86mm
Attributes: Versatility, agility, stability; happy carving long turns as well as short, in soft snow as well as firm
The playground: Frontside morning corduroy, backside crud and freshies when you can find them—and carving everything in between, lap after lap…
Ultimate goal: A ski to keep up with (or lead) your most confident ski buddies
SLALOM
High-performance short radius
Style: Tight, precise, sprightly
Waist size: 65-70mm
Attributes: Crazy edge grip, agile, quick, short but powerful, built for speed, discipline specific
The playground: Eastern hardpack and smooth groomers in or near a racecourse
Ultimate goal: A better time in the gates than your buddy
ON-PISTE CRUISERS
High speed on hardpack, groomers
Style: High-performance GS-radius turns
Waist size: 68-78mm
Attributes: A proper balance between raw edge hold and user-friendliness, a detuned GS ski with a racing pedigree; power, versatility, agility
The playground: Smooth, few surprises, wide-open cruising slopes
Ultimate goal: No obvious speed limit for all-day, big GS turns
ADVENTURE ALL-MOUNTAIN
All-terrain skiing
Style: Moderate speeds, medium turns
Waist size: 68-78mm
Attributes: A step down in aggressiveness from Expert All-Mountain (see this issue), less speed, more comfort, good balance, easy sweet spot, manageable, predictable, good manners
The playground: Both frontside and backside of the mountain, corduroy to chopped up, wide-open groomers to sometimes untracked in the trees
Ultimate goal: A rewarding but relaxing day on the slopes despite the sometimes uneven snow conditions
EASY CRUISERS
Mid-range performance, all turns
Style: Sporty, fun, easy
Waist size: 70-75mm
Attributes: Strong performance with excellent value, initiation, stability, obvious sweet spot, an outstanding first carving ski
The playground: Blue squares and single diamonds, east and west (intermediate to advanced speeds), all snow conditions but typically groomed slopes
Ultimate goal: To grow one's carving abilities
POWDER
Heli-  and cat-skiing fatties
Tested at Mike Wiegele's Helicopter Skiing
Style: Off-piste wideboys
Waist size: 105mm+
Attributes: Modest sidecut, playful combo of rocker/camber, soft, even flex, unforgettable flotation
The playground: Soft, fluffy bowls and trees, out-of-the-way secret stashes from Blue River to Nelson, Whistler backcountry to Big White, Rossland to Revy…
Ultimate goal: Powder, deep, untracked
TEST CRITERIA
After careful instruction and discussion about the day's category, each Ski Canada Tester evaluates a number of characteristics out of 10 points to help present a complete picture of how a ski stacks up after a test run. This data is provided for the reader without alteration. At the end of each day, the testers meet to discuss their impressions and discuss the possibility of a consensus on goals like recommending which type of skier would most suit the ski. Testers have their preferences relating to their skiing background and style, so factors such as the length of the ski tested and the tune affects each skier's opinion. Here's what they are measuring:
EDGE GRIP: How well does the ski hold its line once it's tipped on edge. Usually the stiffer the torsion, the better the edge grip. Edge grip is important for carving. Remember, the test skis were tuned by factory technicians for the test day and checked during the day for any deterioration. It makes a huge difference. When did you last have your skis tuned?
STABILITY: As speed and snow conditions vary, so does the feel of the ski underfoot. A ski that is too soft may feel loose and floppy, while a stiff ski may feel heavy and be difficult to initiate into a turn. Well-balanced skis tend to be stable at designed-for speeds, but still retain liveliness for turning.
AGILITY: It's the result of easy initiation at a variety of speeds, energy transfer from edge-to-edge and good acceleration. When the Wow! factor is there, the skis are matching the skier's weight and skiing style, and feel light, responsive and inspire confidence. For big cruising turns, agility is a good thing, but don't confuse it with wandering instability.
VERSATILITY: Versatility continues to be one of the most important factors and for good reason. Ski manufacturers continue to offer innovations in ski profiles and materials to define the perfect ski. Conditions change with every run and skiers live for the freedom of moving from the bumps, through the crud to carving at speed. In some cases, design changes feel seamless to the testers, while in other cases the testers (who are only allowed one run per ski) have to really look for the sweet spot.
Thanks to our sponsors
Host ski area: Sun Peaks Resort
Team ski jackets: Helly Hansen
Team goggles: K2
Team ski gloves: Swany
Team ski socks: Icebreaker        Team headwear: Buff