Reading Time:
7
minutes
PRECISE, HIGH-PERFORMANCE SKIS FOR SHORT TO MEDIUM TURNS
Slalom skis are short, fast-'n'-furious, high-performance rippers for technical mutants and fearless athletes—and therefore, they're ideally suited for the small-mountain, riverbank ripper or the ice-pack bump-bobbler. The blender smoothies offer precision and excitement with more sidecut than any other type of ski. Their construction provides greater torsional rigidity and a stiffer flex, allowing quicker energy transfer and the enhanced edge grip needed to win races—or just spending the day on eastern hardpack turning and turning and turning.
The skis in this category grip, hold and handle with Porsche-like exhilaration. You can get a tremendous amount of edge angle and create an unprecedented vroom from each and every turn—and they make skiing gates, bumps, bulletproof ice and crazy-steep terrain just a wee bit easier.
Slalom skis are typically not available in lengths longer than 170 cm and come with an ability to perform like Sparky the Wonder Dog or Daffy Duck. So take the time to choose the right ski for you and you will be rewarded immensely. Choose the wrong one and you'll spend your ski day getting thrown around like a greased squirrel on roller skates.
Atomic | Blizzard | Elan | Fischer | Head | Nordica | Ogasaka |Salomon | Volkl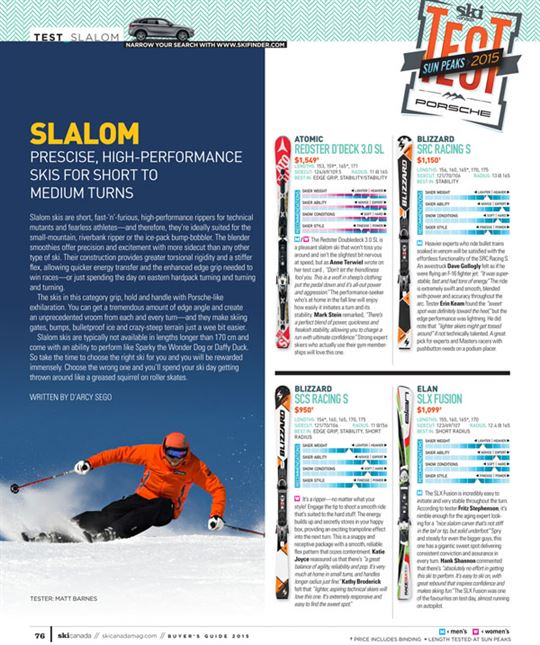 ATOMIC REDSTER D'Deck 3.0 SL
$1,549
LENGTHS AVAILABLE: 153, 159*, 165*, 171  *  SIDECUT: 124/69/109.5  *  RADIUS: 11 @ 165
BEST IN: EDGE GRIP, STABILITY
MEN & WOMEN   The Redster Doubledeck 3.0 SL is a pleasant slalom ski that won't toss you around and isn't the slightest bit nervous at speed, but as Anne Terwiel wrote on her test card , "Don't let the friendliness fool you. This is a wolf in sheep's clothing; put the pedal down and it's all-out power and aggression." The performance-seeker who's at home in the fall line will enjoy how easily it initiates a turn and its stability. Mark Stein remarked, "There's a perfect blend of power, quickness and freakish stability, allowing you to charge a run with ultimate confidence." Strong expert skiers who actually use their gym memberships will love this one.
BLIZZARD SRC RACING S
$1,150
LENGTHS AVAILABLE: 156, 160, 165*, 170, 175  *  SIDECUT: 121/70/106  *  RADIUS: 13 @ 165
BEST IN: STABILITY
MEN: Heavier experts who ride bullet trains soaked in venom will be satisfied with the effortless functionality of the SRC Racing S. An awestruck Dave Gollogly felt as if he were flying an F-16 fighter jet: "It was super-stable, fast and had tons of energy." The ride is extremely swift and smooth, blended with power and accuracy throughout the arc. Tester Erin Keam found the "sweet spot was definitely toward the heel," but the edge performance was lightning. He did note that "lighter skiers might get tossed around" if not technically talented. A great pick for experts and Masters racers with pushbutton needs on a podium placer.
BLIZZARD SCS RACING S
$950
LENGTHS AVAILABLE: 156*, 160, 165, 170, 175  *  SIDECUT: 121/70/106  *  RADIUS: 11 @156
BEST IN: EDGE GRIP, STABILITY, SHORT RADIUS
WOMEN: It's a ripper—no matter what your style! Engage the tip to shoot a smooth ride that's suited to the hard stuff. The energy builds up and secretly stores in your happy box, providing an exciting trampoline effect into the next turn. This is a snappy and receptive package with a smooth, reliable flex pattern that oozes contentment. Katie Joyce reassured us that there's "a great balance of agility, reliability and pop. It's very much at home in small turns, and handles longer radius just fine."Kathy Broderick felt that "lighter, aspiring technical skiers will love this one. It's extremely responsive and easy to find the sweet spot."
ELAN SLX FUSION
$1,099
LENGTHS AVAILABLE: 155, 160, 165*, 170  *  SIDECUT: 123/69/107  *  RADIUS: 12.4 @ 165
BEST IN: SHORT RADIUS
MEN: The SLX Fusion is incredibly easy to initiate and very stable throughout the turn. According to tester Fritz Stephenson, it's nimble enough for the aging expert looking for a "nice slalom carver that's not stiff in the tail or tip, but solid underfoot." Spry and steady for even the bigger guys, this one has a gigantic sweet spot delivering consistent conviction and assurance in every turn. Hank Shannon commented that there's "absolutely no effort in getting this ski to perform. It's easy to ski on, with great rebound that inspires confidence and makes skiing fun." The SLX Fusion was one of the favourites on test day, almost running on autopilot.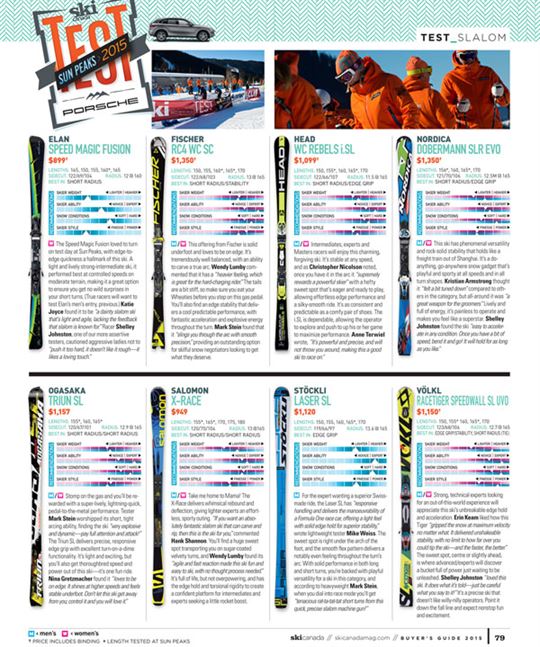 ELAN SPEED MAGIC FUSION
$899
LENGTHS AVAILABLE: 145, 150, 155, 160*, 165  *  SIDECUT: 122/69/104  *  RADIUS: 12 @ 160
BEST IN: SHORT RADIUS
WOMEN:  The Speed Magic Fusion loved to turn on test day at Sun Peaks, with edge-to-edge quickness a hallmark of this ski. A light and lively strong-intermediate ski, it performed best at controlled speeds on moderate terrain, making it a great option to ensure you get no wild surprises in your short turns. (True racers will want to test Elan's men's entry, previous.) Katie Joyce found it to be "a dainty slalom ski that's light and agile, lacking the feedback that slalom is known for." Racer Shelley Johnston, one of our more assertive testers, cautioned aggressive ladies not to "push it too hard, it doesn't like it rough—it likes a loving touch."
FISCHER RC4 WC SC
$1,350
LENGTHS AVAILABLE: 150, 155, 160*, 165*, 170  *  SIDECUT: 122/68/103  *  RADIUS: 13 @ 165
BEST IN: SHORT RADIUS (MEN) STABILITY (WOMEN)
MEN & WOMEN   This offering from Fischer is solid underfoot and loves to be on edge. It's tremendously well balanced, with an ability to carve a true arc. Wendy Lumby commented that it has a "heavier feeling, which is great for the hard-charging rider." The tails are a bit stiff, so make sure you eat your Wheaties before you step on this gas pedal. You'll also find an edge stability that delivers a cool predictable performance, with fantastic acceleration and explosive energy throughout the turn. Mark Stein found that it "slings you through the arc with smooth precision," providing an outstanding option for skilful snow negotiators looking to get what they deserve.
HEAD WC REBELS i.SL
$1,099
LENGTHS AVAILABLE: 150, 155*, 160, 165*, 170  *  SIDECUT: 122/66/107  *  RADIUS: 11.5 @ 165
BEST IN: SHORT RADIUS (MEN) EDGE GRIP (WOMEN)
MEN & WOMEN   Intermediates, experts and Masters racers will enjoy this charming, forgiving ski. It's stable at any speed, and as Christopher Nicolson noted, once you have it in the arc it "supremely rewards a powerful skier" with a hefty sweet spot that's eager and ready to play, allowing effortless edge performance and a silky-smooth ride. It's as consistent and predictable as a comfy pair of shoes. The i.SL is dependable, allowing the operator to explore and push to up his or her game to maximize performance. Anne Terwiel wrote, "It's powerful and precise, and will not throw you around, making this a good ski to race on."
NORDICA DOBERMANN SLR EVO
$1,350
LENGTHS AVAILABLE: 156*, 160, 165*, 170  *  SIDECUT: 121/70/106  *  RADIUS:12.5M @ 165
BEST IN: SHORT RADIUS (MEN) EDGE GRIP (WOMEN)
MEN & WOMEN   This ski has phenomenal versatility and rock-solid stability that holds like a freight train out of Shanghai. It's a do-anything, go-anywhere snow gadget that's playful and sporty at all speeds and in all turn shapes. Kristian Armstrong thought it "felt a bit tuned down" compared to others in the category, but all-around it was "a great weapon for the groomers." Lively and full of energy, it's painless to operate and makes you feel like a superstar. Shelley Johnston found the ski "easy to accelerate in any condition. Once you have a bit of speed, bend it and go! It will hold for as long as you like."
OGASAKA TRIUN SL
$1,157
LENGTHS AVAILABLE: 155*, 160, 165*  *  SIDECUT:120/67/101  *  RADIUS: 12.9 @ 165
BEST IN: SHORT RADIUS (MEN & WOMEN)
MEN & WOMEN   Stomp on the gas and you'll be rewarded with a super-lively, lightning-quick, pedal-to-the-metal performance. Tester Mark Stein worshipped its short, tight arcing ability, finding the ski "very explosive and dynamic—pay full attention and attack!" The Triun SL delivers precise, responsive edge grip with excellent turn-on-a-dime functionality. It's light and exciting, but you'll also get thoroughbred speed and power out of this ski—it's one fun ride. Nina Gretzmacher found it "loves to be on edge. It shines at higher speeds and feels stable underfoot. Don't let this ski get away from you; control it and you will love it."
SALOMON X-RACE
$949
LENGTHS AVAILABLE: 155*, 165*, 170, 175, 180  *  SIDECUT: 120/70/104  *  RADIUS: 13 @165
BEST IN: SHORT RADIUS (MEN & WOMEN)
MEN & WOMEN   Take me home to Mama! The X-Race delivers whimsical rebound and deflection, giving lighter experts an effortless, sporty outing. "If you want an absolutely fantastic slalom ski that can carve and rip, then this is the ski for you," commented Hank Shannon. You'll find a huge sweet spot transporting you on sugar-coated velvety turns, and Wendy Lumby found its "agile and fast reaction made this ski fun and easy to ski, with no thought process needed." It's full of life, but not overpowering, and has the edge hold and torsional rigidity to create a confident platform for intermediates and experts seeking a little rocket boost.
STÖCKLI LASER SL
$1,120
LENGTHS AVAILABLE: 150, 155, 160, 165*, 170  *  SIDECUT:119/66/97  *  RADIUS:13.6 @ 165
BEST IN: EDGE GRIP
MEN For the expert wanting a superior Swiss-made ride, the Laser SL has "responsive handling and delivers the manoeuvrability of a Formula One race car, offering a light feel with solid edge hold for superior stability," wrote lightweight tester Mike Weiss. The sweet spot is right under the arch of the foot, and the smooth flex pattern delivers a notably even feeling throughout the turn's arc. With solid performance in both long and short turns, you're backed with playful versatility for a ski in this category, and according to heavyweight Mark Stein, when you dial into race mode you'll get "tenacious rat-ta-tat-tat short turns from this quick, precise slalom machine gun!"
VÖLKL RACETIGER SPEEDWALL SL UVO
$1,150
LENGTHS AVAILABLE: 150, 155* 160, 165*, 170  *  SIDECUT: 123/68/104  *  RADIUS:12.7 @ 165
BEST IN: EDGE GRIP (MEN) STABILITY, SHORT RADIUS (WOMEN)
MEN & WOMEN  Strong, technical experts looking for an out-of-this-world experience will appreciate this ski's unbreakable edge hold and acceleration. Erin Keam liked how this Tiger "gripped the snow at maximum velocity no matter what. It delivered unshakeable stability, with no limit to how far over you could tip the ski—and the faster, the better." The sweet spot, centre or slightly ahead, is where advanced/experts will discover a bucket full of power just waiting to be unleashed. Shelley Johnston"loved this ski. It does what it's told—just be careful what you say to it!" It's a precise ski that doesn't like willy-nilly operators. Point it down the fall line and expect nonstop fun and excitement.