Reading Time:
11
minutes
Precise, high-performance skis for short to medium turns
The trend in skis lately seems to be leaning more toward the freeride side of the fence. We're seeing wider profiles, more twintips and longer-radius geometry—essentially skis that are designed to be jacks-of-all-trades. Admittedly, not every skier will have a need for a modern slalom ski, still there are plenty of Canadian skiers who know not to forget about the racehorses out there. These are specialty skis designed to do a specific job, and do it well.
If I were looking for a way to increase my athleticism, improve my agility or just have a howling good time in the weekend gates or just on the groomers, then a slalom ski will do that and more. The amount of edge angle you can get, the feeling of rebound from turn to turn, the quickness from foot to foot, all these things get me fired up about slalom skis.
I've had the pleasure of meeting, and skiing with, some of our country's most talented technical skiers. Skiers like Thomas Grandi, Mike Janyk, Marie-Michèle Gagnon and Elli Terwiel and I can tell you that a solid technical foundation allows you to rip hard in any condition. Just be ready for the ride—and the smiles that go along with it!
ATOMIC | BLIZZARD | ELAN | FISCHER | HEAD | KASTLE | NORDICA | OGASAKA | SALOMON | VOLKL
Meet the Testers. Skiing bios and top 3 scoring skis for each tester.
WRITTEN BY RON BETTS, Technical Editor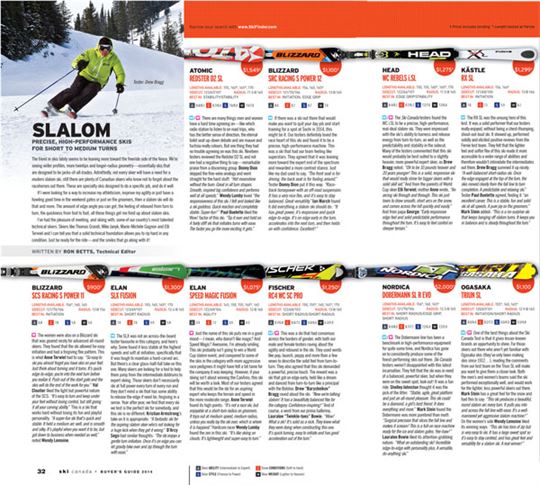 Atomic Redster D2 SL – men & women
LENGTHS AVAILABLE: 155, 160*, 165*, 170  *  SIDECUT: 123/67/107   *  RADIUS: 11.5 @ 165
BEST IN: men:Stability/women: Stability
There are many things men and women have a hard time agreeing on—like which radio station to listen to on road trips, who has the better sense of direction, the eternal toilet seat up-down debate and are mauve and fuchsia really colours. But one thing they had no trouble agreeing on was this ski. Nineteen testers reviewed the Redster D2 SL and not one had a negative thing to say—remarkable praise from a discerning group. Donny Dion skipped the fine-wine analogy and went straight for the hard stuff: "Hot moonshine without the burn. Great in all turn shapes. Smooth, inspired big confidence and performs well at all speeds."  Wendy Lumby loved "the responsiveness of this ski. I felt and looked like a ski goddess. Quick reaction and completely stable. Super-fun!"  Paul Ouelette liked the Wow! factor of this ski: "Tip it over and hold on. A fairly stiff ski that initiates turns with ease. The faster you go the more exciting it gets."
Blizzard SRC Racing S Power 12 – men
LENGTHS AVAILABLE: 156, 160, 165*  *  SIDECUT: 121/70/106   *  RADIUS: 13 @ 165
BEST IN: Initiation, Edge Grip
If there was a ski out there that would make you want to quit your day job and start training for a spot at Sochi in 2014, this might be it. Our testers definitely loved the race heart of this ski and found it to be a precise, high-performance machine. This was a ski that had our team feeling like superstars. They agreed that it was leaning more toward the expert end of the spectrum and rewarded a more centred stance. Just like my dad used to say, "The front seat is for driving, the back seat is for fooling around." Tester Donny Dion put it this way: "Race-track horsepower with an off-road suspension. It has a very nice flex, and it's easy to stay balanced. Great versatility." Ian March found it did everything a slalom ski should do: "It has great power, it's responsive and quick edge-to-edge. It's on edge early in the turn, accelerates into the next turn, and then holds on with confidence. Excellent!"
Blizzard SCS RACING S POWER 11 – women
LENGTHS AVAILABLE: 156*, 160, 165  *  SIDECUT: 121/70/106  *  RADIUS: 13 @ 156
BEST IN: Initiation
The women were also on a Blizzard ski that was geared nicely for advanced all-round skiers. They found that the ski allowed for easy initiation and had a forgiving flex pattern. This is what Anne Terwiel had to say: "So easy to ski you almost forget you have skis on your feet. Just think about turning and it turns. It's quick edge-to-edge; you're into the next turn before you realize it. Push out of the start gate and the skis will do the rest of the work for you."  Val Cloutier liked the light but powerful nature of the SCS: "It's easy to turn and keep under your feet without losing control, but still giving it all your carving ability."  This is a ski that works hard without losing its fun and playful personality. "A super-fun ski that's quick and stable. It held a medium arc well, and is smooth and silky. It's playful when you want it to be, but got down to business when needed as well," noted Wendy Lemoine.
Elan SLX Fusion – men
LENGTHS AVAILABLE: 155, 160, 165*, 170  *  SIDECUT: 123/69/107  *  RADIUS: 12.4 @ 165
BEST IN: Short Radius
The SLX was not an across-the-board tester favourite in this category, and here's why. Some found it less stable at the highest speeds and soft at initiation, specifically that it was tough to maintain a hard-carved arc. But there's a clear glass-half-full take on this one. Many skiers are looking for a tool to help them jump from the intermediate doldrums to expert skiing. Those skiers don't necessarily ski at full power every turn of every run and they don't mind a ski that has some ability to release the edge if need be; forgiving in a sense. Year after year, we find that every ski we test is the perfect ski for somebody, and this ski is no different. Kristian Armstrong's take on it is appropriate: "A fantastic ski for the aspiring slalom skier who's not looking for a huge kick when they get it wrong."  D'Arcy Sego had similar thoughts: "The ski enjoys a gentle turn initiation. Once it's on edge you can let gravity take over and zip through the turn with ease."
Elan Speed Magic Fusion – women
LENGTHS AVAILABLE: 145, 150, 155, 160*, 165  *  SIDECUT: 122/69/104  *  RADIUS: 12 @ 160
BEST IN: Agility
Just the name of this ski puts me in a good mood—I mean, who doesn't like magic? And Speed Magic? Awesome, I'm already smiling. This ski probably isn't going to win a World Cup slalom event, and compared to some of the skis in the category with more aggressive race pedigrees it might have felt a bit tame for the company it was keeping. However, if your skiing isn't about winning the CanAms, this ski will be worth a look. Most of our testers agreed that this would be the ski for an aspiring expert who keeps the terrain and speed in the more moderate range. Anne Terwiel found its high points: "It's not a race ski, but enjoyable at a short-turn radius on groomers. It tops out at medium speed, medium radius, unless you really lay the ski over, which is where it is happiest." Hardcore racer Wendy Lumby found the zen in this ski: "It's like skiing on clouds. It's lightweight and super-easy to turn."
Fischer RC4 WC SC Pro – men & women
LENGTHS AVAILABLE: 150, 155*, 160, 165*, 170  *  SIDECUT: 122/68/103   *  RADIUS: 13 @ 165
BEST IN: men: Short Radius/women: Short Radius
This was a ski that had consensus across the borders of gender, with both our male and female testers raving about the agility and rebound in the ski. They used words like pop, launch, peppy and more than a few wows to describe the solid feel from turn-to-turn. They also agreed that this ski demanded a powerful, precise touch. The reward was a ski that got on edge early, held like a dream and danced from turn-to-turn like a principal with the Bolshoi. Drew "Baryshnikov" Bragg raved about the ski: "Now we're talking slalom! It has a beautifully balanced flex for the category. Confidence-inspiring!" And of course, a word from our prima ballerina, Lauralee "Twinkle-toes" Bowie: "Wow! What a ski! It's solid as a rock. They knew what they were doing when constructing this one. It's quick turning, easy to initiate and has good acceleration out of the turn."
Head WC REbels i.SL – men & women
LENGTHS AVAILABLE: 150, 155, 160*, 165*, 170  *  SIDECUT: 122/66/107  *  RADIUS: 11.5 @ 165
BEST IN: men: Edge Grip/women: Stability
The Ski Canada testers found the WC i.SL to be a precise, high-performance, real-deal slalom ski. They were impressed with the ski's ability to harness and release energy from turn-to-turn, as well as the predictability and stability in the sidecut. Many of the testers commented that this ski would probably be best suited to a slightly heavier, more powerful expert skier, as Drew Bragg noted: "Oh to be 10 pounds heavier and 20 years younger! This is a solid, responsive ski that would really shine for bigger skiers with a solid skill set." And from the parents of World Cup skier Elli Terwiel, mother Anne wrote, "An arcing ski through and through. This ski just loves to draw smooth, short arcs on the snow, and comes across the hill quickly and easily." And from papa George:"Early responsive edge feel and solid predictable performance throughout the turn. It's easy to feel control on steeper terrain."
Kästle Rx SL – men
LENGTHS AVAILABLE: 156, 166  *   SIDECUT: 121/68/100    *  RADIUS: 13 @ 166
BEST IN: Initiation
The RX SL was the unsung hero of this test. It was a solid performer that our testers really enjoyed, without being a chest-thumping, shout-out-loud ski. It showed up, performed solidly and elicited positive reviews from the Fernie test team. They felt that the lighter feel and softer flex of this ski made it more accessible to a wider range of abilities and therefore wouldn't intimidate the intermediates out there. Drew Bragg summed it up nicely: "A well-balanced short-radius ski. Once the edge engaged at the top of the turn, the skis moved clearly from the fall line to turn completion. A predictable and relaxing ski." Tester Paul Ouelette agreed, finding it "an excellent carver. This is a stable, fun and solid ski at all speeds. A pure joy on the groomers." Mark Stein added: "This is a no-surprise ski that keeps banging off slalom turns. It keeps you in balance and is steady throughout the turn."
Nordica DOBERMANN SL R EVO – men & women
LENGTHS AVAILABLE: 156*, 160, 165*  *  SIDECUT: 121/70/106   *  RADIUS: 12.5 @ 165
BEST IN: men: Short Radius/women: Edge Grip, Short Radius
The Dobermann line has been a benchmark in high-performance equipment for quite some time, and Nordica has gone on to consistently produce some of the finest-performing skis out there. Ski Canada testers weren't disappointed with this latest incarnation. They felt that the ski was in need of a balanced, powerful skier, but when they were on the sweet spot, look out! It was a fun ride. Shelley Johnston thought it was the pick of the litter: "Stable, agile, great platform and just an all-round pleasure. This ski could be a diamond, a girl's best friend. It does everything and more."  Mark Stein found the Dobermann was more purebred than mutt: "Surgical precision that slices the fall line and makes it scream! This is a full-on race machine ready for the ice and slalom gates. Yee-haw!" Lauralee Bowie liked its attention-grabbing nature: "What an outstanding ski! Incredible edge-to-edge with personality plus. A versatile, do-anything ski."
Ogasaka Triun SL – men & women
LENGTHS AVAILABLE: 155*, 160, 165*  *  SIDECUT: 120/67/101   *  RADIUS: 12.9 @ 165
BEST IN: men: Initiation/women: Short Radius
One of the best things about the Ski Canada Test is that it gives lesser-known brands an opportunity to shine. For those skiers out there who aren't yet familiar with Ogasaka skis (they've only been making skis since 1912…), reading the comments from our test team on the Triun SL will make you want to give them a closer look. Both the men's and women's teams said the ski performed exceptionally well, and would work for the lighter, less powerful skiers out there. Mark Stein has a great feel for the snow and had this to say: "This ski produces a beautiful, round slalom arc every turn. It pulls you into and across the fall line with ease. It's a well-mannered yet aggressive slalom machine!" On the women's side Wendy Lemoine liked its winning ways: "This ski has tons of zip but is very easy to ski. It has a large sweet spot so it's easy to stay centred, and has great feel and versatility for a slalom ski. A real winner!"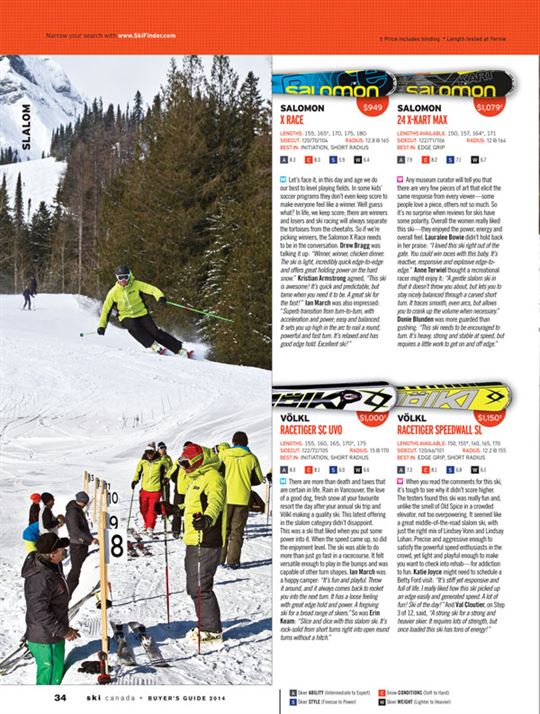 Salomon X Race – men
LENGTHS: 155, 165*, 170, 175, 180  *  SIDECUT: 120/70/104   *  RADIUS: 12.8 @ 165
BEST IN: Initiation, Short Radius
Let's face it, in this day and age we do our best to level playing fields. In some kids' soccer programs they don't even keep score to make everyone feel like a winner. Well guess what? In life, we keep score; there are winners and losers and ski racing will always separate the tortoises from the cheetahs. So if we're picking winners, the Salomon X Race needs to be in the conversation. Drew Bragg was talking it up: "Winner, winner, chicken dinner. The ski is light, incredibly quick edge-to-edge and offers great holding power on the hard snow."  Kristian Armstrong agreed, "This ski is awesome! It's quick and predictable, but tame when you need it to be. A great ski for the fast!"  Ian March was also impressed: "Superb transition from turn-to-turn, with acceleration and power; easy and balanced. It sets you up high in the arc to nail a round, powerful and fast turn. It's relaxed and has good edge hold. Excellent ski!"
Salomon 24 X-Kart Max – women
LENGTHS AVAILABLE: 150, 157, 164*, 171  *  SIDECUT: 122/71/106    *   RADIUS: 12 @ 164
BEST IN: Edge Grip
Any museum curator will tell you that there are very few pieces of art that elicit the same response from every viewer—some people love a piece, others not so much. So it's no surprise when reviews for skis have some polarity. Overall the women really liked this ski—they enjoyed the power, energy and overall feel. Lauralee Bowie didn't hold back in her praise: "I loved this ski right out of the gate. You could win races with this baby. It's reactive, responsive and explosive edge-to-edge."  Anne Terwiel thought a recreational racer might enjoy it: "A gentle slalom ski in that it doesn't throw you about, but lets you to stay nicely balanced through a carved short turn. It traces smooth, even arcs, but allows you to crank up the volume when necessary."  Donie Blunden was more guarded than gushing: "This ski needs to be encouraged to turn. It's heavy, strong and stable at speed, but requires a little work to get on and off edge."
Völkl Racetiger SC UVO – men
LENGTHS: 155, 160, 165, 170*, 175  *  SIDECUT: 122/72/105    *  RADIUS: 15 @ 170
BEST IN: Initiation, Short Radius
There are more than death and taxes that are certain in life. Rain in Vancouver, the love of a good dog, fresh snow at your favourite resort the day after your annual ski trip and Völkl making a quality ski. This latest offering in the slalom category didn't disappoint. This was a ski that liked when you put some power into it. When the speed came up, so did the enjoyment level. The ski was able to do more than just go fast in a racecourse. It felt versatile enough to play in the bumps and was capable of other turn shapes. Ian March was a happy camper: "It's fun and playful. Throw it around, and it always comes back to rocket you into the next turn. It has a loose feeling with great edge hold and power. A forgiving ski for a broad range of skiers." So was Erin Keam: "Slice and dice with this slalom ski. It's rock-solid from short turns right into open round turns without a hitch."
Völkl RACETIGER SPEEDWALL SL – women
LENGTHS AVAILABLE: 150, 155*, 160, 165, 170  *  SIDECUT: 120/66/101     *  RADIUS: 12.2 @ 155
BEST IN: Edge Grip, Short Radius
When you read the comments for this ski, it's tough to see why it didn't score higher. The testers found this ski was really fun and, unlike the smell of Old Spice in a crowded elevator, not too overpowering. It seemed like a great middle-of-the-road slalom ski, with just the right mix of Lindsey Vonn and Lindsay Lohan. Precise and aggressive enough to satisfy the powerful speed enthusiasts in the crowd, yet light and playful enough to make you want to check into rehab—for addiction to fun. Katie Joyce might need to schedule a Betty Ford visit: "It's stiff yet responsive and full of life. I really liked how this ski picked up an edge easily and generated speed. A lot of fun! Ski of the day!" And Val Cloutier, on Step 3 of 12, said, "A strong ski for a strong and heavier skier. It requires lots of strength, but once loaded this ski has tons of energy!"
Narrow your search with www.SkiFinder.com