Reading Time:
6
minutes
Fernie Test 2014
The Categories Explained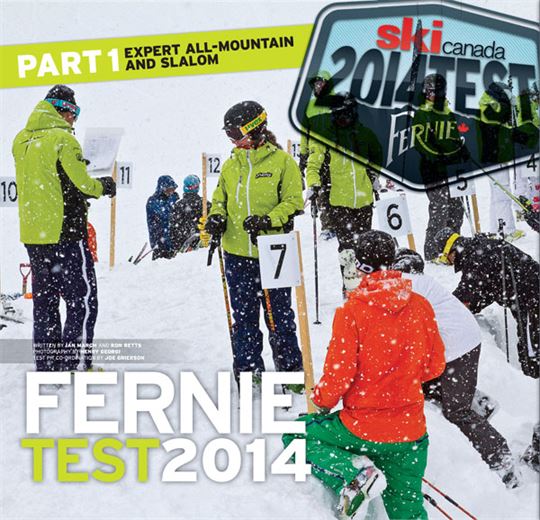 Seven Ski Canada categories were tested again at Fernie this year, with favourite Expert All-Mountain and new kid Slalom in this issue. Also tested at Fernie were: Big Mountain for the freeriding ilk; On-Piste Cruisers and Easy Cruising for groomed slopes at a range of speed limits; and Adventure All-Mountain to cover a range of conditions at different levels of skill. And in what is now a Ski Canada tradition, Powder skis were again shipped from one powder paradise to another to be tested by the guides at Mike Wiegele Helicopter Skiing.
THE CATEGORIES
EXPERT ALL-MOUNTAIN
All-terrain cruising, long and short turns
As well as checking agility and competence in soft snow, testers skied this category up to high cruising speeds for recreational skiers and assessed stability in long and short turns more on the groomed—but not exclusively. Testers pushed the limits in this category. They expect these skis to do everything and test them aggressively. Overall versatility in all kinds of conditions defined the best skis in this category. Waist 76-86.  (Buyer's Guide 2014)
 SLALOM
Precise, high-performance skis for short to medium turns
Slalom skis are designed for precision, agility and edge grip, which is how the testers skied them. These skis are generally discipline-specific, with a strong following at competitive ski clubs in the east. They perform really well in situations where skidded turns are not an option. With sidecuts around 12-14 metres, these skis are at home on firm snow and like to be skied fast. They are generally found on the feet of skiers with solid skills. Waist 65-70.  (Buyer's Guide 2014)
 BIG MOUNTAIN
Like the name says—and beyond
This freeride category continues to test the limits. Twintips long ago evolved from the terrain park to the trees and off under the ropes. Big Mountain skis continue to be seen more and more all over the mountain—and age spectrum. Manoeuvrability and stability make them popular choices for tricky off-piste terrain as well as high-speed riding, taking air and landing switch. Playful cambers, binding positions and flex patterns make these skis the most difficult category to judge.
Waist 90+.  (See Fall 2013 issue.)
 ADVENTURE ALL-MOUNTAIN
All-terrain skiing, moderate speeds, medium turns
To match the expectations for this group, testing was not as fast or aggressive as in the high-performance Expert All-Mountain category. The same assessment of comfort in ungroomed snow was checked, with special attention to such things as how balanced they felt (sweet spot) and general good manners in less-than-perfect conditions. Testers want these skis to respond to every demand, and also be manageable and predictable. Waist 75-85.  (See Fall 2013 issue.)
 ON-PISTE CRUISERS
High-performance GS-radius turns
Testers pushed the limits to find the best balance between raw edge hold and user-friendliness. These detuned GS cruisers were not tested in gates, but most skis in this category have a racing pedigree. Testers devoted special attention to such things as agility, power and edge grip, and Fernie offered plenty of variety in its terrain for the skis to demonstrate some versatility. The category is not expected to have a speed limit.
Waist 68-78.  (See Fall 2013 issue.)
 EASY CRUISING
Mid-range performance in long and short turns
These skis are expected to offer excellent value, but also strong performance at intermediate to advanced speeds on groomed slopes. Appropriate criteria such as ease of initiation and stability were given a lot of attention in identifying the best skis in this category. This category represents for many skiers their first carving skis and skis that can 
grow with them as speed and skills increase. 
Waist 70-75.  (See December 2013 issue.)
POWDER
Fat boys, off-piste, heli- and cat-skiing
Big snow, soft snow—it doesn't get any clearer than that. These skis hang in the shop windows of places like Rossland, Revelstoke and Fernie more than they actually make it to car roofs, but if you still have room in your quiver, the long, über-wide boards with modest sidecuts and soft, even flexes will give you some unforgettable flotation and easy turning in the deep stuff. Waist 90+.  (See December 2013 issue.)
Skier Abilities
Testers often use common ability ratings to define the type of skier who would best enjoy a particular ski. Here's a summary of those ratings to help you determine if they're talking about you. As you read through the test this issue and the next two, compare your own body weight and skiing style with those of the Ski Canada testers. Skiers who are light on their feet and ski with finesse and agility will rate a ski much differently than stronger skiers who power their way through a turn, snow conditions or terrain. Be sure to consider your level of fitness and number of skiing days per year when you are making your decision—it's always nice to be vertical when you hit the accelerator.
EXPERT skiers have well-refined technical skills such as pressure control, enabling them to maximize carving and efficiency. They perform with ease in difficult conditions. They can sense differences in ski and snow behavior, and modify technique on the fly. Ski testers are all experts and create photo ops the entire length of the run.
ADVANCED skiers ski fast and can carve on groomed conditions. They have the confidence to ski almost any pitch, including off-piste slopes. Their repertoire of ski experience is well developed to include all snow and slope conditions. They can adjust technique to suit prevailing conditions, although they don't always do it with style. Advanced skiers can enjoy good slalom and carving skis, and have fun off-piste.
INTERMEDIATE skiers are well on their way to skiing the whole mountain. They have overcome most fears of speed and can turn at will on Green and Blue slopes. Intermediates usually ski parallel except when their confidence is shaken. Intermediates enjoy skis that have good stability, a big sweet spot and versatility to allow room to improve. Specialized skis such as slalom and high-performance carvers are usually not a good choice.
ASPIRING skiers are those who are just at the beginning of the learning process. They snowplow often and are still gaining experience with snow texture, choosing a line down the slope and usually ski quite slowly. Aspiring skiers prefer Green slopes and may do rudimentary parallel turns in ideal conditions.
TEST CRITERIA
After careful instruction and discussion about the day's category, each tester evaluates a number of characteristics out of 10 points to help present a complete picture of how a ski stacks up after a test run. This data is provided for the reader without alteration. At the end of each day, the testers meet to discuss their impressions and attempt to find a consensus on goals like recommending which type of skier would most suit the ski. Testers have their preferences relating to their skiing background and style, so factors such as the length of the ski tested and the tune affects each skier's opinion. Weigh their comments against what's important to you and how you ski. Here's what they are measuring:
EDGE GRIP: How well does the ski hold its line once it's tipped on edge. Usually the stiffer the torsion, the better the edge grip. Edge grip is important for carving. Remember, the test skis were tuned by factory technicians for the test day and checked during the day for any deterioration. It makes a huge difference. When did you last have your skis tuned?
STABILITY: As speed and snow conditions vary, so does the feel of the ski underfoot. A ski that is too soft may feel loose and floppy, while a stiff ski may feel heavy and be difficult to initiate into a turn. Well-balanced skis tend to be stable at designed-for speeds, but still retain liveliness for turning.
AGILITY: It's the result of easy initiation at a variety of speeds, energy transfer from edge-to-edge and good acceleration. When the Wow! factor is there, the skis are matching the skier's weight and skiing style, and feel light, responsive and inspire confidence. For big cruising turns, agility is a good thing, but don't confuse it with wandering instability.
VERSATILITY: Versatility continues to be one of the most important factors and for good reason. Ski manufacturers continue to offer innovations in ski profiles and materials to define the perfect ski. Conditions change with every run and skiers live for the freedom of moving from the bumps, through the crud to carving at speed. In some cases, design changes feel seamless to the testers, while in other cases the testers (who are only allowed one run per ski) have to really look for the sweet spot.