Reading Time:
3
minutes
Back to Basics
Snow: Blackcomb
Photos by Gillian Morgan
Remember all those boring side-slipping exercises you did as a kid in ski lessons when all you really wanted to do was play in the trees and hit jumps? Maybe you should consider putting them together. I'm not suggesting you spend your onhill time practicing side-slips, but don't be afraid to incorporate the skill into the tactics you use when exploring and negotiating fun new terrain. For example, in this sequence I've come upon a little drop in the trees on Blackcomb Mountain.
| | |
| --- | --- |
| 1. Launching straight down the fall line at speed would cause me to overshoot my desired route to skier's left of the trees below, but cutting hard skier's left before the drop would send me right into a collection of tree and rock wells. | |
| 2. Instead, I opt to let my skis slide down the feature a bit. | |
| 3. Without stopping or fully interrupting my rhythm, I'm able to dump some speed and slide off the end of the feature… | |
| 4. … dropping into the pocket of snow already pointed in the direction I need to head upon landing. | |
Hitting flats on fats
My philosophy on ski selection has always been to pick a ski that works best in the conditions you want or where you expect to spend most of your time. Learning to work with your selection in other conditions you may encounter is part of the picture, however. I spent most of last season around Whistler on a pair of rockered boards with a waist of 132 mm that I'm skiing on here. It's perhaps not the best choice for groomers, but despite what many believe, certainly manageable. So if you prefer to ski deep ungroomed terrain, buy, borrow, demo (but don't steal) a pair of superfats and use these pointers to negotiate the groomers on your way back to the chair.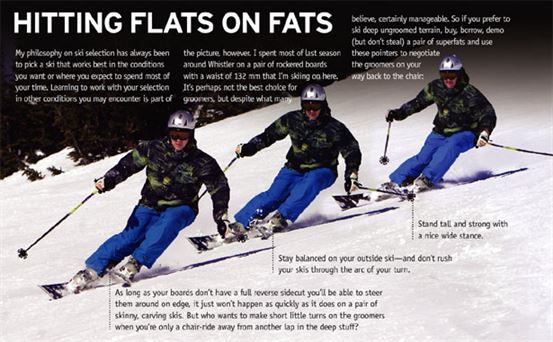 Stand tall and strong with a nice wide stance.
Stay balanced on your outside ski—and don't rush your skis through the arc of your turn.
As long as your boards don't have a full reverse sidecut you'll be able to steer them around on edge, it just won't happen as quickly as it does on a pair of skinny, carving skis. But who wants to make short little turns on the groomers when you're only a chair-ride away from another lap in the deep stuff?