Reading Time:
2
minutes
It doesn't take a lot of fog to make even the most familiar run a mystery. Forget exploring the world's largest resorts, even on a sunny day. Getting lost on ski hills is not hard. The SKADI app promises to end the mystery of navigating ski resorts by becoming a guide on your phone and ear buds.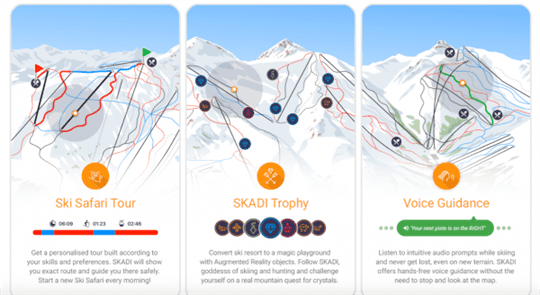 "Our unique model for tracking user-movement on the mountain enables us to create bespoke routes with the ability to avoid specific types of terrain, lift queues and busy slopes," says Ivan Mikhaylov from SKADI's development team. "SKADI's audio guide and tracker uses complex algorithms to create a personalized skiing experience, analyzing a combination of geo-data and user behaviour records."
At its most basic the app (for iOS and Android) is Google Maps for resorts. It tracks location on digital trail maps, voice prompts help navigate from point to point and it can predict how long it will take to get from one place to another. It can also serve as guide, suggesting routes and runs to suit pre-entered preferences, again relying on voice guidance to lead the way.
In addition, the app can create game out of the skiing experience. Like PokemonGo, augmented reality challenges allow skiers to score points, collect virtual 'crystals' and interact with mountain creatures right on the runs.
The app has partnered with more than 50 of the world's leading resorts. At this point Whistler-Blackcomb is the only Canadian partner, but there about 10 U.S. resorts and most of the big destinations in Europe.
As for free skiing, download the app (for EUR 14.99 per year) this fall and automatically be entered to win a week of free skiing at any resort. http://skadi.guide
RYAN REPORT is a frequent web post by Ski Canada magazine's technical editor, Ryan Stuart.