Reading Time:
7
minutes
A TRIP THROUGH B.C.'S SOUTHERN INTERIOR ANSWERS THE PRESSING QUESTION: BIG WHITE OR RED, WHICH IS RIGHT FOR YOU?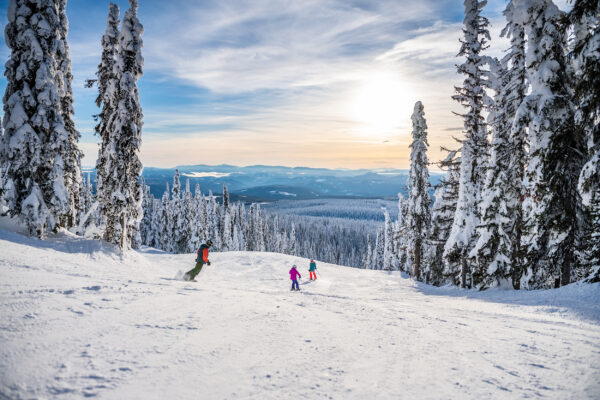 Here's an interesting fact: Red Mountain and Big White both have 119 ski runs.
And that's pretty well where the similarities end.
You could argue they also share a common status as being among the top dogs of B.C. ski resorts. Stack the big names in a pile, based on size, terrain, reputation, you name it, and these two colourful contenders will be near the top every time. But look closer and you'll see the ways they earned that status couldn't be more different. They may be only three-and-a-half hours apart by road, but they are separated by much more than just the Monashees.
So, should you cruise into the purpose-built Big White Ski Resort that abounds in intermediate terrain and family-focused activities? Or head a little deeper into the mountains to test Red's endlessly challenging terrain looming above the perfect little ski town that is Rossland?
BY THE NUMBERS
| | Red Mountain | Big White |
| --- | --- | --- |
| SIZE | 1,558ha | 1,147ha |
| SUMMIT | 2,075m | 2,319m |
| VERTICAL DROP | 890m | 777m |
| CHAIRLIFTS | 6 | 10 |
| ANNUAL SNOWFALL | 760cm | 750cm |
| PEAK SINGLE DAY ADULT LIFT TICKET | $144 | $179 |
| YEARS IN OPERATION | 75 | 59 |
| HOURS FROM A RELIABLE AIRPORT | 3.5 | 0.9 |
TERRAIN
For some, terrain is the only thing that matters. Big White looks like it has the edge on Red, judging from the impressive layout of runs on the trail map. But at Red, it's what's inside—and in between—that counts. Granite Mountain (Red's principal peak) is a 360° attraction. Ski off it in any direction and you'll find lines among the trees. You may never find the same line a second time, even if you look for it, but you'll probably find something else just as interesting. Have you ever been to a ski resort and felt like you'd skied it all halfway through the week? You would need to book off a few seasons at Red.
Whether you are getting lost in the Powder Fields (it's easy to do, but impossible to miss the safety of South Side Road at the bottom), or slowly working your way skier's left from the Slides area to see just how steep and tightly treed you like your terrain, every run at Red can be an adventure. Across the continent, ski bums speak reverently of Red's legendary lines.
The recent additions of the Grey Mountain (2013) and Topping Creek chairlifts have expanded Red's cache of intermediate terrain, but its strengths still skew toward the more advanced end of the skill spectrum.
When it comes to keeping intermediates happy, Big White delivers. It has an impressive 1,147 patrolled hectares of terrain, more than half of which is rated as intermediate. Long cruisers abound, with some seeming to go on forever, including those leading down to the far-west Gem Lake Express. Way over on the east side, the Black Forest is a refuge when visibility gets tough up top, as it sometimes does.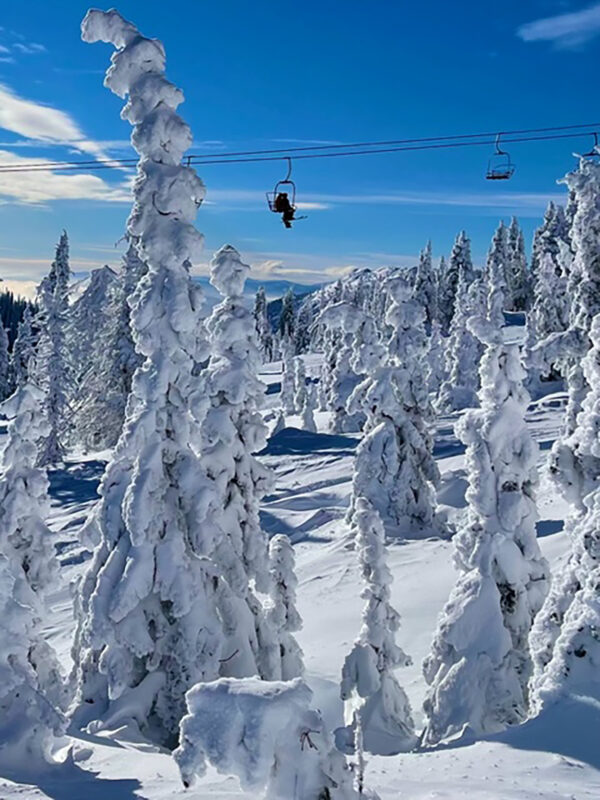 APRÈS ACTIVITIES
Big White has the clear advantage here. Let us count the ways: skating, cross-country skiing, tubing, dog-sled tours, a children's snowmobile track and horse-drawn sleigh tours (the ice climbing tower was a victim of the insurance industry). Happy Valley, the venue for all these attractions, is directly linked to the base village by a gondola. Before you crack a cold one or head to the hot tub, you can point the kids to the gondola and know everyone will be right where they want to be.
There is no amusement park element at Red. Base area attractions, such as they are, are strictly private. In town, it's a different story. Rossland is one of the great ski towns on the continent. Keeping it real with a stroll along Columbia Avenue can be considered an exercise in authenticity all on its own. On the off chance that you haven't rendered your quads useless on the slopes, the locals maintain a stellar network of trails. Grab some skinny skis and hit the Blackjack Ski Club's cross-country trails. Or set some knobby tires spinning. Revolution Cycles rents fat bikes and grooms a network of singletrack right in, and above, town.
DINING
Eating at Big White couldn't be easier. There are two dozen establishments, ranging from cafés to fancy, including eight lounges and bars, all within a stroll along the central village.
The Bullwheel is a standby, serving three meals a day of standard fare like $20 burgers and $17 curries. For a Big White specialty, try the triple cheese fondue at The Woods and see for yourself if it deserves to be as famous as Woods claims it is (even if the answer is no, you still get to eat a triple cheese fondue). Slightly more upscale, the Gunbarrel Grill includes terms like confit, shank and tataki on its menu.
Among the eight bars and lounges on site, Snowshoe Sam's is the biggest, with lots of room for your group to get as close to, or far from, the live acts as you like.
Eaters in Rossland are more free-ranging. The town sprang to life during a gold boom in the late 19th century. Its main streets, Columbia and Washington, are still laid out in Old West style, as though they'd need to be wide to offer some routes around mud holes. The independent shops that make up a compact but comprehensive downtown are dotted with restaurants and bars that cater to discerning locals at least as much as come-and-go tourists.
Mook Thai offers a lively menu of "West Coast Thai" food from the historic old fire hall in Upper Rossland. Right downtown, the Prestige Mountain Resort is home to Gabrielle's restaurant. The food, and lodgings, are more casual than what's found at the mountain where the Josie Hotel and Velvet restaurant set the standard.
The nachos at Rafters, the oldest ski pub in North America, just keep getting better (and bigger). In town, the Flying Steamshovel offers a tasty craft beer list, good food and occasional live acts. Rossland Beer Company's central microbrewery is a hopping place to stop in for some local flavour—you can order food from the Underbelly Bistro across the street.
LODGING
Twenty years ago you could count your lodging options at Red and Rossland on one hand. Now you'd have to take off your boots to keep an accurate tally. The cozy Red Shutter Inn remains an affordable redoubt at a reimagined base that's now well-supplied with time-share condo units. For slopeside hotel options in Canada, there have been few bigger stories this decade than the opulent Josie Hotel (2019), home to Velvet restaurant (the name says it all).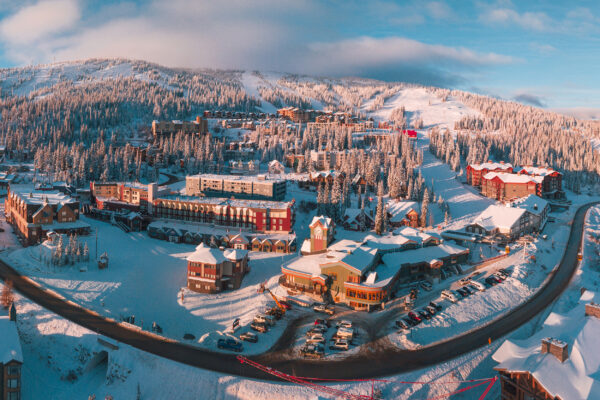 But boutique hotels won't be right for every Red aspirant. At the far side of the parking lot, budget beaters can find a bed at the Red-owned Nowhere Special hostel (2018), which seems to know its place.
Slopeside convenience aside, staying five minutes away in Rossland will add 140 years' worth of small town charm to your stay.
The Prestige Mountain Resort has plenty of rooms right downtown, but new on the scene is Wild Turkey Inn, a renovated heritage home built by a banking baron during Rossland's 19th century gold boom days. The exquisite three-bedroom house is rented out in its entirety to groups.
Big White accommodations are easily summed up. Use the telecommunication function on your pocket computer for some good old-fashioned customer service. The central reservation system at Big White makes it a one-stop shop for information on the 10,000 pillow-strong store of hotel and condominium-style options. Everything from affordable units to sprawling suites are available in the ski-in/ski-out base village and beyond. Sizes and rates vary, but the over-all village experience is more uniform than at Red/Rossland.
DEVELOPMENT
Big White has big plans. The resort is all-in on an as-yet unapproved master plan that it submitted to the province last year. It imagines more than doubling the lift capacity, and adding more than 1,000 skiable hectares, making it bigger than present-day Whistler-Blackcomb. But the cogs of bureaucracy turn slowly. For the foreseeable future, skiers will have to be content with the 1,147 skiable hectares already there. Over the summer Big White added two new grooming machines and 16 new gondola cabins to boost capacity.
Red went through a growth spurt a decade ago when it opened Grey Mountain. Any shovels on site at Red these days are busy further transforming the base for the Crescent condo development, a four-story building going right where the best parking spots used to be. There will be 102 private "modern alpine flats" (studios, lofts and one-bedrooms) ready for move-in 2024, deepening the available rental pool.
Over the summer, Red built a 90-person base lodge at Topping Creek and has overhauled the ticket system, installing RFID gates that read reloadable access cards.
GETTING THERE
Rossland has a tantalizingly close airport 40 minutes' drive away at Castlegar, but the valley's winter cloud cover renders it simply unreliable for the ski season. Those flying to or from Red are advised to resign themselves to the 3.5-hour drive to Kelowna, and should try not to feel too jealous when they pass the turn off to Big White, just half an hour from the busy Okanagan airport.