Reading Time:
8
minutes
Race Ready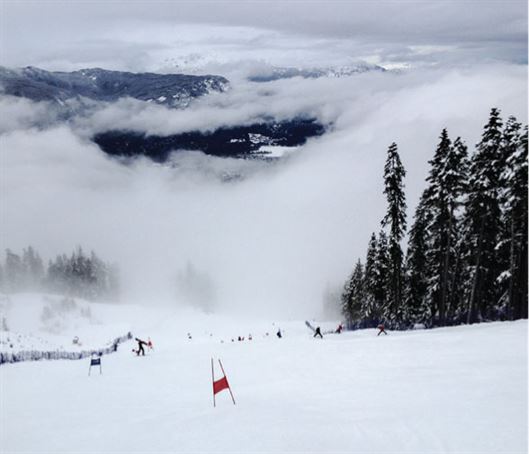 Those into Whistler's World Cup race pistes will know that Ptarmigan, which jets straight down the mid-mountain on a northerly aspect, has been widened into an autobahn for the rolling thunder of ski racing. All thanks to upgrades from the 2010 Games, it has also been fixed up with fancy snow-blowing equipment. But it took until summer 2013 to complete the transformation of Ptarmigan into the (somewhat of a mouthful) Dave Murray National Training Centre (for me, it's always going to be Puh–tarmigan).
Thanks to the removal of the bottom quarter of the classic, off-camber logger's line known as Seppo's, the final result is an elegant and airy course, taking its start from the entrance of Club 21 to a steep finish that spills out onto Olympic Run, with a total 400m vertical drop over 1.4 km. At least one writer can attest to the fact that the course is a screaming pale terror that simply explicates the true meaning of spacey fast. According to local Whistler race god Rob Boyd, now Athletic Director of the Whistler Mountain Ski Club, screaming down in a skin suit gives "the sensation of flying, where you can just let go," noting that the bottom pitch of Ptarmigan is steeper than the drops into Coach's Corner on the Dave Murray Downhill.
Ptarmigan saw its first National Championships last year. Closing off Raven from the top, the 513m total drop had athletes impressed at the line's crazy variety. Ptarmigan is a "microterrain of blind off-camber turns, hidden jumps, compressions, flats and tough turns down through the bottom," says Boyd.
But why all this effort to remake Ptarmigan when the Dave Murray whips down to Creekside? The short answer—climate change. The Dave Murray faces south into the sun. It starts and finishes low. Ptarmigan is kept cold under shade for snowmaking at higher elevations, and even if it lacks the spectacular grande piste feel of its bigger brother, going into race-tuck drops off its Blackcomb-facing blind rollers has quite the unique thrill of its own.
—tobias c. van Veen
Romancing the snow
Hollywood golden boy Michael Douglas, wife Catherine Zeta-Jones and their kids, Dylan and Carys, sent a spark of warmth through the entire Quebec tourism and ski industry when they posted a picture of themselves on Facebook and Instagram in December. Back again to ski Mont Tremblant, their caption read: "Happy New Year from Quebec, Canada…where it is minus 10F."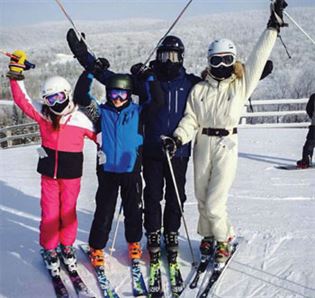 The fact that the celebrity couple chose to spend their limited time together in the Laurentians was special enough to get people talking, from the U.K.'s Daily Mail to People magazine and, of course, innumerable shares on social media. Despite the frigid Arctic weather, for the days they were "seen" on the slopes (at least, Ski Canada is pretty sure it was them behind the masks) the entire family enjoyed themselves.
The family owns a lakefront holiday home 15 minutes from the ski resort and enjoy dining in the local restaurants, where staff and patrons respect their privacy. Local sources tell us they were lured by the romantic countryside and the French language (both Michael and Catherine speak French, and we can assume the kids are learning quickly, too), combined with easy airport access and direct flights from New York City, where they also own a home.
For everyone else looking to spark a little romance of their own this Valentine's Day in ski country, Quebec is known internationally for its refined regional dining, Nordic outdoor spas and plush après-ski experience where many have proposed more than a toast. Your hotel concierge can set up a chartered helicopter ride, a moonlit snowshoe to a cabin, a sleigh ride, pond skating, bonfire, massage for two or a personalized wine tasting. More ideas at: tremblantactivities.com.
—Marie-Piere Belisle-Kennedy
Luxe to the Nth degree
Stop whining about the cost of your slopeside poutine and Pepsi. We've unearthed something truly worth complaining about. In the interest of rigorous resort price comparison, Ski Canada recently endured a too-brief stay at what has been tapped as the "world's most expensive cabin," Chalet N in Lech, Austria.
Built last year by a 36-year-old Austrian property tycoon—guest book sigs range from Tina Turner to a flutter of Formula One types—and it's yours by the week for around $400,000. There's uber-room to sleep 22—but who wants to sleep when surrounded by two chefs, three butlers, and bartenders and waiters a-go-go, all circulating with Teutonic efficiency and wearing white gloves (not ski gloves, either), laying down titanium cutlery, refilling bottomless flutes of Laurent Perrier and tinkling with Swarovski crystal shower curtains on command. The spa takes up the length of the chalet, a decadent indoor pool overlooks the piste, and one particularly golden-fingered masseuse is part of a phalanx of beauticians, instructors and drivers in blacked-out Range Rover at your beck and call.
If the ski room's Get Smart-style elevator and the space-age heated loos that sense your presence (opening, closing and flushing without effort from you) don't blow your boots off, the sound system will. The bulletproof windows are the ne plus ultra in oligarch chic. www.chalet-n.com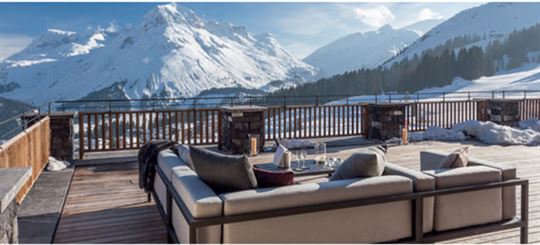 —Leslie Woit
Sticky and sweet: Spring skiing in Quebec is not complete without making the culinary pilgrimage to the traditional sugar shack. A short drive between Mont Blanc and Mont Tremblant lies La Table des Pionniers in St-Faustin (historically known as Cabane à sucre Millette), serving local wines paired with regional fare and maple syrup-inspired delights. Violin jigs (rigodon) and traditional arrow sash (ceinture fléchée) are de rigueur.     —M.P. Belisle-Kennedy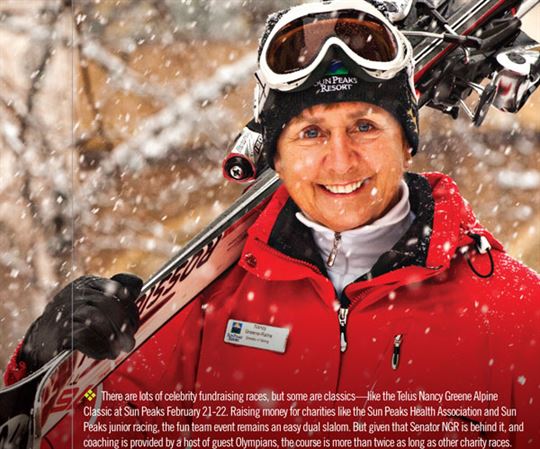 There are lots of celebrity fundraising races, but some are classics—like the Telus Nancy Greene Alpine Classic at Sun Peaks February 21-22. Raising money for charities like the Sun Peaks Health Association and Sun Peaks junior racing, the fun team event remains an easy dual slalom. But given that Senator NGR is behind it, and coaching is provided by a host of guest Olympians, the course is more than twice as long as other charity races.
Getting carded in the lift line
That flapping sound excitable lift tickets make when you point your skis straight for the run-out? It's a thing of the past at Vermont's Stowe and a dozen other North American resorts that have adopted RFID lift passes.
In English, RFID stands for radio frequency identification, and it's as exciting as another piece of plastic in your wallet—except this card will get you up a mountain. Just ski up to the turnstile and you'll be strip-searched by radio frequencies until the electronic gatekeeper finds your card, reads that you've paid to ride and gives you the green light to load.
Jeff Wise, marketing and communications director at Stowe, explains that the Evolution Stowe Card can be pre-loaded online, letting skiers skip the ticket wicket on their way to a lift. The cards also let metric-obsessed skiers track the number of runs and days skied (and you know a direct-sharing social media app can't be far behind). It also lets the resort know more about its customers.
The cards cost $5 and are meant to be used repeatedly, giving the resort a block of data that Wise says will let it target skiers with special offers. There are, of course, privacy issues to consider, not least of which is: Will anyone know how long a lunch break you took?
—Ian Merringer
The Winner's Circle
 When Bennett Erickson won "fastest eight-year-old" at a Nancy Greene race in Red Deer, Alberta, years ago, he didn't realize he was the only eight-year-old racing that day. But the win may have helped him make it to the podium at the 2011 Kal Tire U14 a few years later, and in the top five overall at the Banff Lodging U14 Provincial Finals in Panorama last year. (He's also won or placed in local cross-country loppets.) The Grade 9 Canyon Ski Resort athlete is racing U16, and received a little extra help by winning a Ski Canada Award and accompanying cheque. Bennett is one of many recipients of the award over the years, with generous thanks to BMO MasterCard and cardholders' purchases. For more information, contact your provincial ski association.
*****************************************************************************************************
Locals and visitors to Panorama have been inspired watching and meeting some of the country's best athletes during training in the autumn, and in January, competing at the International Paralympic Committee (IPC) World Cup. The final Canadian qualifier for Sochi brought the best of the best to duke it out on the new 2015 IPC World Championships course at Pano, a first for Canada. "A lot of planning and forethought has gone into the building of the track: widening runs, removing trees and installing some added safety features," said Brianne Law, athletic director of the Canadian Para-Alpine Ski Team. "It's fast, it's challenging…it'll create some super-exciting racing." The Canadian team returned from the last World Cup in New Zealand with five medals, including three gold. More on who to watch at the Paralympics in March starts on page 22, this issue.
****************************************************************************************************
Mont Sutton celebrated its 50th three years ago, but its online slideshow is an always updating legacy worth taking a peek at. The fashions, the gear, the ski style—it's all there, from bizarre to wonderful. Start by searching "Old Fashioned" at montsutton.com.
Check your head
The helmet has become standard grab gear for the majority of skiers. But how effective is the brainbucket, really? Traditional helmets are beset by two problems. First, they don't hold up well to repeated impacts, such as regularly thwacking gates (or trees). Second, when a helmet impacts the terrain, it obliquely twists with the surface drag, potentially causing serious injury.
Some new technology found in POC helmets—and on the heads of Canada's Alpine ski team members—addresses these issues. POC's race helmets feature a front panel made from visco-elastic foam. Product Director Oscar Huss says that the shock-absorbing bumper "reduces the impact energy transmitted to the head and also saves the helmet's liner from deformation," thereby maintaining helmet integrity when butting gates.
Like other brands in the industry, new helmet plastics are also designed for multi-impact use. But POC's MIPS technology—developed in co-operation with Sweden's Royal Institute of Technology and Karolinska Institute—is interesting: the shell and the liner are separated by a low-friction layer, allowing the shell to rotate independently. "The idea behind the MIPS system is to be able to control rotational violence," says Huss, and thus reduce injury.
While studies continue on the efficacy of these and other upgrades, keeping an eye on evolving technologies might just save your head.
— tobias c. van Veen
Time to trash the trailers?
Given the area's popularity and numbers of people concentrated in a relatively tiny portion of our favourite national park, it's incredible to think it's been 17 years since a new ski lodge has been built in Banff. But that construction pause may reset in the spring, now that Sunshine Village has been granted conditional approval to replace the Goat's Eye ATCO trailers with a permanent day lodge.
With approval granted by the park's development review board and the necessary environmental impact analyses accepted, likely the only brake on the project could come with the 30,000-square-foot project's financial viability. But if shovels hit the ground in the spring, the lodge's restaurants, daycare and children's facilities (plus green waste-water management system) hopefully will be welcoming skiers by next season.