Reading Time:
5
minutes
Happily ever après
If you were meant to ski first tracks at Tremblant, then why are there so many late-night shows, bars, concerts and events going on? Après-ski options are a top reason this overly social resort is continually ranked first in the East by visitors like those from the U.S. Just the lineup of outdoor concerts for the 24 Hours of Skiing fundraiser in December was impressive, not to mention the year-round parties and festivals all over town.
Make the most of your time in Tremblant:
† Soup or stew in a bread bowl at La Forge, right at the base of the gondola.
† Fairmont Tremblant's plush Nansen Lounge is ideal for an adult coffee or flavoured martini.
† Head farther down to Ô Wok for Thai cuisine.
† The rustic and modern decor of Ryan's Lounge attracts the over-25 crowd with its laid-back atmosphere.
† Right next door is the legendary P'tit Caribou Bar, where there's plenty of beautiful people with all the right dance moves.
† Microbrasserie de la Diable makes its own brew on-site and its signature schnitzel.
† The Q Wine Bar is a memorable place to warm up by the fire with someone special.
† If you skied down the Versant Soleil for last run, you're not stranded; Casino Tremblant will feed, water and warm you up—and hopefully send you back on the bus richer than you arrived.
† Everyone knows hot yoga, but how about cold yoga or Snowga? Innovative local yogis perfect stretches and summit meditations while surrounded by mountain vistas. Ommm…
—Marie-Piere Belisle-Kennedy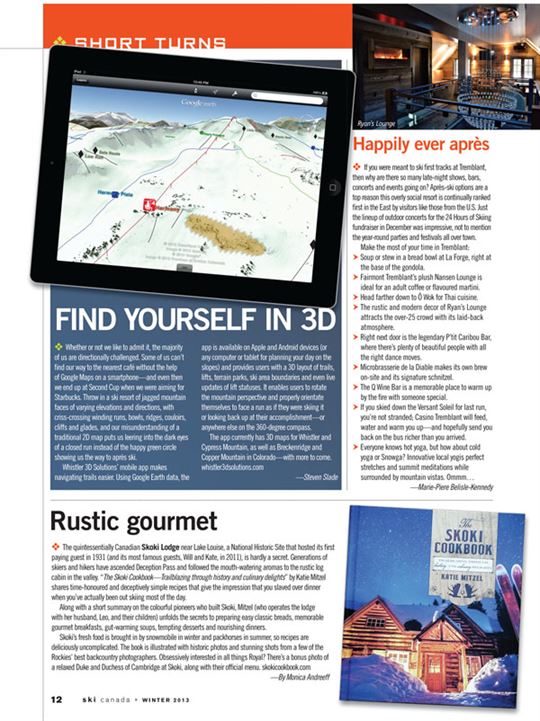 Find yourself in 3D
Whether or not we like to admit it, the majority of us are directionally challenged. Some of us can't find our way to the nearest café without the help of Google Maps on a smartphone—and even then we end up at Second Cup when we were aiming for Starbucks. Throw in a ski resort of jagged mountain faces of varying elevations and directions, with criss-crossing winding runs, bowls, ridges, couloirs, cliffs and glades, and our misunderstanding of a traditional 2D map puts us leering into the dark eyes of a closed run instead of the happy green circle showing us the way to après ski.
Whistler 3D Solutions' mobile app makes navigating trails easier. Using Google Earth data, the app is available on Apple and Android devices (or any computer or tablet for planning your day on the slopes) and provides users with a 3D layout of trails, lifts, terrain parks, ski area boundaries and even live updates of lift statuses. It enables users to rotate the mountain perspective and properly orientate themselves to face a run as if they were skiing it or looking back up at their accomplishment—or anywhere else on the 360-degree compass.
The app currently has 3D maps for Whistler and Cypress Mountain, as well as Breckenridge and Copper Mountain in Colorado—with more to come. whistler3dsolutions.com   —Steven Slade
Rustic gourmet
The quintessentially Canadian Skoki Lodge near Lake Louise, a National Historic Site that hosted its first paying guest in 1931 (and its most famous guests, Will and Kate, in 2011), is hardly a secret. Generations of skiers and hikers have ascended Deception Pass and followed the mouth-watering aromas to the rustic log cabin in the valley. "The Skoki Cookbook—Trailblazing through history and culinary delights" by Katie Mitzel shares time-honoured and deceptively simple recipes that give the impression that you slaved over dinner when you've actually been out skiing most of the day.
Along with a short summary on the colourful pioneers who built Skoki, Mitzel (who operates the lodge with her husband, Leo, and their children) unfolds the secrets to preparing easy classic breads, memorable gourmet breakfasts, gut-warming soups, tempting desserts and nourishing dinners.
Skoki's fresh food is brought in by snowmobile in winter and packhorses in summer, so recipes are deliciously uncomplicated. The book is illustrated with historic photos and stunning shots from a few of the Rockies' best backcountry photographers. Obsessively interested in all things Royal? There's a bonus photo of a relaxed Duke and Duchess of Cambridge at Skoki, along with their official menu. skokicookbook.com    —By Monica Andreeff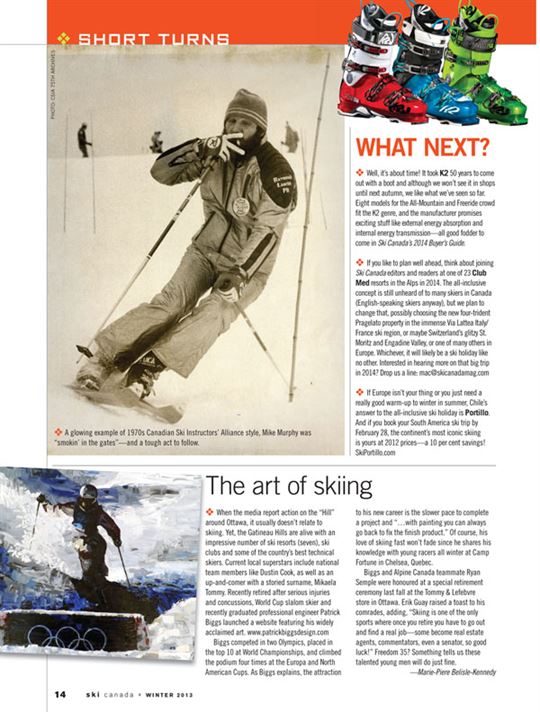 What next?
* Well, it's about time! It took K2 50 years to come out with a boot and although we won't see it in shops until next autumn, we like what we've seen so far. Eight models for the All-Mountain and Freeride crowd fit the K2 genre, and the manufacturer promises exciting stuff like external energy absorption and internal energy transmission—all good fodder to come in Ski Canada's 2014 Buyer's Guide.
*  If you like to plan well ahead, think about joining Ski Canada editors and readers at one of 23 Club Med resorts in the Alps in 2014. The all-inclusive concept is still unheard of to many skiers in Canada (English-speaking skiers anyway), but we plan to change that, possibly choosing the new four-trident Pragelato property in the immense Via Lattea Italy/France ski region, or maybe Switzerland's glitzy St. Moritz and Engadine Valley, or one of many others in Europe. Whichever, it will likely be a ski holiday like no other. Interested in hearing more on that big trip in 2014? Drop us a line: mac@skicanadamag.com
* If Europe isn't your thing or you just need a really good warm-up to winter in summer, Chile's answer to the all-inclusive ski holiday is Portillo. And if you book your South America ski trip by February 28, the continent's most iconic skiing is yours at 2012 prices—a 10 per cent savings! SkiPortillo.com
* A glowing example of 1970s Canadian Ski Instructors' Alliance style, Mike Murphy was "smokin' in the gates"—and a tough act to follow.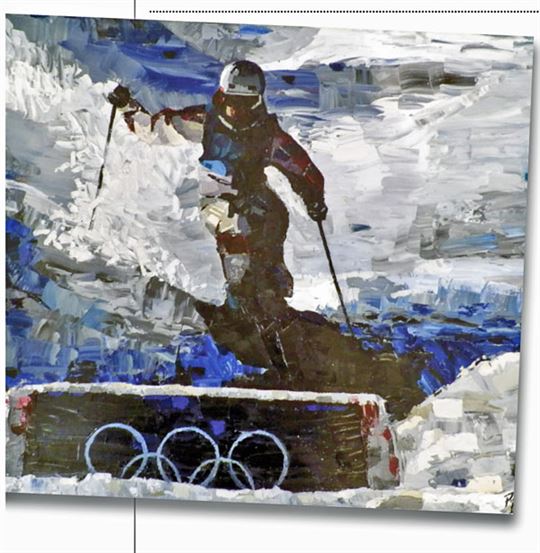 The art of skiing
 When the media report action on the "Hill" around Ottawa, it usually doesn't relate to skiing. Yet, the Gatineau Hills are alive with an impressive number of ski resorts (seven), ski clubs and some of the country's best technical skiers. Current local superstars include national team members like Dustin Cook, as well as an up-and-comer with a storied surname, Mikaela Tommy. Recently retired after serious injuries and concussions, World Cup slalom skier and recently graduated professional engineer Patrick Biggs launched a website featuring his widely acclaimed art. www.patrickbiggsdesign.com
Biggs competed in two Olympics, placed in the top 10 at World Championships, and climbed the podium four times at the Europa and North American Cups. As Biggs explains, the attraction to his new career is the slower pace to complete a project and "…with painting you can always go back to fix the finish product." Of course, his love of skiing fast won't fade since he shares his knowledge with young racers all winter at Camp Fortune in Chelsea, Quebec.
Biggs and Alpine Canada teammate Ryan Semple were honoured at a special retirement ceremony last fall at the Tommy & Lefebvre store in Ottawa. Erik Guay raised a toast to his comrades, adding, "Skiing is one of the only sports where once you retire you have to go out and find a real job—some become real estate agents, commentators, even a senator, so good luck!" Freedom 35? Something tells us these talented young men will do just fine.
—Marie-Piere Belisle-Kennedy