Short Turns: Spring 2012 issue
---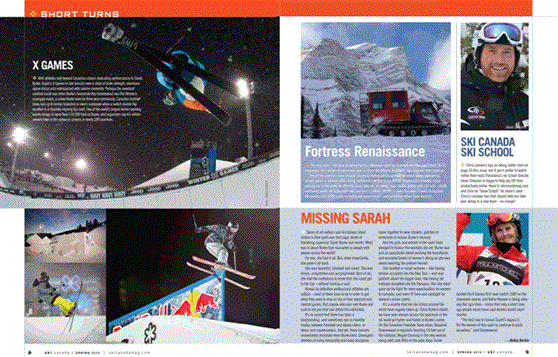 X GAMES
❖ With athletes well beyond Canadian colours dedicating performances to Sarah Burke, Aspen 's X Games in late January were a show of brute strength, enormous alpine circus acts interspersed with solemn moments. Perhaps the sweetest/ saddest result was when Burke's teammate Roz Groenewoud won the Women 's superpipe event, a crown Burke wore for three years previously. Canadian Justin Dorey was on a similar trajectory in men's superpipe when a switch double-flip resulted in a shoulder-injuring lip crash. One of the world's largest winter sporting events brings in more than 110,000 fans to Aspen, and organisers say 43-million viewers take in the action on screens in nearly 200 countries.
Ski Canada Ski School
❖ Chris Lennon's tips on skiing better start in this issue, but if you'd prefer to watch rather than read, Panorama's ski school director Jason Simpson is happy to help you kill time productively online. Click on Snow School for Jason's (and Chris's) onslope tips that should help you take your skiing to a new level —no charge!
Fortress Renaissance
❖ The bad news? The price of skiing Fortress Mountain went up dramatically. The good news? At 14 maximum, the number of skiers you have to share the Alberta resort with has dropped even more so. One of the country's most visually stunning, Hollywood-rrecognized ski areas began welcoming guests again in January after sitting mothballed for five years. KPOW! (Kananaskis Powder) came roaring out of the gates to offer the latest take on cat-skiing: open bowls, glades and cut runs —think untracked resort all to yourself, well, you and 13 others. KPOW! is open four days a week throughout the winter, from $300 a day including avy gear, lunch —and unlimited views. www.kkpow.ca
MISSING SARAH
❖ Skiers of all nations and disciplines stood united in their grief over the tragic death of freeskiing superstar Sarah Burke last month. What was it about Burke that resonated so deeply with people across the world?
For one, she had it all. But, more importantly, she gave it all back.
She was beautiful, talented and smart. She was driven, competitive and accomplished. Best of all, she had the confidence to know that she could get to the top —without hurting a soul.
Almost by definition professional athletes are selfish —most of hem have to be in order to get what they need to stay on top of their physical and mental games. But anyone who ever met Burke will rush to tell you that she defied this definition.
It's no secret that there has been a longstanding, and sometimes not-so-healthy rivalry, between freestyle and alpine skiers, or skiers and snowboarders. And yet, those barriers immediately dissolved when Burke died. Snowsport athletes of every nationality and every discipline came together to wear stickers, patches or armbands to honour Burke's memory.
And the girls and women in the sport have pledged to honour the example she set. Burke was just as passionate about pushing the boundaries and accepted tenets of women's skiing as she was about reaching the podium herself.
She revelled in small victories—like having women accepted into the Dew Tour—and was jubilant about the bigger ones, like having ski halfpipe accepted into the Olympics. But she never gave up the fight for more opportunities for women to compete, and more TV time and spotlight for women's action sports.
It 's a mantle that her ski sisters around the world have eagerly taken up. Since Burke's death, we have seen women across the spectrum in the ski world go higher and faster in Burke's name. On the Canadian Freestyle Team alone, Rosalind Groenewoud is regularly boosting 14 feet out of the halfpipe; Megan Gunning is the only woman doing both side 900s in the pipe; Kaya Turski landed the X-Games first-ever switch 1080 on the slopestyle course; and Keltie Hansen is doing alley-oop flat spin fives—tricks that only a short time ago people would have said women would never master.
"The best way to honour Sarah's legacy is for the women of this sport to continue to push ourselves," said Groenewoud.
– Kelley Korbin
---
Tags: Alberta, Aspen, Canadian Freestyle Team, Chris Lennon, Dew Tour, Fortress Mountain, freestyle, Jason Simpson, Justin Dorey, Kananaskis Powder, Kaya Turski, Keltie Hansen, KPOW!, Megan Gunning, Panorama, Roz Groenewoud, Sarah Burke, slopestyle, X-Games