Short Turns Fall 2014 Pt. 1 – Canadian Mountain Holidays
---
The big 5-0
It's hard to believe it was half a century ago that visionary Hans Gmoser introduced the world to Canadian Mountain Holidays and the rapture of heli-skiing, and had us dreaming of the penultimate ski holiday destination: the Bugaboos. Spectacular accommodations nestled in the alpine with untouched powder in all directions became part of history, with crown princes, Hollywood, titans of industry, World Cup racers—and skiers like you—learning that the dream is indeed doable. With 11 locations in the Selkirks, Monashees, Purcells and Cariboos, CMH has special weeks all winter: Family, First Timers, Women's Only, Experts Only and Nostalgic 50th Anniversary. More powder at canadianmountainholidays.com.
Raging over wages
A new Swiss law is boring big holes this winter in the historically important (and traditionally cheap) British skier market.
U.K. chalet operators in the Alps have staged a massive pull-out from the birthplace of modern skiing following a change in a Swiss employment law for hospitality workers that forces British chalet staff to be paid Swiss rather than British minimum wage. The new law requires workers to be compensated a minimum wage of 3,407CHF (about C$4,000) a month.
Catered ski chalet holidays are a way of life for travelling Brits, an affordable style of accommodation (both chalets and hotels) typically staffed by uni-age chalet girls or boys on gap years from Britain who are paid little but supplied room and board, medical insurance, uniforms, lift passes and travel—and virtually guaranteed a stonkin' good winter.
Tour operator Crystal Ski ceased offering any chalets in Switzerland last season. According to Inghams, another biggie, Brits fill 1,500 chalet beds a week in the Canton of Valais alone, or almost 25,000 bed nights per winter. Inghams sister companies, Ski Total and Esprit Ski, have left altogether, and Inghams has closed all but one property. The sole remaining Inghams chalet-hotel, Hotel de Verbier, was retained so Inghams could "keep a seat at the bargaining table"; it's also, coincidentally, home to the 2015 Ski Canada Readers' Trip in February. While legal types scrap it out, only time will tell if it's Heidi or Mary Poppins making meals and fluffing duvets.
_LESLIE WOIT
RACY BITS
Kelly quotes
Retired ski racer Kelly VanderBeek and husband, David Ford, a five-time Olympian in kayaking, welcomed son, Cooper, into the family two years ago. The three-time World Cup ski medallist has five things she would like Cooper to learn as he grows up:
1. Work hard, regardless of task or reward: "Nothing is beneath you. Whatever task you take on, give it your everything.
2. Learn how to lose: "There are a lot of lessons in loss. We all lose a lot more than we win."
3. Have grit: "When things don't go your way, when things take longer than you expect, have enough grit to get through them."
4. Persistence: "Although persistence seems a lot like patience, patience is when you're waiting for things to happen, whereas persistence is more of an engaging word."
5. Compassion: "Compassion might be the most important thing to learn. That's the connection to people around you—the understanding of how you're connected to your neighbours, your community, your family, your world."
_JIM MORRIS
Short Turns Fall 2014 Pt. 1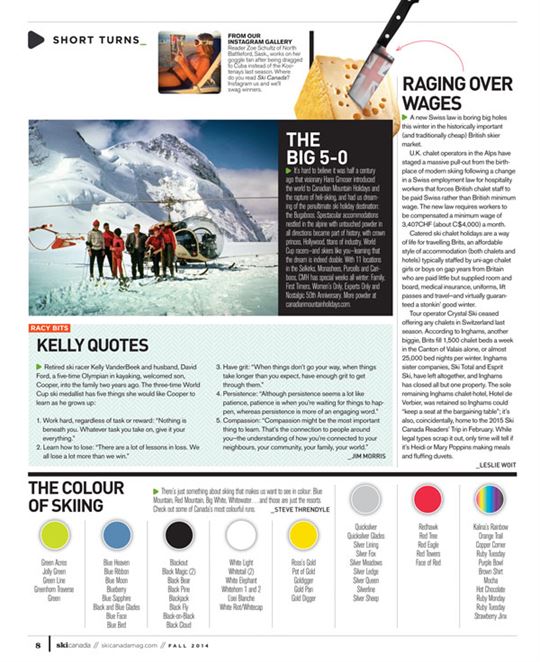 THE COLOUR OF SKIING
There's just something about skiing that makes us want to see in colour: Blue Mountain, Red Mountain, Big White, Whitewater…and those are just the resorts. Check out some of Canada's most colourful runs.
Jolly Green
Green Line
Green
**********
Blue Heaven
Blue Ribbon
Blue Moon
Blueberry
Blue Sapphire
Black and Blue Glades
Blue Face
Blue Bird
***********
Blackout
Black Magic (2)
Black Bear
Black Pine
Blackjack
Black Fly
Black-on-Black
Black Cloud
***********
White Light
Whitetail (2)
White Elephant
Whitehorn 1 and 2
L'oei Blanche
White Riot/Whitecap
************
Ross's Gold
Pot of Gold
Goldigger
Gold Pan
Gold Digger
************
Quicksilver
Quicksilver Glades
Silver Lining
Silver Fox
Silver Meadows
Silver Ledge
Silver Queen
Silverline
Silver Sheep
************
Redhawk
Red Tree
Red Eagle
Red Towers
Face of Red
************
Kalina's Rainbow
Orange Trail
Copper Corner
Ruby Tuesday
Purple Bowl
Brown Shirt
Mocha
Hot Chocolate
Ruby Monday
Ruby Tuesday
Strawberry Jinx
_ STEVEN THRENDYLE
---
Tags: Bugaboos, Canadian Mountain Holidays, colour of skiing, Hans Gmoser, Hotel de Verbier, Kelly Vanderbeek, Short Turns, ski chalet