---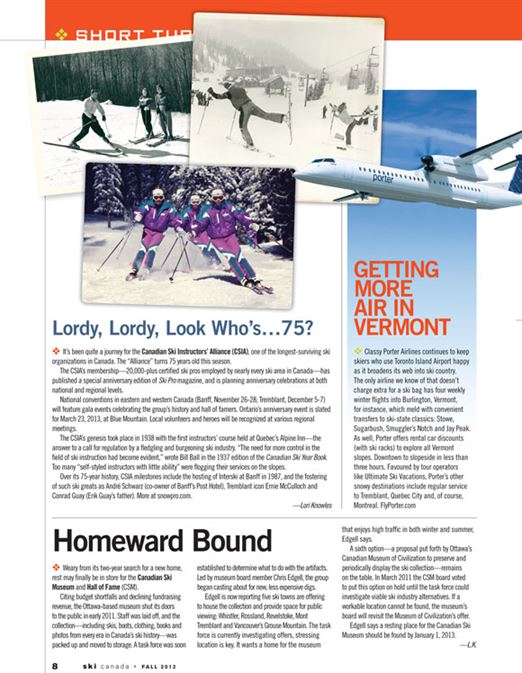 Lordy, Lordy, Look Who's…75?
 It's been quite a journey for the Canadian Ski Instructors' Alliance (CSIA), one of the longest-surviving ski organizations in Canada. The "Alliance" turns 75 years old this season.
The CSIA's membership—20,000-plus certified ski pros employed by nearly every ski area in Canada—has published a special anniversary edition of Ski Pro magazine, and is planning anniversary celebrations at both national and regional levels.
National conventions in eastern and western Canada (Banff, November 26-28; Tremblant, December 5-7) will feature gala events celebrating the group's history and hall of famers. Ontario's anniversary event is slated for March 23, 2013, at Blue Mountain. Local volunteers and heroes will be recognized at various regional meetings.
The CSIA's genesis took place in 1938 with the first instructors' course held at Quebec's Alpine Inn—the answer to a call for regulation by a fledgling and burgeoning ski industry. "The need for more control in the field of ski instruction had become evident," wrote Bill Ball in the 1937 edition of the Canadian Ski Year Book. Too many "self-styled instructors with little ability" were flogging their services on the slopes.
Over its 75-year history, CSIA milestones include the hosting of Interski at Banff in 1987, and the fostering of such ski greats as André Schwarz (co-owner of Banff's Post Hotel), Tremblant icon Ernie McCulloch and Conrad Guay (Erik Guay's father). More at snowpro.com.
Getting more air in Vermont
Classy Porter Airlines continues to keep skiers who use Toronto Island Airport happy as it broadens its web into ski country. The only airline we know of that doesn't charge extra for a ski bag has four weekly winter flights into Burlington, Vermont, for instance, which meld with convenient transfers to ski-state classics: Stowe, Sugarbush, Smuggler's Notch and Jay Peak. As well, Porter offers rental car discounts (with ski racks) to explore all Vermont slopes. Downtown to slopeside in less than three hours. Favoured by tour operators like Ultimate Ski Vacations, Porter's other snowy destinations include regular service to Tremblant, Quebec City and, of course, Montreal. FlyPorter.com
—Lori Knowles
Homeward Bound
Weary from its two-year search for a new home, rest may finally be in store for the Canadian Ski Museum and Hall of Fame (CSM).
Citing budget shortfalls and declining fundraising revenue, the Ottawa-based museum shut its doors to the public in early 2011. Staff was laid off, and the collection—including skis, boots, clothing, books and photos from every era in Canada's ski history—was packed up and moved to storage. A task force was soon established to determine what to do with the artifacts. Led by museum board member Chris Edgell, the group began casting about for new, less expensive digs.
Edgell is now reporting five ski towns are offering to house the collection and provide space for public viewing: Whistler, Rossland, Revelstoke, Mont Tremblant and Vancouver's Grouse Mountain. The task force is currently investigating offers, stressing location is key. It wants a home for the museum that enjoys high traffic in both winter and summer, Edgell says.
A sixth option—a proposal put forth by Ottawa's Canadian Museum of Civilization to preserve and periodically display the ski collection—remains on the table. In March 2011 the CSM board voted to put this option on hold until the task force could investigate viable ski industry alternatives. If a workable location cannot be found, the museum's board will revisit the Museum of Civilization's offer.
Edgell says a resting place for the Canadian Ski Museum should be found by January 1, 2013.          —L.K.
Tasty Telluride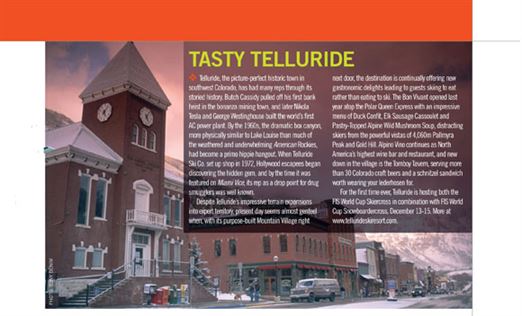 photo: TONY DENIM
Telluride, the picture-perfect historic town in southwest Colorado, has had many reps through its storied history. Butch Cassidy pulled off his first bank heist in the bonanza mining town, and later Nikola Tesla and George Westinghouse built the world's first AC power plant. By the 1960s, the dramatic box canyon, more physically similar to Lake Louise than much of the weathered and underwhelming American Rockies, had become a primo hippie hangout. When Telluride Ski Co. set up shop in 1972, Hollywood escapees began discovering the hidden gem, and by the time it was featured on Miami Vice, its rep as a drop point for drug smugglers was well known.
Despite Telluride's impressive terrain expansions into expert territory, present day seems almost genteel when, with its purpose-built Mountain Village right next door, the destination is continually offering new gastronomic delights leading to guests skiing to eat rather than eating to ski. The Bon Vivant opened last year atop the Polar Queen Express with an impressive menu of Duck Confit, Elk Sausage Cassoulet and Pastry-Topped Alpine Wild Mushroom Soup, distracting skiers from the powerful vistas of 4,060m Pallmyra Peak and Gold Hill. Alpino Vino continues as North America's highest wine bar and restaurant, and new down in the village is the Tomboy Tavern, serving more than 30 Colorado craft beers and a schnitzel sandwich worth wearing your lederhosen for.
For the first time ever, Telluride is hosting both the FIS World Cup Skiercross in combination with FIS World Cup Snowboardercross, December 13-15. More at
www.tellurideskiresort.com.
turns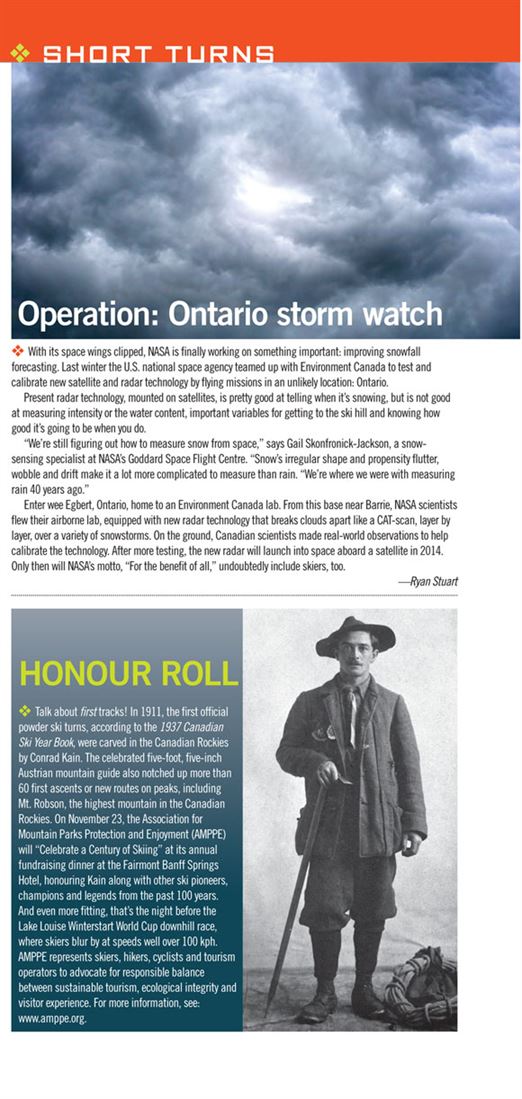 Operation: Ontario storm watch

With its space wings clipped, NASA is finally working on something important: improving snowfall forecasting. Last winter the U.S. national space agency teamed up with Environment Canada to test and calibrate new satellite and radar technology by flying missions in an unlikely location: Ontario.
Present radar technology, mounted on satellites, is pretty good at telling when it's snowing, but is not good at measuring intensity or the water content, important variables for getting to the ski hill and knowing how good it's going to be when you do.
"We're still figuring out how to measure snow from space," says Gail Skonfronick-Jackson, a snow-sensing specialist at NASA's Goddard Space Flight Centre. "Snow's irregular shape and propensity flutter, wobble and drift make it a lot more complicated to measure than rain. "We're where we were with measuring rain 40 years ago."
Enter wee Egbert, Ontario, home to an Environment Canada lab. From this base near Barrie, NASA scientists flew their airborne lab, equipped with new radar technology that breaks clouds apart like a CAT-scan, layer by layer, over a variety of snowstorms. On the ground, Canadian scientists made real-world observations to help calibrate the technology. After more testing, the new radar will launch into space aboard a satellite in 2014. Only then will NASA's motto, "For the benefit of all," undoubtedly include skiers, too.             —Ryan Stuart
Honour roll
Talk about first tracks! In 1911, the first official powder ski turns, according to the 1937 Canadian Ski Year Book, were carved in the Canadian Rockies by Conrad Kain. The celebrated five-foot, five-inch Austrian mountain guide also notched up more than 60 first ascents or new routes on peaks, including Mt. Robson, the highest mountain in the Canadian Rockies. On November 23, the Association for Mountain Parks Protection and Enjoyment (AMPPE) will "Celebrate a Century of Skiing" at its annual fundraising dinner at the Fairmont Banff Springs Hotel, honouring Kain along with other ski pioneers, champions and legends from the past 100 years. And even more fitting, that's the night before the Lake Louise Winterstart World Cup downhill race, where skiers blur by at speeds well over 100 kph. AMPPE represents skiers, hikers, cyclists and tourism operators to advocate for responsible balance between sustainable tourism, ecological integrity and visitor experience. For more information, see: www.amppe.org.
And "The Kilbourne" goes to…
The Canadian ski industry's most coveted award has gone this year to a Maritime skier.
Dave Wilson, 83, long-time owner of Nova Scotia's Ski Wentworth and New Brunswick's Crabbe Mountain, has been named this year's winner of the Judith Kilbourne Founders Award. The prize is given annually to a Canadian who exhibits "a love and passion for skiing while demonstrating a determination to maintain the importance of winter sport to all Canadians."
Wilson, who also co-chairs Wilson Fuels—the leading fuel supplier in Atlantic Canada—has been called a godfather and a philanthropist for skiing in Atlantic Canada. Wilson has been dedicated to keeping the sport alive in the Maritimes despite challenges with snow and weather.
"Dave is one of the ski industry's longest-serving patriarchs," says Joey O'Brien, former owner of Ski Martock, a Wentworth competitor. "He has a huge presence in the industry. He's done tremendous work, and has kept skiing in the Maritimes alive despite some really rough times."
The award, presented each fall by the Canadian Ski Council (CSC), is named after CSC founder Judith Kilbourne.         —L.K.
Sleeping around in the backcountry
Wouldn't it be nice if there were three, caretaker-maintained huts across the Spearhead Range connecting Whistler to Blackcomb? This just might happen if all fares well with a proposal before B.C. Parks.
The Spearhead Huts, which would be as accessible in summer for backpacking and hiking as in winter for ski touring, would allow backcountry users of Garibaldi Provincial Park to more easily overnight in the range. The middle hut, located at a point equidistant between the two resorts on the West Ridge of Mt. Macbeth, at the head of Fitzsimmons Creek, would also provide a base camp for ski-touring parties and mountaineers exploring deeper into the mountains—including skinning east into the rarely skied McBridge Range. On the north (Blackcomb) side, a hut would be built on Pattison Ridge, while the southside digs would replace the aging Himmelsbach Hut at Russet Lake, just below Fissile, the iconic peak that everyone gapes at from the Peak 2 Peak gondola.
Besides the Alpine Club of Canada, organizations behind the proposal include the B.C. Mountaineering Club, UBC's Varsity Outdoor Club, the Kees and Claire Memorial Huts Society, and the Brett Carlson Memorial Foundation. As Councillor Jayson Faulkner says, the project "is a Whistler community initiative" of its outdoor denizens.
Moreover, it follows ancient plans dating back to the Diamond Head Lodge, whose fabled owners once dreamed of a European haute route-style series of huts through what is now southern Garibaldi Park. Unfortunately, chalet ski guests such as Pierre Trudeau never saw the plan put into action. With the Spearhead Huts, B.C. now has the chance to step into the realm of hut-assisted ski touring, an arena previously owned by the Alps.                             —tobias c. van Veen

View Larger Map
TIPS & TALES
Added, to the already impressive roster of ski resorts on Vail's Epic Pass, Verbier, Switzerland. One of the world's most famous ski resorts (notable for its epic and massive terrain, but also its British après-ski rep) is skiable for three days on the Epic Pass (US$679), which also includes unlimited all-season skiing at sister resorts: Vail, Beaver Creek, Breckenridge, Keystone and Arapahoe Basin (all in Colorado) and Heavenly, Kirkwood and Northstar (in California's Lake Tahoe area). Do the math—it pays for itself in six days.
No limitations, no restrictions, on Canada's first All-Inclusive 1 Pass at Silver Star. Included with the Okanagan resort's lift ticket now are 115 powdery and sunny alpine runs, as well as 55 km of pristine cross-country trails, all-day play at the Tube Town Adventure Park, skating on Brewer's Pond and unlimited snowshoe adventures on 15 km of marked trails.
Vowing to fight, over a planned peak-to-peak gondola similar to Whistler Blackcomb's, an alliance of conservation groups in Utah. SkiLink plans to connect Canyons Resort in Park City (owned by Canadian company Talisker) to Solitude Mountain Resort in Big Cottonwood Canyon in a project that would see the sale of 30 acres of National Forest public lands to Talisker—and the corresponding release of the Forest Service from the review process. It could be quite the snowball fight to follow if Utah didn't receive such light, dry blower.
Anticipating, after two spectacular winters, a snowfall hat-trick for Whitewater, B.C. After last season's biggest-snowpack-in-a-decade winter (that finally finished off with a 40-cm bone-dry dump in June), all predictions in nearby Nelson, B.C., are for a third powderlicious season in a row. With 1,225 cm falling between October and April last winter, Whitewater's opening day saw all runs open. Backcountry skiers were still making tracks in the Kootenay highcountry well into July.
---
Tags: Alpine Club of Canada, Alpine Inn, Alpino Vino, AMPPE, André Schwarz, Bon Vivant, Canadian Ski Instructors' Alliance, Canadian Ski Museum, Canadian Ski Yearbook, Canyons Resort, Colorado, Conrad Guay, Conrad Kain, CSIA, Dave Wilson, Ernie McCulloch, Fairmont Banff Springs Hotel, Garibaldi Provincial Park, Jay Peak, Judith Kilbourne, Kilbourne Award, Lake Louise Winterstart World Cup, Ontario, Porter Airlines, Silver Star, Ski Pro, SkiLink, Smugglers' Notch, Solitude Mountain Resort, Spearhead Huts, Spearhead Range, Stowe, Sugarbush, Telluride, Tomboy Tavern, USA, Utah, Vail, Vail Epic Pass, Verbier, Vermont, Whitewater