Short Turns – December 2013
---
Revving up the Freeride World
It's one thing to experience the crowds, watch some of the world's best freeriders (through binoculars anyway) and chill your cheeks because you're not moving, unlike the meat-hucking athletes on tour, but you can always be part of the Swatch Freeride World Tour by The North Face by playing armchair skier (or boarder) and absorbing some insane live webcast video and commentary online. The tour kicks off at the first of six stops, Revelstoke Mountain Resort on December 18-22, with lone Canadian male skier Lauren Gauthier and female Sonja Lercher, before the freeride circus heads to the Alps. Get your posse stoked here: FreerideWorldTour.com, then check out the ski and stay specials in Revy here: stayinrevelstoke.com. Snow in the village on November 7? One metre…and counting.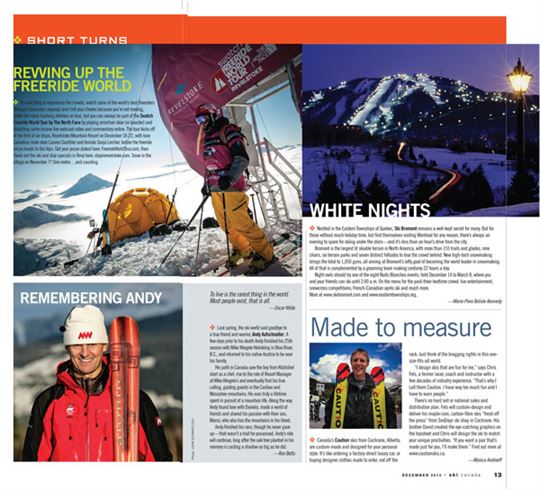 Remembering Andy
To live is the rarest thing in the world. Most people exist, that is all. —Oscar Wilde
v  Last spring, the ski world said goodbye to a true friend and warrior, Andy Aufschnaiter. A few days prior to his death Andy finished his 25th season with Mike Wiegele Heliskiing in Blue River, B.C., and returned to his native Austria to be near his family.
His path in Canada saw the boy from Kitzbühel start as a chef, rise to the role of Resort Manager at Mike Wiegele's and eventually find his true calling, guiding guests in the Cariboo and Monashee mountains. His was truly a lifetime spent in pursuit of a mountain life. Along the way Andy found love with Daniela, made a world of friends and shared his passion with their son, Marco, who also has the mountains in his blood.
Andy finished his race, though he never gave up—that wasn't a trait he possessed. Andy's ride will continue, long after the oak tree planted in his memory is casting a shadow as big as he did.
—Ron Betts
White nights
v  Nestled in the Eastern Townships of Quebec, Ski Bromont remains a well-kept secret for many. But for those without much holiday time, but find themselves visiting Montreal for any reason, there's always an evening to spare for skiing under the stars—and it's less than an hour's drive from the city.
Bromont is the largest lit skiable terrain in North America, with more than 155 trails and glades, nine chairs, six terrain parks and seven distinct hillsides to lose the crowd behind. New high-tech snowmaking brings the total to 1,050 guns, all aiming at Bromont's lofty goal of becoming the world leader in snowmaking. All of that is complemented by a grooming team making corduroy 22 hours a day.
Night owls should try one of the eight Nuits Blanches events, held December 14 to March 8, where you and your friends can ski until 2:00 a.m. On the menu for the past-their-bedtime crowd: live entertainment, snowcross competitions, French-Canadian après ski and much more.
More at www.skibromont.com and www.easterntownships.org.
—Marie-Piere Belisle-Kennedy
Made to measure
v  Canada's Caution skis from Cochrane, Alberta, are custom-made and designed for your personal style. It's like ordering a factory-direct luxury car, or buying designer clothes made to order, not off the rack. Just think of the bragging rights in this one-size-fits-all world.
"I design skis that are fun for me," says Chris Fels, a former racer, coach and instructor with a few decades of industry experience. "That's why I call them Caution. I have way too much fun and I have to warn people."
There's no hard sell or national sales and distribution plan. Fels will custom-design and deliver his maple-core, carbon-fibre skis "fresh off the press" from SnoDays ski shop in Cochrane. His brother David created the eye-catching graphics on the topsheet and Chris will design the ski to match your unique proclivities. "If you want a pair that's made just for you, I'll make them." Find out more at www.cautionskis.ca.
—Monica Andreeff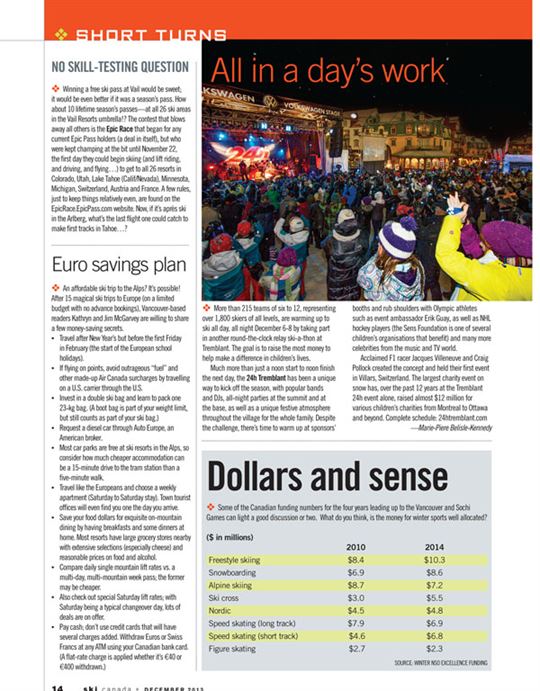 No skill-testing question
v  Winning a free ski pass at Vail would be sweet; it would be even better if it was a season's pass. How about 10 lifetime season's passes—at all 26 ski areas in the Vail Resorts umbrella!? The contest that blows away all others is the Epic Race that began for any current Epic Pass holders (a deal in itself), but who were kept champing at the bit until November 22, the first day they could begin skiing (and lift riding, and driving, and flying…) to get to all 26 resorts in Colorado, Utah, Lake Tahoe (Calif/Nevada), Minnesota, Michigan, Switzerland, Austria and France. A few rules, just to keep things relatively even, are found on the EpicRace.EpicPass.com website. Now, if it's après ski in the Arlberg, what's the last flight one could catch to make first tracks in Tahoe…?
Euro savings plan
v  An affordable ski trip to the Alps? It's possible! After 15 magical ski trips to Europe (on a limited budget with no advance bookings), Vancouver-based readers Kathryn and Jim McGarvey are willing to share a few money-saving secrets.
•   Travel after New Year's but before the first Friday in February (the start of the European school holidays).
•   If flying on points, avoid outrageous "fuel" and other made-up Air Canada surcharges by travelling on a U.S. carrier through the U.S.
•   Invest in a double ski bag and learn to pack one 23-kg bag. (A boot bag is part of your weight limit, but still counts as part of your ski bag.)
•   Request a diesel car through Auto Europe, an American broker.
•   Most car parks are free at ski resorts in the Alps, so consider how much cheaper accommodation can be a 15-minute drive to the tram station than a five-minute walk.
•   Travel like the Europeans and choose a weekly apartment (Saturday to Saturday stay). Town tourist offices will even find you one the day you arrive.
•   Save your food dollars for exquisite on-mountain dining by having breakfasts and some dinners at home. Most resorts have large grocery stores nearby with extensive selections (especially cheese) and reasonable prices on food and alcohol.
•   Compare daily single mountain lift rates vs. a multi-day, multi-mountain week pass; the former may be cheaper.
•   Also check out special Saturday lift rates; with Saturday being a typical changeover day, lots of deals are on offer.
•   Pay cash; don't use credit cards that will have several charges added. Withdraw Euros or Swiss Francs at any ATM using your Canadian bank card. (A flat-rate charge is applied whether it's €40 or €400 withdrawn.)
 All in a day's work
v  More than 215 teams of six to 12, representing over 1,800 skiers of all levels, are warming up to ski all day, all night December 6-8 by taking part in another round-the-clock relay ski-a-thon at Tremblant. The goal is to raise the most money to help make a difference in children's lives.
Much more than just a noon start to noon finish the next day, the 24h Tremblant has been a unique way to kick off the season, with popular bands and DJs, all-night parties at the summit and at the base, as well as a unique festive atmosphere throughout the village for the whole family. Despite the challenge, there's time to warm up at sponsors' booths and rub shoulders with Olympic athletes such as event ambassador Erik Guay, as well as NHL hockey players (the Sens Foundation is one of several children's organisations that benefit) and many more celebrities from the music and TV world.
Acclaimed F1 racer Jacques Villeneuve and Craig Pollock created the concept and held their first event in Villars, Switzerland. The largest charity event on snow has, over the past 12 years at the Tremblant 24h event alone, raised almost $12 million for various children's charities from Montreal to Ottawa and beyond. Complete schedule: 24htremblant.com
—Marie-Piere Belisle-Kennedy
Dollars and sense
v  Some of the Canadian funding numbers for the four years leading up to the Vancouver and Sochi Games can light a good discussion or two.  What do you think, is the money for winter sports well allocated?
 ($ in millions)
                                                    2010                         2014
 Freestyle skiing                                        $8.4                              $10.3
Snowboarding                                          $6.9                               $8.6
 Alpine skiing                                             $8.7                               $7.2
Ski cross                                                   $3.0                               $5.5
 Nordic                                                        $4.5                               $4.8
Speed skating (long track)                     $7.9                               $6.9
 Speed skating (short track)                   $4.6                              $6.8
Figure skating                                          $2.7                              $2.3
SOURCE: WINTER NSO EXCELLENCE FUNDING
---
Tags: 24h Tremblant, Andy Aufschnaiter, Auto Europe, Bromont, Caution skis, Chris Fels, Epic Pass, Europe, Freeride World Tour, Mike Wiegele Heliskiing, Revelstoke, Revelstoke Mountain Resort, Short Turns, Ski Bromont, Swatch Freeride, Tremblant, Vail