Reading Time:
6
minutes
from December 2012 issue
KITESURFING ON SKIS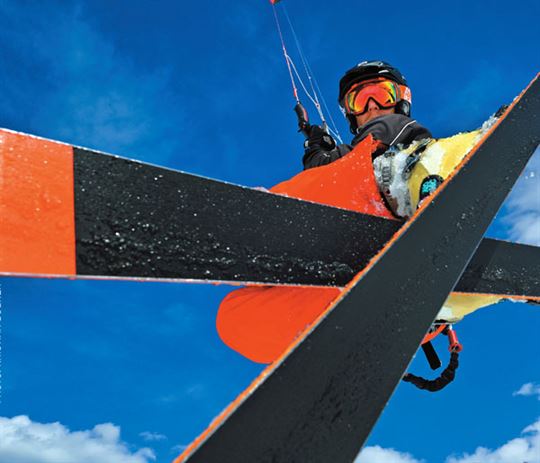 Soaring on skis through the air—10 metres off the snow—is a seductive high. "It's a very addictive sport, a tremendous amount of fun and everyone who does it, loves it," says fan Tom Couture of Rocky Mountain Snow Kiting in Canmore, Alberta.
All you need are your skis, boots and helmet, and for $249, Couture will supply the harness, kite and a day's instruction on a frozen lake. With the "graduated metre method," you can start out on a small two-metre kite and work your way up to six. "It's like getting a car with more horsepower every time."
The kite functions like a parasail of sorts, providing loft with power and control. But it's not about strength. In fact, women often do better than men, cranking turns and edging while
being pulled along by the power of the wind.
"Most skiers will be kiting within the first day," promises Couture.
Although "traction kiting" (snow, ice or water) has been given the green light in Banff National Park, Couture prefers the natural wind tunnel created at Spray Lakes near Canmore on Banff park's border.
Couture, 46, the first person to cycle the Trans Canada Trail in 2003 and later film the 2007 documentary A Lion in Winter—The Thomas Grandi Story for CBC, is now a committed snow kiter, spending 100 days a winter in the harness and sometimes soaring as high as 15 metres before gliding to a soft landing. www.rockymountainsnowkite.ca
—Monica Andreeff
Regular, Super…and Ultimate
It doesn't matter what vehicle you drive or the price you pay at the pumps, everyone likes free gas. To put a tiger in your tank this winter, try researching online your transportation costs for a Tremblant trip using Ultimate Ski Vacations Free Gas promotion and Intrawest's Les Suites Tremblant. As long as you're not rumbling down the highway around Christmas, Family Day or March Break (or getting speeding tickets), most somewhat fuel-efficient vehicles can effectively pay less than 70 cents a litre with an Ultimate Gas Card. www.ultimateskivacations.ca
************
B.C. doesn't have a monopoly on powder. The Gaspé's Chic-Choc Mountains in Eastern Quebec are home to the best snow east of the Kootenays, as well as two cat-ski operators and a small but proud group of touring aficionados from Quebec, Ontario and New England. If you prefer powder found under your own steam, sign up for the 1st Annual Chic-Chocs Backcountry Festival, January 26-27. www.skichicchocs.com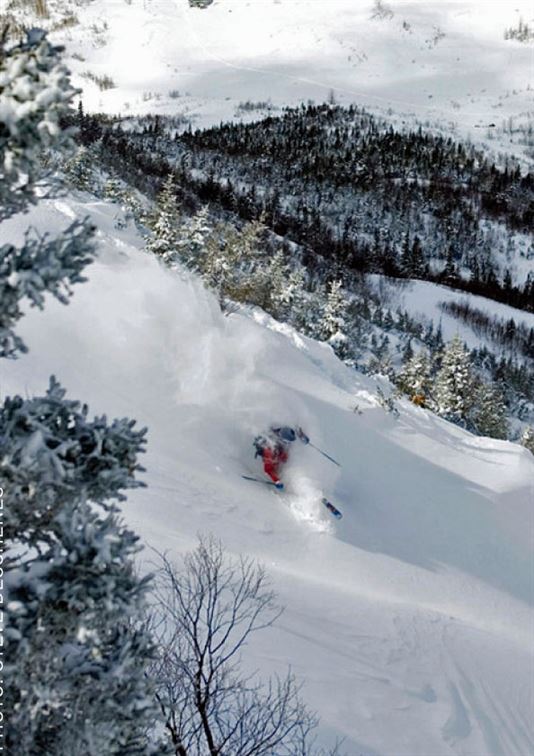 Wake up–it snowed last night!
Neither Sebi nor Paul had done any acting before the unlikely pair was chosen as pitchmen, but the farmer and railway worker have proved as entertaining as they are useful in reminding potential visitors of Switzerland's geography, culture, chocolate, watches, secure banking, fine dining…and skiing. This season's contest involves viewers "waking up" the pair online. We haven't figured it out yet, but others have—and they've been rewarded with a one-week stay in Switzerland. If you're good at dragging your teenager out of bed in the morning, try rousing Sebi and Paul at www.wintersleep.myswitzerland.com.
Relax, you're on holiday at Club Med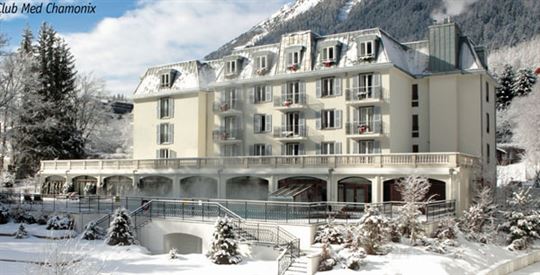 Club Med Chamonix
 "When we did our annual ski week to Quebec or Vermont a generation ago, meals were always included in the hotel," recalls skier Steve Nenniger of Dundas, Ontario. "Sure, the accommodation nowadays in a condo is bigger and usually fancier, but the idea of having someone else making all our meals, and washing up afterwards, sounds a lot better!" Nenniger is one of many skiers who's been poring over Club Med's website, planning a trip to one of 20 Alps destinations in France, Switzerland and Italy. For $2,400-$3,500 (depending on destination, departure date and how early a holiday is booked), "all inclusive" at Club Med includes return airfare from Canada, transfers, seven nights' accommodation, all lavish meals (breakfast and dinner at the Club, lunch at one of several Club Med on-hill chalets), unlimited premium drinks and snacks, six-day lift pass, group lessons and/or off-piste guiding, access to Turkish baths, sauna, pool and so on, après-ski activities, childminding, kids' and teens' activities, nightly entertainment, membership fees, and all taxes and gratuities. From Chamonix to St. Moritz to Club Med's newest property, Pragelato, Italy, you do the math (and not the dishes). www.clubmed.ca, 416/410-4172 or sales@skidaddle.com
Check in with children
Skiers know Keystone likes kids, but this season parents are liking the Colorado resort even more. Anyone staying two nights or longer at one of many hotels or condos booked through keystoneresort.com receives free lift passes for children under 12. No restrictions. No blackout dates. No limits to the number of children per adult. From family-friendly dining options to programs like Camp Keystone to inbounds cat-skiing for strong intermediates on up…all ages are welcome.
Whistler lands on free parking
Long-haul roadies take note: Whistler once again is offering some measure of free parking in the Village day-lots. For the past two years, various pay-parking schemes had local business owners, residents and weekend visitors up in arms as the additional cost bit into wallets (and made commuting to Whistler from Squamish and Pemberton a costly endeavour). The new, and most say improved and rational system, sees pay parking in Lots 1 through 3 during the day (evenings are free) with all-round free parking in Lots 4 and 5.
For those who haven't had wheels in town for a while, in late 2011 Whistler underwent a momentous local election that tossed veteran council members out in favour of an entirely new slate. Within a week or so, Whistler's first female mayor, Nancy Wilhem-Morden, and her new council dropped the income source to bring back free parking.
Even if you're not familiar with councillors in your own community, a few names on Whistler's council may be familiar. Andrée Janyk, a long-time Whistlerite, is a former national ski team member and mother of recently retired World Cup racer Britt and big brother Michael. Councillor Jayson Faulkner, justifiably feared among old-timer ice-climbing circles, is one of the founding owners of local outdoor store Escape Route and is active in the Whistler Chapter of the Alpine Club of Canada's Spearhead Huts project. —tobias c. van Veen 
Sponsors bail on Freestyle
Despite being on the verge of jeopardy after struggling against several economic blows, the Canadian Freestyle Ski Association (CFSA) remains guardedly optimistic for its future.
The association is braving economic uncertainty after the recent loss of three of its major sponsors: Canada Post, Bell and RBC. After all three companies' deals expired in the autumn, and none renewed, the CFSA has had to compensate for the $1.4-million shortcoming by cancelling two World Cup events hosted in Canada.
Association CEO Peter Judge said the significant support from Own the Podium (OTP) has tempered the short-term effects. OTP is a non-profit organization that provides funding to national sport organizations in an effort to deliver more Olympic and Paralympic medals; OTP's largest contributor of funding remains the Government of Canada. "If we were suffering the same sort of situation without OTP, it would be devastating across all layers of the organization and our ability to produce sport in the country," added Judge. "Having that card in our hand is of significant strength and comfort." OTP's total 2012-13 funding to freestyle skiing is more than $2.7-million.
It's the long-term impact of losing these corporate sponsors that's more concerning to the team's future. Judge explains that the corporate money it received was largely invested in fortifying the growth of its development program. "It's the machine underneath the high-performance side that has to continually bring up athletes—that's where our sport is in jeopardy."
Judge said the association will have to do some things differently in order to adapt from having full support and strength to austerity. "It's the ebbs and flows of both the sports cycle and the economic situation colliding in a perfect storm." —Steven Slade
Winner takes all–to Sun Peaks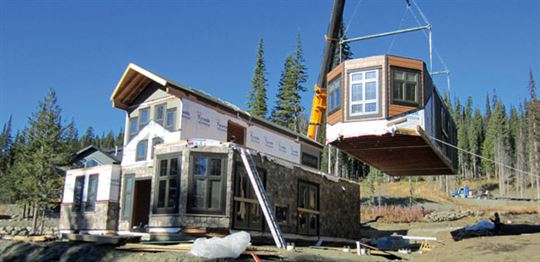 We all know that B.C. real estate prices are as lofty as the Coast Range mountains, which is why the best chance at home ownership for many of the province's residents is to win the lottery.
The Pacific National Exhibition's Prize Home Lottery has been going on since 1934. It works like this: when Western Canada's oldest glorified fall fair (it started as an agricultural exhibition) opens its gates for two weeks, hundreds of thousands of people file into a fantasy home hoping they'll be able to move in.
The house is pre-fabricated at the PNE Fair in East Vancouver, and in the early years was physically picked up and rolled to a vacant lot near the fairgrounds. After this year's PNE, the modular Prize Home was relocated to Sun Peaks Resort north of Kamloops. The fully furnished 2012 Grand Prize, valued at $1.3 million, was made by Britco Structures, which allowed the 3,000+-square-foot home to be moved in pieces.
In a public ceremony on Labour Day, Richmond resident Marnie Odette's name was drawn from the bin by Bachelorette-turned-celebrity-designer Jillian Harris, who designed the home's "resort rustic" luxury interior. Ironically, Odette never actually toured the house at the PNE along with 120,000 other hopefuls—she purchased the ticket by telephone.
Odette can live in, rent or sell her new home, however, if it's a vacation property (second home), she could be dinged with capital gains tax. No word yet on whether she prefers skiing over snowboarding.   —Steven Threndyle