Short Turns * Buyer's Guide 2014
---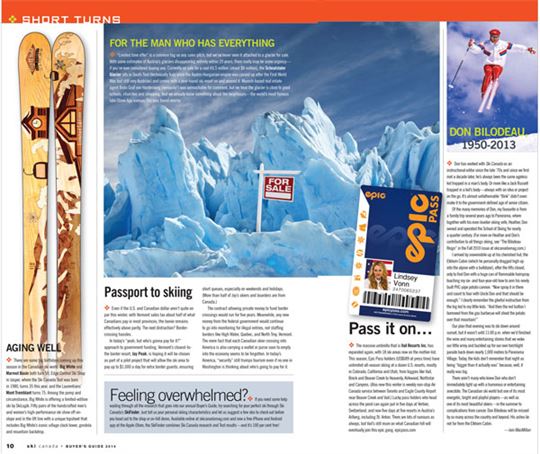 For the man who has everything
"Limited time offer" is a common tag on any sales pitch, but we've never seen it attached to a glacier for sale. With some estimates of Austria's glaciers disappearing entirely within 20 years, there really may be some urgency—if you've ever considered buying one. Currently on sale for a cool €6.5 million (about $8 million), the Schnalstaler Glacier sits in South Tirol (technically Italy since the Austro-Hungarian empire was carved up after the First World War, but still very Austrian) and comes with a year-round ski resort on and around it. Munich-based real estate agent Bodo Graf von Hardenberg (seriously!) was unreachable for comment, but we hear the glacier is close to good schools, churches and shopping. And we already know something about the neighbours—the world's most famous late-Stone Age iceman Ötzi was found nearby.
Passport to skiing
Even if the U.S. and Canadian dollar aren't quite on par this winter, with Vermont sales tax about half of what Canadians pay in most provinces, the loonie remains effectively above parity. The next distraction? Border-crossing hassles.
In today's "yeah, but who's gonna pay for it?" approach to government funding, Vermont's closest-to-the border resort, Jay Peak, is hoping it will be chosen as part of a pilot project that will allow the ski area to pay up to $1,000 a day for extra border guards, ensuring short queues, especially on weekends and holidays. (More than half of Jay's skiers and boarders are from Canada.)
The contract allowing private money to fund border crossings would run for five years. Meanwhile, any new money from the federal government would continue to go into monitoring for illegal entries, not staffing borders like High Water, Quebec, and North Troy, Vermont. The mere fact that each Canadian skier crossing into America is also carrying a wallet or purse soon to empty into the economy seems to be forgotten. In today's America, "security" still trumps tourism even if no one in Washington is thinking about who's going to pay for it.
Feeling overwhelmed?
If you need some help wading through all the research that goes into our annual Buyer's Guide, try searching for your perfect ski through Ski Canada's SkiFinder. Just tell us your personal skiing characteristics and let us suggest a few skis to check out before you head out to the shop or on-hill demo. Available online at skicanadamag.com and now a free iPhone and Android app at the Apple iStore, the SkiFinder combines Ski Canada research and Test results—and it's 100 per cent free!
Pass it on…
 The massive umbrella that is Vail Resorts Inc. has expanded again, with 18 ski areas now on the mother-list. This season, Epic Pass holders (US$689 at press time) have unlimited all-season skiing at a dozen U.S. resorts, mostly in Colorado, California and Utah, from biggies like Vail, Breck and Beaver Creek to Heavenly, Kirkwood, Northstar and Canyons. (Also new this winter is weekly non-stop Air Canada service between Toronto and Eagle County Airport near Beaver Creek and Vail.) Lucky pass holders who head across the pond can again put in five days at Verbier, Switzerland, and now five days at five resorts in Austria's Arlberg, including St. Anton. There are lots of rumours as always, but Vail's still mum on what Canadian hill will eventually join this epic gang. epicpass.com

Aging Well
There are some big birthdays coming up this season in the Canadian ski world. Big White and Marmot Basin both turn 50, Edge Control Ski Shop in Jasper, where the Ski Canada Test was born in 1980, turns 35 this year, and the Laurentians' Mont Tremblant turns 75. Among the pomp and circumstance, Big White is offering a limited-edition ski by SkiLogik. Fifty pairs of the handcrafted men's and women's high-performance ski show off on-slope and in the lift line with a unique topsheet that includes Big White's iconic village clock tower, gondola and mountain backdrop.
Grooming AID
Surrounding its terrain park with electric fencing might seem like an extreme measure for a ski resort, but at Red Mountain in Rossland, B.C., they're not trying to keep off-season fans out, they're trying to keep them in.
In fact, the fencing is now gone for the ski season. And the off-season fans aren't baggy-panted park rats, they're goats, and they've been corralled on the slope for the last two summers.
Goat teeth replaced buzz saws and mowers in the battle against aspen, alders and willows. According to herd owner Sarah Flood, the goats not only eat the stubborn shoots, they fertilize the area so grass can outcompete the brush, meaning better early- and late-season conditions.
Red expanded the logical biological approach during the second off-season. No word yet as to when skiers will be able to order goat cheese nachos at Rafter's. (And rumours of elephants to graze Red's backside are just that.)
—Ian Merringer
British ski bums
An important survey conducted by Chill Factore, the longest indoor ski slope in the U.K., has revealed what most of us already know: among all sportsmen and professionals, skiers have the best bums.
In its national poll (of former visitors to the complex), skier glutes topped some perty competition like ballroom dancers, cheerleaders and fitness instructors. Morwenna Angove, chief executive of Chill Factore, said, "A day of skiing can burn up to 3,000 calories—far more than a session at the gym." On the bottom of the scale, with a 1 in 1,000 vote, lies the flattened British MP who has quietly accepted the position as the butt of all jokes, even from plumbers and solicitors.
Blue skies ahead
With Blue Mountain's latest closing ever (April 28) and Monterra Golf already in full swing, fans were abuzz about the coming development to Ontario's biggest ski area. The Collingwood hill has added 64 new acres of skiing for this season in the Orchard area, bringing the total number of runs to 42. The province's longest run, a 1.6-km beginner, is part of the new terrain. Another high-speed six-pack (Blue's fifth) joins the uphill arsenal, and additional snowmaking has been added, as well as more night lighting. Blue Mountain is 73 years old this season and is among the top five resorts in Canada when it comes to number of skier-visits.
Don Bilodeau, 1950-2013
Don has worked with Ski Canada as an instructional editor since the late '70s and since we first met a decade later, he's always been the same ageless kid trapped in a man's body. Or more like a Jack Russell trapped in a kid's body—always with an idea or project on the go. It's almost unfathomable "Bink" didn't even make it to the government-defined age of senior citizen.
Of the many memories of Don, my favourite is from a family trip several years ago to Panorama, where together with his even lovelier skiing wife, Heather, Don owned and operated the School of Skiing for nearly a quarter century. (For more on Heather and Don's contribution to all things skiing, see "The Bilodeau Reign" in the Fall 2010 issue.)
I arrived by snowmobile up at his cherished hut, the Elkhorn Cabin (which he personally dragged high up into the alpine with a bulldozer), after the lifts closed, only to find Don with a huge can of flammable hairspray teaching my six- and four-year-old how to arm his newly built PVC-pipe potato cannon. "Now spray it in there and count to four with Uncle Don and that should be enough," I clearly remember the gleeful instruction from the big kid to my little kids. "And then the red button I borrowed from the gas barbecue will shoot the potato over that mountain!"
Our plan that evening was to ski down around sunset, but it wasn't until 11:00 p.m. when we'd finished the wine and many entertaining stories that we woke our little army and buckled up for our own torchlight parade back down nearly 1,000 metres to Panorama Village. Today, the kids don't remember that night as being "bigger than it actually was" because, well, it really was big.
There aren't many who knew Don who don't immediately light up with a humorous or entertaining anecdote. The Canadian ski world lost one of its most energetic, bright and playful players—as well as one of its most beautiful skiers—in the summer to complications from cancer. Don Bilodeau will be missed by so many across the country and beyond. His ashes lie not far from the Elkhorn Cabin.
—Iain MacMillan
Punching into Sochi
When racers talk about punching gates, they mean it—the fastest line is not around the gate, but through it, especially in the rapid carves of slalom. If you've ever been to an on-course race (and you should, if you haven't, it's a great time to indulge in ecstatic cowbell ringing and schnapps), then you know the sound. Racers take the gates with their arms, hands and heads, yelling out as they hit the gate: thwack! YEAARGG! thwack! YEAAARG!
Well, it appears that bashing gates is best trained for with boxing—which is what two of the Canadian women's alpine team newcomers have been up to this year: Erin Mielzynski from Guelph, Ontario, and Marie-Michèle Gagnon from Lac-Etchemin, Quebec. Both have been throwing punches in Alberta, as well as getting down with dance, gymnastics, cycling, roller-skiing and even diving, as part of a holistic program that offers some hope for the rest of us in justifying our strange choices of summer "cross-training." (Does mini-golf count?)
"We've grown to love boxing and really develop our technique," said Gagnon, a multi-disciplinary skier who is honing her skills in slalom, giant slalom and combined for Sochi 2014. "It's a great workout. I really like the diversity we have in training, and boxing is one of my favourites."
I pity the gates.
Canada's alpine team enters strong into Sochi on the men's side, which boasts 17 athletes from Jan Hudec to John Kucera. All eyes will be on record-busting Erik Guay (no pressure…), though Whistler's Robbie Dixon is looking poised to return from a brutal tib-fib fracture that sidelined him for the 2012-13 season. The women's team is more or less in transition, with just six athletes in the running. But then that's how new names are made and legendary stories spun, as the likes of Gagnon and Mielzynski look to prove themselves on the podium—and let's hope by throwing a few punches along the way.
—tobias c. van Veen
Brown-bagging recommended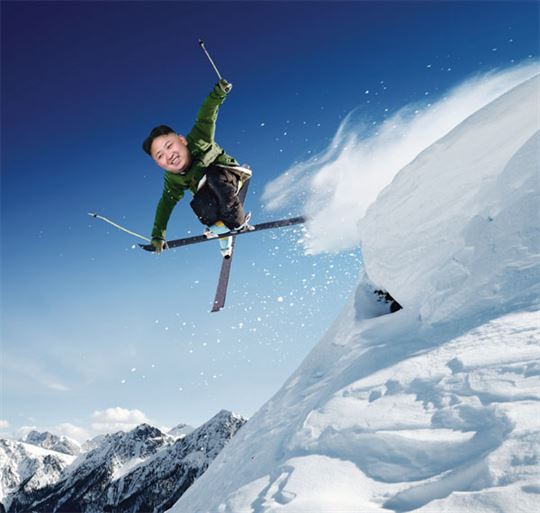 Apparently hankering for the ski runs in the mountains around the private Swiss academy where he was educated—under a pseudonym—North Korean dictator Kim Jong-un has ordered his army to put down their guns and build him a "world-class" ski resort. And in a hurry.
The portly despot was recently photographed visiting the site of the Masik Pass Skiing Ground to give "on the spot field guidance" on the construction of the resort, which will have beginner to advanced ratings on more than 100 km of pistes.
Despite North Korea still relying on international aid to feed a large proportion of its population and UN agencies regularly warning of soaring malnutrition among children in rural areas, no expense is being spared on Kim's latest pet project. According to KCNA, the North's state-run media, the resort will have a hotel, cable cars, equipment stores and a heliport.
"[Kim] mounted an observation deck to hear a detailed report on the construction of the skiing ground," the report said. "He was greatly satisfied to learn that soldier-builders have constructed a skiing area on mountain ranges covering hundreds of thousands of square metres."
Kim also gushed that it would be "more fantastic" to see the ground covered with snow and ordered the military to accelerate the pace of the work so that he could strap on his skis this winter. International sanctions on his regime mean it's virtually impossible for Kim to visit any of the more established ski resorts around the world.
The site also benefits from its proximity to the Pyongyang-Wonsan motorway, while a nearby military airfield may be turned into an airport to handle any surge in tourists, including overseas visitors.
KCNA quoted the world's youngest leader as saying that once the resort is completed, "a skiing wave will seize the country."
The North Korean leader also ordered the domestic production of skiing equipment and clothing since the sanctions imposed on the regime in the wake of Pyongyang's nuclear and missile programs forbid imports of luxury goods.
Kim is a known fan of basketball, but spent seven years at international schools near the Swiss city of Berne from 1993, where he may have picked up an interest in skiing. The Kim clan is also reported to have held family holidays at the mountain resort town of Interlaken.
Plans to construct a world-class skiing facility at the Masik Pass site may also have been motivated by the South Korean city of Pyeongchang being named in 2011 as the host of the 2018 Winter Olympics. The Supreme Leader's nose would have been put further out of joint when a proposal by a liberal South Korean politician to share the 2018 Winter Olympics with the North as a gesture of goodwill was ignored.
—Julian Ryall
---
Tags: 2014 Sochi Olympics, Big White, Blue Mountain, Chill Factore, Don Bilodeau, Epic Pass, Featured, Jay Peak, Marmot Basin, North Korea, Red Mountain, Schnalstaler Glacier, SkiLogik, slalom, South Tirol, Tremblant, Vail Resorts