Short Turns: Buyer's Guide 2013
---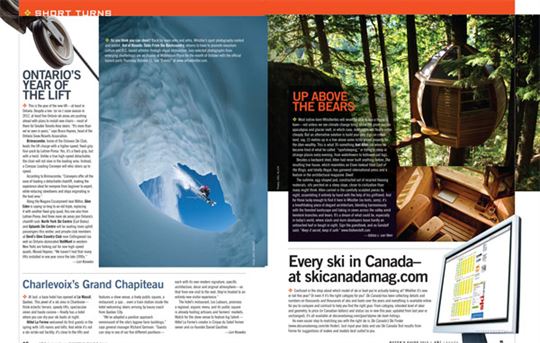 ONTARIO'S YEAR OF THE LIFT
❖ This is the year of the new lift—at least in Ontario. Despite a low- (or no-) snow season in 2012, at least five Ontario ski areas are pushing ahead with plans to install new chairs—most of them for Greater Toronto Area skiers. "It's more than we've seen in years," says Bruce Haynes, head of the Ontario Snow Resorts Association.
Brimacombe, home of the Oshawa Ski Club, leads the lift charge with a higher-speed, fixed-grip four-pack by Leitner-Poma. Yes, it's a fixed-grip, but with a twist. Unlike a true high-speed detachable, the chair will not slow in the loading area. Instead, a Compac Loading Conveyor will whiz skiers up to speed.
According to Brimacombe, "Conveyors offer all the ease of loading a detachable chairlift, making the experience ideal for everyone from beginner to expert, while reducing slowdowns and stops originating in the load area."
Along the Niagara Escarpment near Milton, Glen Eden is saying so long to an old triple, replacing it with another fixed-grip quad, this one also from Leitner-Poma. And three more ski areas join Ontario's chairlift rush: North York Ski Centre (Earl Bales) and Uplands Ski Centre will be seating more uphill passengers this winter, and private club members at Devil's Glen Country Club near Collingwood (as well as Ontario-dominated HoliMont in western New York) are forking out for new high-speed quads. Mused Haynes: "We haven't had that many lifts installed in one year since the late 1990s." —Lori Knowles
So you think you can shoot?
❖ Back for more oohs and ahhs, Whistler's sport photography contest and exhibit, Out of Bounds: Tales From the Backcountry, returns to town to promote mountain culture and B.C.-based athletes through visual stimulation. Jury-selected photographs from emerging shutterbugs are on display at Millennium Place for the month of October with the official launch party Thursday, October 11. See "Events" at www.artswhistler.com.
Charlevoix's Grand Chapiteau
❖ At last, a base hotel has opened at Le Massif, Quebec. This jewel of a ski area in Charlevoix—think eclectic terrain, speedy lifts, spectacular views and haute cuisine—finally has a hotel where you can dry your ski boots at night.
Hôtel La Ferme welcomed its first guests in the spring with 145 rooms and lofts. And while it's not a ski-in/ski-out facility, it's close to the lifts and features a show venue, a lively public square, a restaurant, a spa…even a train station inside the hotel welcoming skiers arriving by luxury coach from Quebec City.
"We've adopted a pavilion approach reminiscent of the site's bygone farm buildings," says general manager Richard Germain. "Guests can stay in one of our five different pavilions—each with its own modern signature, specific architecture, decor and original atmosphere—so that from one visit to the next, they're treated to an entirely new visitor experience."
The hotel's restaurant, Les Labours, promises a regional, organic menu; and its public square is already hosting artisans and farmers' markets. Watch for the show venue to feature big talent—Hôtel La Ferme's creator is Cirque du Soleil former owner and co-founder Daniel Gauthier.
—Lori Knowles
UP ABOVE THE BEARS
❖ Most native-born Whistlerites will never be able to buy a house in town—not unless we see climate change bring about the great zombie apocalypse and glacier melt, in which case, mortgages will finally come cheaply. But an alternative solution is build your own digs on crown land, say, 15 metres up in a tree above some richly prized property for the über-wealthy. This is what 30-something Joel Allen did when he became tired of what he called "sportsleeping," or trying to sleep in strange places every evening, from watertowers to hollowed-out logs.
Besides a backyard shed, Allen had never built anything before. The resulting tree house, which resembles an Elven lookout from Lord of the Rings, and totally illegal, has garnered international press and a feature in the architectural magazine Dwell.
The sublime, egg-shaped pod, constructed out of recycled housing materials, sits perched on a steep slope, closer to civilization than many might think. Allen carried in the carefully sculpted pieces by night, assembling it entirely by hand with the help of his girlfriend. And for those lucky enough to find it here in Whistler (no hints, sorry), it's a breathtaking piece of elegant architecture, blending harmoniously with the forested landscape and taking in views across the valley amid hemlock branches and bears. It's a dream of what could be, especially
in today's world, where slash-and-burn developers leave hardly an untouched leaf or bough in sight. Sign the guestbook, and as Gandalf said: "Keep it secret, keep it safe." www.thehemloft.com   —tobias c. van Veen
Every ski in Canada–at skicanadamag.com
❖ Confused in the shop about which model of ski or boot you're actually looking at? Whether it's new or not this year? Or even if it's the right category for you? Ski Canada has been collecting details and numbers on thousands and thousands of skis and boots over the years and everything is available online for you to compare and contrast to help you find the right gear. From category, intended level of skier and geometry, to price (in Canadian dollars) and status (as in new this year, updated from last year or unchanged), it's all available at skicanadamag.com/gear/alpine-ski-boot-listings.
An even easier step to matching you with the right ski is Ski Canada's Ski Finder (www.skicanadamag.com/ski-finder). Just input your data and use Ski Canada Test results from Fernie for suggestions of makes and models best suited to you.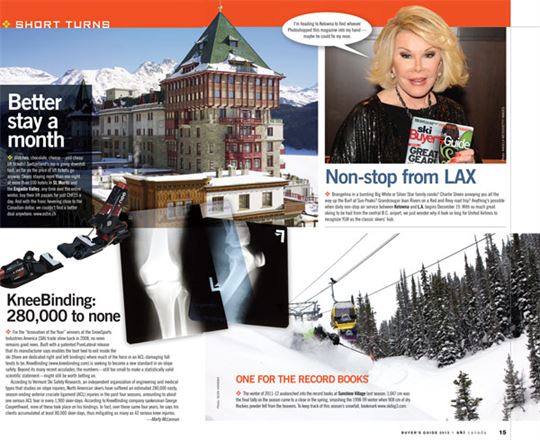 ❖ Better stay a month
Watches, chocolate, cheese—and cheap lift tickets! Switzerland's rep is going downhill fast, as far as the price of lift tickets go anyway. Skiers staying more than one night at more than 100 hotels in St. Moritz and the Engadin Valley, any time over the entire winter, buy their lift passes for just CHF25 a day. And with the franc hovering close to the Canadian dollar, we couldn't find a better deal anywhere. www.estm.ch
❖ KneeBinding: 280,000 to none
For the "Innovation of the Year" winners at the SnowSports Industries America (SIA) trade show back in 2008, no news remains good news. Built with a patented PureLateral release that its manufacturer says enables the boot heel to exit inside the ski (there are dedicated right and left bindings) where much of the force in an ACL-damaging fall tends to be, KneeBinding (www.kneebinding.com) is seeking to become a new standard in on-slope safety. Beyond its many recent accolades, the numbers—still too small to make a statistically valid scientific statement—might still be worth betting on.
According to Vermont Ski Safety Research, an independent organization of engineering and medical types that studies on-slope injuries, North American skiers have suffered an estimated 280,000 nasty, season-ending anterior cruciate ligament (ACL) injuries in the past four seasons, amounting to about one serious ACL tear in every 1,900 skier-days. According to KneeBinding company spokesman George Couperthwait, none of these took place on his bindings. In fact, over those same four years, he says his clients accumulated at least 80,000 skier-days, thus mitigating as many as 42 serious knee injuries. —Marty McLennan
ONE FOR THE RECORD BOOKS
❖ The winter of 2011-12 avalanched into the record books at Sunshine Village last season: 1,047 cm was the final tally as the season came to a close in the spring, smashing the 1998-99 winter when 908 cm of dry Rockies powder fell from the heavens. To keep track of this season's snowfall, bookmark www.skibig3.com.
❖ Non-stop from LAX
Brangelina in a bursting Big White or Silver Star family condo? Charlie Sheen annoying you all the way up the Burf at Sun Peaks? Grandcougar Joan Rivers on a Red and Revy road trip? Anything's possible when daily non-stop air service between Kelowna and L.A. begins December 19. With so much great skiing to be had from the central B.C. airport, we just wonder why it took so long for United Airlines to recognize YLW as the classic skiers' hub.
Joan Rivers: I'm heading to Kelowna to find whoever Photoshopped this magazine into my hand — maybe he could fix my nose.  Photo: SEAN HANNAH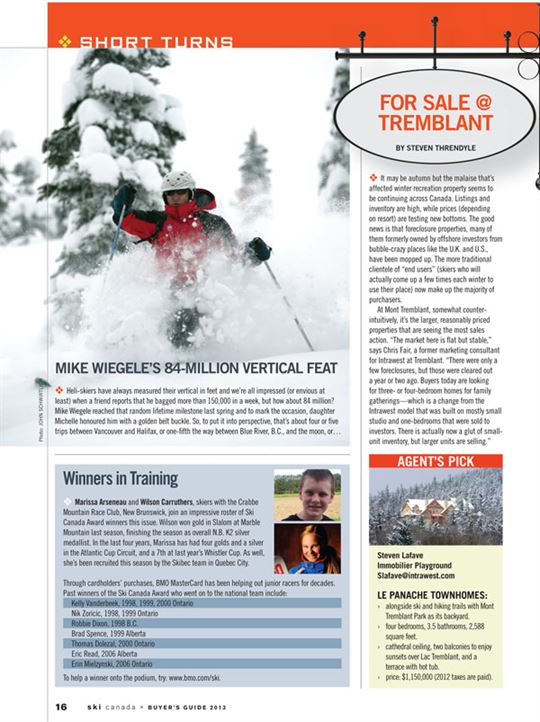 ❖MIKE WIEGELE'S 84-MILLION VERTICAL FEAT
Heli-skiers have always measured their vertical in feet and we're all impressed (or envious at least) when a friend reports that he bagged more than 150,000 in a week, but how about 84 million? Mike Wiegele reached that random lifetime milestone last spring and to mark the occasion, daughter Michelle honoured him with a golden belt buckle. So, to put it into perspective, that's about four or five trips between Vancouver and Halifax, or one-fifth the way between Blue River, B.C., and the moon, or…
❖Winners in Training
Marissa Arseneau and Wilson Carruthers, skiers with the Crabbe Mountain Race Club, New Brunswick, join an impressive roster of Ski Canada Award winners this issue. Wilson won gold in Slalom at Marble Mountain last season, finishing the season as overall N.B. K2 silver medallist. In the last four years, Marissa has had four golds and a silver in the Atlantic Cup Circuit, and a 7th at last year's Whistler Cup. As well, she's been recruited this season by the Skibec team in Quebec City.
Through cardholders' purchases, BMO MasterCard has been helping out junior racers for decades. Past winners of the Ski Canada Award who went on to the national team include:
Kelly Vanderbeek, 1998, 1999, 2000 Ontario
Nik Zoricic, 1998, 1999 Ontario
Robbie Dixon, 1998 B.C.
Brad Spence, 1999 Alberta
Thomas Dolezal, 2000 Ontario
Eric Read, 2006 Alberta
Erin Mielzynski, 2006 Ontario
To help a winner onto the podium, try: www.bmo.com/ski.
FOR SALE @TREMBLANT
BY STEVEN THRENDYLE
❖ It may be autumn but the malaise that's affected winter recreation property seems to be continuing across Canada. Listings and inventory are high, while prices (depending on resort) are testing new bottoms. The good news is that foreclosure properties, many of them formerly owned by offshore investors from bubble-crazy places like the U.K. and U.S., have been mopped up. The more traditional clientele of "end users" (skiers who will actually come up a few times each winter to use their place) now make up the majority of purchasers.
At Mont Tremblant, somewhat counter-intuitively, it's the larger, reasonably priced properties that are seeing the most sales action. "The market here is flat but stable," says Chris Fair, a former marketing consultant for Intrawest at Tremblant. "There were only a few foreclosures, but those were cleared out a year or two ago. Buyers today are looking for three- or four-bedroom homes for family gatherings—which is a change from the Intrawest model that was built on mostly small studio and one-bedrooms that were sold to investors. There is actually now a glut of small-unit inventory, but larger units are selling."
AGENT'S PICK
Steven Lafave
Immobilier Playground
Slafave@intrawest.com
LE PANACHE TOWNHOMES:
› alongside ski and hiking trails with Mont Tremblant Park as its backyard.
› four bedrooms, 3.5 bathrooms, 2,588 square feet.
› cathedral ceiling, two balconies to enjoy sunsets over Lac Tremblant, and a terrace with hot tub.
› price: $1,150,000 (2012 taxes are paid).
---
Tags: ACL ligament, Alberta, Atlantic Cup Circuit, BC, Big White, BMO MasterCard, boot listings, Brimacombe, Bruce Haynes, Charlevoix, Crabbe Mountain Race Club, Daniel Gauthier, Devil's Glen, Engadin Valley, Glen Eden, HoliMont, Hotel La Ferme, Joel Allen, Kelowna, KneeBinding, L.A., La Panache Townhomes, Le Massif, Les Labours, Marble Mountain, Mike Wiegele, Mont-Tremblant, New York, North York Ski Centre, Ontario, Ontario Ski Resort Association, Oshawa Ski Club, Out of Bounds:Tales from the Backcountry, Québec, SIA, Silver Star, Ski Big 3, Ski Canada Award, ski listings, Skibec, SkiFinder, St. Moritz, Sunshine Village, Switzerland, Tremblant, Uplands Ski Centre, Vermont Ski Safety Research, Whistler, Whistler Cup, Whistlerites, YLW