Short Turns * Buyer's Guide 2012
---
LET'S MAKE A DEAL
❖As foreign as they are to the entire ski world beyond Ontario, western New York and New Zealand, private ski clubs, where the membership owns the infrastructure and either owns or leases the hill, is a way of life and has been since alpine skiing began in these areas. And as sure as they are with golf, yacht and lawn bowling clubs, membership drives are a part of life at these non-profit associations of like-minded,
members-only individuals. The days of healthy waiting lists, large and young families, acceptance of simple surroundings, electronic-free distractions and debt-free
bottom lines are long gone. But the spenders
have won out over the savers and new members
aren't just welcome, they're needed. So, with that in
mind, Beaver Valley, south of Collingwood, is out to
get you by offering, to the next 75 families that join,
an enticing discount on their initiation fees. For those
ready to pay annual club dues (about the cost of, say,
a week flying out to ski in B.C. or Alberta), the upfront
ticket price to get in Beaver Valley's member-door is
currently slashed from $22,400 to $7,500. Hear ye, all
fence-sitters: the time is nigh. www.beavervalley.ca
It's "Doctor" Spencer to you!
❖Long-time B.C. ski industry spin doctor Jimmie
Spencer was made a Doctor of Laws with the granting
of an honorary degree from Royal Roads University
in Victoria last spring. As President and CEO of the
Canada West Ski Areas Association, Spencer has
helped transform the B.C. ski resort scene into a
winter destination now known around the world.
"When I arrived in Canada in 1979, I was taken
aback by how small the Western [Canada] ski resort
industry was," said Spencer from his home in Vernon.
"Sunshine Village, Banff, Lake Louise and Marmot
Basin/Jasper were the only resort operations—
everything else was in the category of day-ski
operations." Times have changed. B.C. skier-visits
now account for a third in the country.
With a fascinating Second World War military
history that led to Spencer joining the (British)
Alpine Command Unit, and later captaining the
Nordic Biathlon Teams, Spencer was honoured in
B.C. for his endless efforts at promoting our sport.
He's also credited for his contribution in bringing
the Olympics to Whistler.
High-speed improvements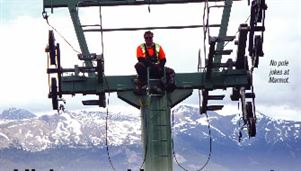 ❖Marmot Basin is promising guests less time on
their seats and more time on their skis as the ski area
continues with big-ticket improvements in 2011-12.
The Jasper National Park resort will undergo a
major facelift with the addition of another high-speed
quad on the upper mountain. The new Paradise Chair
will replace the fixed-grip triple chair, opening up an
area known for its perfect fall-line and black-diamond
cruisers. With a new loading zone located several
hundred metres below the old drive, Marmot is making
it easier for guests to stay on the upper mountain.
"It's going to spread the better skiers out of
the congestion and onto straight fall-line pitch,"
commented local pass holder Charlie Finley. "And it's all downhill from there!"
Novice and intermediate skiing just got better
in Jasper, too. The triple chair will swap out the
Schoolhouse T-bar, making for a more comfortable learning experience for rookies in the Rockies.
The improvements represent $6 million of $25
million spent on new projects since 2003.
– Bob Covey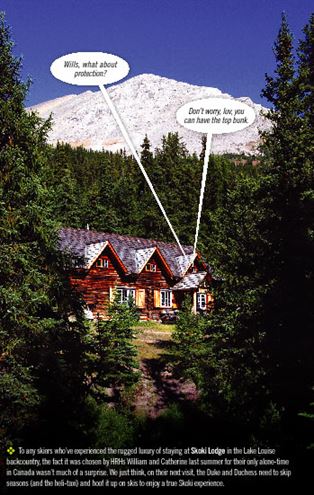 Wills, what about protection? Don't worry, luv, you can have the top bunk
To any skiers who've experienced the rugged luxury of staying at Skoki Lodge in the Lake Louise backcountry, the fact it was chosen by HRHs William and Catherine last summer for their only alone-time in Canada wasn't much of a surprise. We just think, on their next visit, the Duke and Duchess need to skip seasons (and the heli-taxi) and hoof it up on skis to enjoy a true Skoki experience.
Join us!
❖ The inaugural Ski Switzerland with Ski Canada
trip last year sold out in a few weeks, so if you've
ever been thinking of skiing (or returning to) the
Alps, 2012 might just be your year. See Events page for
details on 2012 Readers' Trips to Zermatt (January)
and Off-piste in Davos (March).
The Winners' Circle
❖Okay, so there's no
elaborate awards ceremony
but thanks to BMO
MasterCard and the Ski
Canada  Magazine Award, a helpful
cheque was handed over to
AJ Roberts, one of Alberta's
more promising young
racers. The K2 racer recently pulled the switch to play
with Banff Alpine Racers after many years with Team
Panorama. Last year he collected five provincial medals
and ended up in the top-10 (Canadians) overall at the
K2 National Championships. Funding for the Ski Canada
Magazine Award is generated by Ski Canada BMO MasterCard holders. Put one
in your wallet: www.bmo.com/ski
YOU'RE INVITED…
❖Ski Canada turns the big 4-0 right about the time you're reading this, but please, no gifts. In fact, we have some for you! Turn to Contests to win sweet swag from some of Ski Canada's best friends. And while you're browsing, wishfully humming "Happy Birthday," maybe you should consider planning the big trip to birthday-girls Fernie and the resort formerly known as Tod Mountain, Sun Peaks, who both turn 50 this winter. Celebrations, parties, festivities, ceilidhs, stories, reunions, contests, pageants…all season at both resorts. Ski both and decide which is your favourite. www.sunpeaksresort.com and www.skifernie.com
3 RD Time Lucky
❖It was billed by some as an Old World vs. New
World competition, but in the end there wasn't much
of a fight, with Pyeongchang, South Korea, winning
in the first ballot 63 of the 95 votes cast for the
2018 Winter Olympics. It was Pyeongchang's third
try. IOC members discounted Munich's ready-to-go
bid (virtually all venues are already in place given
Garmisch-Partenkirken regularly hosts World Cup
events for various winter sports) and straggler Annecy,
France, for part of the world it continues to see as
a growing market. The South Koreans campaigned
hard on the ideas of lucrative and relatively new Asian
markets, and were also happy to show off a telling map
displaying the 21 past Winter Games: 19 in Europe
and North America, and two in Japan. Co-hosting with
neighbouring nut-state North Korea, or combining
teams with them, are dreams in some organizers' eyes
(including South Korea's opposition leader Sohn Hak-kyu), but that daunting idea makes the shambolic construction for Russia's Sochi Games look like a few tables and chairs need to be placed around.
Puttin' in the laps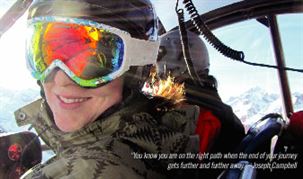 ❖Nine countries, five continents, nine-and-a-half months and 4,161,823 vertical feet later (that's 1,268,524 vertical metres for readers born after the 1960s), Stephanie Jagger broke a Guinness Record set in 1994 by about 15,000 feet. That's like doing 1,100 runs off the Whistler gondola or about 145 Mount Everests. Completing the challenge at her home mountain Blackcomb in May, she also beat the old record-holder's time by about two months. With a little help from Icebreaker, Whistler Skydiving and Casa Tours, the self-described "weekend-warrior" skier took in 45 of the world's most famous ski resorts, including Chamonix, Portillo and Jackson Hole, as well as more off-the-groomed- track ski areas like La Hoya (Argentina), Temple Basin (New Zealand) and Cortina Kokusai (Japan).
"The low point was the day I lost one of my skis in the Japanese backcountry," said Jagger. "That was the first day that I thought realistically that 'Maybe I can't do this.' Thank God for my good friend Teresa—and some sake! The high point was hitting my original goal of four-million vertical feet, my family waiting for me at the bottom of the hill that day at Whistler with cowbells—and skiing with my five- and seven-year-old nieces over the invisible line."
More at www.theverticalfeat.com
Under the radar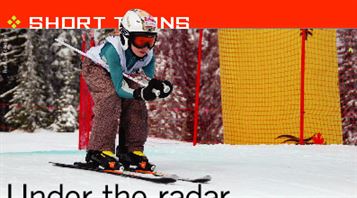 ❖Gossip has it that last year's 30th annual—and final—Over the Hill Downhill at Silver Star may not be in its grave quite yet. But while the storms of resurrection are brewing, there's always Vernon Ski Club's Under the Hill Downhill to consider. With more than 180 racers (aged 5-11) at last year's event, speeds reached a blistering 68 kph. There were several who were just following in their parents' tracks, so to speak (the Under the Hillers complete the top half of the same downhill course as the Over the Hillers). Other events include the Krazy Kombi Cross and Ride 'em Cowboy Dual Slalom. With timing around Ontario March Break, organizers are hoping to see more from the East take advantage of direct flights to Kelowna and join in on the fast family fun—and ski home with some great prizes and swag. More info: www.vernonskiclub.ca
❖Daniel Gauthier has had at least two big dreams. His first was Cirque du Soleil, and we all know how that turned out. His second is Le Massif de Charlevoix.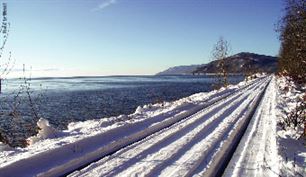 Monsieur Gauthier's massive plan for a $230-million eco-resort deep in Quebec's sleepy, artsy Charlevoix reaches its first major milestone in September with the maiden voyage of Le Train, a luxuriously retrofitted group of cars that will chug regularly along a 140-km scenic track between Quebec City and La Malbaie. Le Train's staff will serve classic Charlevoix "local terroir" gastronomy (crème brûlée of duck foie gras, mushroom and asparagus crêpes, blueberry brioche), while guests sip spirits and drink in scenes of the St. Lawrence.

The single-day return journey ($249) includes a stop at the newly minted station at Petite-Rivière-Saint-François, known as the cradle of Charlevoix's colonial life (c. 1675) and the quiet home of Le Massif de Charlevoix Ski Area. (Read more on the Le Massif de Charlevoix development next issue.)

Once M. Gauthier builds Le Ferme—an eco-friendly ski hotel, spa, outdoor square and multimedia theatre in Petite-Rivière-Saint-François—skiers may turn Le Train into Le Ski Train. Until then, think of it as a Quebec-style cruise ship—or Scene One of Daniel Gauthier's second big dream. www.lemassif.com
—Lori Knowles

Tags: 2012 Readers' Trips to Zermatt, 2018 Winter Olympics, AJ Roberts, Annecy, Banff, Beaver Valley, Bob Covey, Canada West Ski Areas Association, Chamonix, Collingwood, Cortina Kokusai, CWSAA, Davos, Fernie, Garmisch-Partenkirken, Jackson Hole, Jasper, Jasper National Park, Jimmie Spencer, La Hoya, La Malbaie, Lake Louise, Le Ferme, Le Massif, Le Massif de Charlevoix Ski Area, Le Massif de Charlevoix., Le Train, Lori Knowles, Marmot Basin, New York, North Korea, Off-piste in Davos, Olympics, Over the Hill Downhill, Paradise Chair, Portillo, private ski clubs, Pyeongchang, Royal Roads, Russia's Sochi Games, Schoolhouse T-bar, Ski Switzerland, Skoki Lodge, South Korea, Stephanie Jagger, Sun Peaks, Sunshine Village, Temple Basin, Vernon Ski Club's Under the Hill Downhill, western New York, Whistler, Zermatt