Reading Time:
7
minutes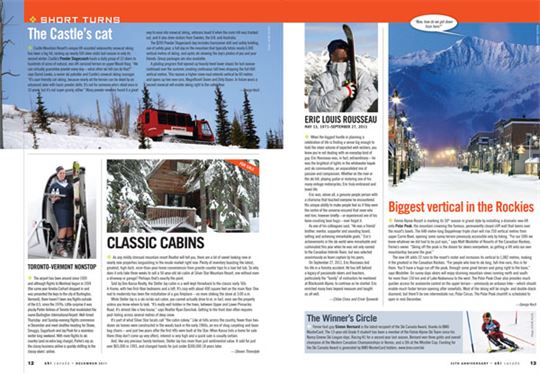 The Castle's cat
❖ Castle Mountain Resort 's unique lift-assisted sidecountry snowcat kiing
has been a big hit, racking up nearly 500 skier-visits last season in only its
second winter. Castle's Powder Stagecoach hauls a daily group of 12 skiers to
hundreds of acres of natural, on-lift-serviced terrain on upper Mount Haig. "We
can virtually guarantee powder every day —what other ski hill can do that?"
says Darrel Lewko, senior ski patroller and Castle 's snowcat skiing manager.
"It's user-friendly cat-skiing, because nearly all the terrain can be skied by an
advanced skier with basic powder skills. It's not for someone who's skied once in
10 years, but it's not super-gnarly, either." Many powder newbies found it a great
way to ease into snowcat skiing, veterans loved it when the main hill was tracked
out, and it also drew visitors from Sweden, the U.K. and Australia.
The $2295 Powder Stagecoach day includes a transceiver drill and safety briefing,
use of safety gear, a full day on the mountain that typically totals nearly 6,000
vertical metres of skiing, and après ski showing the day's photos of you and your
friends. Group packages are also available.
A glading program that opened up heavily treed lower slopes for last season
continued over the summer, creating continuous fall lines dropping the full 660
vertical metres. This season a higher snow road extends vertical by 60 metres
and opens up two new runs, Magnificent Seven and Dirty Dozen. In future years
a second snowcat will enable skiing right to the valley floor.
—George Koch
FOR SALE -CLASSIC CABINS
❖ As any mildly stressed mountain resort realtor will tell you, there are a lot of sweet-looking new or nearly new properties languishing in the resale market right now. Plenty of inventory boasting the latest, greatest, high-tech, nicer-than-your-home conveniences from granite counter tops to luxe hot tub. So why does it only take three weeks to sell a 50-year-old ski cabin at Silver Star Mountain Resort, one without even a driveway or garage? Perhaps that's exactly the point.
Sold by Don Kassa Realty, the Steller Jay cabin is a well-kept throwback to the classic early '60s A-frame, with two first-floor bedrooms and a loft. It's cozy with about 400 square feet on the main floor. One nod to modernity has been the installation of a gas fireplace —no more stoking the stove at 3:00 a.m.
While Steller Jay is a ski-in/ski-out cabin, you cannot actually drive to or, in fact, even see the property unless you know where to look. "It's really well hidden in the trees, between Upper and Lower Pinnacles Road. It's almost like a tree house," says realtor Ryan Danchuk. Getting to the front door often requires post-holing across several metres of deep snow.
It's part of what Silver Star locals call "the cabin colony." Like at hills across the country, fewer than two- dozen ski homes were constructed in the woods back in the early 1960s, an era of shag carpeting and bean bag chairs —and just two years after the first lifts were built at the Star. When Kassa lists a home or sale there (they don't come up very often),  interest is very high and a quick sale is usually certain.

And, like any precious family heirloom, Steller Jay has more than just sentimental value. It sold or just over $65,000 in 1993, and changed hands for just under $330,000 18 years later.
—Steven Threndyle
TORONTO-VERMONT NONSTOP
❖ The airport has been around since 1920 and although flights to Montreal began in 1934 (the same year Amelia Earhart dropped in and was presented the keys to the city of Burlington, Vermont), there haven't been any flights outside of the U.S. since the 1970s. Little surprise it was plucky Porter Airlines of  Toronto that revalidated the name Burlington  International Airport. Well-timed Thursday-and Sunday-evening flights commence in December and meet shuttles heading for Stowe, Smuggs, Sugarbush and Jay Peak for a seamless winter long weekend. With more flights to ski country (and no extra bag charge), Porter's rep as the classy business airline is quickly shifting to the classy skiers' airline.
ERIC LOUIS ROUSSEAU
MAY 13, 1971–SEPTEMBER 27, 2011
❖ When the biggest hurdle in planning a celebration of life is finding a venue big enough to hold the sheer volume of expected well-wishers, you know you're not dealing with an everyday kind of guy. Eric Rousseau was, in fact, extraordinary—he was the brightest of lights in the whitewater kayak and ski communities, an unparalleled mix of passion and compassion. Whether on the river or the ski hill, playing guitar or restoring one of his many vintage motorcycles, Eric truly embraced and loved life.
Eric was, above all, a genuine people person with a charisma that touched everyone he encountered. His unique ability to make people feel as if they were the centre of the universe ensured that none who met him, however briefly—or experienced one of his bone-crushing bear hugs—ever forgot it.
As one of his colleagues said, "He was a friend/brother, mentor, supporter and sounding board, setting and achieving remarkable goals." Eric's achievements in the ski world were remarkable and culminated this year when he was not only named to the Canadian Interski Team, but was selected unanimously as team captain by his peers.

On September 27, 2011, Eric Rousseau lost his life in a forestry accident. He has left behind a legacy of passionate skiers and teachers, particularly the "family" of instructors he mentored at Blackcomb Alpine, to continue as he started. Eric enriched many lives beyond measure and taught us all well.
—Chloe Cross and Ernie Tysowski
Biggest vertical in the Rockies
❖ Fernie Alpine Resort is marking its 50th season in grand style by installing a dramatic new lift onto Polar Peak, the mountain crowning the famous, permanently closed cliff wall that looms over the resort's bowls. The 648-metre-long Doppelmayr triple chair will rise 250 vertical metres from upper Currie Bowl, opening some sunny terrain previously accessible only by hiking. "For our 50th we knew whatever we did had to be just epic," says Matt Mosteller of Resorts of the Canadian Rockies, Fernie's owner. "Skiing off the peak is the dream for skiers everywhere, so getting a lift onto our own mountaintop became the goal."
The new lift adds 22 runs to the resort's roster and increases its vertical to 1,082 metres, making it the greatest in the Canadian Rockies. "For people who love to ski long, fall-line runs, this is for them. You'll have a huge run off the peak, through some great terrain and going right to the base," says Mosteller. On sunny days skiers will enjoy stunning mountain views running north and south for more than 150 km and of Lake Kookanusa to the west. The Polar Peak Chair also provides much quicker access for avalanche control on the upper terrain—previously an arduous hike—which should enable much faster terrain opening after snowfalls. Most of the skiing will be single- and double-black diamond, but there'll be one intermediate run, Polar Circus. The Polar Peak chairlift is scheduled to open in mid-December.
The Winner's Circle
Fernie fast-guy Simon Bernard is the latest recipient of the Ski Canada Award, thanks to BMO MasterCard. The 13-year-old Grade 9 student has been a member of the Fernie Alpine Ski Team since his Nancy Greene Ski League days. Racing K1 for a second year last season, Bernard won three golds and overall champion at the Western Canadian Championships in Vernon, and a 5th at the Whistler Cup. Funding for the Ski Canada Award is generated by BMO MasterCard holders. www.bmo.com/ski

FIND YOURSELF
❖ Too much info? As you know, Ski Canada tests heaps of skis every year, but another way to wade through all the results and help smooth out the decision over which skis are right for you is to use our new Ski Finder program on www.skicanadamag.com. Just answer the Qs and let our ski testers make some suggestions!
For example, if you like a stable ski with great edge grip on the firm groomers and you like to cruise GS-style, maybe Völkl's Code Speedwall is worth trying….
I WON, I WON, I WON!
❖ Ski Canada has pulled plenty of names from the prize tuque already in our ongoing 40th Anniversary Sweepstakes—but there's lots more swag where that came from. So far, winners include: Twitterer Sanathan in Waterloo, Ontario (customized Elan Amphibio Waveflex 14 skis). Fellow Twitterer Kelly in Toronto (Swany Performance ski gloves).
Facebooker Jennifer in Richmond, B.C. (6 nights at the Best Western Jasper Inn & Suites for 4 plus 5 days' lifts and rental gear for a family of 4 at Marmot Basin). Enews subscriber Andrew in Vancouver (all-inclusive two-day cat-ski holiday at Mustang Lodge in the Northern Monashees). Fellow Enews subscriber Cole from Port Coquitlam, B.C. (The North Face ski roller and Base Camp gear box).
If you're a subscriber, you're entered. Deets: skicanadamag.com/contests
Norquay's four seasons
❖ It's tough for "little" ski areas in Canada to survive these days. But no tougher than for Mount Norquay in Banff National Park, where neighbouring resorts Lake Louise and Sunshine Village pose some pretty steep competition. That's why skiers are applauding a recent decision by Parks Canada to help Norquay keep its ski slopes open by offering options for summer use. New site guidelines could see a sightseeing lift to the historic teahouse and Via Ferrata—a cable-assisted climbing and hiking adventure mythologized in Italian Alpine lore and now very popular in Quebec—introduced by next summer. Mount Norquay, which overlooks the Town of Banff, gave up 44 per cent of its leasehold in exchange for summer use, and agreed to carefully manage impacts to wildlife and the environment. Norquay also plans to install new lifts and runs, widen and glade other runs, and expand snowmaking.
—Monica Andreef
YEP, WINTER'S COMING
❖ For the second winter in a row, La Niña will be moderately strong over the eastern equatorial Pacific (cooler surface water), and you know what happened last winter with similar conditions. Record ski country snowfall in much of Western Canada and the U.S. The forecast difference this ski season is colder than normal temperatures as the polar jet stream climbs high over the Pacific and then dives south over North America, pulling arctic air over most of the country.
Remember, very cold air holds little moisture (the Arctic is a desert) so it's a toss up as to what prevails—storms or cold. From the national headquarters of the Ski Canada weather office: a stormy start for the 2012 season (to build a good base), followed by entrenched polar conditions (bringing sparkling bluebird days).
—Paulo Greeneenie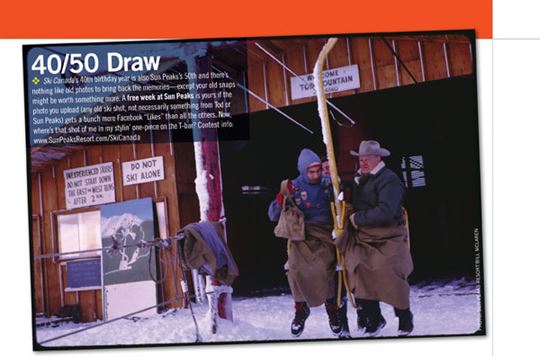 40/50 Draw
❖ Ski Canada's 40th birthday year is also Sun Peaks's 50th and there's nothing like old photos to bring back the memories—except your old snaps might be worth something more. A free week at Sun Peaks is yours if the photo you upload (any old ski shot, not necessarily something from Tod or Sun Peaks) gets a bunch more Facebook "Likes" than all the others. Now, where's that shot of me in my stylin' one-piece on the T-bar? Contest info: www.SunPeaksResort.com/SkiCanada