Reading Time:
4
minutes
Brits think chalet holidays are normal—we might not agree.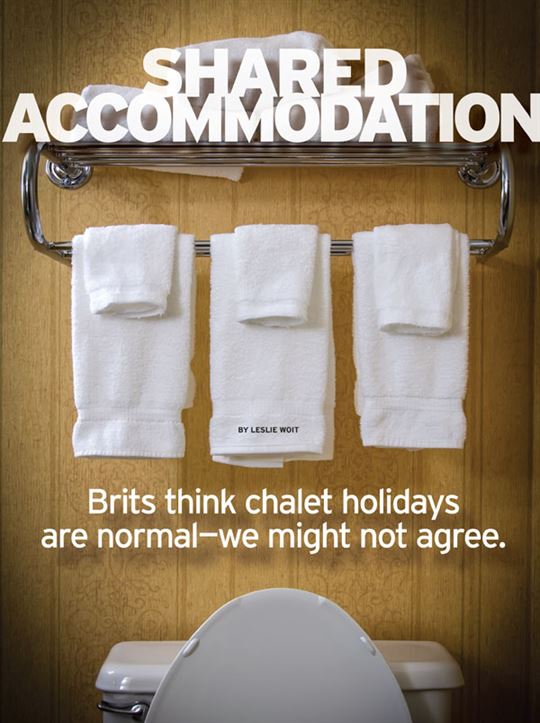 The visiting Frenchman perched nervously on the edge of the couch in the chalet living room. "You would neverrr see a French person on a chalet holiday. Zay would have to be crazee! Ziss," he whispers with contempt, "ezz only for zee English."
His Gallic nose crinkles as if surveying a bag of week-old, sun-warmed sausages—rather than a roomful of tasteful taupe and ochre hues redolent of a House & Garden double-pager. In horror, to wash away such ludicrousness, "Boof," he takes another healthy swig of Champagne.
Even though he's French and I'm Canadian (albeit living in Britain), I have to agree. For those unfamiliar with the concept, this most popular form of ski holiday for the British means a week in a shared chalet. You book, you arrive—et voila! Breakfast, afternoon tea, dinner, bedhead and emotional laundry hanging…it all unfolds in the company of total strangers. Typically, there are no locks on the doors, no secrets between walls. To anyone but the British, the notion of paying money to live with The Unknown, on purpose, is, well, freaky. A situation you'd only find yourself in under severe duress, like bunking down in a hurricane shelter or waking up in a crack house under Rob Ford.
It's the way it's always been. The early commercial development of the chalet holiday dates to the 1930s and a woman named Erna Low, a Viennese who went to study in England, organized a jolly group ski trip and subsequently gave her name to a successful ski tour operator that continues to this day. From those first rough-and-ready bunk 'n' grubs—certainly borne of the camaraderie of the Alpine hut experience—the product has metamorphosed. But these days, it ranges from cheap and scary to quite lovely and luxurious.
I've dipped my toe into these waters several times now—first in Val d'Isère as a guest and even with a short stint working as a chalet girl (which is different from being a working girl in a chalet).
As a chalet virgin, my fears were considerable; we've all heard of the terrors of English boarding schools. This cultural collective in the mountains seemed to me the adult equivalent. I saw the snowbound week stretching out before my eyes: shared bathwater, slop for tea and a regime of assorted character-building discomforts of sodomy-filled nights. I'd heard the stories both about and from chalet girls and chalet boys.
Chalet girls do the cooking and cleaning, and are the ministers—and in some cases the agent provocateurs—of the mass-market, one-week-a-year British skier with a penchant for boozeramic cheap all-inclusive ski hols. Cooking and serving, folding napkins into bird heads, a bit of waving the feather duster through the air and…Bob's your uncle—it's out onto the slopes for a short day of skiing, then a long night of partying, all culminating with a tiptoe at dawn over naked couples strewn about common areas like human minefields. Fergie famously did a stint as a chalet girl in Verbier before marrying Prince Andrew. Picture it?
As the week advanced during my chalet holiday, inhibitions relaxed. Long johns at pre-dinner drinks. A 2:00 a.m. snowball fight—inside. We collectively stayed out till the early hours and got up in the late ones. All was lightly and efficiently attended with unfailing good humour by Ems, our chalet girl, who'd just finished at Bristol Uni and was enjoying a winter in Val. Ems' daddy was something big in banking.
"Ahh, well, it is a bit easier when people clear out of the chalet before noon," said Ems gently one morning with a broom in hand. Chalet girls can be a cross between The Sound of Music's Maria, Frau Schmidt the housekeeper and Herr Zeller the Nazi.
And looking back at those strangers—the interesting, motley slice of British society that was our chalet, by luck, on purpose—I realized something. Ziss may be only for zee English, but it suits them to a tea.
Chalet shopping
Go on, you might like it. With all-inclusive prices from around $700 and up, a chalet holiday in the Alps is a great way to economize and meet new people, weird or wonderful. There's almost always a tour operator rep at the resort as well to assist. Or if you already have enough friends and family who want to do the Alps on the cheap, bring them along and book the entire chalet—there's one just your size to accommodate six to 60. It's all included: bed, breakfast, tea with snacks, dinner with wine—BYOB après.
•   The UK's biggest tour operator is Inghams, with selection and diversity a-go-go. (inghams.co.uk) Its sister operation Esprit is a family ski specialist, with free child places and nannies. (espritski.com) Or just Google chalet holiday Alps for hundreds of tour operators big and small.
•   In Méribel and Val d'Isère, go for Fish and Pips' catered chalets close to the slopes, with real restaurant chefs at the helm rather than "apprentices" or other Gap Year kids. fishandpips.co.uk
•   vip-chalets.com offers luxurious chalets with lots of bells and whistles across the Alps.
•   Erna Low, since 1932. ernalow.co.uk
•   And for top-drawer oligarch getaways for when money is no matter, it's gotta be consensioholidays.co.uk. No sharing here!