---
Is body armour a necessity now as our sport becomes more aggressive?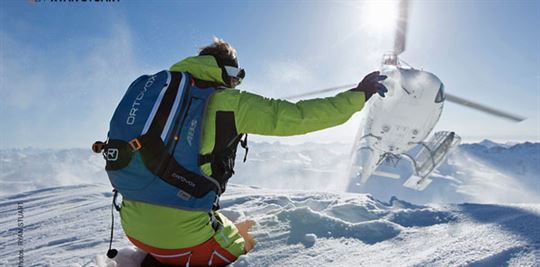 _by RYAN STUART
All-important trends in snowsports come from Europe. Or maybe they trickle down from racing, like helmets did. Born in the backcountry? Think rocker. Or could it be the park? Wherever you think skiing's next trend will come from, a good bet on our direction is an increase in body armour at a ski resort near you.
"If you ski over in Europe, everyone is wearing spine protectors and padded shorts if they ski off-piste," says Shane Kilfoyle, a partner at Collingwood's Squire John's ski shop. "If you pinwheel over a rock band, you want to be wearing it."
It's also ubiquitous among racers. Kilfoyle says from U12 juniors to the World Cup, they're all wearing spine protectors in speed events.
In Western Canada, freeride chargers gravitate toward backpacks with flexible spine protection for holding their avalanche gear and saving their backs, says Pat Duval of Fanatyk Co. Ski & Cycle in Whistler.
And Huntsville, Ontario's Dara Howell, slopestyle gold medallist at the 2014 Sochi Winter Olympics, and her compatriots in the terrain park wear armour and mouth guards to help protect their body, brain and teeth.
People who wear armour can recall plenty of anecdotes where tailbone padding saved their butt or a rocky crash shredded a jacket but not their skin. But, no matter what the armour manufacturers say, "There's a lack of emperical research to back up any claims of increased safety," says David Lynn, executive director of the Canada West Ski Areas Association.
Even a list of most common ski injuries hints at the limits of armour's impact. Lower body (34 per cent) and arm and hand (22 per cent) injuries lead the list, and sprain is the most common mechanism (48 per cent). Body armour would prevent none of these. The exception may be in the terrain park, where injuries to the head, neck and spine are much higher and back protection could have a significant benefit.
Regardless of what the limited stats say, many believe armour will catch on with the general skiing public, just like helmets have.
"As it gets more comfortable to wear, the popularity will increase," says Duval. "I don't think armour will ever be as popular as helmets, but I can see a day when most advanced skiers are wearing it."
BODY ARMOUR 101
The first ski armour came from the motorbike industry. It was hot, sweaty and cumbersome. But as it gained in popularity, more ski-specific pieces became available. The padding comes in two basic styles: rigid and flexible. The rigid stuff is a lot like hockey or mountain-biking pads and tends to be less expensive, but it's also restrictive and hot. Newer materials are soft and flexible most of the time, but in a crash the impact causes the molecules to harden. Most people who wear this type of padding don't even notice it's there.
Body armour comes in three basic configurations:
SPINE PROTECTION: The most commonly worn, it's often now mandatory in races and freeskiing competitions. It comes as a shirt or jacket worn under a jacket or built into a backpack. For the clothing, the key is fit in both the torso and waist. Focus on the spine first: it should reach from above the tailbone to below the neck, so it doesn't interfere when looking up, especially in a tuck. The waist should fit snug to help hold the padding in place. The packs place flexible but protective armour across the back panel. They usually have a wider than normal waist belt that snugs up with Velcro to hold the pack in place during a tumble.
PADDED SHORTS: They're like a pair of boxers but with pockets of padding over the tailbone, crotch and thighs, and are popular with those skiing gates or riding the park.
UPPER BODY SUITS: Probably the rarest armour, it's mostly used by slalom skiers and resembles hockey shoulder pads.
BUILDING A BETTER HELMET
We all know not all helmets protect equally. Most are designed to take a single big hit on top of the head, but typically crashes happen on an angle and include some twisting or rotation. And, let's face it, unless the damage is obvious, few of us replace a helmet after one blow. Luckily helmet makers are keeping up.

SPIN ME RIGHT ROUND

To compensate for rotational forces, a group of surgeons and scientists from Sweden used the brain's own protection system as a model for the next generation of helmets. When you hit your head, a layer of fluid under the skull allows the brain to move slightly, lessening the force. The Multi-directional Impact Protection System, or MIPS, does the same by separating a helmet's shell and liner to allow a small amount of movement. The technology is available in helmets from several brands. mipshelmet.com

NOT A ONE-HIT WONDER

Giro developed a soft helmet system aimed at park riders and freeride chargers who tend to crash frequently. It's designed to take many hits without impacting protection. Rather than the typical closed cell foam, it uses two layers of vinyl nitrile in its Discord and Combyn helmets. Though the material is soft, it still provides impact protection and doesn't dent on impact. Matched with a flexible outer shell, it can take a beating without retiring. giro.com

armour, body armour, Dara Howell, Fanatyk Co. Ski & Cycle, Giro, helmet, MIPS, ski helmet, Squire John's