---
A trip to sample Big White's early season snow paired nicely  with the best from more than 30 Okanagan wineries.
Photos by Gavin Crawford
From the Travel Guide 2011 issue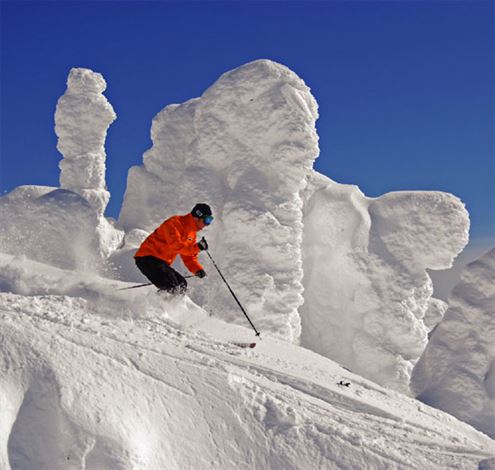 The assignment was simple: head to Big White to sample premium Okanagan red wine and enjoy some early-season skiing on the broad manicured slopes of a resort that was lodged deep in the recessed memories of my short-lived juvenile ski racing career. My choice of wingman for this trip was a natural one, Kris Oetter, former pro mountain bike racer, a veteran of numerous Ski Canada road trips and a perfect man for the job, a guy who loves skiing on someone else's budget but also one who measures the quality of wine by the litre and not by floral notes of blackberry or hints of pencil shavings.
So, on a frosty December afternoon we migrate east from Vancouver Island, across the Straight of Georgia, over the Coquihalla Hwy, bumper-to-bumper with the grinding Friday-evening suburban traffic of the Kelowna strip, before arriving at Big White. The promise of fresh powder drifts lazily down from a dark, moonless sky in the form of random fat snowflakes. The village is eerily quiet, in that early-December, pre-Christmas-rush kind of way, when Aussie staff outnumbers guests by a ratio of 3-to-1.
We check into our suite at the slopeside Stonebridge Lodge. It's bigger than my house and appears to have been rarely used; the bathroom faucets still bear the retailer's sticker. A young Aussie knocks on the door to clean our Jacuzzi, which hasn't yet been used. Later we head outside and crunch across the welcomingly cold interior snow to a well-used and loved Big White village institution – Snowshoe Sam's, where according to a sign above the bar, they've been "Helping Ugly People Get Laid Since 1980."
Our hopes are much more modest, only to warm up our palates for the main attraction, the Big Reds at Big White event tomorrow evening. At Snowshoe Sam's, however, there is not a glass of cabernet sauvignon, merlot or pinot noir to be found. Early-season mating rituals between liftees, serving staff and the various other foot soldiers on the backs of which ski resorts run, are in full swing. Jugs of lager slop generously onto the tables. Cell phone photos of newfound friends are being snapped at a furious pace and instantaneously couriered through cyberspace back to mates in Perth, Surfer's Paradise or wherever.
A few aging ski instructor types lurk circumspectly on the fringes, trying awkwardly to determine where they fit within this youthful spectrum of ski resort humanity. A muscled doorman intently observes the boisterous bravado of a pair of young males decked out in tattoos and Tap Out clothing. Ah, now this is the life. Kris and I, accustomed to juvenile pursuits, settle comfortably into chairs and order beers. We turn our gaze toward a large screen appropriately showing a hilarious satirical film of the party, snowboarders, four-to- a-bedroom, underpaid, hyperactive reality of ski resort life that pretty much applies to any resort, anywhere, anytime.
After enjoying a burger and fries, I shuffle off to the men's room where three guys preen conspicuously in front of the mirror checking out their biceps.

"Let's get outta this plyce, tha's no chicks hee-ah," one of them sneers, in an unintentional impression of Beavis and Butthead.

"No shit, dude. You're in the guy's can," his friend replies, to a round of laughter.
Soon staring at our empty glasses, we remember a big day of shredding awaits us, so we extract ourselves from the hormonal mayhem of Snowshoe Sam's and make our way back to the lodge.
The next morning we meet Josh Foster, Big White's director of snow sports, Level IV instructor, TV ski-tip man and, most importantly, Ski Canada ski tester and cover boy. He's been at the Okanagan resort for six years but hails from Ontario, where he skated in the OHL for two years as a forward for the Toronto Marlies and once broke his wrist on the helmet of a Bellville Bulls opponent.
Turns out he's as equally adept on a pair of skis as he is with his hockey gloves—he can rip like the Hermanator. And on this pre-Christmas weekend, when the slopes are sparsely populated, the three of us open up the throttle.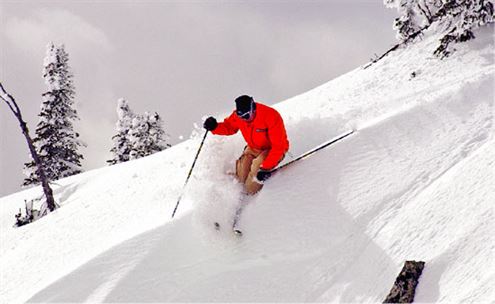 The crisp -12 C singes my face, grown soft after too many West Coast winters where a similar temperature would make people panic, close schools and warrant a severe weather warning. Here at Big White, it's balmy December weather and the slopes are precisely groomed. Carving's never been easier, even for our unconditioned December legs. There's a reason Ski Canada has returned to this hill for its annual ski test extravaganza more than any other, but so do the staff; according to Foster, 92 per cent of snow sports employees are returnees.
"I had 800 applications for 20 positions this year," Foster tells us as we ride up the Ridge Rocket Express.
Foster goes on to tell us about Big White's continued growing plans. The lofty long-term master plan development of East Peak, currently an off-piste stash, includes 16 new lifts and 665 hectares of terrain, 55 per cent of it classed expert. And in spite of the real estate crash of recent years, Big White's village keeps expanding from its current accommodation base of 17,500 pillows.
Foster only has an hour or so to ski with us before he has to rush off to meet some visiting German media. After a half-dozen, high-speed super-G cruisers and eating Foster's swirling dust, he leaves us to our own explorations. I have a soft spot for retro ski lifts, so I coerce Kris into heading up to the Alpine T-bar. While being dragged to the summit, we watch a volley ski patroller using his pole to knock phantom, non-existent snow from an area rope boundary—dutifully following directions, I suppose. At the top of the T, we pick our way among early-season rock shoals and reefs, before dropping into The Cliff, Big White's double-black territory. The back bowl is devoid of skiers, but the snow is in fine, grippy, Styrofoam quality, the foliage and rocks enough to keep you alert and sharp on the skis. We dip into trees on Camel's Back lower down and find hidden caches of week-old powder that brushes our boot tops.
That evening, it's time to amble over to the main lodge for some Big Reds at Big White. Kris and I, kitted out in our best jeans and T-shirts, sidle up to the entrance where we meet organizer Antje Schirwinsky, giddy with excitement. "I'm so stoked with all the people showing up. It's more than double last year's event," she tells us.
Indeed, the great room is packed with a markedly different slice of ski resort humanity, more of the types who might be purchasing one of those $2.5 million, 4,000-square-foot chalets at The Edge, one of the latest high-end village developments currently underway, and less of the sorts that swill draught beer at Snowshoe Sam's. However stripped down to its basic elements, it's more or less the same activity: people drinking and engaging in some high-speed flirting.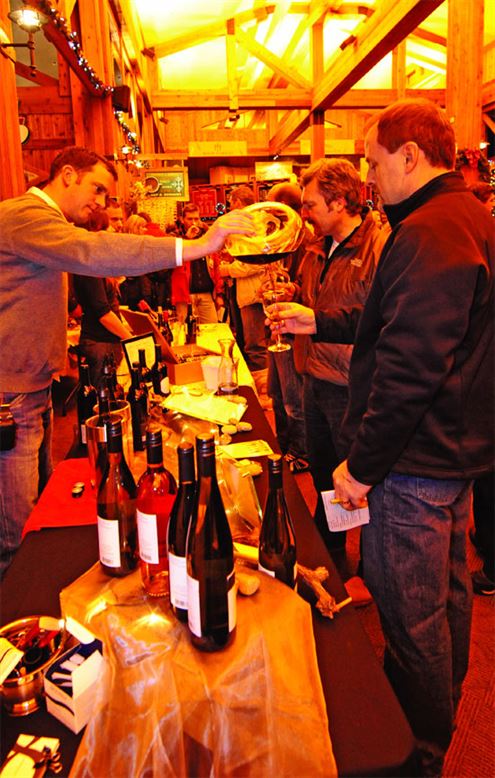 Kris and I dive right in and the first stop is Nichol Vineyard and Farm Winery, whose 2005 Syrah was a hit with international wine critics. I tenderly sip a small glass of their cabernet franc before being elbowed out of the way by an even more eager aficionado. We move on to View Winery, a boutique operation that bottles just 600 cases per year. I observe Kris as he cradles the glass of red in his hand with a practiced air of wine snobbery, swishing around its contents, dipping his proboscis into the vessel to better discern its subtle notes, while at the same time plying the hostess with a few pointed questions about their vineyard practices. The ladies over at the Dirty Laundry Vineyard's booth are handing out clothespins adorned with cheeky expressions, attracting considerable amounts of attention with their gregarious schtick. So we amble over for a sample of their Bordello, what the winery's literature dubs "an exotic swirl of cabernet sauvignon, merlot and cabernet."
Mingling in the crowd, we spot Josh Foster and Blair Ireland, Big White's GM and a guy who has ascended the ranks of ski resort humanity, starting 27 years ago as a bartender. And so it goes, an orgy of finger food and red wine sampling to the point where the taste buds have been numbed and it's virtually impossible to distinguish Syrah from sauvignon, farnese from maréchal foch. No matter, I have my personalized clothespin from Dirty Laundry and a slightly better than proletarian appreciation of the diversity of Okanagan Valley red wines.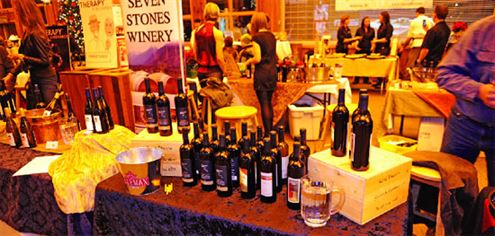 Satiated, we step out into the village square, breath condensing in the cold air. Music blasts in pulses from the opening and closing front doors of Snowshoe Sam's—a small lineup of early-season hopefuls has formed outside. Kris and I head back to our palatial digs, tasting notes stuffed into our pockets. That was the Big Red portion of the entertainment; tomorrow morning we'll serve up another helping of Big White.
More than 30 local wineries will be there at the 3rd annual Big Reds at Big White on December 11, 2010. See Seasonal Events at www.bigwhite.com.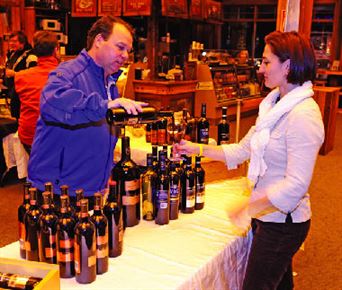 Tags: Big White, British Columbia, getaways, holidays, Josh Foster, Kris Oetter, Okanagan, red wine, ski travel, ski vacations, wine sampling, wine tasting