Seeing Red, Speaking Shred
---
Red Mountain remains a Canadian classic, going back in time far enough to be new again.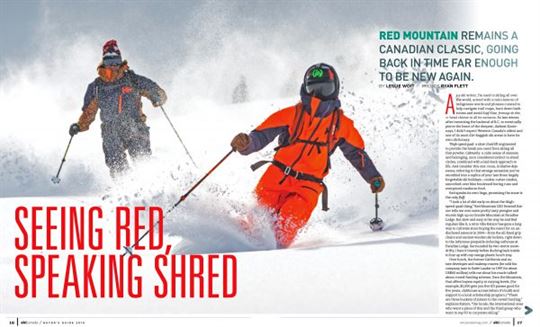 As a ski writer, I'm used to skiing all over the world, armed with a mini-lexicon of indigenous words and phrases curated to help navigate trail maps, hunt down bathrooms and avoid Kopf Käse, fromage de tête, or head cheese in all its variants. So last winter, after traversing the backend of B.C. to eventually pierce the heart of the deepest, darkest Kootenays, I didn't expect Western Canada's oldest and one of its most dirt-baggish ski areas to have its own dictionary.
Thigh-speed quad: a slow chairlift engineered to provide the break you need from skiing all that powder. Calmunity: a calm sense of oneness and belonging, once considered extinct in shred circles, combined with a laid-back approach to life. And consider this one: noun, imitative deja-ewww, referring to that strange sensation you've stumbled into a replica of your last three largely forgettable ski holidays—cookie-cutter condos, smoothed-over blue boulevard boring runs and overpriced mediocre food.
Red speaks its own lingo, promising the snow is the only fluff.
"I took a lot of shit early on about the thigh-speed quad thing," Red Mountain CEO Howard Katzov tells me over some pretty tasty perogies and wursts high up on Granite Mountain at Paradise Lodge. But slow and easy is the way he and Red regulars like it, a retro vibe Katzov has gone a long way to cultivate since buying the resort for an undisclosed amount in 2004—from the all-fixed grip chairs and ancient wooden ski lockers, right down to the infamous poopsicle-inducing outhouse at Paradise Lodge. Surrounded by two-metre snowdrifts, I bare it bravely before ducking back inside to line up with my orange plastic lunch tray.
Over lunch, the former California real estate developer and makeup maven (he sold his company Jane to Estée Lauder in 1997 for about US$60 million) tells me about his much-talked-about crowd-funding scheme, Own the Mountain, that offers buyers equity at varying levels. (For example, $1,000 gets you five lift passes good for five years, clubhouse access (when it's built) and support to a local scholarship program.) "There are three buckets of joiners to the crowd funding," explains Katzov, "the locals, the international ones who want a piece of this and the third group who want to say FO to corporate skiing."
So far, the chance to "own the mountain" has attracted more than $12 million in pledges from more than 3,400 skiers. With Phase 1 complete, Red has initiated design and engineering services to commence summer construction of the Paradise Lodge reno that will include new washrooms, as well as a parking lot, and retail and ski rental expansions. Future developments depend on the success of Phase 2, when the transfer of pledges to cash would occur.
''Red punches above its own weight­—quickly feeling equivalent to an area several times its size. ''
Now back to our original programming. And the serious stuff everyone loves to ski here.
Measuring more inbounds acreage than Jackson Hole (JH must be a bit of a spiritual rich second cousin to Red, we imagine), Red punches above its own weight—quickly feeling equivalent to an area several times its size. Even though it has just seven lifts, all of them slow (one of the "new" ones came all the way from Alaska), the skiability is mind-blowing: five mountains, including 360-degree skiing, with the longest run a thigh-jangling 10 km. For skiers who dig steep fall lines and occasional bushwhacking to get to the goods, this is all that and a packet of crackers—which also comes in the form of skiing like a king on a pauper's pocket change. For the full out-of-bounds feeling, inbounds cat-skiing is available for just 10 bucks a ride—or a free 20-minute hike for those on an austerity or weight-loss program.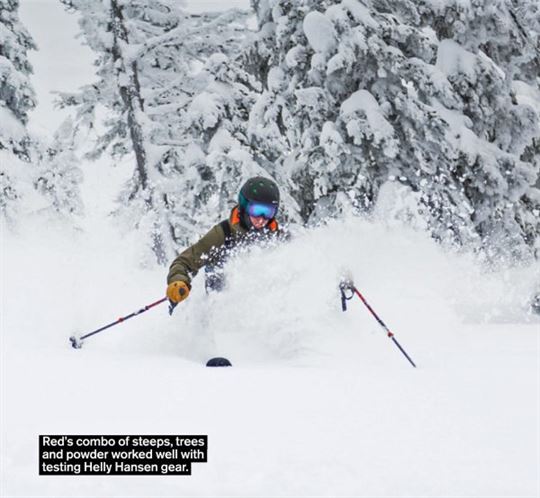 "Let's do cooler three!"
Another word, this one from 14-year-old Simon Hillis, local Reddite, Junior North American Freeride Champion in 2017 and Helly Hansen ambassador. Simon loves the coolers—couloirs are so old school—and Red's a-chocka with them. Fat faces traced with powder chutes etch moss-dripped trees and craggy ridgelines, making it a perfect place for Simon and our group to test some 2018 Helly Hansen gear.
Climbing in and out of an oily cat, a bit of torso- and thigh-whacking courtesy of B.C.'s finest Douglas firs and the obligatory wind-snow-sleet combo put our H2Flow turbocharging, mechanical-
venting winter-wear through the ringer. We remain warm, dry and my high-zip collar comes in handy to support my chin. Jaw-dropping hosannas are part of seeing Simon ski.
See Simon leap from a cat. Watch Simon shred. When Simon says "jump," he means jump. The next day we see what it means for a slight, modest wisp of a 14-year-old to "send it"—off a 10-metre cliffband, then a 15er, then something that gives the Trail smelter tower a run for its money. The inbounds open runs, tree-skiing and rolling 10-15 cm of powder we skied for 10 bucks on Mt. Kirkup the day before was, as Chicago sings, only the beginning.
Red Mountain's famous lift- and cat-accessed slackcountry (not to mention groomers and cruisers that stretch and wind in all aspects) tee up the perfect opening act to the caught-me-by-surprise, powder-pillow heaven at Big Red Cat Skiing. We meet in the morning for an early breakfast and transceiver practice at its lodge, conveniently located beside our very comfy condos. From there, it's a short shuttle to Big Red's staging area, and access to the 220-km system of snow roads, laying claim to "the largest snowcat road network in the world."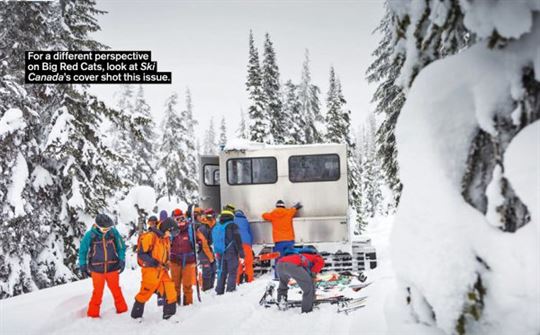 Following our guide and Big Red Cat co-owner Kieren Gaul, and ably swept by tail guide Cody, the pillow fluff among the steep glade runs is as remarkable as the runs are long—days after the last snowfall. Most are more than 650 vertical metres (the longest is almost 1,000), and Kieran flushes out cliff after cliff for Simon, and more user-friendly routes for the rest of the group.

Taking into account the heat-and-cold-generating reality that is deep-powder skiing, I feel remarkably and consistently warm and dry. As the day progresses, I'm completely shattered. But I can't hold a pair of pants responsible for that. From its clever high-viz stripes to phone battery-saving Life Pocket, it's no wonder the Helly Hansen CEO is Canadian. (Even more mildly interesting, the 140-year-old Norwegian brand is now majority owned by the Ontario Teachers' Pension Plan.) Possibly, there is just one more popular sartorial choice in these parts. That would be yer Salmo dinner jacket, eh, whose red-and-black-checked chic is the all-weather passe-partout to Legion Halls across the Kootenays.

Whatever you're wearing, you'll fit right in. Red is its own little cultural microclimate, one that smells comfortingly of weed, dogs and wet wool and where they haven't even changed run names like Indian Flats to suit the Peoples' Committees. Beware the winds of change, of course: Red is upgrading things in the poopsicle department this winter, and there's a spanky new boutique hotel opening at the base. The Josie is bound to attract out-of-towners and their avocado-toast ways. Of course, they could be the smart ones—Josie's outdoor pool will lie within spitting distance of legendary Rafters après-ski bar, where playing flippy cup with the patrollers at Open Mic Night is the last word in bona fide bush-vibe. And that, as they say at Red, is powderful stuff.

For a different perspective on Big Red Cats, look at Ski Canada's cover shot this issue.

Tags: B.C., BC, Big Red Cat Skiing, British Columbia, cat-skiing, heli/snowcat skiing, Own the Mountain, Red Mountain