Reading Time:
4
minutes
by Ryan Stuart in December 2012 issue
Slouch on the couch and get ready for the season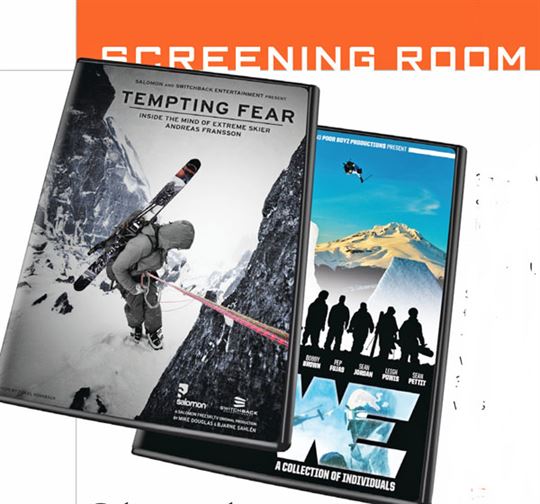 With a gang of bros ready to feed the stoke, we sat back with a case of beer, bags of chips and the year's crop of fresh ski porn. We emerged with an overwhelming hunger to shred pow, a refreshed vocabulary in ski-ese and a sense that last year's winter-that-wasn't in most of North America left the guys behind the camera in a retrospective mood. Poor Boyz explained the WE in team while generally being punks, Andreas Fransson told us why he skis the truly extreme in Tempting Fear, Teton Gravity Research focused on Alaska's ski history in Dream Factory, Level 1 Productions stayed positive in Sunny, and Jonny Moseley asked most of the U.S. Ski Team why they ski in Flow State. Every flick was refreshingly different, with a diverse cast of characters slashing every kind of turn imaginable.
To help dig through the hype, we developed a handy reference guide. Go forth, watch and get stoked.
 Best watched at the bar
Flow State
The only things separating this Warren Miller movie from the 1980s classics are Warren Miller's voice and beginner lift comedy. The pace, varied content and even Jonny Moseley's narration felt familiar and reminded us of our childhood. Everyone loved the refreshing mix of pros (including a good chunk of the U.S. Ski Team) and normal skiers and skiing styles, everything from Alaskan corn to heli-skiing to ballet skiing—remember that? Despite its name the flow felt disjointed, varying from interesting but slow-moving documentary style about the World War II 10th Mountain Division to rapid-fire park sessions. Maybe that's why everyone agreed it could have been 30 minutes shorter. Our advice: check the website for winter show dates or wait 'til it's out on DVD next summer. Everyone will find something they like. skinet.com
 Best eye-opener
Tempting Fear
Though the term seems as old as skinny skis, Sweden's Andreas Fransson is an extreme skier. There's no other way to describe the style of skiing he enjoys—often involving multiple rappels down slopes that look more like climbing routes than ski lines. After recovering from a ski accident that left him with a broken neck, we join Fransson as he skis and thinks his way back into the deadly game. Combining footage of Fransson making first descents in Alaska, Chile, Sweden and Chamonix with readings from his personal journal, we're supposed to learn what it's like to live on the edge. Mostly we were just amazed at what he considers skiable. Be prepared to look at terrain in a whole new way. Free on Salomon Freeski TV in 2013; salomonfreeski.com
 Best documentary
Dream Factory
What's a film crew to do when the skiing sucks in most of the U.S. and it's puking in Alaska? Make a film about skiing in Alaska, of course. Teton Gravity Research (TGR) traces the history of big-mountain skiing in the "last frontier" with stops in Fernie, Pemberton and Jackson Hole along the way. From what may be the birth of heli-skiing in the 1950s to the discovery of Valdez, the documentary-style flick is rich in history. Regular shifts to present day, faceshots, big lines and bigger air, and a steady pace keep the story lively. One of our favourite sections saw today's ski stars revisiting classic lines from the last decade of AK madness. And TGR manages to add the next chapter with a closing segment in a little-known area of the northern Chugach. $33; tetongravity.com
 Best not to show the kids
WE
Not many will argue with the underlying theme of this flick: skiing is better with friends. Geared toward young, core skiers, the message is subtle. Mostly this film is about progression on big-mountain faces, technical lines, in the park and especially on urban features. There's plenty of wheelchair-bound insanity no matter where they ski, but the urban section is especially wild. It gives WE a skateboard-movie feel, complete with plenty of delinquent behaviour. But it finishes strong with Sean Pettit surviving one of the sickest lines ever—two technical airs linked by high-speed turns on a big-mountain face. He steals the show. From $10 on iTunes; poorboyz.com
 Best for park rats
Sunny
Even guys who don't usually like urban sessions and aerial assaults—the overriding focus—were impressed by Sunny. Using several camera angles on each shot, tight editing, excellent music and, most important, plenty of footage of skiers really pushing the limits of what's possible in the air and on rails, Level 1 Productions manages to keep new-school jibbing relevant to almost any skier. There are so many jaw-dropping stunts contained in the hour-long film it's impossible to pick a fav. Sure there are moments when you wonder why they aren't trashing the nice powder in the background instead of spreading snow at the base of a staircase, but mostly the smooth flow and fast but not ADHD pace kept things fresh. No wonder Level 1 skied away from the IF3 in Montreal with three awards. From $10 on iTunes; level1productions.com
THREE MORE FOR THE SHELF
 Superheroes of Stoke: Coming out of the gate strong, winning multiple awards at IF3 ski film fest in Montreal including Best Storytelling and Best Big Mountain, expect all kinds of goodness in Matchstick Productions's latest. skimovie.com
Choose Your Adventure: A wandering backcountry ski and snowboard odyssey searching for what inspires different people—pros and crusty locals—to slide down mountains. powderwhore.com
McConkey: The late Shane McConkey continues to star in flicks, this time a 90-minute biography on his life and skiing from Matchstick Productions and Red Bull. Watch for it in 2013. mcconkeymovie.com