RYAN REPORT – Scary Chairlift Rides
---
I think ski lifts are one of the world's great inventions. Ninety nine percent of the time they whisk us to the top without drama. But every now and then things go wrong.
Power outages, mechanical problems, howling winds: they've all conspired to turn just another chairlift ride into one I wish I'd never taken.
I've sat idle for 20 minutes in -20C; it felt more like an hour. On a beauty powder day the lift once stopped for 10 minutes one chair from the top; it was torture. But the worst chairlift experience was riding the tram at Snowbird, Utah, on a stormy day. The winds were blowing hard enough that the operators were slowing the trams down to a standstill at the mid-mountain tower, waiting until the wind subsided enough so it wouldn't blow the lifts into the tower. A gust at just the wrong second hammered my cabin into the bumpers. Luckily we were crammed in, so no one fell over. It was pretty scary.
But after watching this clip from Austria, aptly called the Chairlift Ride from Hell, my tram scare seems pretty mild. What a nightmare ride! I hope they weren't hungover.
What's your worst chairlift war story? ryan@skicanadamag.com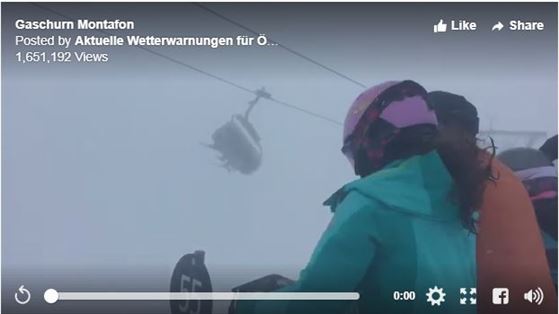 RYAN REPORT is a frequent web post by Ski Canada magazine's technical editor, Ryan Stuart.

Tags: Austra, chairlift, Ryan Report