Reading Time:
2
minutes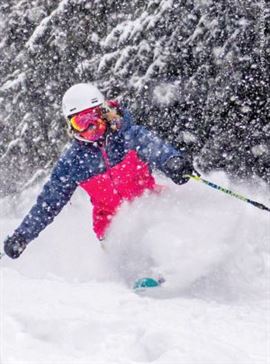 Mont-Sainte-Anne
Where: The resort perched above the St. Lawrence, northeast of Quebec City.
Why: Not worrying about groomers or skiers plowing you over.
Suggested ski: Salomon S/Lab X-Alp
Earn your on-piste turns and an extra helping of poutine on one of four dedicated uphill routes. Climbing both sides of the mountain, the marked skin tracks weave through the forest all the way to the summit, gaining nearly 600 metres. At the top choose from any of the 71 runs to get back down. It's the cheap skier's option: an uphill day ticket is only $8.

Salomon S/Lab X-Alp
BEST FOR: Fitness * LENGTHS: 154, 164, 170 * RADIUS: 17@164 * SIDECUT: 113-79-99 * WEIGHT: 1.9kg/pair
When it comes to going far, fast and high, Kilian Jornet is in a league of his own. He's won ultra runs, ski mountaineering races and holds the fastest known times for up and down of Mont Blanc, Denali and Everest. He helped design the S/Lab X-Alp for climbing and then skiing. At less than two kilograms per pair, the X-Alp is almost as light as dedicated ski mountaineering race skis, but with more shape, a wider waist, rockered shape, dampening materials in the tip, and monocoque construction that helps with edging. This is not just an uphill pony. Feedback from testers is that it skis surprisingly well in soft snow, but requires straight ski technique and the energy that goes with it. The upside is more faceshots from submarining. With a 17-metre turning radius and only available in shorter lengths, it's a fast turner, ideal for tight trees and jump-turning in couloirs. But where this ski hits the sweet spot is for fitness. It's a great ski for the growing contingent of people skiing up ski-hill runs for their daily workout. The bonus is that it will be fun on the way down. And it will do just fine when you take that aerobic capacity and pit it against your own FKT in the backcountry or the ski mountaineering race circuit.