RYAN REPORT – Buying Advice – Skis pt 2
---
In the market for a new pair of skis? Here's what you need to know.
Part 2 of 3
by Ryan Stuart, tech editor
Buying new skis is both exciting and nerve racking. In one hand is something shiny and new. But maybe they're not the right pair for you? The best way of finding the right match is by demoing a few boards first, but we understand that's not always possible.
Whether you're investing the time to demo or not, buying a new pair of skis should be a process: this is your new ski buddy. Take some time to find the right one. In Part 1 we covered some of the questions to ask yourself before buying a new pair of skis. In Part 2 we're going to help you use those answers to hone in on the right contenders. Part 3 will offer tips for actually making the purchase.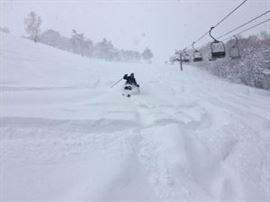 Finding the right candidates
From Part 1 you've thought about your ability, ski style, terrain preference and geographic location. These are all important to know before buying any pair of ski. Now lets dive into how to use that information to find the right pair.
What are you going to use the ski for
Is this your one and only ski? The missing piece in the quiver? A replacement for another? If you already know what kind of ski you're looking for jump ahead to Researching the options. Otherwise let's talk categories.
1.Carving: Designed for skiing groomed runs almost exclusively, they feature narrow waist widths and lots of side cut. These skis range from intermediate cruisers to nearly race skis. A good choice if you don't ski powder or if you want a dedicated groomer ski.
2.All mountain: The broadest category, spanning everything from 80 mm waists to 105 mm, intermediate to expert boards. These are jack of all trades that can do everything from lay trenches deep into groomers to floating through knee deep pow. This is the category most people are shopping in and the one with the most variety.
Freeride: Off piste planks optimized for soft snow best describes this niche. These boards are ideal for western or deep snow areas where their wider waists (generally over 105 mm) have room to roam. A good deep powder day addition to a quiver or an everyday ski if you only ski when there's new snow.
Research the options
Head onto the web. Most manufacturers will break down their ski offering into some kind of organization that roughly corresponds to the above three categories. Now do some more filtering to find the ones that are most likely to work for you.
Shape
Everything was getting fatter and fatter, but in the last two years the trend has stalled as designers realize wider is not always better. If you've found a waist width you like, stick with it. Otherwise ask friends and shop keepers what they recommend. Most ski families come in a range of waist widths. Our suggestion:
60 to 80 mm – best for dedicated groomer skis
80 to 90 mm – best for all mountain skiers that spend more time on groomed runs or ski on drier mountains
90 to 100 mm – best for all mountain skiers that spend more time off the groomed runs or ski on snowier mountains
100 to 110 mm – best for skiing in fresh snow and soft packed powder all over the mountain. The max widths for all mountain skis and minimum widths for freeride skis.
110mm and up – best for a dedicated fresh snow ski
Metal
Many models come in both metal and none or less metal constructions. Metal skis tend to be stiffer, allowing for better edge hold in hard snow and more stable performance at high speed. The downside is they take more energy and technique to turn properly and are less playful feeling.
Turns
Often overlooked but worth careful consideration is turn shape. What kinds of turns do you like to make? Big and fast: look for skis with 20 metre plus turn radius. Tight and snappy: something in the low teens is better for you. Big, small and everything in between: mid to high teen turn radiuses are versatile. Keep in mind: Most skis come in different lengths and each length has an individual turn radius.
On to Part 3
By now you should have a few contenders in mind. Next article we'll dig into how to go out and actually buy them.

Tags: alpine gear, alpine skis, buying advice, Ryan Report