RYAN REPORT – Buying Advice – Skis pt 1
---
Ski Canada magazine is introducing a new series of posts from tech editor Ryan Stuart on all things alpine skiing. Watch for regular updates
In the market for a new pair of skis? Here's what you need to know.
Part 1 of 3.
Buying new skis is both exciting and nerve racking. In one hand is something shiny and new. But maybe they're not the right pair for you? The best way of finding the right match is by demoing a few boards first, but we understand that's not always possible.
Whether you're investing the time to demo or not buying a new pair of skis is a process. These are your new ski buddy. Take some time to find the right ones. Over the next couple weeks we'll share our tips for buying your new boards. Today is part one – What kind of ski do you need. We'll follow this up with Finding the right candidates and Making the right purchase.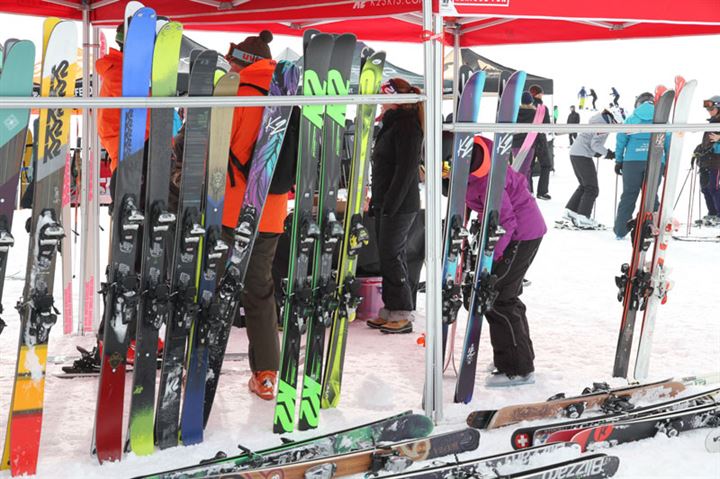 What kind of ski do you need?
This is a combination of how you sk and where you ski. A masters racer who loves to carve and lives in eastern Ontario is going to want a different ski than the powder snob who only makes the drive to Whistler when it snows more than 20 centimetres. Let's break it down.
Your ability
Be honest. Exaggerating your skills will only lead to you flying down a mountain totally out of control. With the right ski you'll have more fun, ski harder terrain and become a better skier too. If you can ski any run on the mountain with style you're an expert. Consider yourself advanced if you like black diamonds but shy from the steepest and gnarliest runs. You're a strong intermediate if you love the blues and don't mind the challenge of an easier black.
Your ski style
This is a little harder to pin down. Do you get satisfaction in making symmetrical arcs top to bottom? Or is the mountain more a playground for smearing, sliding, throwing contrails of powder, etc? Precision skiers will want more traditional skis with flat tails and less rocker. While the latter will want slightly softer, more playful skis, often with twin tips and lots of early rise rocker.
Terrain you like to ski
What does your average ski day look like? Where do you ski? What do you avoid? The more time you spend on groomed runs the more of a frontside ski you'll want. Avoid packed snow like a lunch time cafeteria line? Lean towards wider waist widths and more freeride oriented skis.
Where you ski
Finally consider geography. West or east. Powder belt or blue sky haven. Lots of trees or all about the alpine. Maybe you live out east but mostly ski on holiday in far bigger mountains.

Give these questions lots of thought and next week we'll help you use that information to filter out the best kinds of skis for you.

Tags: alpine gear, alpine skis, Ryan Report, skis