---
How a pair of nacho-munching ski bums went from déclassé to douchebag in five mind-blowing meals served up in Whistler.
'll be the first to admit it: When it comes to chowing down on the hill, I'm not a fancy fellow. Hook me up with a plate of rubbery nachos and a pitcher of whatever's on tap and I'm a satisfied skier. But there comes a time in a man's life when he needs to step back and re-evaluate his place at the dining table. At 40, with dignity increasingly on the line, I've realized it's no longer super-cool to dine on a squished cheese sandwich from the bottom of my backpack in the day lodge, shortly after refilling my Nalgene in the bathroom sink. Gone are the days when a Twix washed back with Gatorade will suffice for a midday snack. I will stop making a meal out of fries! (Even with gravy.)
No, sir, classy dining days are all that lie ahead.
Henceforth I shall forgo the cheap and cheerful for the finer foods in life, regardless of how consistently I've mocked the food-obsessed to date. And where better to start this dietary revolution than in Whistler, B.C.—village of the gourmet gods, epicentre of epicurean frou-frou-ery, home of the reservations-only après-ski scene?
So, in the middle of March, Ski Canada sent me west to pursue my humble foodie aspirations, conscripting my old buddy and beer-drinking associate, Gary Davidson, to help me march down the road to refinement.
What follows is a tale of naive culinary ambition and the story of how two draught-drinking ski bums went from chicken wings to Yarrow Meadows duck breast in five fantastic meals.
 BABY STEPS
Take it easy. That's what I kept telling myself as we spent the day navigating our welcoming fog on Blackcomb. No need to rush into anything crazy on day one, so little surprise we ended up in a familiar first: the main floor of our hotel, the Pan Pacific Mountainside, just steps away from both the Whistler and Blackcomb gondolas.
Maybe we weren't exactly racing to the epicurean heights, but as we settled in at the Dubh Linn Gate, an Irish pub with its bar shipped across the pond in its entirety from the Emerald Isle, some subtle differences were immediately apparent. There were 25 beers on tap, many of them local craft brews, and a rotating selection on cask. The band consisted of a fiddle and an acoustic guitar, but unlike many pub acts, they didn't suck. And the menu offered options that elevated the notion of pub grub to something more highfalutin than burgers and fries. I resolved not to order a pitcher with a side of clams. We were upscaling this shizz.
No wings!
Bar manager Evan Wilkins walked us through his favourites, and got the booze train rolling with "The Family," a flight of Irish classics including Harp, Smithwicks, Kilkenny and Guinness, that helped wash down a plate of fried calamari and flatbreads smothered in a garlicky baked crab and artichoke dip. Emboldened, we ordered local pints of 1516, a crisp lager from Vernon, B.C., and tucked into hearty steak and Guinness pies that stretched our stomachs to bursting. More beer, please. And dessert? Of course! Fruit compote and chocolate tortes arrived, but only stayed long enough to induce our first food comas of the trip. Gluttony had trumped graciousness.
Fifteen minutes after we finished our last pints, both Gary and I were sprawled across our respective beds, moaning ruefully at how much food we'd just inhaled. I looked at the clock before passing out. It was 9:45 p.m. We'd bitten off more than we could chew.
MOVIN' ON UP
Eighteen hours later Gary and I are standing in a vodka freezer with two Brazilian tourists, the four of us shivering underneath oversized Canada Goose parkas. We knock back a round of flavoured vodkas, part of a special service offered at the Bearfoot Bistro, an upscale cocktail bar and fine-dining restaurant where we decided to take our day-two après ski.
This is not where I'd ordinarily expect to find myself after the last run of the day—and it's not the kind of place I'd wear my tuque and boots at the bar—but in terms of post-ski drinking, we'd definitely graduated from the barstools at the Dubh Linn.
Our Bieber-like barkeep loosened us up with gin martinis made with rare Beefeater 24, fresh Vancouver Island oysters on the half-shell and truffle fries with a tangy aioli before sending us into the Belvedere Ice Room. Formerly a cigar humidor, the icy glass box is now kept at -26 C—hence the drinking parkas—and houses over 55 vodkas from a dozen different countries, all of which sit in bottle-shaped nooks carved out of the thick ice that lines the walls. Four shots of vodka went down in under 10 minutes. The shivering stopped. We were ready for dinner at the Four Seasons.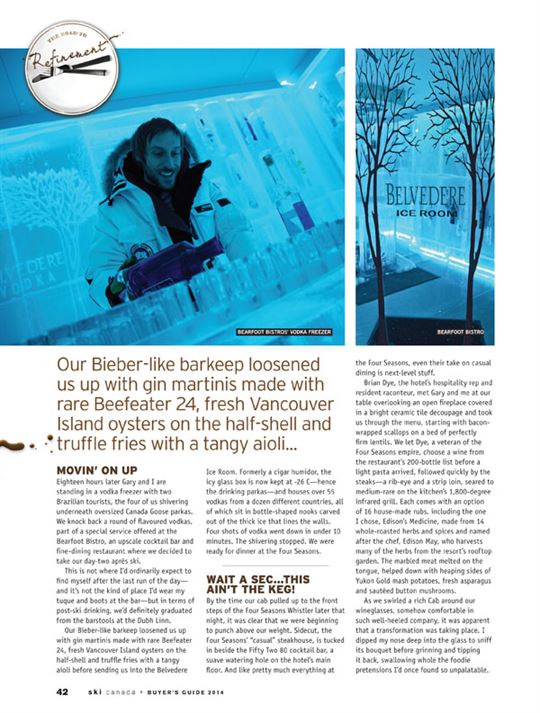 WAIT A SEC…THIS AIN'T THE KEG!
By the time our cab pulled up to the front steps of the Four Seasons Whistler later that night, it was clear that we were beginning to punch above our weight. Sidecut, the Four Seasons' "casual" steakhouse, is tucked in beside the Fifty Two 80 cocktail bar, a suave watering hole on the hotel's main floor. And like pretty much everything at the Four Seasons, even their take on casual dining is next-level stuff.
Brian Dye, the hotel's hospitality rep and resident raconteur, met Gary and me at our table overlooking an open fireplace covered in a bright ceramic tile decoupage and took us through the menu, starting with bacon-wrapped scallops on a bed of perfectly firm lentils. We let Dye, a veteran of the Four Seasons empire, choose a wine from the restaurant's 200-bottle list before a light pasta arrived, followed quickly by the steaks—a rib-eye and a strip loin, seared to medium-rare on the kitchen's 1,800-degree infrared grill. Each comes with an option of 16 house-made rubs, including the one I chose, Edison's Medicine, made from 14 whole-roasted herbs and spices and named after the chef, Edison May, who harvests many of the herbs from the resort's rooftop garden. The marbled meat melted on the tongue, helped down with heaping sides of Yukon Gold mash potatoes, fresh asparagus and sautéed button mushrooms.
As we swirled a rich Cab around our wineglasses, somehow comfortable in such well-heeled company, it was apparent that a transformation was taking place. I dipped my nose deep into the glass to sniff its bouquet before grinning and tipping it back, swallowing whole the foodie pretensions I'd once found so unpalatable.
AND SO WE HIT PEAK PRETENTIOUSNESS
On the road to refinement, one can sometimes get ahead of oneself. Gary and I had come a long way in three short meals, from kickass pub dining to oysters and vodka to steaks that would convert a vegan, but nothing had prepared us for what lay in wait at Araxi. Consistently rated Whistler's best restaurant, Araxi, centrally located in the heart of the Village Square, is home to one of the country's leading chefs, James Walt, who also helped open Vancouver's Blue Water Café, one of the province's most revered eateries.
From the moment Neil Henderson, the restaurant director, seats us, both Gary and I know it's officially on. Henderson, a brusque Scotsman who epitomizes the stoic front-of-house ideal, introduces us to the in-house sommelier, Samantha Rahn, who pairs our wines to each course. She's helpful, seeing as Gary and I would likely try to order a bottle of Mateus and some pasta from the bottom of the menu. Instead, we start with B.C. albacore tuna and a spring salmon zuke, paired with a brut from the Okanagan's Sumac Ridge. It's a ridiculously delicious combination. As are the seared wild Alaskan scallops that follow, seasoned with curry salt and a cauliflower puree. Rahn pours us another Okanagan vintage, a small-batch blend from the Laughing Stock winery. As much as we feel like imposters in the midst of a room of real foodies (or, let's be honest, rich mofos), we roll with the special attention.
Yarrow Meadows duck breast with grilled local butternut squash and shishito peppers arrives next, plated alongside Parmesan polenta with a sesame, soy and ginger vinaigrette. We do not know what Yarrow Meadows duck breast is, but we inhale it nonetheless. Turns out, it's fantastically rich, dark meat infused with a hint of orange that we chase with a Foxtrot pinot noir. I can tell Gary's getting full, and so am I, but there's no turning back when a roasted rack of lamb lands on the table surrounded by braised kale and a celery root purée. When the wine pairing arrives, this time a Jackson-Triggs cabernet sauvignon from the Okanagan, we both swirl it round our glasses, stick our noses deep into the bowl with a grin, then take a delicate sip before pontificating on its minerality and balanced tannins. It's official—we've become snobby douchetards. And, thanks to Araxi, we're comfortably shameless about it.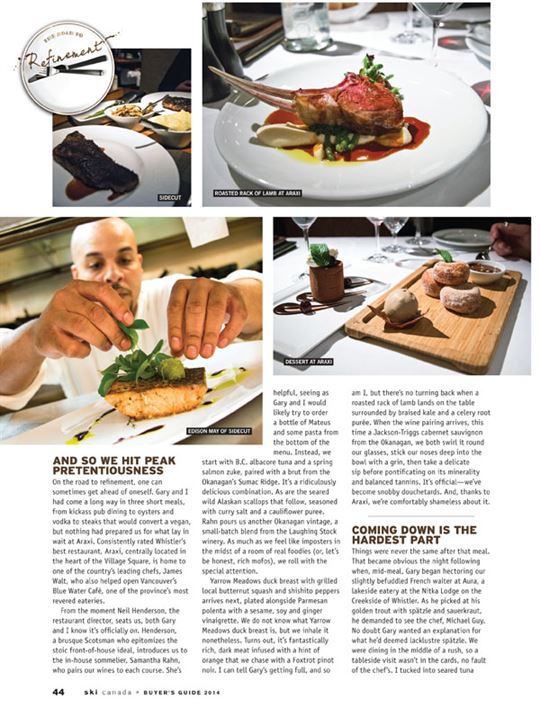 COMING DOWN IS THE HARDEST PART
Things were never the same after that meal. That became obvious the night following when, mid-meal, Gary began hectoring our slightly befuddled French waiter at Aura, a lakeside eatery at the Nita Lake Lodge on the Creekside of Whistler. As he picked at his golden trout with spätzle and sauerkraut, he demanded to see the chef, Michael Guy. No doubt Gary wanted an explanation for what he'd deemed lacklustre spätzle. We were dining in the middle of a rush, so a tableside visit wasn't in the cards, no fault of the chef's. I tucked into seared tuna with a tangerine and onion vinaigrette—it was fresh and tangy, the fish cooked to perfection. The beet salad that preceded it, served with endive and frisée, was just as fresh and unique in its presentation. Of course, we'd derided the salad's out-of-date plating, all smears and drizzles that we concluded was part of a '90s-era dining trend, now gauche in the eyes of Araxi-fed ski bums. The tuna, I surmised, was another predictable menu item…boooooooring!
How had this happened? How had a pair of easy-to-please chicken nugget munchers so rapidly transformed into reprehensible snootbags with no legitimate claim to gustatorial pretension? The meal at Aura would have been fantastic any other night—albeit a little romantic for a couple of dudes—but we'd entered another realm since forgoing the simpler pleasures in life. I asked for the bill from the waiter before we finished the wine. We had become what we'd always despised. We were like the nouveau riche of the dining world—uncouth, crass and due for a kick in the crotch.
A GREASY PALETTE (AND SOUL) CLEANSE
Leaving day. We packed up our stuff at the Evolution Whistler (a boutique hotel we'd moved to at the foot of the Creekside gondola that Gary had wanted to try). The bus back to Vancouver was coming before noon and we decided to grab breakfast at the Southside Diner, a classic breakfast joint just across the Sea-to-Sky Highway. There was no maitre'd. We had no reservations. What we got was a table for two, bottomless coffee and a couple of plates stacked high with toast and eggs, bacon and hash browns. I splashed ketchup all over my plate and glugged back an orange juice. I saw my reflection in the serviette dispenser: back to reality. For four days we'd immersed ourselves in a world of haute cuisine, designer cocktails and exemplary tableside service, an experiment in pretension that had altered the way we looked at ski-hill dining—and not all in the most positive ways. From the heights of Whistler dining, we'd wrongly sunk to new lows of tableside behaviour. And here, in the bright morning sunshine, with a piece of bacon between my lips, it was like a fog had cleared. I was back where I belonged.
Now, fine dining is fantastic—don't get me wrong. And I know I'll never find myself fishing around for that deformed cheese sandwich in the day lodge again. But take it from me: for the uninitiated ski bum, a fine food binge can end like an insane party weekend—with shame, regret and promises of personal reformation. (Not to mention bloating.)
So take it easy out there. At the next hill you hit, dabble in some great eats, sip some unusual cocktails and fine wines, make friends with fantastic servers. But treat it all like an unexplored double black diamond. Take it slowly at first, check where your next turn's going to lead and if you start to get out of control, for the love of God, throw on the brakes. The last thing this world needs is another foodie cartwheeling down the slope to insufferability.
WHERE TO STAY
 Pan Pacific Whistler Mountainside panpacific.com
Why here?
It's in the heart of the action. Hotel suites come complete with fireplaces, full kitchens and floor-to-ceiling windows with kickass mountain views. The outdoor pool and hot tub scene faces Blackcomb Mountain.
What's close?
Both the Blackcomb and Whistler gondolas are steps away from the Pan. The Dubh Linn Gate pub is on the main floor; Araxi, Sidecut and the Bearfoot Bistro are all within walking, or rolling, distance.
Why here?
It's sleek and quiet. A boutique hotel, Evolution also has killer suites with full kitchens, outdoor dining areas and multiple modern fireplaces. An outdoor pool and hot tub area helps keep the muscle knots at bay.
What's close?
The Creekside gondola is steps away from the Evolution. Aura, on Nita Lake, the Southside Diner and Dusty's, the legendary Creekside watering hole, are all within a 10-minute walk.
For more info: whistlerblackcomb.com, hellobc.com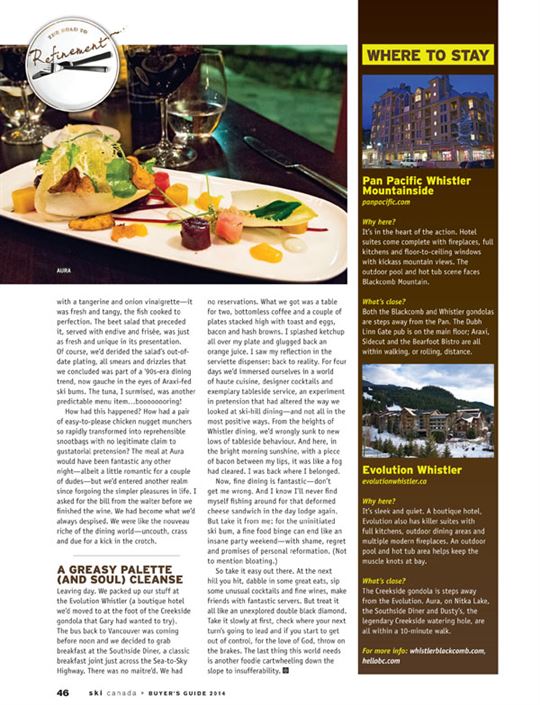 ---
Tags: Araxi, Aura, B.C., BC, Bearfoot Bistro, Belvedere Ice Room, Dubh Linn Gate, Evolution Whistler, Fifty Two 80, Four Seasons Whistler, Laughing Stock, Nita Lake Lodge, Pan Pacific Mountainside, sidecut, Southside Diner, Sumac Ridge, Whistler-Blackcomb