---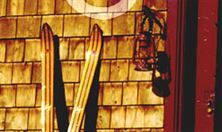 There's no je ne sais quoi about it. There are loads of good reasons to fall in love with Canada's exotic eastern beauty. So slip into something more comfortable and treat yourself – and maybe even a loved one – to these top Gallic delights.
ARRIVE IN STYLE
Porter Airlines flies skiers from the Toronto City Centre Airport to Quebec City, making it easy to book a naughty white weekend. Flights operate every weekend on Friday, Saturday and twice on Sunday. Special Christmas schedules, including everyday flights from December 17 to January 7, are also part of the program. If you're in the mood for a more leisurely approach, take the train from the Maritimes or Upper Canada. VIA Rail includes a first-class meal, WiFi and open bar, and it's Easterly overnight service from Halifax will gently rock you to sleep under crisp white sheets dreaming of arriving to fresh white powder after tracing the wild windswept shore of the St. Lawrence.
CUDDLE UP IN OPULENCE
Splendid isolation abounds in PQ. From rustic romantic cabins to castle hotels, wherever you choose to ski you'll be able to bed down in comfort. The Hotel Quintessence is the luxury boutique hotel at Tremblant, leaving the world of taupe-carpeted condos in the dust. The hotel's 30 suites overlook Lac Tremblant and feature king-size beds, wood-burning fi replaces and, for the ultimate in haute Canadiana, a real live firewood concierge. In Quebec City, where you can stay to ski Stoneham, Mont- Sainte-Anne and Le Massif, Auberge Saint Antoine is an archaeological masterpiece— an all-luxury hotel that's part museum built on the grounds of a 17th-century cannon battery. Hundreds of artifacts are displayed throughout, and a panorama of the icy St. Lawrence bubbles beneath your balcony. Not far from Le Massif, the Fairmont Manoir Richelieu perches on a rocky outcropping above the water. It's a mix of country charm and sophistication, complete with allseason saltwater indoor and outdoor pools.
GET LOOSE
Pamper yourself with the refreshingly Scando approach to communal bathing at Tremblant's Le Scandinave. The ritual of cold, warm and hot baths and wet and dry saunas is more than just another way to get clean—it's a bath for the soul. Finish with a Swedish massage (individual or duo), a hot stone massage or a Thai yoga version that has both you and the masseuse pushing, pulling and crossing the energy lines. Le Scandinave
DO THE LOCAL APRÈS-SKI TOUR
Quebec winemakers are hard on the heels of Niagara and the Okanagan. The Wine Route links 11 vineyards in Brome-Missisquoi in the Eastern Townships—home to Owl's Head, Orford, Sutton and Bromont. In addition to whites, reds and rosés, these vineyards produce a range of aperitifs, liqueurs and ice cider. Needless to say, the cold climate is ideal for ice wines and late-harvest wines.
MANGE BIEN
Organic meat and produce, local beer, ciders and wines, and about a million varieties of cheese. Lobster caught in the Îles de la Madeleine, farmed game, apples, blueberries and, bien sur, lots of maple- flavoured everything. But it's not all tourtière and baked beans: think foie gras, magret de canard and crème brûlée. Top regional products and history give Quebec its own cuisine so…to the bistro, Batman. From our short version of a very long list try Auberge Saint-Antoine Panache, with the feel of a secret attic and flickering candles, cuisine Québécoise revisitée; you can also eat from a simple menu in the cozy bar. Le Feu Follet at the base of Stoneham, whose signature dish of poutine (classic Quebecois stodge) is elevated by the addition of foie gras and tomme de chevre. Ten minutes from St- Sauveur in Ste-Adele, L'Eau à la Bouche is a Relais et Châteaux treasure. Overlook the floodlit slopes of Bromont at Les Quatre Canards in Chateau Bromont. At the five-star Hovey Manor, about a 30 minute-drive from Mont Orford, the lakeside setting is matched by its innovative Quebecois cuisine, using local and regional products. Au 51 near Le Massif does fine regional cuisine from Chef Patric Fregni. Bon appétit.
GO WILD
With dogsledding right at the base of many Quebec resorts like Mont-Sainte-Anne, you can admire dozens of Alaskan dogs howling for a chance to pull. Les Secrets Nordiques runs dogsledding tours through pristine woods for a few hours or even a few days. Sixty-five four-legged race machines are at the ready to give you a true Quebecois experience.
THE COLOURS OF QUEBEC
The village of Baie-Saint-Paul, a 15-minute drive from Le Massif, is a funky artists' haven of galleries, cafés, artisan food shops and unblemished Quebecois wooden farmhouse architecture.
FEEL THE FÊTE
Every Canadian should do Carnaval de Québec at least once. The largest winter carnival in the world has been laughing in the face of sub-zero sensitivities since the habitants of New France created a rowdy tradition of getting together for one last eat, drink and be merry binge before the doldrums of Lent. There's no setting more atmospheric than the old walled city of Quebec—the perfect backdrop for the ultimate après to be held January 30 to February 15, 2009.

Tags: apres-ski activities, Auberge Sainte Antoine, Baie-Saint-Paul, Chateau Bromont, Gallic, Hovey Manor, Lac Tremblant, Le Massif, Le Scandinave, Mont-Sainte-Anne, Porter Airlines, PQ, Q.C., QC, Québec, Quebec City, skiing Quebec, Stoneham, The Hotel Quintessence, Tremblant, wine tours