Reading Time:
8
minutes
WHY STAYING IN THE ALPINE AT SUNSHINE IS AS GOOD AS IT GETS.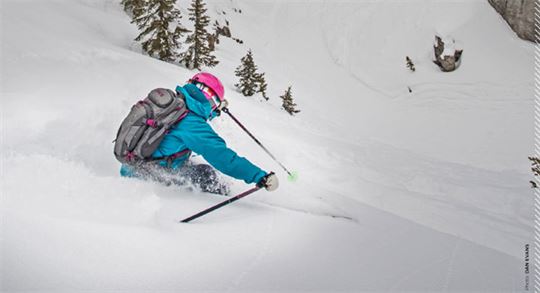 Lunch finds me in my hotel room, ski boots off, sun warming my face through the six-metre window. A snow-cold beer sits in front of me, while a hand-rolled wrap falls apart in my lap. Between bites I watch little black dots arcing down the runs off Sunshine Village's Lookout Mountain, mini waves of snow spraying off every turn. Closer, the sound of edges scraping on icy bits mixes with the slap of P-tex returning to earth, the rattle of the chairlift 30 metres away and Taylor Swift serenading the day lodge.
Lunch at a ski hill doesn't get much better than this. No lineups. No hunting for a seat. No windy patio that's not quite warm enough. No stripping off 20 layers and then having to put them back on cold and wet.
Instead, after a morning of carving arcs across corduroy, ripping soft bumps and hunting for leftover powder across the giant bowl that is Sunshine Village, our stomachs told us it was time for lunch. We caught one more ride to the highest lift-serviced point in Canada—the Divide Chair—and then ripped one long high-speed, playful run down the rolling terrain and soft snow to the base area. Chris beat me to the hotel door, but I caked him with a wave of snow, so I won.
With skis in the rack, we marched up one flight of stairs to our room and made lunch on our private table. With the sun shining through the huge window warming our wind-scoured faces, we contemplate how we never want to leave.
————
I've stayed at ski-in/ski-out accommodation before but nothing like the Sunshine Mountain Lodge, which remains Banff's only on-hill accommodation. Not only is it right on the ski hill, but it's a gondola ride up on the ski hill. When everyone else goes home at 4:00 p.m., we're left with the hill to ourselves. It's like being at a remote backcountry lodge, but with luxury digs, two restaurants and two bars. Skiing refined.
It's almost shocking to realize we'd only left Vancouver Island that morning. The plane rose into endless blue skies that had plagued skiers all winter, robbing our local ski season. But just over an hour later we'd landed in Calgary and it was winter. Snow covered the ground and the temperature was well below freezing. We nearly shrivelled like tropical flowers until we dug out the down. Two hours later, and a grocery and liquor store stop, we were at Sunshine's base area and checking in at the hotel's reception. With bags on their way to our room via gondola, we too jumped aboard ready to ski. It was only 1:00 p.m.
By closing time we had toured most of the hill. Two runs on Goat's Eye Mountain's gladed steeps, high-speed carving off the Divide and Angel chairs, and a couple of quick runs through the roller-coaster forest off Wawa. On the latter we ducked into the trees near the top to find a natural skier-cross course. We enjoyed it so much we went back for thirds, catching the last chair and sliding right to our door, giggling the whole way. As Chris bent over to pick up his skis, I pushed him into the snow and ran.
We had our skis in the ski locker and were on our way to the hot tub in less time than it takes most people to ski out to the parking lot. From our steamy vantage point—our first-day-on-snow-muscles thankful for the break—we looked out on a completely empty hill. Not even a snowcat. I'd never seen such a quiet resort.
————
We're slurping giant Caesars and making a plan for just how early we should meet for breakfast tomorrow. "In theory you could get up later and still catch the first lift," says Sunshine's Lindsay Gallagher.
Lindsay had met us in the Chimney Corner Lounge and Sports Bar at seven. Until then, we'd napped, watched some TV and even did a little work before strolling into the grand restaurant. A huge stone fireplace anchors the room with a long L-shaped bar running along one wall and nothing but windows on the ski-hill side. The lights of the grooming crew creep across the black mountain, like glow-in-the-dark spiders.
Soon a feast is underway. Wild game and Alberta beef dominate the menu. Beautifully presented, it tastes as good as it looks. Dessert is liquid and served at Mad Trappers, the on-hill bar. By the time we arrive, it's stuffed with employees dressed for a jungle-themed party. Despite the isolation of living at the top of the gondola, they've managed to find costumes. Everything from Tarzan and Jane to lions and tigers are in the house. The bar is hopping.
Several drinks later I'm glad I'm only 30 metres from the hotel. But before I leave the party, talk turns to tomorrow. Skiing Delirium Dive is on the agenda, but not till early afternoon. The morning is ours and we realize again how staying on-hill has its advantages. We could get up later and still get to the lifts early. In theory, anyway. Sometimes knowing you can do something is more important than actually doing it. We finally slide into the lift line at the crack of 10. "We need to preserve our legs," is Chris's justification. With only a handful of days under our boots and four in a row planned on this trip, he has a point. And if it had been a powder day, I'm sure we could have moved faster.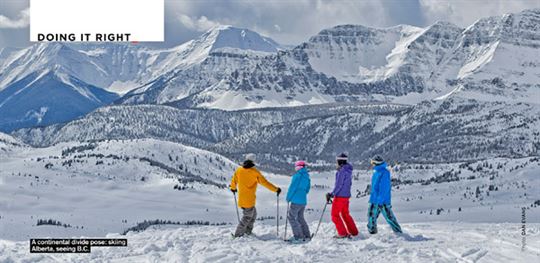 We make up for the late start with a few quick laps off the Angel and Standish chairs before meeting up with Kenji, our guide for navigating Delirium Dive. The Dive is a restricted access zone: it's avalanche controlled by the ski resort, but an avalanche beacon, probe, shovel and a partner are required for opening the access gate.
At the top of the Divide Chair we pass through the gate one at a time and then huff and puff to the 2,730-metre summit and the top of Delirium. From the edge the massive bowl spreads out below in a tangle of rocky ribs and open shots. Blind rolls and convexities add to the intimidation. On the first run we take the chicken's access—down a set of loud metal stairs to a sheet of ice hanging over an out-of-bounds run into no-man's-land. We gingerly clip in and slide around the corner and into Delirium.
Kenji leads the way down the fall-line top pitches, the soft snow tumbling in front of him with every turn. I chase after him, swinging my skis, back and forth. At each break I suck wind, while Kenji just smiles. Chris leapfrogs us, setting up for photos the whole way down. Eventually we traverse hard right under a cliffband and arrive at a short pitch leading to the Goat's Eye collector trail. Only a few tracks scar the canvas. Chris and I don't wait for Kenji. Starved for powder we dive in.
With just a taste we want more. We ride the lifts back to the top and this time take a more direct access to Delirium through a shallow notch in the top cornice. I look down at a tight and tricky combo of precision jump turns leading to a steep couloir called Bre-X. After Kenji shows us how it's done, it's my turn. I sideslip in, make a quick turn, slip a little more to a rock blocking the route ahead.
I start thinking about the consequences of a fall: the long tumble down the chute, crashing into a bunch of rocks and then into space with who knows what below. I stiffen up and balk. Breathe, I say to myself. One step at a time. I can see the route. Off a little roll, between two rocks, a quick sluff of speed, a jump turn, short traverse and then I'm good to ski. Deep breath and I'm off. I nail the line and start jump-turning down the chute, thinking of nothing but the task at hand. Where the rockwalls give way to open snow I stop and bend over, sucking wind. I love moments like that, where focus pushes every other thought away, muted to the sidelines. It's like meditation with a hit of adrenaline. Skiing out the bottom of the bowl, I feel energized.
It disappears once we're on the gondola. I suddenly feel exhausted. We do one more cruiser run and then lock up the skis. After the requisite hot-tub soak and a nap, it's still too early for dinner. We wander the hotel: hanging in the TV room where communal movies are shown almost every night; playing board games and video games in the lounge; and browsing the gift shop.
There's something refreshing about having time on our hands. Usually I'm rushing from one thing to the next. But here, with everything I need within a two-minute walk, time goes from commodity to ubiquity—like life before smartphones, constant updates and five social media accounts to maintain. Having nothing to do and nowhere to go feels liberating. And stress free. No long walks in the parking lot. No road-rage driving. No getting lost finding the restaurant then waiting for a table. Whims carry the day.
We finally settle on a drink in the sports bar side of the Chimney Corner. A hockey game is on and we drink a beer, killing time. A few guests start arriving for dinner. Some go to the fancier Eagle's Nest Dining Room just down the hall, others cozy up next to the fire.
When we finally sit down to eat, we can see the nightly activity going on outside. For those who haven't embraced the pleasures of doing nothing or have energy left in their legs, the hotel organizes an evening activity such as a snowshoeing tour, an interpretive talk, and a bonfire and stargazing evening. Tonight it's tobogganing.
While the kids and parents hike up and slide down the hill, I cut into a medium-rare, eight-ounce peppercorn steak. It melts in my mouth as the setting sun turns the ski hill pink. We start planning our next day, pointing out the runs we want to ski between bites. Mid-sentence Chris stops.
"I just figured out what's so good about staying up here," he says. "It's like we got rid of all the stuff that sucks. It's skiing done right."
SUNSHINE VILLAGE VS. LAKE LOUISE
Banff National Park's neighbouring giants of Sunshine Village and Lake Louise remain sworn rivals. They toss around competing statistics and numbers better than politicians debating platform, trying to win skiers. The truth is almost as murky as Stephen Harper's "Action Plan."
As a guy who spent his ski-bum years in the Bow Valley, let me cut the crap. I can say they are both spectacularly beautiful and fun hills. Both are worth visiting. But they are also lovingly different.
I like Louise for its long fall-line runs and abundant steep terrain. For the same reason, it's a tough hill for beginners and out-of-shape intermediate skiers. At a lower elevation it has plenty of trees for flat-light skiing, but doesn't get as much snow as Sunshine.
Sunshine's rolling terrain is awesome for a mixed crew of abilities and interests. There are lots of steep runs, but fewer long pitches. The mostly wide-open alpine is great on blue-sky days, but limiting when it's snowing. And parking here can be a pain when it's busy, so if you're going, plan to start your day early.
ARE YOU READY FOR DELIRIUM?
There is nothing black in Delirium Dive, home to some of the hardest and steepest skiing in Banff National Park. Just getting into the big bowl, pock-a-dotted with rocks, is double-diamond serious. Not sure if you're game? Take this quiz. Answer yes or no to these questions, then add up your "yes" answers.
Do you own a beacon, probe and shovel?
Does your ski partner?
Can you ski Virgins off the Standish Chair?
What about Farside on Goat's Eye?
Would you answer "yes" at least three times for your ski partner?
5  .. What are you waiting for?
3 or 4 .. You can probably handle it with the right partner and gear with decent conditions.
0 to 2  .. Not yet. Head to the snow school office in the Mad Trapper building and sign up for a Delirium Dive training program. They'll set you up with the gear, tighten up your technique and lead you down for your first time.