Reading Time:
4
minutes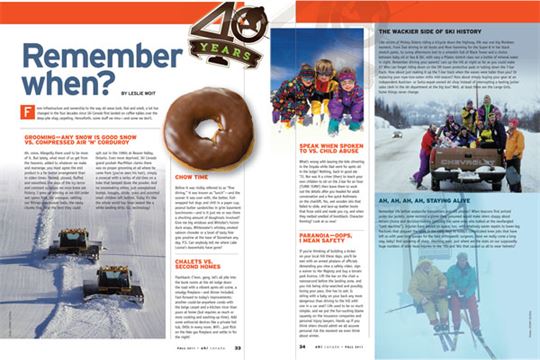 From infrastructure and ownership to the way ski areas look, feel and smell, a lot has
changed in the four decades since Ski Canada first landed on coffee tables over the
deep-pile shag carpeting. Henceforth, some stuff we miss—and some we don't.
GROOMING—ANY SNOW IS GOOD SNOW
VS. COMPRESSED AIR 'N'  CORDUROY
Ah, snow. Allegedly there used to be more
of it. But lately, what most of us get from
the heavens, added to whatever we make
and rearrange, you must agree the end
product is a far better arrangement than
in olden times. Packed, plowed, fluffed
and smoothed, the days of the icy terror
and constant surprises we once knew are
history. I grew up wincing as we slid under
wet spews from the snowgun, rattling
our fillings over beaver balls, the nasty
chunks that were the best they could
spit out in the 1980s at Beaver Valley,
Ontario. Even more deprived, Ski Canada
grand poobah MacMillan claims there
was no proper grooming at all where he
came from (you've seen his hair), simply
a snowcat with a series of old tires on a
tube that tamped down the powder. And
no snowmaking either, just unexplained
bumps, troughs, sticks, grass and assorted
small children left behind. Today it's like
the whole world has been waxed like a
white landing strip. Go, technology!
CHOW TIME
Before it was risibly referred to as "fine
dining," it was known as "lunch"—and the
sooner it was over with, the better. Foil-wrapped
hot dogs and chili in a paper cup,
peanut butter sandwiches in grim basement
lunchrooms—and is it just me or was there
a shocking amount of doughnuts involved?
Give me big windows and Whistler's hoisin
duck wraps, Whitewater's whiskey smoked
salmon chowder or a bowl of tasty foie
gras poutine at the base of Stoneham any
day. P.S. Can anybody tell me where Lake
Louise's beavertails have gone?
CHALETS VS. SECOND HOMES
Flashback: C'mon, gang, let's all pile into
the bunk rooms at the ski lodge down
the road with a vibrant après-ski scene, a
smudgy fireplace—and dinner included.
Fast-forward to today's improvements:
another could-be-anywhere condo with
the beige carpet and a kitchen nicer than
yours at home (but requires as much or
more cooking and washing-up time). Add
some antisocial devices like a private hot
tub, DVDs in every room, WiFi…just flick
on the fake gas fireplace and settle in for
the night!
AH, AH, AH, AH, STAYING ALIVE
Remember life before avalanche transceivers and cell phones? When beacons first arrived
under our jackets, some resisted a gizmo they presumed would make skiers sloppy about
terrain choice and decision-making (possibly the same ones who balked at the newfangled
"cash machine"). Injuries have moved on apace, too, with relatively easier repairs to lower-leg
fractures that plagued the sport in the early days to today's complicated knee jobs that have
left us with year-long queues for the best orthopaedic surgeons. Have we really come a long
way, baby? And speaking of sharp, shocking pain, just where are the stats on our supposedly
huge numbers of skier head injuries in the '70s and '80s that caused us all to wear helmets?
SPEAK WHEN SPOKEN TO VS. CHILD ABUSE
What's wrong with leaving the kids shivering
in the Impala while Dad went for après ski
in the lodge? Nothing, back in good ole
'72. Nor was it a crime (then) to teach your
own children to ski on the J-bar for an hour
(TURN! TURN!) then leave them to work
out the details after you headed for adult
conversation and a few quick Rothmans
on the chairlift. Yes, wet wooden skis that
failed to slide, and lace-up leather boots
that froze solid and made you cry, and when
they melted smelled of bootblack. Character
forming? Look at us now!
PARANOIA—OOPS, I MEAN SAFETY
If you're thinking of building a kicker
on your local hill these days, you'll be
met with an armed phalanx of officials
demanding you view a safety video, sign
a waiver to Her Majesty and buy a terrain
park licence. Lift the bar on the chair a
nanosecond before the landing zone, and
you risk being strip-searched and possibly
losing your pass. One has to ask: Is
skiing with a baby on your back any more
dangerous than driving to the hill with
one in a car seat? Life used to be so much
simpler, and we put the fun-sucking blame
squarely on the insurance companies and
personal injury lawyers. Hands up if you
think skiers should admit we all assume
personal risk the moment we even think
about winter.
THE WACKIER SIDE OF SKI HISTORY
Like reruns of Mickey Dolenz riding a tricycle down the highway, life was one big Monkees
moment. From Dad driving in ski boots and Mom hamming for the Super-8 in her black
stretch pants, to sunny afternoons lost to a wineskin full of Black Tower and a choice
between baby oil or Sea & Ski, with nary a Pilates stretch class nor a bottle of mineral water
in sight. Remember driving your parents' cars up the hill at night as far as you could make
it? Who can forget riding down on the lift tower protective pads or tubing down the T-bar
track. How about just making it up the T-bar track when the waves were taller than you? Or
replacing your rope-tow-eaten mitts mid-season? How about simply buying your gear at an
independent Austrian- or Swiss-expat-owned ski shop instead of interrupting a texting junior
sales clerk in the ski department at the big box? Well, at least there are the Lange Girls.
Some things never change.