Reading Time:
3
minutes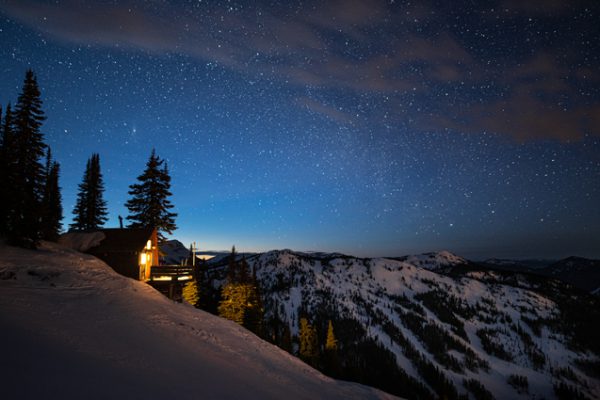 My first-ever visit to Rossland, B.C., and its mythical powder mecca RED Mountain was a quarter-century ago when buddy Steve and I were invited to stay with one of RED's owners at the time, affable Eric Skat Peterson. We arrived the day before Skat was to return from somewhere. His scratchy phone message was simply: "The door's never locked so just make yourselves at home. You guys can take the guest room. And can you feed Tequila please?" We looked at each other: "Who's Tequila?"
We were dreamily reminiscing the other day about that visit. "Remember the corridor dug into the snow leading to Skat's place?" asked Steve. "Just huge walls of white on both sides. It was like we were descending into a subway tunnel." As we got closer to the house we were both curious about an odd-looking piece of ice peaking out from the snow. It turned out to be the windscreen of a buried yellow school bus.
Feeling like Antarctic explorers Capt. Scott and Titus Oates, we approached the front door when one of the walls of snow began to move and a giant, goofy-grinned Great Pyrenees sheep dog came bounding out, shaking snow and wagging enthusiastically. Tequila led us past her empty food bowl (and water bowl, frozen-solid) straight inside the house. We drifted off to sleep that night on yellowing pieces of foam laid out on the floor of the "guest room" with Skat's very odorous "outdoor" dog choosing to cuddle up close to our noses rather than returning to her hole in the snow.
How times have changed. On my most-recent visit, sadly, the first in about 10 years, I drifted off to sleep on a cloud-like mattress in the palatial and hip surrounds of The Josie, RED's stellar boutique hotel that opened two years ago. The décor of the rooms and public spaces, doting staff and attention to detail everywhere were over the top. Even Russell, the hotel's Bernese Mountain Dog, was brushed, bathed and remained in the lobby. Was I really at RED Mountain? A snowball's throw away from some infamous après-ski memories of Rafters above the day lodge?
I was still in Josie awe the next day, for once in my life listening more than talking, as I slurped down oysters and added truffle mayo to my mushroom arancini. Martinis were appropriate accompaniment. What began with more high-end pub food with the Josie's opening has become a culinary festival under the direction of Executive Chef Marc André Choquette, who before Rossland brought fame and a French influence to several Vancouver restaurants. More recently wooed to The Josie is Food and Beverage Director Billy Kawaja, who's brought years of experience proselytizing Canadian gastronomy from his position in the diplomatic corps overseas.
That evening, the Velvet Lounge dining room was busy with pilgrims who'd made the journey specifically for the cuisine. Northern divine B.C. caviar or a cold seafood tower of the best shellfish, trout tartare, sockeye candied salmon and scallop ceviche before starters? Bison carpaccio, tuna tataki, maple and sake sablefish, prosciutto-wrapped pheasant, flank steak with truffled broccoli puree…I'm salivating as I write this.
Sadly, with only one page in our little COVID issue here, I've had to severely condense why I love RED and Rossland so much. Like Nelson, the idyllic skiers' town remains cloistered from weekend warriors because of the drive time, and this is a good thing. Curiously, a direct flight to Kelowna from Toronto makes the trip almost the same travel time for me, as for friends in Vancouver and Calgary. And, returning next year, Americans via nearby Spokane. One still has to really want to get here with their Ikon Pass—and after arriving, the relative solace is appreciated more than ever.
Somehow the amount of terrain from this "hill" has expanded to five peaks and put itself in the top-10 club of most skiable terrain of all resorts in North America. A more attractive stat is RED's boast of being No. 1 in the most terrain per skier. While austere double chairs with no safety bars have mostly been replaced by RED's new owners, its infamous steeps and trees and snow are just as big a draw as they were 25 years ago. On each visit over the years, I've easily found a new local or regular-visitor friend on the lift happy to show off his backyard, from Mt. Roberts to Grey Mountain (now with its own chair) and, for those with skins in their packs or $10 for a cat ride, Mt. Kirkup.
If you can't fit in a visit to RED and Rossland, you may just have to move here. _Iain MacMillan
from Winter 2021 issue
from the archives