Reading Time:
2
minutes
Where: Beyond the lifts at Shames Mountain, a small ski area near Terrace, B.C.
Why: Huge Coast Range terrain a short tour from the lifts.
Suggested ski: Raccoon Grizzly 116
Pull back from Shames on Google Earth and be prepared to drool. From the top lift, a ridge leads up into a network of huge alpine bowls, gnarly faces and long tree lines. On the same storm track that makes nearby Prince Rupert one of the rainiest places on earth, but high enough for it to fall as snow, this is where you bring the big skis out to play.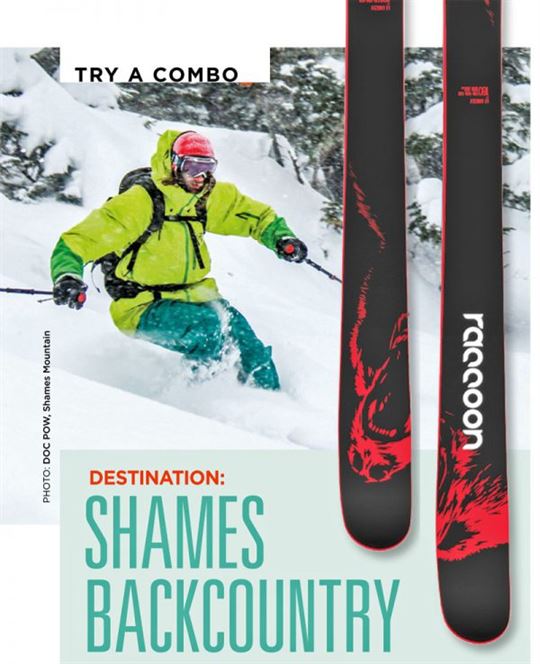 Raccoon Grizzly 116
BEST FOR: Surfing * LENGTHS: 180, 188 * RADIUS: 17@180 * SIDECUT: 142-116-132 * WEIGHT: 4 kg/pair * $699
Okay, a raccoon grizzly may evoke a strange image of a ring-tailed giant bruin, but really, what could unite our country better than the scoundrel of the back alley and the symbol of western wilderness? Likewise, this ski is decidedly western-leaning, but with a heart born and sculpted in the east. Raccoon is based in Quebec where the skis are handmade, beginning with a core of springy maple wood harvested in local forests. For every pair it produces, a new tree is planted in partnership with Tree Canada. In the Grizzly the maple is shaped into a regular camber underfoot, with rocker in the tail and tip. The sandwich construction is finished with a fibreglass laminate and Austrian nylon on the top and bottom. It's a sturdy, dependable and affordable construction. (The Chinook model is the same but with carbon instead of fibreglass for a slightly lighter, but much stiffer alternative.) At 116 underfoot, the Grizzly is all about float. It rides high and playful, happy to smear and butter, but still able to hold an edge on groomers with a little work. If you're looking for a deep-day tool, this ski will float your boat.