Québec's Corduroy Highway
---
Canada's densest concentration of ski hills—and skier-friendly pit stops—lines the Laurentian Autoroute between Montreal and Mont Tremblant.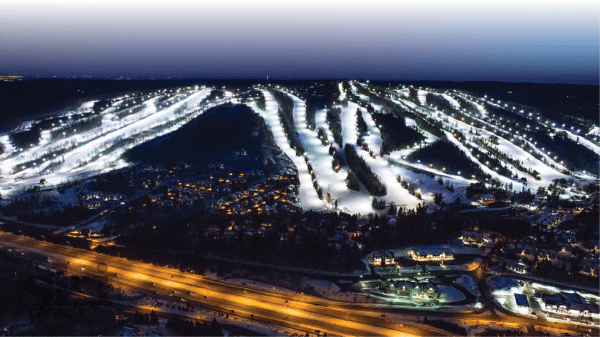 SOMMET SAINT-SAUVEUR
The record-setting extent of Sauveur's nightskiing hits home as I stand at the top of the L'Atomic Express high-speed quad. Radiating outward like the spokes of a massive whitewashed wagon wheel, the six wonderfully groomed runs below me might account for the full extent of evening descents at many much larger ski areas. At Sauveur, however, more than 70 per cent of the 40 trails are illuminated, yielding 48 hectares of floodlit terrain—reputed to be the most extensive on Earth.
My nocturnal opportunities feel limitless. To the left and right, beginner-friendly traverses lead to seven more of Sauveur's lifts, as well as to the three that climb adjoining Sommet Avila. I charge down the single-black Côte 70 Est in front of me as if the world's last remaining order of poutine is waiting for me at the bottom. Thankfully, Sauveur's stylish T-Bar 70 restaurant has plenty of fresh cheese curds and gravy on hand, as well as the breaded chicken strips, crispy bacon and pepper sauce it adds to its signature version of Quebec's famous dish. A crisp Griffintown craft pilsner caps my pit stop within a pit stop, and I head back out to carve down groomer after groomer. sommets.com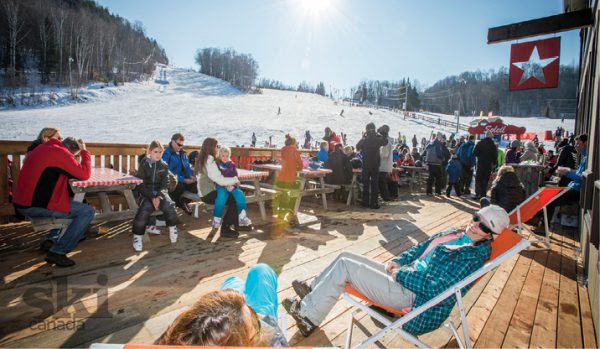 SOMMET GABRIEL
The Gabriel exit appears so soon after passing Sauveur that I have to swerve to make it. Directly across the valley from the similarly sized Sommet Olympia, Gabriel is another member of the five-resort Les Sommets group that includes the nearby Sommet Morin Heights and Sommet Edelweiss north of Ottawa.
Speaking of swerving, there's plenty of that going on all over the 21-run hill. For one thing, Gabriel is known for its moguls, having hosted the FIS Freestyle World Cup 10 times since 1990. For another, Montrealers' love of nightskiing is on full display, as is their love of skiing very fast. Good thing Gabriel's two quad chairs both climb wide and superbly groomed black-diamond descents that provide plenty of elbow room for Mikaël Kingsbury wannabes.
Later that evening, I rub more elbows in the stylish bar of the venerable Hôtel Mont Gabriel. Corks pop in festive fashion as the slopeside spot buzzes like it did in 2015 when the recently elected Right Honourable snowboarder Justin and skier Sophie Grégoire Trudeau dropped in. montgabriel.com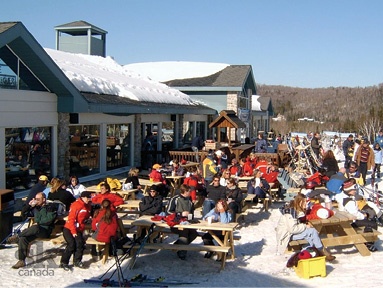 SKI CHANTECLER
Why would a ski hill be named after a breed of chicken? The question intrigues me as I ride one of Chantecler's two quad chairs toward the luminous summit. With a gibbous moon overhead and the floodlights blazing away, I can clearly make out the frozen outline of Lac Rond just beyond the bottom of the lift. It looks a bit like an egg, so…maybe that's the reason?
I glide down the soft-packed corduroy of the intermediate Marie-Pier Préfontaine run, which is named after the former national ski team member from the nearby town of Sainte-Adèle. Could it be that Adèle was the patron saint of poultry? Then I notice the enormous Ski Chantecler billboard a third of the way down the hill and can almost hear the rooster logo crowing.
Chantecler has good reason to crow. The groomers on either side of the giant sign are sublime, and after having a go at most of the 23 runs, I head for its handsomely turreted namesake hotel, where the Namos Restaurant pairs a Goose Island IPA with some crazy-spicy chicken wings. Again with the poulet. Eureka, perhaps? skichantecler.com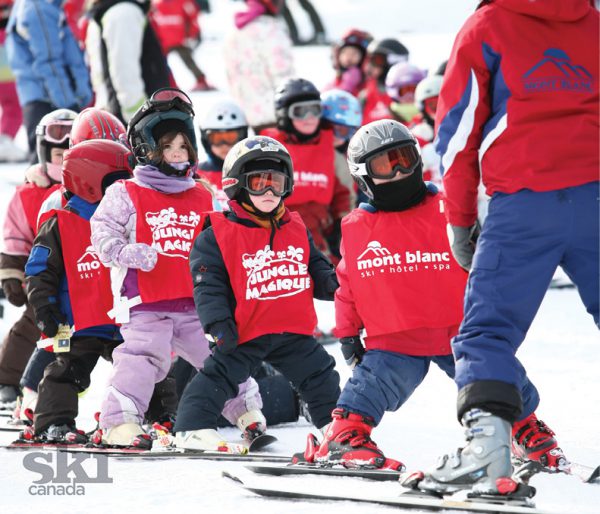 MONT BLANC
Trust me on this, but nothing relieves the stress of a December road trip like carving a turn. And with my wife and two daughters joining me on this rare drive from Ottawa to Tremblant, an afternoon stop at Mont Blanc is exactly what the family needs.

Like Tremblant, its taller neighbour, the northern terminus of the Corduroy Highway does not offer nightskiing. What it does offer, however, is more vertical than any other hill along the autoroute, and the second most in the region after Tremblant. And I like the math. This means more turns per lap, and with seven chairs on hand the laps come fast and furious. As the afternoon sun hits my early-Christmas-gift goggles, I feel the holiday chaos fading away.

The kids, of course, are all about chaos, and that's where the Jungle Magique comes in. The tubes, slides, ball pits, zipline and mazes of the four-storey indoor play park keep them entertained for hours, while ma femme, Angela, and I chase away any lingering road rage on Sauvignon and Chardonnay, two of Mont Blanc's 43 trails and the most aptly named runs in the history of parenting.

As the winter sun disappears behind the curvaceous twin peaks, I feel compelled to sample the nightskiing at yet another hill along the Corduroy Highway. Forget frankincense and myrrh, how much gold would it take for the Jungle Magique to host a sleepover? skimontblanc.com




Tags: Mont Blanc, Mont Gabriel, Québec, Ski Chantecler, St-Sauveur