Reading Time:
2
minutes
At some point nearly all of us have fantasized about storming out of the office and leaving behind traffic jams and the grind of a 9-5 life. Well, the Canadian Ski Guide Association (CSGA) may have just the ticket for your one-way trip to job satisfaction with a new course to introduce students to the skills required for life in the mountains.
Mike Hainault, CSGA course director, feels the new pre-course is the perfect first step for aspiring guides. "Deciding to embark on a career as a modern ski guide is a big commitment in terms of time, equipment and finances," says Hainault. "Our goal is to give students a realistic way to explore their options, as well as a few tools to begin to develop their mountain sense."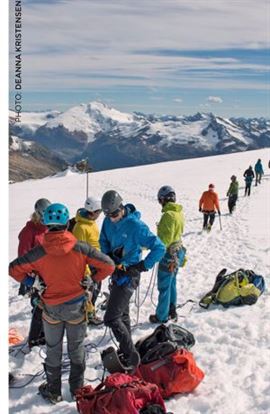 The three-day program is designed as a feeder for the CSGA Level I guide certification. It will demonstrate the basics of guiding procedure, terrain awareness, rope systems and companion rescue. Students will receive a certificate of completion and get a thorough understanding of the standard expected to pass a CSGA Level I. Courses are being hosted at Sun Peaks Resort this season, with the expectation that other venues could be added in the future.
According to Hainault, "There is a demand in our industry for skilled new guides. Starting the training process early is one way to ensure Canadian trained guides stay ahead of the curve in safety, ability and customer service."
If trading your office walls for a close-up view of mountains sounds appealing, inquiries can be directed to admin@canskiguide.com.