Reading Time:
4
minutes
In an industry that's always working on its quads, Marmot Basin's newest chair will noticeably change the face of the Jasper ski area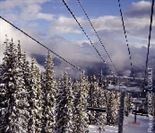 Jasper old-timers may still be recalling fondly that November 2009 as he snowiest in at least 30,maybe 40 years. But everyone agrees it was simply the icing on powdery cake with the opening of the $8-million high-speed quad chairlift, the Canadian Rockies Express, at Marmot Basin.
It now takes less than eight minutes to soar 2.3 km from base area to mountaintop to gain near-instant access to everything from long, winding novice runs to steep alpine bowls and chutes. What used to involve two slower lifts, and far more time to rise nearly 600 vertical metres, is a memory. Gone are the old Tranquilizer Chair and Kiefer T-bar, along with their towers, to ski lift heaven, dragged out over the snow (thus saving fragile alpine terrain) within three days of the resort's closing last spring. Welcomed are the lift's former cutlines as new runs.
To properly honour a T-bar that hauled up countless bottoms over more than 30 years of service, the Kiefer was retired with due pomp and ceremony. A colourful crowd of local "dignitaries "—including namesake Wayne Kiefer and legendary Marmot ski school director Joe Couture—traded old memories.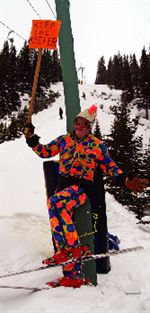 "Forgive them, Ullr! " shouted lone-protester Charlie Findlay in a plea to the legendary snow god on the Kiefer t-bar's last day in April.
But there were mixed emotions. Security was ramped up after rogue souvenir hunters managed to ski off with a few Ts. And plenty of final-day faithfuls cranked lap after lap in crazy retro gear to time it so they were on the "official " last ride up the old friend.
But life moves on. 'It's like asking your wife, "Honey, do I really need to get rid of my mullet? It's been 30 years,'" quipped Brian Rode, Marmot's VP of marketing. 'But once it's cut, it's gone and you don't miss it at all. "
From a local's perspective, Jasper resident Steve Blake says that it simply changes the place, it's like a new ski area. "It puts people into different areas of the mountain —which is great. Your favourite runs will be different now because they 're quicker to get to."
For people who care about numbers like uphill lift capacity, Marmot 's is now a staggering 12,150 people per hour, which is impressive when you look at its daily number of skiers: less than 1,000 bodies midweek and just over 3,000, give or take, on weekends. For Marmot skiers,it means uncrowded slopes, no lift lines and plenty of powder (for days) across cut trails and above-alpine terrain."When it snows, the tracks don't get consumed because there are so few people here,"" agrees Ange Blake, a nurse and former ski patroller who cut through the powder- choked trees on Milk Run like a hot knife on butter. "With the sun out and soft snow,it doesn get any better than that —really! "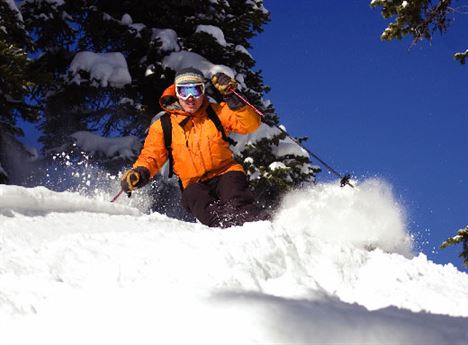 Marmot has slowly but surely bootpacked up toward modern resort status in the last half-dozen years,spending more than $16 million on expanded terrain, snowmaking and improved lodges. And only 20 minutes away from the resort, laid-back Jasper retains its quirky small-town charm amid continuous upgrades to its restaurants, shopping and entertainment options. pick up a copy of the free newspaper, The Fitzhugh , for a list of the weekly live music events by an understated core of local musicians. Grab your coffee at Coco 's, a morning ritual for skiers who love fresh-roasted beans and organic breakfast treats. Try après ski at the D'ed Dog Bar & Grill every Friday for the ever- popular Happy Hour. Or drop into locally owned restaurants such as Andy's Bistro for moderately priced Swiss-European flavours; Evil Dave's for family-friendly comfort food; or Fiddle River for seafood, game meats and beef. The Fairmont Jasper Park Lodge is the undisputed luxury leader, but there are plenty of mid-priced inns such as the Jasper Inn and Sawridge Inn. Families on a budget should check out the "Shared ccommodations" options in residents ' homes, which is a bit of misnomer since most have private entrances, kitchens and lounge areas.
The Marmot-Jasper combo is becoming almost unique in a North American ski scene dominated by purpose-built, slopeside ski resorts full of quiet condos with beige carpeting and faux-gas fireplaces. The advantages are obvious at Marmot.
Facts and Stats
•Who: Marmot Basin is perfect for families or anyone simply looking for great skiing, a good price, wildlife galore and spectacular mountain scenery.
•What else: Swim, hot tub and water slide at the public recreation centre (or at your hotel); skate at The Lodge; tour the Maligne Ice Canyon day or night; or enjoy Jasper National Park by dogsled, snowshoe and snowmobile.
•Where:Four hours (366 km) west of Edmonton by car, or travel in style aboard VIA Rail Snow Train from Vancouver or Toronto.
•When:All season long, but Jasper in January is a two-week festival packed with wine, food and music events, along with great package deals.
•Why: Quality, value, uncrowded slopes, dry, light snow —and friendly locals.
•How: Ski Marmot