---
Mike Wiegele's heli-guides know a thing or two about testing fat skis.
There's an old fable by Aesop about the fox and the grapes. It goes something like this: A fox sees a vine heavy with grapes and leaps as high as he can but can't quite reach them. He tries again and has no better luck the second time around. As he walks away, he says to himself, "They were probably sour anyway." And the moral? It's really easy to despise what you can't have.
I was feeling like that fox, and the non-stop barrage of epic powder shots, opening-day freshies and completely unbelievable snow reports were the grapes. I live in New Zealand, where it's now summer, and it was a hard place to be when El Niño was creating some of the most epic early-season snow conditions in Western Canada's recent memory. Checking Facebook was akin to some sort of medieval torture chamber, with friends posting pictures of first chair rides, untouched lines and tree limbs heavy with snow.
So rather than despising what I can't have, I'm choosing the high road. If there's one thing that spending 14 years at the world's best heli-ski operation gives you, it's a solid understanding of the value of a great powder day, and that's a feeling I hope every skier experiences in his or her lifetime. So that's why Ski Canada returned to Mike Wiegele Helicopter Skiing in Blue River, B.C., to test the 2016 crop of powder skis. We want you prepped and El Niño ready, so when the snow report says there was 20 fresh overnight, you'll have the right tools to get every grape on the vine. Go, fox, go!
WRITTEN BY RON BETTS, TEST EDITOR  *  PHOTOGRAPHY BY JOHN SCHWIRTLICH  *  Test Co-ordinator Ryan Bush  *  from Winter 2016 issue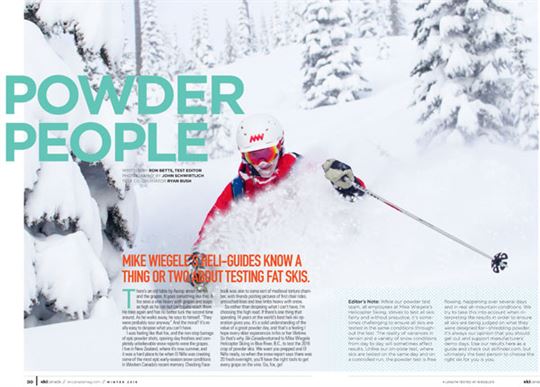 Editor's Note: While our powder test team, all employees at Mike Wiegele's Helicopter Skiing, strives to test all skis fairly and without prejudice, it's sometimes challenging to ensure all skis are tested in the same conditions throughout the test. The reality of variances in terrain and a variety of snow conditions from day to day will sometimes affect results. Unlike our on-piste test, where skis are tested on the same day and on a controlled run, the powder test is free flowing, happening over several days and in real all-mountain conditions. We try to take this into account when interpreting the results in order to ensure all skis are being judged on what they were designed for—shredding powder. It's always our opinion that you should get out and support manufacturers' demo days. Use our results here as a guide and check out skifinder.com, but ultimately the best person to choose the right ski for you is you.
* Length tested at Wiegele's
ARMADA INVICTUS 108Ti
$819  *  LENGTHS AVAILABLE: 168, 178, 188*  *  SIDECUT: 138/108/128  *  RADIUS: 26 @ 188
The Invictus 108 scored top marks in edge grip and stability. Our testers were buzzing about how great this ski felt in all conditions, and there was unanimous praise for how versatile it felt. A few of the lighter testers found the tail a bit stiff, so they had to work harder at the end of the turn, but for other testers that stiffness meant that the ski liked long turns a bit more than short. Overall, this was a crowd-pleaser. Doug Ward was in the fan club: "A solid performer, it skied long and short turns on spring corn with equal ease. It's stable and versatile but leans to longer radius." Jordan Stiefvater added: "High speed or cruising, this ski was playful, stable and versatile in all conditions. Best ski of the test."
ATOMIC BENT CHETLER
$749  *  LENGTHS AVAILABLE: 178, 185*, 192  *  SIDECUT: 142/120/134  *  RADIUS: 19 @ 185
A truly great powder ski should share a lot of traits with its all-mountain cousins, meaning it should be playful, agile, solid underfoot and make the user feel confident and secure. Unfortunately, unlike other years when it was tested, the Bent Chetler felt as if it missed a couple of those marks. While the testers did find the ski had good edge hold, making it extremely stable, they felt it lacked the liveliness and agility that would make it a category leader. It seemed to let the team down, especially in initiation and short turns. Tester Patrick Schmidt found that "the ski needs a lot of time to initiate a turn." Elias Ortner tended to agree: "You need to have really good stance and balance. It's very hard to maintain a balanced stance."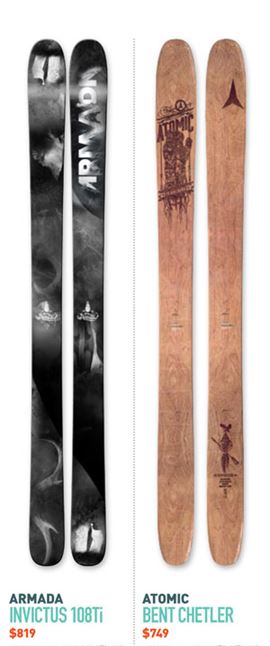 BLIZZARD BODACIOUS
$899  *  LENGTHS AVAILABLE: 177, 185*, 193  *  SIDECUT: 138/118/127  *  RADIUS: 27 @ 185
The Bodacious scored well in stability and long radius, which supports some of the comments our testers made. The general consensus was that the ski liked some speed to truly shine; at slower speeds or in short turns it took some work to feel the love. The team thought the ski was best suited to a slightly heavier skier and someone unafraid of speed. In the open it lit up, but in the trees it lagged. Bill Mark agreed: "It's stable at speed and took variable conditions in stride. At slower speeds it requires more energy to turn." Ryan Bush said the tune might have affected his opinion of this ski: "It felt over-tuned. The tapered tip caused lack of edge grip through the shovel when initiating. A great surfy feel in deep snow."
DPS WAILER 112RP2 Pure 3
$1,299  *  LENGTHS AVAILABLE: 168, 178*, 184*, 190  *  SIDECUT: 141/112/128  *  RADIUS: 18 @ 184
There are many skiers out there who just want to carve, and they want a ski that feels more traditional when you point it down the hill. The Wailer 112RP2 might be the ski for them. Our test team found this ski light underfoot and versatile enough to handle all the conditions that a day of heli-skiing can throw at you. Bill Mark commented, "If you like a conventional camber, this is a fat ski that will work for you. It performs surprisingly well on hardpack, but is fat and has early rise for deep snow. You need to be aggressive to make this ski work its best. No lazy turns!" Willy Rens was on the same page: "A very light ski that feels quick under the feet, and is a pleasure to ski because of its versatility in soft or hard snow."
ELAN BOOMERANG
$749  *  LENGTHS AVAILABLE: 180, 190*  *  SIDECUT: 140/120/130  *  RADIUS: 27.7 @ 190
The comments for the Boomerang showed that the testers enjoyed the ski more than the scores reflected. It seemed to be a polarizing ski; most of the testers either really liked it but a few were slightly underwhelmed, which explains the test scores that were in the middle of the pack. The test team thought the ski handled most conditions confidently, but, no surprises given the category, was slightly less at home on hardpack. Doug Ward is a strong, solid skier who liked the feel: "A solid performer, built with a very good platform and thoughtful design, balancing rocker, sidecut and flex to make a big ride with enough versatility for any conditions." Jason Martin said the same thing but in fewer words: "Big and stiff. If that's what you like, this is for you."
HEAD CYCLIC 115
$699  *  LENGTHS AVAILABLE: 171, 181*, 191  *  SIDECUT: 148/113/131  *  RADIUS: 19 @ 181
Some middle-of-the-road scores kept the Cyclic from joining the top group in this year's test—especially in versatility and short turns where most testers felt the ski held well in long turns but didn't initiate particularly well for shorter turns. They also thought the ski faltered slightly when faced with variable or harder conditions. Mike Hainault noted that this would be a great ski for new powder skiers looking to improve: "It's great in soft snow, grabby in wind slab, and not friendly if snow is hard. It performs best in soft snow at moderate speeds and in medium turns." The heavier Jason Martin was more complimentary: "Large and in charge. A nice heavy ski that's surprisingly easy to initiate. Being heavy and strong along the whole length, it handles anything you throw at it."
K2 PINNACLE 118
$849  *  LENGTHS AVAILABLE: 177, 184*, 191  *  SIDECUT: 145/118/135  *  RADIUS: 23 @ 184
The Pinnacle did all the things that will put a ski into the top end of this test. It had great stability, it was predictable and fun, and it allowed our testers to push their limits without worrying if the ski would let them down. Its highest scores were in stability and long turns, but it was no slouch when the conditions called for short turns. Overall, it was a solid performer. Ryan Bush gave it all he had and loved it: "A great charging ski that loves going fast and cuts through wind slab easily. It was very fast edge-to-edge. The stiff tail provides stability when jumping and hitting cliffs." Hans Aufschnaiter said, "It was nice to ski in soft snow and crust, as well. It turned well in long and short turns. I like this ski!"
KÄSTLE BMX115
$1,049  *  LENGTHS AVAILABLE: 177, 185*, 193  *  SIDECUT: 141/115/130  *  RADIUS: 24 @ 185
With high marks for edge grip and stability, the BMX was one of the top-scoring skis in the powder test. It definitely left the testers wanting more. Standout comments were about how the ski was able to balance power with grace. It made our team want to step on the gas, but it didn't falter in the trees and in tight spaces. Long-time guide Willy Rens was yodelling this ski's praises: "A great ski that performs in all snow surfaces. It behaves on crust and moves quickly in bumps. Its favourite is the dry deep stuff, where floating makes everything easy. Versatility is the word!"  Slightly less eloquent, but more to the point, Patrick Schmidt said, "This ski is serious, stable and powerful."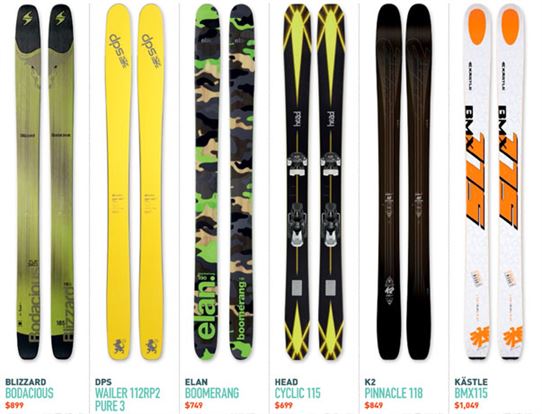 LINE MORDECAI
$800  *  LENGTHS AVAILABLE: 179, 186*, 193  *  SIDECUT: 141/114/138  *  RADIUS: 17 @ 186
Our testers decided the Mordecai was best suited for lighter (maybe younger?) skiers rather than big boys charging hard in true backcountry conditions. The test team found the ski to be light and debated over whether it was turny or twitchy. Characteristics like versatility and edge grip scored lower than long turns and initiation where it did well. This is Doug Ward's impression of the Mordecai: "A bit bland, and neither the sidecut, profile nor tune did this ski any favours. But if you lack technique you might be fooled by it." Jason Martin was less critical: "It's nice and light, easy to throw around and you can put it where you need it."
NORDICA PATRON
$749  *  LENGTHS AVAILABLE: 177, 185*, 193  *  SIDECUT: 143/113/132  *  RADIUS: 18.5 @ 185
One of the highest scoring skis in the powder test, and one that was universally well liked, the Patron was, like its similarly named tequila, one of the best on the shelf. Scores were in the excellent range for initiation and versatility, which means the ski responded well and worked in a variety of conditions. Here's Doug Ward's take on it: "The ski has a supple, even flex that swallows terrain and handles variable conditions, even very hard crust, without flinching." Jason Martin agreed: "This is actually a ski! It skis very smoothly, is predictable and full of fun times. I want one! Give it a lemon and you get lemonade. Give it some power and it livens up. Cruise control? Yup, it cruises."
SALOMON ROCKER2 122
$899  *  LENGTHS AVAILABLE: 170, 180, 184*, 192  *  SIDECUT: 144/122/132  *  RADIUS: 26 @ 184
With high scores for agility and nearly identical scores for both long- and short-radius turns, it makes sense that the Rocker2 was one of our testers' favourites. They loved the versatility and playfulness in most conditions. If there was one chink in the Salomon's armour, it seemed to be in firmer snow conditions, where a few testers felt a bit of chatter. Ryan Bush tested this ski in the forest, in wide-open spaces and in the air—and he liked it everywhere: "This is a great pow ski. It skied great in the trees, did not like crust very much, and was very stable in the air with lots of pop." Our female tester, Polly Simpich, also had a go: "This is a dynamic ski that's very responsive and adaptive to a variety of snow conditions."
STÖCKLI STORMRIDER PRO 115
$1,399  *  LENGTHS AVAILABLE: 185*, 195  *  SIDECUT: 137/115/128  *  RADIUS: 24 @ 185
The Stormrider has been a solid performer in the Stöckli lineup for quite some time. It has a reputation for being a well-built, no-nonsense charger. That was certainly what our test team felt on this model. When the throttle was wide open, they loved the way the ski tamed the conditions. However, they found that it could be a bit overpowering for lighter skiers or in situations that required more finesse. Ryan Bush summed up the Stormrider Pro 115 like this: "It's great for high-speed, long-radius turns. It cut through wind slab and sun crust like it wasn't even there. In short-radius turns the ski felt heavy and sloppy; it's not meant to move quickly."
TEMPLAR PETARD
$890  *  LENGTHS AVAILABLE: 185*  *  SIDECUT: 144/120/132  *  RADIUS: 20 @ 185
The light weight and friendly geometry of the Petard made it very agile. For big brutes, it lacked the stiffness and dampening that would have allowed it to excel at much higher speeds. That said, there were some testers who really liked the lighter touch and feel. The Belgian Bullet, Willy Rens, had this to say: "This is a great ski that has a classic feel with good camber. It floats in soft snow, and in wind-affected 'grabby' snow it comes around easily due to lots of sidecut and a nicely centred binding." Bill Mark liked his test ride: "Can you say lightweight? Despite its light feel, this ski is surprisingly stable when skied at higher speeds and in variable conditions. It would make a nice touring ski. It's easy to turn but a little squirrelly in rough snow."
VÖLKL V-WERKS BMT 122
$1,199  *  LENGTHS AVAILABLE: 176, 186*  *  SIDECUT: 143/122/135  *  RADIUS: 28.2 @ 186
With excellent scores in initiation, stability and agility, it's no wonder the V-Werks BMT 122 was one of the higher-scoring skis in the test. The comments were solidly centred on how user-friendly and fun this ski was. The majority of our testers felt this ski would be light enough to slap a touring binding on, and that it would make an excellent backcountry choice. Here's Elias Ortner's comment, "Great ski for all conditions; a perfect all-rounder for backcountry enthusiasts. It's light and agile. One of the top three skis of the test." And Jordan Stiefvater did his part to cement the stereotype of ski guides as chauvinists: "Five to 10 cm on supportable crust conditions. Light, nimble, predictable, no chatter. Like going out with a gymnast. Strong, stable, lean and light."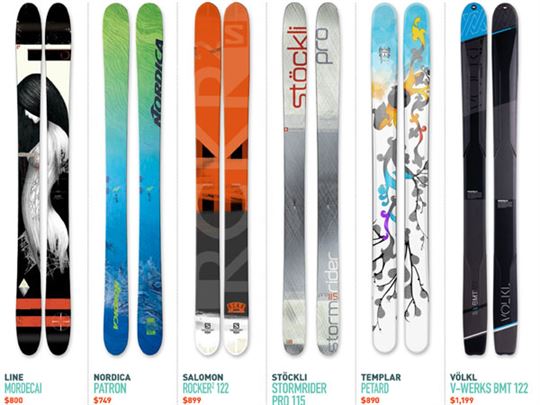 Tags: ARMADA INVICTUS 108Ti, Atomic Bent Chetler, Blizzard Bodacious, DPS WAILER 112RP2 Pure 3, Elan Boomerang, HEAD CYCLIC 115, K2 PINNACLE 118, KÄSTLE BMX115, Line Mordecai, Mike Wiegele Helicopter Skiing, NORDICA PATRON, powder test, SALOMON ROCKER2 122, ski reviews, ski test, STÖCKLI STORMRIDER PRO 115, TEMPLAR PETARD, VÖLKL V-WERKS BMT 122