---
Mike Wiegele Helicopter Skiing provided the perfect snow, terrain and guides to evaluate this season's crop of wide boys.
BY RON BETTS, TEST EDITOR
PHOTOGRAPHS BY JOHN SCHWIRTLICH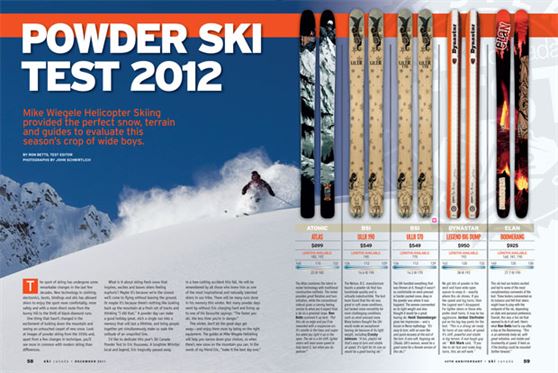 The sport of skiing has undergone some remarkable changes in the last few decades. New technology in clothing, electronics, boots, bindings and skis has allowed skiers to enjoy the sport more comfortably, more safely and with a more direct route from the bunny hill to the thrill of black-diamond runs.
One thing that hasn't changed is the excitement of looking down the mountain and seeing an untouched carpet of new snow. Look at images of powder skiing from the 1930s and, apart from a few changes in technique, you'll see more in common with modern skiing than differences.
What is it about skiing fresh snow that inspires, excites and leaves skiers feeling euphoric? Maybe it's because we're the closest we'll come to fl ying without leaving the ground. Or maybe it's because there's nothing like looking back up the mountain at a fresh set of tracks and thinking "I did that." A powder day can make a good holiday great, etch a single run into a memory that will last a lifetime, and bring people together yet simultaneously make us seek the solitude of an unspoiled line.
I'd like to dedicate this year's Ski Canada Powder Test to Eric Rousseau. A longtime Whistler local and legend, Eric tragically passed away in a tree-cutting accident this fall. He will be remembered by all those who knew him as one of the most inspirational and naturally talented skiers in our tribe. There will be many runs done in his memory this winter. Not many powder days went by without Eric charging hard and living up to one of his favourite sayings: "The faster you ski, the less time you're in danger."
This winter, don't let the great days get away—and enjoy them more by being on the right equipment. The guides at Mike Wiegele Heliskiing will help you narrow down your choices, so when there's new snow on the mountain you can, in the words of my friend Eric, "make it the best day ever."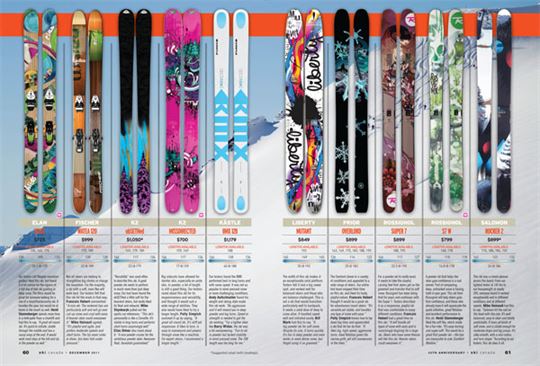 ATOMIC ATLAS
$899
LENGTHS AVAILABLE: 182, 192
sidecut: 140 115 122
turn radius: 22 @ 182
The Atlas combines the latest in rocker technology with traditional construction methods. The rocker provides great flotation and turn initiation, while the conventional sidecut gives a carving feeling similar to what you'd expect from a ski on a groomed slope. Ron Betts summed it up best: "Put this ski on edge and you'll be rewarded with a responsive arc. It's nimble in the trees and super-fun when you light it up in the open. The ski is a bit stiff; lighter skiers will need some speed to help bend it, but when you do, yeehaw!"
BSI ULLR 190
$549
LENGTHS AVAILABLE: 190
sidecut: 134 112 129
turn radius: 14.6 @ 190
The Nelson, B.C. manufacturer boasts a powder ski that has handmade quality and is virtually indestructible. The test team found that the ski was great in soft-snow conditions, but lacked some versatility for more challenging conditions such as wind-pressed snow. Many testers thought the Ullr would make an exceptional touring ski because of its light weight, including Crosby Johnson: "A fun, playful ski that's easy to turn and stable at speed. It's light for its size so would be a good touring ski."
BSI ULLR 170
$549
LENGTHS AVAILABLE: 170
sidecut: 134 112 129
radius: 14.2 @ 170
The Ullr handled everything that was thrown at it, though it wasn't as comfortable on wind-pressed or harder packed snow; deep in the powder was where it was happiest. The women commented on its light weight and also thought it would be a great touring ski. Heidi Stammberger gives her impression—and a lesson in Norse mythology: "It's easy to turn, with an even flex and quick recovery at the end of the turn. A nice soft, forgiving ski. (Skada, Ullr's woman, would be a good name for a female version of this ski.)"
DYNASTAR LEGEND BIG DUMP
$950
LENGTHS AVAILABLE: 192
sidecut: 142 120 132
turn radius: 38 @ 192
We get lots of powder in the west and have wide-open spaces to enjoy it—exactly where this ski shines. If you like speed and big turns, then the Legend won't disappoint. For lighter skiers or those who prefer short turns, it may be too aggressive. Jordan Steifvater put on his big-boy pants for the test: "This is a strong ski ready for turns at any radius at speed. It's stiff, powerful and stable in big terrain. A real tough-guy ski." Bill Mark said, "If you like to ski fast and make long turns, this ski will work."
ELAN BOOMERANG
$925
LENGTHS AVAILABLE: 168, 181, 190
sidecut: 140 120 130
turn radius: 27.7 @ 190
This ski had our testers excited and led to some of the most complimentary comments of the test. Three testers commented on its balance and felt that skiers might have to play with the midpoint of the ski, depending on style and personal preference. Overall, this was a fun ski that seemed to do it all well. Here's what Ron Betts had to say after a day on the Boomerang: "This is an extremely lively ski, with great initiation, and stable and trustworthy at speed. It feels as if the binding could be mounted farther forward."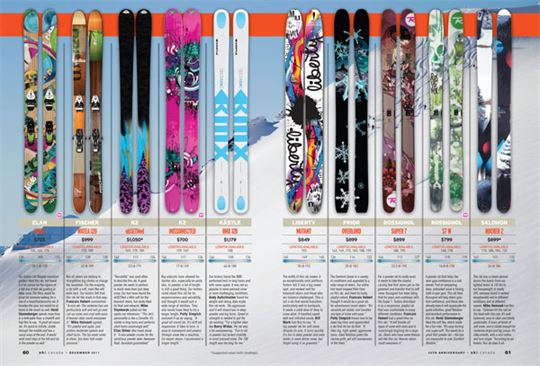 ELAN BLISS
$725
LENGTHS AVAILABLE: 155, 165, 175
sidecut: 130 105 122
turn radius: 25.1 @ 175
Our testers (all Wiegele mountain guides) liked this ski, but found it a bit narrow for the rigours of a full day of heli-ski guiding in deep snow. The Bliss would be great for someone looking for a mix of a resort/backcountry ski. It handles the pow, but would be at home in the resort as well. Heidi Stammberger spends more time in a helicopter than a chairlift and had this to say: "A great all-round ski. It's quick to initiate, stable through the middle and has a sassy snap at the end. It would work most days at the hill and rip in the powder as well."
FISCHER WATEA 120
$999
LENGTHS AVAILABLE: 179, 189
sidecut: 141 120 128
turn radius: 32 @ 189
Not all skiers are looking to straightline big chutes or charge the mountain. For the majority, a ski with a soft, even flex will work best. Our testers felt that this ski hit the mark in that way. Francois Hebert commented: "A nice ski. The rockered tips are particularly soft and will go over cut-up snow and crud with ease. A heavier skier could overpower it." Mike Hainault agreed, "It's playful and agile, and prefers moderate speeds and short turns. The tip never sinks or dives, but does fold under pressure."
K2 obSETHed
$1,050*
LENGTHS AVAILABLE: 169, 179, 189
sidecut: 146 117 134
turn radius: 23 @ 179
"Versatility" was used often to describe this ski. A good powder ski needs to perform in much more than just deep snow. Our test team found the obSETHed a little soft for the heaviest skiers, but really liked its fl oat and rebound. Mike Shynkaryk pulled out the sports car references: Eli"This ski's personality is like a Corvette. It's stable in long turns and performs short turns surprisingly well." Elias Ortner also raved about it: "A nice powder cruiser for the ambitious powder skier. Awesome float, faceshots guaranteed."
K2 MISSDIRECTED
$700
LENGTHS AVAILABLE: 159, 169
sidecut: 146 117 134
turn radius: 17 @ 159
Big sidecuts have allowed for shorter skis, especially on-piste skis. In powder, a bit of length is still a good thing. Our testers raved about this ski for its responsiveness and versatility, and thought it would suit a wide range of abilities. They also would have liked to try a longer length. Polly Simpich summed it up by saying, "A great all-round ski. It's stiff yet responsive. It likes to turn, is easy to manoeuvre and powers through snow like a machine. For expert skiers, I recommend a longer length."
KÄSTLE BMX 128
$1,179
LENGTHS AVAILABLE: 188
sidecut: 146 128 134
turn radius: 40 @ 188
Our testers found the BMX performed best in long turns and with some speed. It was not as popular in wind-pressed snow or more challenging conditions. Andy Aufschnaiter found his weight and skiing style made this ski work: "Be aggressive and it will reward you in deep powder and big turns. Speed or strength is needed to get the ski working." For a lighter skier like Barry Widas, the ski was a bit overpowering: "Fun to ski in powder but lacked stability in wind-pressed snow. The 188 length was too long for me."
LIBERTY MUTANT
$849
LENGTHS AVAILABLE: 192
sidecut: 160 149 145
turn radius: 35 @ 192
The width of this ski makes it an exceptionally solid platform. Testers felt it had a big sweet spot, and worked well for balanced skiers and those who are balance-challenged. This is not a ski that would transition  particularly well to hardpack; it needs a solid dose of deep to come alive. It handled speed well and initiated easily. Bill Mark had this to say: "A big powder ski for soft snow. Despite its size, it turns quickly. It's fun in deep powder and even works in more dense snow, but forget using it on groomed."
PRIOR OVERLORD
$899
LENGTHS AVAILABLE: 163, 169, 175, 183, 188, 193
sidecut: 136 114 122
turn radius: 25 @ 183
The Overlord shone in a variety of conditions and appealed to a wide range of skiers. Our entire test team enjoyed their time on this ski, and liked its lively, playful nature. Francois Hebert thought it would be a great ski for adventurous resort skiers: "It's versatile yet stable, and handles any type of snow with ease." Polly Simpich knows how to lay down big lines and appreciated a ski that let her do that: "It likes big, high-speed, aggressive turns. Good flotation given the narrow girth, yet still manoeuvres in the trees."
ROSSIGNOL SUPER 7
$899
LENGTHS AVAILABLE: 188, 195
sidecut: 146 117 127
turn radius: 22.5 @ 195
For a powder ski to really excel, it needs to take the playful, carving feel that skiers get on the groomed and transfer that to soft snow. Rossignol has been doing that for years and continues with the Super 7. Testers described it as a responsive, playful ski that was comfortable in many different conditions. Francois Hebert had a great time on this ski: "It will handle all types of snow with ease and is surprisingly forgiving for a large ski. Skiers who have some finesse will like this ski. Heavier skiers could overpower it."
ROSSIGNOL S7 W
$799
LENGTHS AVAILABLE: 168, 178
sidecut: 140 110 118
turn radius: 14.8 @ 178
A powder ski that helps the skier gain confi dence is a real winner. Part of conquering deep, untracked snow is having faith in your gear. This ski from Rossignol will help skiers gain that confi dence, and those who already have it will appreciate the quick initiation, great fl otation and excellent performance in this ski. Heidi Stammberger liked the soft flex, which made for a fun ride: "It's easy-turning and super-soft. This would be a great first powder ski—the tips are impossible to sink. Excellent flotation."
SALOMON ROCKER
$899*
LENGTHS AVAILABLE: 170, 180, 184, 192
sidecut: 142 122 132
turn radius: 26 @ 184
This ski was a crowd-pleaser across the board. From our lightest tester at 145 lbs to our heavyweight at nearly 200, everyone found it worked exceptionally well in different conditions and at different speeds. Mike Hainault had this to say: "Salomon hit the nail on the head with this one. It's well balanced, easy to steer and totally predictable. It loves all kinds of soft snow, and is stable enough for moderate drops and big jumps. It's silky smooth, with a nice radius and turn shape." According to our testers, this ski does it all.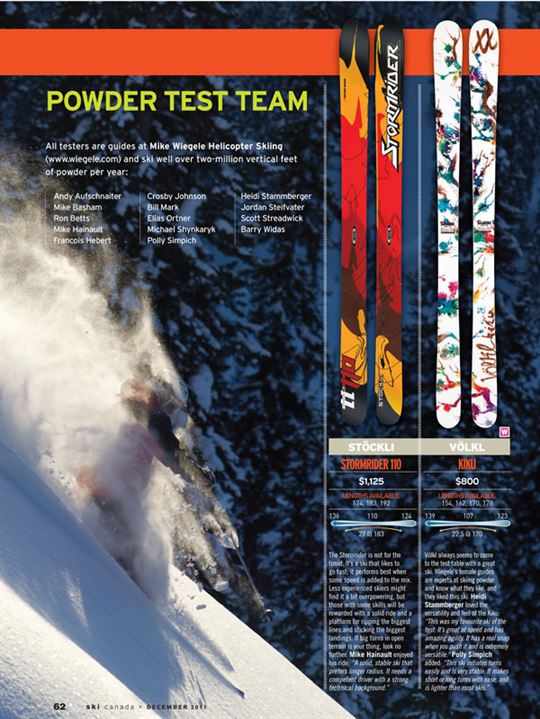 STÖCKLI STORMRIDER 110
$1,125
LENGTHS AVAILABLE: 174, 183, 192
sidecut: 136 110 124
turn radius:27 @ 183
The Stormrider is not for the timid. It's a ski that likes to go fast; it performs best when some speed is added to the mix. Less experienced skiers might fi nd it a bit overpowering, but those with some skills will be rewarded with a solid ride and a platform for ripping the biggest lines and sticking the biggest landings. If big turns in open terrain is your thing, look no further. Mike Hainault enjoyed his ride: "A solid, stable ski that prefers longer radius. It needs a competent driver with a strong technical background."
VÖLKL KIKU
$800
LENGTHS AVAILABLE: 154, 162, 170, 178
sidecut: 139 107 123
turn radius: 22.5 @ 170
Völkl always seems to come to the test table with a great ski. Wiegele's female guides are experts at skiing powder and know what they like, and they liked this ski. Heidi Stammberger loved the versatility and feel of the Kiku: "This was my favourite ski of the test. It's great at speed and has amazing agility. It has a real snap when you push it and is extremely versatile." Polly Simpich added: "This ski initiates turns easily and is very stable. It makes short or long turns with ease, and is lighter than most skis."
POWDER TEST TEAM
All testers are guides at Mike Wiegele Helicopter Skiing (www.wiegele.com)  and ski well over two-million vertical feet  of powder per year:

Andy Aufschnaiter
Mike Basham
Ron Betts
Mike Hainault
Francois Hebert
Crosby Johnson
Bill Mark
Elias Ortner
Michael Shynkaryk
Polly Simpich
Heidi Stammberger
Jordan Steifvater
Scott Streadwick
Barry Widas

Tags: Andy Aufschnaiter, Atomic Atlas, Barry Widas, Bill Mark, BSI Ullr, Crosby Johnson, Dynastar Legend Big Dump, Elan Bliss, Elan Boomerang, Elias Ortner, Eric Rousseau, Featured, Fischer Watea 120, Francois Hebert, Heidi Stammberger, K2 MissDirected, K2 obSETHed, Kastle BMX 128, Liberty Mutant, Mike Hainault, Mike Shynkaryk, Mike Wiegele Helicopter Skiing, Polly Simpich, powder, powder ski test, powder skis, Prior Overlord, Ron Betts, Rossignol S7 W, Rossignol Super 7, Salomon Rocker, Skada, Stockli Stormrider 110, Volkl Kiku