---
A few days at Vail and Beaver Creek will have you writing home about the best parts
Story and photos by Marty McLennan
cushy adj (informal) 1. many perks, little or no hard work 2. luxuriously styled and crafted 3. Beaver Creek.
The slopeside escalator was just about to deposit me in front of the high- speed quad and I couldn't believe it—I'd forgotten my Chapstick! Thankfully, Josh, one of several Beaver Creek's well-groomed ambassadors, was standing right there and offered to run back to the condo and fetch it for me. He reminded me he'd be back later in the day with a tray of fresh-from-the- oven cookies, in fact—"3:00 p.m., every day, is Cookie Time!"
********************************************
Midday dining at Vail ranges from the daily "Lunch for Less" special (main, side and drink for $9.95 at all on-mountain restaurants at five mountains in the Vail Resorts group) to the starched-linen luxe table service at the Larkspur or the private Game Creek Club. But there's also Bring Your Own Wiener to the BBQ at Blue Sky Basin's Belle's Camp option. Cozy up on the bench with newfound friends and drop your picnic on the table while buddy joins the communal barbie out on the deck. Packed packs are left on the honour system before lunchtime and forgotten items can be bought at Belle's. Relaxed, welcoming—and very old school.

The notice clearly read: "Dress warm [sic]—you'll be sitting on ice." I've been to a lot of concert halls but none as cool as Beaver Creek's Crystal Grotto. Not only did they put our bums on ice, the walls, ceiling— and instruments—were all made out of frozen H2O. There were bubble-drums, a blue- ice xylophone, banjo, cello and guitar among the many unique musical contraptions. The hall, which took about six weeks to construct last season, had surprisingly good acoustics, but sadly, it all melted in the spring. I wonder what they're going to build this year?
********************************************
Night Snowbiking: The guide's rules (or what we remembered anyway) were pretty simple: there are no brakes [so just steer uphill to slow down, regroup from time to time, stay vaguely near the guide and away from the eerily lit snowcats. There was no encouragement to hoot and holler—that came naturally. Definitely a trip highlight was realizing one could just let go and head straight into the inky night and find bottomless powder pits, disappear into and out of the trees, and race your buddies to the bottom.
New for 2011: Fast girl Lindsey Vonn and her hubby may be shacked up at the Arrabelle, but there's some quick competition around Vail Village this year with the Ritz-Carlton and Four Seasons opening their doors. There are a new three-screen cinema and bowling alley in town as well this season that offer both family and pub options—or if your family is old enough, you can do both!
The biggest news for skiers who like to do time in the Sun Up and Sun Down bowls is the replacement of the old Chair 5 with the High Noon Express quad that'll almost halve your time up and possibly double your pleasure on the way down.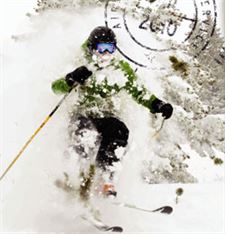 Also new at Vail and four sister resorts this year is a GPS chip embedded in your lift pass that Vail pitchmen claim is going to "completely transform your vacation experience." Capable of tracking your vertical skied and confirming the number of runs you take, it's got all the makings of a sure-fire pickup line at après ski. And just when we thought it couldn't get any better than the simplicity of blue Colorado skies, alpine vistas and dry powder, we've learned EpicMix pass holders who reach significant achievements will be awarded digital pins! As well, for those tied to their smart phones, you can personally help promote the resort by forwarding all your gripping stats to friends through a free online and mobile app on Facebook and Twitter. The app also will show users where friends are on the mountain, in case you want to meet up for lunch—or avoid them.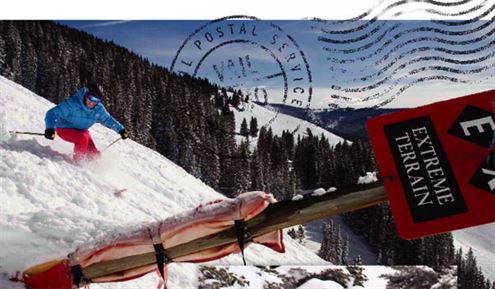 Seven bowls! Did we mention powder? Vail may have crowed about its snow once or twice in the past, but it's still worth two postcards home. Yes, there's better terrain and more snowfall back home in Whistler (plus Colorado powder is so light you can blow it away like birthday candles on a cake), but the Whistler skiers are so good you really have to hustle to get first tracks. Unless it's a weekend in Vail, there are a lot more bubbas happily cruising the groomed blue runs than there are powder-schwein. And if you still insist on skiing groomers, you can have the best of both worlds. Vail has a daytime grooming program enabling first tracks in the morning pow and first tracks on the afternoon corduroy.
*********************************************************

Value village With the loonie hovering around U.S. parity, there's a green reason to visit Vail this winter. Some of the best deals can be found through tour operators that know Colorado well like MeritSkiVacations.com or Skican.com as well as Vail's Canadian-skier website: snowusa.ca.

*********************************************************
What a way to end a day! With the help of a mountain guide (or trustworthy local), the Midturn Mile is a rite of passage if you're looking for a little adventure in your last run of the day. Just beyond the backcountry gates (a 10-minute hike to the top of Ptarmigan Ridge), the gentle off-piste run has it all: a not-too-steep, but plenty-of-deep, bowl to start; then some lovely turns in the aspens; a fun luge run to make you feel like a kid; a tiny, sometimes humorous creek to hop; a five-minute walk along farms and cabins a world away from the Ritz-Carlton; and finally, one of America's classic ski bars, the Minturn Saloon, with enough historic wall paraphernalia (including signed Crazy Canuck photos) to keep you distracted all night. We only stayed until the jugs of margs were done, though, and then put on the Mexican feedbags at Chilly Willy's close by before finally catching the Turtle Bus (which just happens to be licensed to serve intoxicating beverages) back to Vail.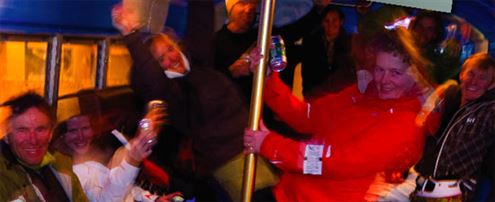 Tags: accommodations, Beaver Creek, Beaver Creek Resort, Belle's Camp, Chilly Wiily's, Colorado, High Noon Express quad, holidays, ski trips, ski vacations, skiing, snowbiking, Turtle Bus, USA, vacations, Vail