Reading Time:
8
minutes
The Guides at Mike Wiegele Helicopter Skiing know a thing or two about choosing a great ski for the deep.
 WRITTEN BY RON BETTS, TEST EDITOR  *  PHOTOGRAPHY BY JOHN SCHWIRTLICH  *  from December 2014 issue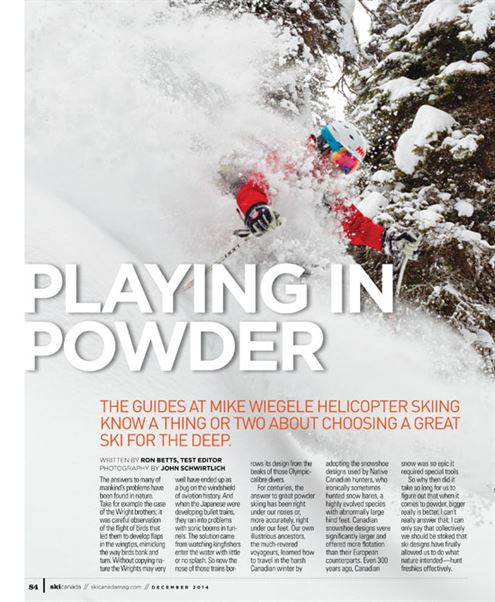 The answers to many of mankind's problems have been found in nature. Take for example the case of the Wright brothers; it was careful observation of the flight of birds that led them to develop flaps in the wingtips, mimicking the way birds bank and turn. Without copying nature the Wrights may very well have ended up as a bug on the windshield of aviation history. And when the Japanese were developing bullet trains, they ran into problems with sonic booms in tunnels. The solution came from watching kingfishers enter the water with little or no splash. So now the nose of those trains borrows its design from the beaks of those Olympic-calibre divers.
For centuries, the answer to great powder skiing has been right under our noses or, more accurately, right under our feet. Our own illustrious ancestors, the much-revered voyageurs, learned how to travel in the harsh Canadian winter by adopting the snowshoe designs used by Native Canadian hunters, who ironically sometimes hunted snow hares, a highly evolved species with abnormally large hind feet. Canadian snowshoe designs were significantly larger and offered more flotation than their European counterparts. Even 300 years ago, Canadian snow was so epic it required special tools.
So why then did it take so long for us to figure out that when it comes to powder, bigger really is better. I can't really answer that; I can only say that collectively we should be stoked that ski designs have finally allowed us to do what nature intended—hunt freshies effectively.
† Price includes binding  * Length tested at Wiegele's
ATOMIC BENT CHETLER
$849  *  LENGTHS AVAILABLE: 178, 185*, 192  *  SIDECUT: 142/120/134  *  RADIUS: 19 @ 185
This ski has been a familiar face in Atomic's freeride line for the past four years, but don't kid yourself, it hasn't rested on its laurels. The 2015 Bent Chetler has much more than just a new graphic slapped on the same ski from previous years. This year's version features more surface area, less weight, increased stability and, most noticeably, a hull-like tip and tail that borrows a surfboard shape to increase powder performance. Our testers weren't sure they loved what they felt; one tester commented that the tip didn't help with glide in the soft snow. Tester Riel MacBoudreau felt the ski worked best in the open alpine rather than in the trees: "Perfect ski for big tricks and lines in the backcountry. It likes to go fast and be skied with power, but can be tiring in tight turns in trees."
BLIZZARD SPUR
$949†  *  LENGTHS AVAILABLE: 189*  *  SIDECUT: 146/125/134  *  RADIUS: 28.5 @ 189
The Spur achieved what many of the skis in this category were unable to do—it got consensus from the test team. All our testers agreed that the ski felt reliable and predictable in all conditions. It scored best in edge grip and stabilility, and was slightly higher in long radius than short. Our testers liked the positive feel when the speed came up, and they didn't feel the ski was overpowered by the conditions. Austrian Elias Ortner had this to say about the Spur, "It's nice to turn with very little effort. This would be a great powder ski for the weekend warrior."
ELAN BOOMERANG
$749  *  LENGTHS AVAILABLE: 180, 190*  *  SIDECUT: 140/120/140  *  RADIUS: 23 @ 190
One of the unique features of the Boomerang, and one that's hard not to notice, is the base shape of this ski. It features TBT technology, which means the outer edges of the base lift slightly—similar to the way the hull of a boat is angled and not dead flat. The design idea makes it easier to roll onto an edge in softer snow. It's basically a more extreme version of base bevel, which has been around for a long time. Testers on the Boomerang were more than happy with its performance in the deep stuff, in trees and in the alpine. Not surprisingly they found it was a different ski on hardpack. Martin Fichtl took it for a spin: "Full of surprises! With the look of a boat, it was surprisingly okay in tough snow conditions and could be controlled easily for a ski of such size."
4FRNT HOJI
$759  *  LENGTHS AVAILABLE: 179, 187*, 195  *  SIDECUT: 130/112/121  *  RADIUS: 30 @ 187
The Hoji was definitely one of the skis in the test that raised some eyebrows and inspired more than a few smiles. The brand is rider owned and rider inspired; its inspiration is fuelled by passion for skiing, not by World Cup points or race results. As a relatively narrow ski in the Powder Test, the Hoji was at home in the alpine as well as in the trees. Our testers found it was manoeuvrable and light but never timid. They charged hard and the ski responded in kind. With a name that sounds like it should have been stolen from the annals of Canadian literature, Riel MacBoudreau weighed in on the Hoji, "My favourite of the test so far. A great ski in tight trees and when opening it up. Lots of fun, no complaints!"
 FISCHER BIG STIX 122
$999  *  LENGTHS AVAILABLE: 185*, 192  *  SIDECUT: 145/122/136  *  RADIUS: 20 @ 185
Big Stix has been a serious player in the powder game for almost as long as any others. This ski has been refined and improved upon and is still impressing our team of very performance-conscious testers at Mike Wiegele's. It has all the dreamy float and ease of turning with a generous sidecut that skiers will appreciate when out of the pow. As well, it's damp and stable enough to ramp up the speed everywhere. Mountain Man Crosby Johnston was raving about his ride, especially when he found the sweet spot, "This ski came alive once I moved back from the centre mount. It's a great all-round stable ski that can do anything in powder."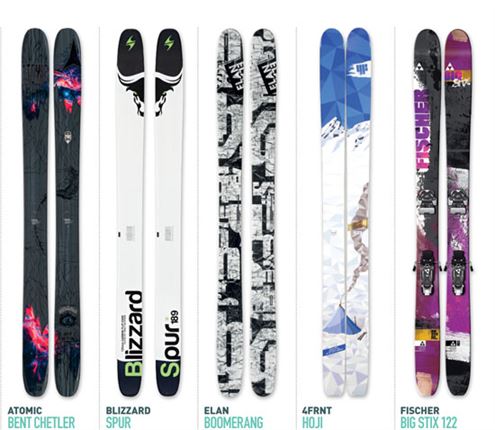 HEAD A-STAR
$799  *  LENGTHS AVAILABLE: 187*  *  SIDECUT: 137/118/128  *  RADIUS: 28.6 @ 187
With the tremendous success Head has had making competitive skis, it's no wonder it was able to transfer that into making an awesome powder ski. The A-Star was a category leader and a clear favourite among the test team. It scored best in stability and long-radius turns, but our team had no trouble getting it through the tight trees. Testers did comment on the stiffness and felt it needed a bit of speed to really come alive. Sebastien Barlerin was tough enough to handle it: "Stable, powerful, serious! This ski means business. Once on edge, it has a strong finish to the turn."
K2 ANNEX 118
$799  *  LENGTHS AVAILABLE: 177, 184*, 191  *  SIDECUT: 145/118/135  *  RADIUS: 23 @ 184
K2 has consistently been putting skis at, or near, the top of freeride categories for years and this ski, in this category, was no different. The Annex 118 was certainly a crowd-pleaser in a very discriminating crowd. What swayed the judges and brought out the smiles was the ski's stability and top-end performance. It always seems that skis that allow skiers to jack up the speed confidently are favourites. It had high praise across a wide range of skier types and weights. Bob Sayer, who is tall and one of the heavier testers, found it lively and easy to initiate. Jason Martin, who has a more average build, said, "Great ski! Put down the gas pedal and it burns rubber. A fun, stable ski that drives confidently and goes exactly where you want it."
LINE MAGNUM OPUS
$800  *  LENGTHS AVAILABLE: 188*  *  SIDECUT: 147/124/146  *  RADIUS: 17 @ 188
When Line started in 1995, it wasn't building skis for the Lycra-suit crowd; it was building skis, one pair at a time, for the rest of the mountain. It's grown since those days into one of the most recognized freeski brands around, with the Opus being one of the most successful skis in its line. Design influence from skier and artist Eric Pollard makes it a great model from base on up. The pack was split on this one—the traditionalists found it a bit too slippy and slidey, while the younger crowd loved the buttery feel, especially in the trees. Best comment goes to Bob Sayer, easily the oldest teenager: "This is a very easy ski. It initiates well and feels stable throughout the turn. It skis well in trees, but you can also open it up when clear."
NORDICA HELLDORADO
$899  *  LENGTHS AVAILABLE: 177, 185*, 193  *  SIDECUT: 143/113/132  *  RADIUS: 18.5 @ 185
With a relatively narrow waist (given the company) and some of the highest scores across the board, as well as a complimentary collection of comments, it was easy to see that the Helldorado was a serious crowd-pleaser. This ski builds on the success of the Patron; it features Titanal in the topsheet to add a little stiffness, as well as a very respectable turning radius, making it one of the best skis in the category for carving, during the brief moments it was outside of pow zones at Wiegele's. Speed wasn't a problem and our team found the low profile in the tip easy to initiate. Jordan Stiefvater was all smiles: "First turns felt good. No warm-up turns needed as she was good to go—short, long, fast and in all conditions. A versatile ski for all resort and powder conditions."
SALOMON ROCKER2 108
$799  *  LENGTHS AVAILABLE: 174, 182*, 190  *  SIDECUT: 132/108/125  *  RADIUS: 19.2 @ 182
Salomon has been at the forefront of freeski design for many years, and with such a talented stable of pro team skiers offering feedback, it's no wonder the company keeps producing skis that score near the top of the category. The Rocker2 108 is no exception. As a freeride, rather than a powder ski, it impressed the Wiegele guides with its versatility in all conditions. Our team felt that it might be a bit light for really heavy skiers, but anyone looking for a playful, all-round freeride ski will not be disappointed. Jordan Stiefvater was so happy, he spent some of his tip money on a pair for himself: "This ski is fun, versatile and stable. It's fast, snappy, stable, playful—that's why I bought a pair."
 SNODAY KUTHROAT
$1,095  *  LENGTHS AVAILABLE: 167, 174, 181*, 189, 196  *  SIDECUT: 146/115/138  *  RADIUS: 19.3 @ 181
Snoday is an interesting story; a Canadian company striving for a piece of a pie that's dominated by much bigger players. The pros of dealing with smaller, specialized companies are you usually see a level of quality reserved for custom-built products. The cons are less money and resources for R&D and product testing. Some skis might be right on the mark for geometry, while others might miss the target. In the case of the Kuthroat, our testers liked what they felt on this ski, so it seems as if Snoday is taking the right steps to build and sell a good Canadian ski. Tester Doug Ward was feeling some Canuck love: "The ski was powerful, stable and versatile in all conditions, with a responsive sidecut. I really liked this ski."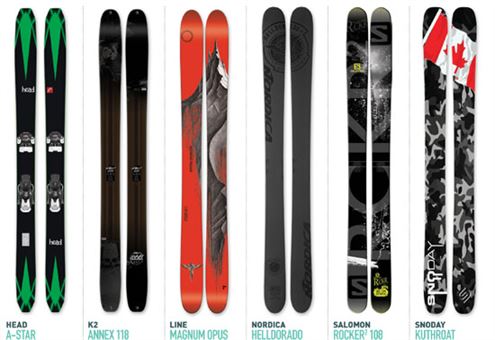 STOCKLI STORMRIDER 115 PRO
$1,319  *  LENGTHS AVAILABLE: 185, 195*  *  SIDECUT: 137/115/128  *  RADIUS: 28 @ 195
In past years the Stormrider 115 has garnered a reputation as a solid, powerful ski that feels damp and solid in all conditions. Our testers found that this year's version lived up to that reputation. This Swiss ski has always relied on proven technology rather than experimental geometry. Other than rocker in the tip, which is pretty standard in most skis these days, the ski boasts quality materials, sandwich construction and a respectable sidecut radius. Our team felt that this ski preferred a heavy pilot, a bit of speed and someone who likes big turns. If you're that person, this one might be for you. Ryan Bush was impressed, despite the lack of bells and whistles: "The GS ski of powder skis; it holds an edge so well you can carve this ski. It skied in thick, stiff wind slab and handled beautifully. Overall impression: I want this ski."
VOLKL TWO
$700  *  LENGTHS AVAILABLE: 176, 186*, 196  *  SIDECUT: 146/124/138  *  RADIUS: 28.2 @ 186
The Two is a powder ski on steroids; it's big, beefy and doesn't get pushed around—it does the pushing. This ski is a great tool for bigger guys or people who want a bit more float in the deep stuff. The extra width will smooth out even the most chewed-up conditions and give you the confidence to ski faster and with more control. Here's American transplant Sebastien Barlerin with his take: "The big brother to the Völkl One, this is a meaty ski that can initiate easily but remain stable and powerful through the end of the turn. A great versatile big-mountain ski."