Reading Time:
10
minutes
HIGH-PERFORMANCE
GS-RADIUS TURNS
Test day for On-Piste Cruisers last February was a fast one. If you love carving, edge hold and energy, keep reading. This is a category of race, detuned race or high-performance skis that typically shares similar construction, technology and under-boot widths ranging from 68-83mm. At Sun Peaks, the Ski Canada team turned the morning's soft corduroys into eastern hardpack by the time they were done, but with the magazine's strict rotation of testers executed with military precision, each ski was afforded the opportunity to be tested on tough blue and black terrain that progressively hardened up throughout the day. Distinctions between this category and last issue's Expert All-Mountain category are many, but it boils down to On-Piste Cruisers being tested on a blue and black groomed run, while Expert All-Mountains skis are tested on varying snow conditions and terrain types, including bumps, trees and so on. But if no-speed-limit carving on groomers is your style, have a read of which skis you'd like to demo.
_ written by CHRIS CANDOW
Atomic | Blizzard | Elan | Head | K2 | Kastle | Line | Nordica | Ogasaka |Salomon |Stockli |Volkl
FIND SKIS using Ski Canada's interactive ski test tool – SkiFinder. Also available as a free app from the iStore & Google Play.
ATOMIC REDSTER DOUBLEDECK 3.0 XT
$1,199  *  LENGTHS: 175, 182*  *  SIDECUT: 116/65.5/99  *  RADIUS: 16.5@182
BEST IN: Edge Grip  *  OVERALL SCORE: 7.8
MEN: The Redster Doubledeck 3.0 XT has been produced in race-carver tradition without it being a World Cup thoroughbred, which might knock some skiers off. Almost as much fun in slalom mode as GS, it shone at Sun Peaks in big turns, fast speeds, a stable platform and tenacious edge grip. Big-boy tester Erin Keam commented, "Someone slipped an amazing GS ski onto my feet. Rock-solid, it never kicked off-line and arced like crazy. Short turns were more work but still manageable for the expert." Lighter testers required a lot more input: "Needed to apply some energy and power to get the most out of the ski," stated Dave Gollogly.
ATOMIC REDSTER XTi
$899  *  LENGTHS: 157, 164, 169, 176*  *  SIDECUT: 117/72/104  *  RADIUS: 16.4@176
BEST IN: LONG RADIUS  *  OVERALL SCORE: 7.9
WOMEN: This is a strong ski for a sturdier skier and our female testers recommended it for experts or certainly confident and powerful advanced skiers. It was happiest in big turns, laying out big arcs. Other than its sweet spot, it didn't know what "small" meant on test day. Kathy Broderick wrote, "Get ready for big turns at high speed as this ski wants to get to the bottom in a hurry. It's super-stable but has a one-track, long-turn mind." Donie Blunden added, "Tip and grip. This ski is like your best friend; there to back you up and keep you going. Solid, reliable, predictable arcs."
BLIZZARD G-POWER FS
$1,299  *  LENGTHS: 167, 174*, 181  *  SIDECUT: 124/75/108  *  RADIUS: 13.5@174
BEST IN: AGILITY  *  OVERALL SCORE: 8.0
MEN: Smooth and versatile sum up how our male testers felt about the G-Power FS. Advanced-expert skiers will receive all that's demanded of a frontside carver with this ski that offers maximum on-snow stability with top rebound performance. Dave Gollogly enjoyed testing it: "It's a snappy, quick, playful, energetic ski, and still stable for bigger turns. It was easy to find the sweet spot and was very forgiving." This ski will not hold back an intermediate looking to advance his skills though, as compact tester Justin Terwiel found out: "It's a comfortable, easy-to-ski cruiser that's easy to initiate and quite agile."
BLIZZARD VIVA S7
$949  *  LENGTHS: 153, 160*, 167  *  SIDECUT: 118/70/103   *  RADIUS: 11@160
BEST IN: INITIATION  *  OVERALL SCORE: 7.6
WOMEN: Even the strongest of our female testers liked the characteristics of good edge grip and stability at speed of the Viva S7. A ski for advanced to expert women, the S7 has a noticeably small turn radius, making for a quick, fun test run. Donie Blunden wrote on her test card, "Lift your baby toe and go, this ski turns on a dime." Kathy Broderick finished carving up Sun Peaks and added "Like a good dog, this ski would make a good companion, reliable and predictable from turn-to-turn. Very stable at speed and responsive in short and long turns."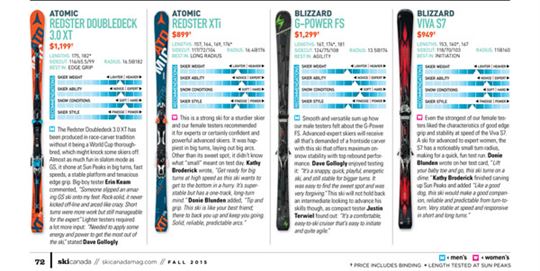 Elan AMPHIBIO 16 Ti2 FUSION
$999  *  LENGTHS: 160, 166, 172, 178*  *  SIDECUT: 121/73/104  *  RADIUS:17@178
BEST IN: STABILITY  *  OVERALL SCORE: 6.2
MEN: Elan's unique left-and-right-ski construction continues to impress in the Amphibio 16 Ti2. With camber at the tip for edge grip on the inside edge and rocker for easy turning on the outside edge, this is a ski built for those who spend their time on groomers. It loved cruising and carving up the test run at Sun Peaks and was rated for advanced to experts. Jeremie Boiteau was impressed: "This ski is comfortable at high speed and silky smooth in long-radius turns." Peter Eaton commented, "A stable, predictable ski good for long-radius turns. It performs best with forward pressure."
ELAN INSOMNIA FUSION
$849  *  LENGTHS: 152, 158*, 164  *  SIDECUT: 121/73/104   *  RADIUS: 13.3@158
BEST IN: STABILITY  *  OVERALL SCORE: 7.4
WOMEN: The Insomnia Fusion is one of several Elan models built using its proven Amphibio technology, but in a ladies'-only version for expert or quickly progressing advanced skiers. A precise ski, it carved cleanly, accurately and was at home on both hardpack and softer corduroys. With the same profile as the men's ski in the category, the lighter weight will be appreciated. "A beautiful ride," wrote Heather Robilliard."It's smooth, precise and fluid from turn-to-turn, and loved all turn shapes at slow and fast speeds." Britta Gretzmacher added, "The ski responds with quickness that it makes you switch from short to long radius in a heartbeat."
HEAD iSUPERSHAPE RALLY
$1,099  *  LENGTHS: 149, 156, 163, 170, 177*  *  SIDECUT: 131/76/109    *  RADIUS: 13.6@170
BEST IN: INITIATION, AGILITY, SHORT RADIUS (TIE)  *  OVERALL SCORE: 8.2
MEN: Described as both an "awesome carving machine" and "an easy ski for someone to get more into carving," the iSupershape Rally managed to not only impress but satisfy many skier types. A performance ski with a race ski construction, it was right at home ripping up hardpack with precision or while helping an advancing skier to carve better. A great "all-rounder." Noted Fritz Stephenson, "It had the perfect sweet spot for a low-advanced skier." Attempting poetry, Mark Stein wrote that expert rippers will "slice an arc with the precision of a scalpel that has a velvet handle."
 HEAD SUPER JOY
$749  *  LENGTHS: 143, 148, 153, 158, 163, 168*  *  SIDECUT: 128/75/108    *  RADIUS: 12.5@163
BEST IN: LONG RADIUS  *  OVERALL SCORE: 8.4
WOMEN: Head's carbon-based, wonder construction material, Graphene, makes skis like the Super Joy noticeably lighter while still providing plenty of strength, power and stability. Consensus among testers is that the Super joy would benefit the advanced intermediate skier working on skill development up to the expert skier. Britta Gretzmacher was wowed: "This one loves speed and makes you look like a goddess. Carve it up and enjoy the ride; switch to fast short turns and smile at its agility." Wendy Anderson said, "Lay it over and away it goes. Great energy in short turns. It can handle the bumps but loves high-speed, fall-line turns."
K2 BOLT
$1,199  *  LENGTHS: 172, 179*, 186  *  SIDECUT: 125/72/99  *  RADIUS: 18@179
BEST IN: STABILITY  *  OVERALL SCORE: 6.9
MEN: The Bolt likes to go fast and rip up soft snow with abandon. Testers recommended it for experts and advanced skiers who are strong and powerful enough to handle it—even skiers who might first prefer a GS race ski. Jeremy Badcock wrote, "This ski puts the cruise in cruiser. You really don't have to be the best skier on the hill to ski on it. Its huge sweet spot allows for a multitude of sins." Justin Terwiel added, "A bigger ski that rewards speed, power and steeper pitches. Very solid feeling and stable underfoot. Best suited for larger, more powerful skiers."
K2 LUV MACHINE 74Ti
$899  *  LENGTHS: 146, 153, 160*, 167  *  SIDECUT: 121/74/107    *  RADIUS: 12.5@160
BEST IN: INITIATION, AGILITY  *  OVERALL SCORE: 6.3
WOMEN: A light and lively frontside cruiser for an easy-going intermediate who's more into a relaxed, comfortable run than being the first one down. Valerie Cahill concurred in her comments: "Intermediate skiers would love this ski for skill development, and it would be their loyal companion as their skills improve." The ski favoured lighter- to average-weight skiers. Wendy Anderson suggested "this ski is all about the fun factor, forgiving and extremely playful," and Britta Gretzmacher urged skiers to "come carve with me on this easy cruiser, ladies. Easy initiation puts you on edge quickly, and stability underfoot gives you confidence."
KÄSTLE MX78
$1,199  *  LENGTHS: 160, 168, 176*, 184  *  SIDECUT: 121/78/105  *  RADIUS: 18@176
BEST IN: INITIATION  *  OVERALL SCORE: 7.7
MEN: The MX78 was designed to be a frontside master, but it has all the versatility and flotation for backside and big-mountain turns, too. A longer turn radius allows the ski to rip up groomed runs with stability. Jeremy Badcock thought it was a great all-round ski: "Any strong skier with good technique would be happy on this ski. It does everything well: stable at speed, short turns, long turns and bumps." The ski's versatility was noted by Paul Cunnius: "It's adaptable in shorter- to medium-size turns, and feels light and agile. The performance matches the degree of input from the skier."
KÄSTLE MX70
$1,199  *  LENGTHS: 144, 152, 160*, 168*  *  SIDECUT: 118/70/100    *  RADIUS: 13.5@160
BEST IN: EDGE GRIP, LONG RADIUS (TIE)  *  OVERALL SCORE: 8.6
WOMEN: With a somewhat slimmer waist and smaller turning radius, the MX70 offered good short-turn versatility. The wood core helped make it a lighter ski, but its performance left testers thinking it could have been in the Expert All-Mountain category. One of the day's top skis, it was recommended for athletic advanced skiers up to experts. Donie Blunden preferred it on groomers and hardpack: "It's light and lively, and direct arc-to-arc. It goes anywhere and does anything!" While Sandra Haziza added, "This ski requires an advanced skier to achieve its ultimate potential. You need to steer the ski to make it work for you."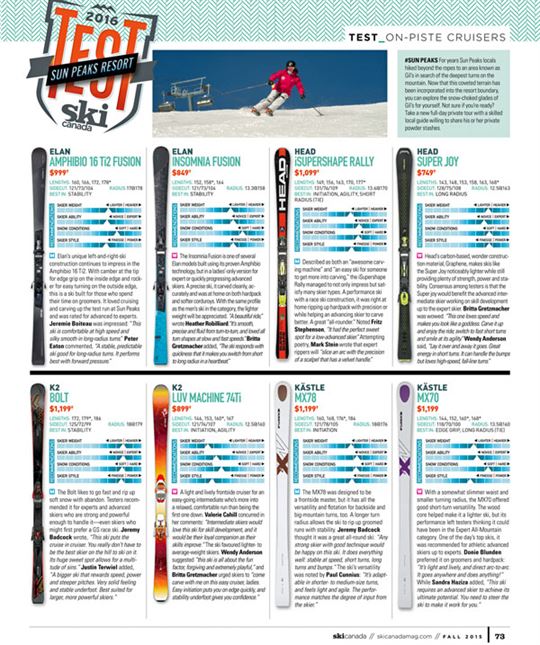 NORDICA DOBERMANN SPITFIRE PRO EVO
$1,049  *  LENGTHS: 152, 160, 168, 176*  *  SIDECUT: 126/74/109   *  RADIUS: 15.5@176
BEST IN: EDGE GRIP  *  OVERALL SCORE: 8.8
MEN: Although there wasn't a lot of consensus from testers on what skill level would most appreciate the aggressive Spitfire Pro EVO, most recommended it for a lighter, quick skier playing most of the time on a mountain's frontside. It was a stable ski seemingly designed with a GS body and slalom tip that liked to be on edge. Justin Terwiel described it as "a short-radius carving rocket. It was extremely easy to initiate turns on fantastic edge grip. Felt like a race ski and begged you to turn up performance." Peter Eaton found "it loves a mid-radius turn while still being good at short and long turns."
NORDICA CINNAMON 76 CA EVO
$919  *  LENGTHS: 144, 150, 156, 162*, 168  *  SIDECUT: 124/76/104    *  RADIUS: 14@162
BEST IN: EDGE GRIP  *  OVERALL SCORE: 8.2
WOMEN: The Cinnamon 76 felt like it was designed for the regular weekender female who's happiest carving up the frontside. Testers agreed that aggressive intermediate to advanced skiers would be an excellent fit for this ski. With a moderate race profile construction, it exhibited excellent edge hold. Britta Gretzmacher wrote, "From easy cruising to speedy carving, this ski does it all. Roll your ankle and you feel the acceleration in each turn. The stability is exceptional, and easy transitions make any turn shape bliss." Gillian Browning "would be happy to keep this ski. Fantastic cruising ski; responsive as edge increases, yet still forgiving."
OGASAKA TC-SF
$1,146  *  LENGTHS: 155*, 160, 165*, 170  *  SIDECUT: 117/67/104   *  RADIUS: 12.8@165
BEST IN: INITIATION (M) / EDGE GRIP (W)  *  OVERALL SCORE: 7.3 men * 8.1 women
MEN/WOMEN:  Although intermediate skiers may find they have to work the TC-SF a bit, they'll be rewarded for their efforts. Advanced and lighter experts looking for an easier ride than what a race ski would provide, will enjoy this ski. The female testers raved about it, including Wendy Anderson: "Dynamic and playful in short turns. Amazing stability and edge grip when laid over. No speed limit yet very cruise-able." Kathy Broderick thought it "skied like a cheetah. Wonderful energy, with a sassy tail that kicks you into the next turn." Paul Cunnius wrote, "Keep your turns medium to short and enjoy a nice light ride on the groomers."
SALOMON X-MAX
$1,149  *  LENGTHS: 155, 160, 165, 170*, 175  *  SIDECUT: 120/73/103    *  RADIUS: 15@170
BEST IN: LONG RADIUS  *  OVERALL SCORE: 7.9
MEN: Testers agreed that the X-Max is a true on-piste cruiser and would probably be liked most by a light- to medium-weight advanced skier who isn't expecting to just sit back and relax his way down the slope. Mark Ledoux thought it best for "lighter skiers with some spunk. It felt light, invigorating, agile." Jeremie Boiteau recommended the X-Max for "intermediate to advanced skiers. A predictable and stable ski at any speed." Erin Keam raved: "This ski screams 'it's party time!' Playful, energetic, responsive but with a big sweet spot. Lighter skiers would be amazed by this ski's performance. Turn it up, let it rip and giggle."
SALOMON W-MAX
$1,049  *  LENGTHS: 150, 155, 160*, 165  *  SIDECUT: 120/73/105   *  RADIUS: 13@160
BEST IN: INITIATION  *  OVERALL SCORE: 7.8
WOMEN: Like a comfy pair of jeans, the W-Max performed well at medium turns and at medium speeds. It's a confidence builder for intermediate and advanced skiers, agreed most of our testers, but some suggested experts would be happy onboard, as well. "This ski will make you look like a princess on an expensive pair of skis. Rhythmical skiing was achieved with ease," commented Sandra Haziza. Val Cahill noted: "This on-piste cruiser is just that, you can cruise all day on a variety of terrain. Amazing turn-to-turn smoothness." Gillian Browning added, "It excels on all levels: pivoting, edging, snappy shorts, luscious longs…"
STÖCKLI LASER AX
$1,199  *  LENGTHS: 159, 167*, 175*, 183  *  SIDECUT: 123/78/109    *  RADIUS: 15.8@175
BEST IN: LONG RADIUS (M) / LONG RADIUS (W)  *  OVERALL SCORE: 7.4 men * 8.6 women
MEN /WOMEN:   Stöckli's handmade quality with all-mountain rocker for easier turn initiation and easy flotation was most appreciated in soft snow. A unanimous conclusion from both the men and women was reached: the Laser AX is for advanced to expert skiers who prize consistency on-piste. It was the ladies' favourite on test day. Wendy Anderson liked the "rock-solid platform underfoot, which allows you to do anything with ease and confidence. Extremely trustworthy and fun!" Dave Gollogly was impressed with the "silky-smooth ride. Like a Cadillac! Amazing flex and grip." Chris Candow thought "transitions were easy, however edging had to be worked to maintain grip."
VÖLKL CODE UVO
$1,249  *  LENGTHS: 154, 161, 168, 175*, 182  *  SIDECUT: 122/76/104   *  RADIUS: 18@175
BEST IN: STABILITY  *  OVERALL SCORE: 8.5
MEN: Völkl's tip and tail rocker with camber technology gave an all-round performance that testers agreed advanced and expert cruisers will like. Drivers who don't pay attention, especially if they ski from the backseat, may get kicked by this powerful ski. Chris Candow wrote, "Wow! Fast or slow, it was stable with easy initiation. Transitions from long to medium turns were easy. Short turns were also easy, but the ski preferred medium to long turns." Jeremy Badcock commented, "If you stay on top of this ski on a groomed run, you'll have a good time."
VÖLKL ESSENZA ALLURA
$949  *  LENGTHS: 144, 151, 158*, 165  *  SIDECUT: 125/75/96   *  RADIUS: 15.3@158
BEST IN: EDGE GRIP  *  OVERALL SCORE: 8.4
WOMEN: Völkl ski technology continues in fine tradition in this ladies' ski, as well. The silky Essenza Allura received high marks across the board from all our female testers. Advanced ladies whose style is more finesse or light and quickly improving intermediates will appreciate this ski the most. Ally Wagorn recommended it for "a light lady who's ready to show off. An amazing women's ski. Smooth and solid." Wendy Anderson felt it was a solid yet energetic ski, and commented on her test card: "This ski has amazing versatility. It's great in snappy short turns, and stable when amped up."