Reading Time:
11
minutes
HIGH-PERFORMANCE GS-RADIUS TURNS
A good On-Piste Cruiser makes carving easy, effortless and fun. Designed to perform on packed snow, many are versatile enough to play in the softer snow and small bumps. They're identifiable on the ski rack with their curvy, Barbie-like figures—big on the top and bottom with a tight little midsection.
Discover effortless carving performance with the roll of your ankles and the twitch of a smile with these skis. Their superhero functionality increases with edge-angle, allowing the pressure to build. Controlling and playing with this energy allows you to keep it on the snow, zip into the next turn or fly off the next roller.
Ski Canada testers pay detailed attention to how skis in this category initiate a turn, grip and hold their edge, and how the energy (pressure) of the ski is released into the next turn. Great cruisers need to be responsive and lively in a variety of terrain. They are expected to shine on hardpack, and we run them through their paces to discover their versatility. The category has no speed limit (just caution signs, patrollers and the Responsibility Code). With their bellies ranging from 67-83mm, the 2015 lineup is a good one.
WRITTEN BY D'ARCY SEGO * photos: Adam Stein *  from Fall 2014 issue
Atomic | Blizzard | Elan | Fischer | Head | K2 | Kastle | Nordica | Salomon | Snoday | Stockli | Volkl
FIND SKIS using Ski Canada's interactive ski test tool – SkiFinder. Also available as a free app from the iStore & Google Play.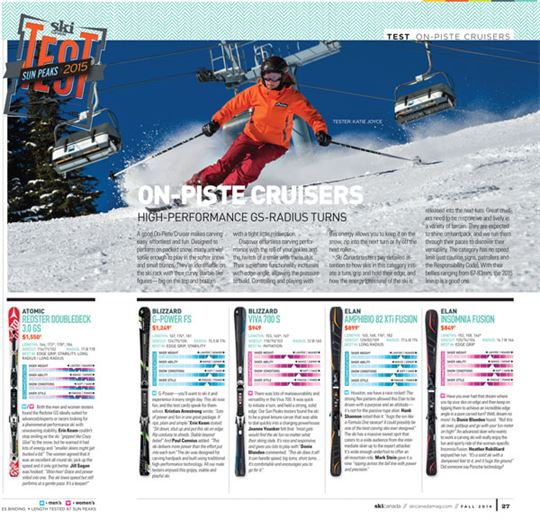 † Price includes binding  * Length tested
ATOMIC REDSTER DOUBLEDECK 3.0 GS
$1,550†
LENGTHS: 166, 172*, 178*, 184  *  SIDECUT: 116/71/102   *  RADIUS: 17 @ 178
BEST IN: MEN: EDGE GRIP, STABILITY, LONG RADIUS / WOMEN: LONG RADIUS
MEN & WOMEN: Both the men and women testers found the Redster GS ideally suited for advanced/experts or racers looking for a phenomenal performance ski with unwavering stability. Erin Keam couldn't stop smiling as the ski "gripped like Crazy Glue" to the snow, but he warned it had lots of energy and "smaller skiers might get bucked a bit."  The women agreed that it was an excellent all-round ski; pick up the speed and it only got better. Jill Sagan was hooked: "Woo-hoo! Grace and power rolled into one. This ski loves speed but still performs at a gentle pace. It's a keeper!"
BLIZZARD G-POWER FS
$1,249†
LENGTHS: 167, 174*, 181  *  SIDECUT: 124/75/108  *  RADIUS: 15.5 @ 174
BEST IN: EDGE GRIP, STABILITY
MEN: G-Power—you'll want to ski it and experience it every single day. This ski was fun, and the test cards speak for themselves. Kristian Armstrong wrote: "Lots of power and fun in one great package. It rips, plain and simple." Erin Keam stated: "Sit down, shut up and put this ski on edge. Rip corduroy to shreds. Stable beyond belief." And Paul Cunnius added: "This ski delivers more power than the effort put into each turn." The ski was designed for carving hardpack and built using traditional high-performance technology. All our male testers enjoyed this grippy, stable and playful ski.
BLIZZARD VIVA 700 S
$949
LENGTHS: 153, 160*, 167  *  SIDECUT: 118/70/103  *  RADIUS: 12 @ 160
BEST IN: INITIATION
WOMEN:  There was lots of manoeuvrability and versatility in the Viva 700. It was quick to initiate a turn, and held a strong, solid edge. Our Sun Peaks testers found the ski to be a great leisure carver that was able to dial quickly into a charging powerhouse. Joanne Younker felt that "most gals would find the ski fun no matter what their skiing style. It's nice and responsive, and gives you lots to play with." Donie Blunden commented: "This ski does it all! It can handle speed, big turns, short turns… It's comfortable and encourages you to go for it."
ELAN AMPHIBIO 82 XTi FUSION
$899†
LENGTHS: 160, 168, 176*, 182  *  SIDECUT: 128/82/109   *  RADIUS: 17.4 @ 176
BEST IN: LONG RADIUS
MEN: Houston, we have a race rocket! The strong flex pattern allowed this Elan to be driven with a purpose and an attitude—it's not for the passive-type skier. Hank Shannon noted that it "hugs the run like a Formula One racecar! It could possibly be one of the best carving skis ever designed." The ski has a massive sweet spot that caters to a wide audience from the intermediate skier up to the expert attacker. It's wide enough underfoot to offer an all-mountain ride. Mark Stein gave it a nine "ripping across the fall line with power and precision."
ELAN INSOMNIA FUSION
$849†
LENGTHS: 152, 158, 166*  *  SIDECUT: 125/74/104  *  RADIUS: 14.1 @ 166
BEST IN: EDGE GRIP
WOMEN:  Have you ever had that dream where you tip your skis on edge and then keep on tipping them to achieve an incredible edge angle in a pure carved turn? Well, dream no more! As Donie Blunden found: "Roll this ski over, giddyup and go with your fun meter on high!" An advanced skier who wants to work a carving ski will really enjoy the fun and sporty ride of the women-specific Insomnia Fusion. Heather Robilliard enjoyed her run: "It's a solid ski with a dampened feel to it, and it hugs the ground." Did someone say Porsche technology?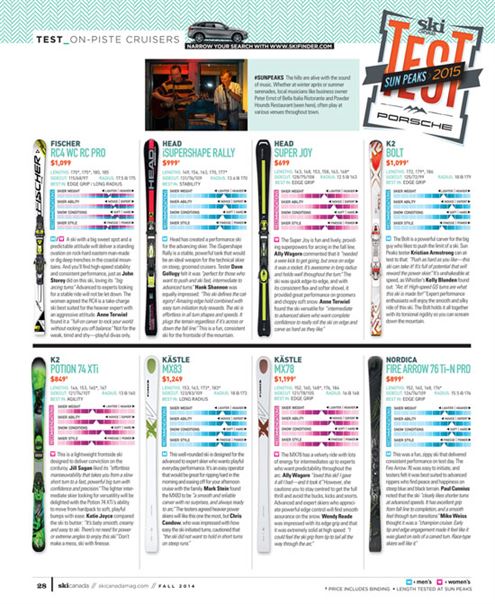 FISCHER RC4 WC RC PRO
$1,099
LENGTHS: 170*, 175*, 180, 185  *  SIDECUT: 115/68/97  *  RADIUS: 17.5 @ 175
BEST IN: MEN: EDGE GRIP / WOMEN: LONG RADIUS
MEN & WOMEN:  A ski with a big sweet spot and a predictable attitude will deliver a standing ovation on rock-hard eastern man-made or dig deep trenches in the coastal mountains. And you'll find high-speed stability and consistent performance, just as John Storey did on this ski, loving its "big arcing turns." Advanced to experts looking for a stable ride will not be let down. The women agreed the RC4 is a take-charge ski best suited for the heavier expert with an aggressive attitude. Anne Terwiel found it a "full-on carver to rock your world without rocking you off balance." Not for the weak, timid and shy—playful divas only.
HEAD iSUPERSHAPE RALLY
$999†
LENGTHS: 149, 156, 163, 170, 177*  *  SIDECUT: 131/76/109  *  RADIUS: 13.6 @ 170
BEST IN: STABILITY
MEN:  Head has created a performance ski for the advancing skier. The iSupershape Rally is a stable, powerful tank that would be an ideal weapon for the technical skier on steep, groomed cruisers. Tester Dave Gollogy felt it was "perfect for those who want to push and ski fast, intermediate to advanced turns." Hank Shannon was equally impressed: "This ski defines the category! Amazing edge hold combined with easy turn initiation truly rewards. The ski is effortless in all turn shapes and speeds. It plugs the terrain regardless if it's across or down the fall line." This is a fun, consistent ski for the frontside of the mountain.
HEAD SUPER JOY
$699
LENGTHS: 143, 148, 153, 158, 163, 168*  *  SIDECUT: 128/75/108  *  RADIUS: 12.5 @ 163
BEST IN: EDGE GRIP
WOMEN:  The Super Joy is fun and lively, providing superpowers for arcing in the fall line. Ally Wagorn commented that it "needed a wee kick to get going, but once on edge it was a rocket. It's awesome in long radius and holds well throughout the turn." The ski was quick edge-to-edge, and with its consistent flex and softer shovel, it provided great performance on groomers and choppy soft snow. Anne Terwiel found the ski versatile for "intermediate to advanced skiers who want complete confidence to really roll the ski on edge and carve as hard as they like."
K2 BOLT
$1,099†
LENGTHS: 172, 179*, 186  *  SIDECUT: 125/72/99  *  RADIUS: 18 @ 179
BEST IN: EDGE GRIP
MEN: The Bolt is a powerful carver for the big guy who likes to push the limit of a ski. Sun Peaks tester Kristian Armstrong can attest to that: "Push as hard as you like—this ski can take it! It's full of potential that will reward the power skier." It's unshakeable at speed, as Whistler's Kelly Blunden found out: "Arc it! High-speed GS turns are what this ski is made for!" Expert performance enthusiasts will enjoy the smooth and silky ride of this ski. The Bolt holds it all together with its torsional rigidity so you can scream down the mountain.
 K2 POTION 74 XTi
$849†
LENGTHS: 146, 153, 160*, 167  *  SIDECUT: 121/74/107  *  RADIUS: 13 @ 160
BEST IN: AGILITY
WOMEN:  This is a lightweight frontside ski designed to deliver conviction on the corduroy. Jill Sagan liked its "effortless manoeuvrability that takes you from a slow short turn to a fast, powerful big turn with confidence and precision." The lighter intermediate skier looking for versatility will be delighted with the Potion 74 XTi's ability to move from hardpack to soft, playful bumps with ease. Katie Joyce compared the ski to butter: "It's baby smooth, creamy and easy to ski. There's no need for power or extreme angles to enjoy this ski." Don't make a mess, ski with finesse.
 KÄSTLE MX83
$1,249
LENGTHS: 153, 163, 173*, 183*  *  SIDECUT: 123/83/109  *  RADIUS: 18 @ 173
BEST IN: LONG RADIUS
MEN: This well-rounded ski is designed for the advanced to expert skier who wants playful everyday performance. It's an easy operator that would be great for ripping hard in the morning and easing off for your afternoon cruise with the family. Mark Stein found the MX83 to be "a smooth and reliable carver with no surprises, and always ready to arc." The testers agreed heavier power skiers will like this one the most, but Chris Candow, who was impressed with how easy the ski initiated turns, cautioned that "the ski did not want to hold in short turns on steep runs."
 KÄSTLE MX78
$1,199†
LENGTHS: 152, 160, 168*, 176, 184  *  SIDECUT: 121/78/105  *  RADIUS: 16 @ 168
BEST IN: EDGE GRIP
WOMEN:  The MX78 has a velvety ride with lots of energy for intermediates up to experts who want predictability throughout the arc. Ally Wagorn "loved this ski! I gave it all I had—and it took it." However, she cautions you to stay centred to get the full thrill and avoid the bucks, kicks and snorts. Advanced and expert skiers who appreciate powerful edge control will find smooth assurance on the snow. Wendy Reade was impressed with its edge grip and that it was extremely solid at high speed: "I could feel the ski grip from tip to tail all the way through the arc."
NORDICA FIRE ARROW 76 Ti-N PRO
$899†
LENGTHS: 152, 160, 168, 176*  *  SIDECUT: 126/76/109   *  RADIUS: 15.5 @ 176
BEST IN: EDGE GRIP
MEN:  This was a fun, zippy ski that delivered consistent performance on test day. The Fire Arrow 76 was easy to initiate, and testers felt it was best suited to advanced rippers who find peace and happiness on steep blue and black terrain. Paul Cunnius noted that the ski "clearly likes shorter turns at advanced speeds. It has excellent grip from fall line to completion, and a smooth feel through turn transitions." Mike Weiss thought it was a "champion cruiser. Early tip and edge engagement made it feel like it was glued on rails of a carved turn. Race-type skiers will like it."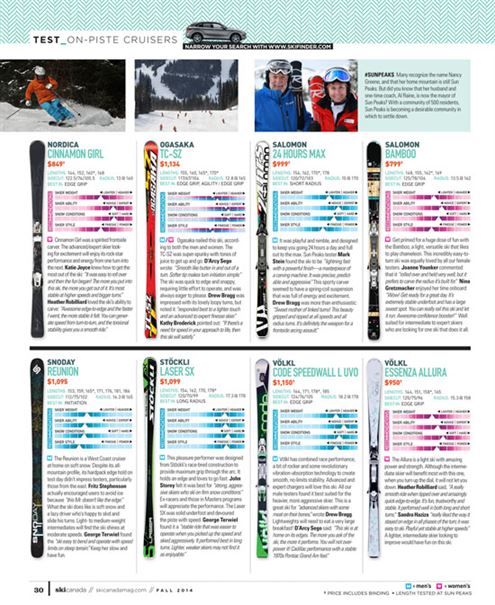 NORDICA CINNAMON GIRL
$849†
LENGTHS: 144, 152, 160*, 168  *  SIDECUT: 122.5/74/105.5  *  RADIUS: 13 @ 160
BEST IN: EDGE GRIP
WOMEN: Cinnamon Girl was a spirited frontside carver. The advanced/expert skier looking for excitement will enjoy its rock-star performance and energy from one turn into the next. Katie Joyce knew how to get the most out of the ski: "It was easy to roll over and then the fun began! The more you put into this ski, the more you get out of it. It's most stable at higher speeds and bigger turns." Heather Robilliard loved the ski's ability to carve: "Awesome edge-to-edge and the faster I went, the more stable it felt. You can generate speed from turn-to-turn, and the torsional stability gives you a smooth ride."
OGASAKA TC-SZ
$1,134
LENGTHS: 155, 160, 165*, 170*  *  SIDECUT: 117/67/104  *  RADIUS: 12.8 @ 165
BEST IN: EDGE GRIP, AGILITY / EDGE GRIP
MEN & WOMEN: Ogasaka nailed this ski, according to both the men and women. The TC-SZ was super-spunky with tones of juice to get up and go. D'Arcy Sego wrote: "Smooth like butter in and out of a turn. Softer tip makes turn initiation simple." The ski was quick to edge and snappy, requiring little effort to operate, and was always eager to please. Drew Bragg was impressed with its lovely loopy turns, but noted it "responded best to a lighter touch and an advanced to expert finesse skier." Kathy Broderick pointed out: "If there's a need for speed in your approach to life, then this ski will satisfy."
SALOMON 24 HOURS MAX
$999†
LENGTHS: 154, 162, 170*, 178  *  SIDECUT: 120/72/103  *  RADIUS: 15 @ 170
BEST IN: SHORT RADIUS
MEN:  It was playful and nimble, and designed to keep you going 24 hours a day and full out to the max. Sun Peaks tester Mark Stein found the ski to be "lightning fast with a powerful finish—a masterpiece of a carving machine. It was precise, predictable and aggressive." This sporty carver seemed to have a spring-coil suspension that was full of energy and excitement. Drew Bragg was more than enthusiastic: "Sweet mother of linked turns! This beauty gripped and ripped at all speeds and all radius turns. It's definitely the weapon for a frontside arcing assault."
SALOMON BAMBOO
$799†
LENGTHS: 148, 155, 162*, 169  *  SIDECUT: 125/78/106  *  RADIUS: 13.5 @ 162
BEST IN: Edge Grip
WOMEN: Get primed for a huge dose of fun with the Bamboo, a light, versatile ski that likes to play chameleon. This incredibly easy-to-turn ski was equally loved by all our female testers. Joanne Younker commented that it "rolled over and held very well, but it prefers to carve the radius it's built for."  Nina Gretzmacher enjoyed her time onboard: "Wow! Get ready for a great day. It's extremely stable underfoot and has a large sweet spot. You can really rail this ski and let it run. Awesome confidence booster!"  Well suited for intermediate to expert skiers who are looking for one ski that does it all.
SNODAY REUNION
$1,095
LENGTHS: 153, 159, 165*, 171, 176, 181, 186  *  SIDECUT: 112/75/102  *  RADIUS: 16.3 @ 165
BEST IN: INITIATION
MEN:  The Reunion is a West Coast cruiser at home on soft snow. Despite its all-mountain profile, its hardpack edge hold on test day didn't impress testers, particularly those from the east. Fritz Stephenson actually encouraged users to avoid ice because "this Mr. doesn't like the edge." What the ski does like is soft snow and a lazy driver who's happy to skid and slide his turns. Light- to medium-weight intermediates will find the ski shines at moderate speeds. George Terwiel found the "ski easy to bend and operate with speed limits on steep terrain." Keep her slow and have fun.
STÖCKLI LASER SX
$1,099
LENGTHS: 154, 162, 170, 178*  *  SIDECUT: 120/70/99   *  RADIUS: 17.3 @ 178
BEST IN: LONG RADIUS
MEN:  This pleasure performer was designed from Stöckli's race-bred construction to provide maximum grip through the arc. It holds an edge and loves to go fast. John Storey felt it was best for "strong, aggressive skiers who ski on firm snow conditions." Ex-racers and those in Masters programs will appreciate the performance. The Laser SX was solid underfoot and devoured the piste with speed. George Terwiel found it a "stable ride that was easier to operate when you picked up the speed and skied aggressively. It performed best in long turns. Lighter, weaker skiers may not find it as enjoyable."
VÖLKL CODE SPEEDWALL L UVO
$1,150†
LENGTHS: 164, 171, 178*, 185  *  SIDECUT: 124/76/105  *   RADIUS: 18.2 @ 178
BEST IN: EDGE GRIP
MEN:  Völkl has combined race performance, a bit of rocker and some revolutionary vibration-absorption technology to create smooth, no-limits stability. Advanced and expert chargers will love this ski. All our male testers found it best suited for the heavier, more aggressive skier. This is a great ski for "advanced skiers with some meat on their bones," wrote Drew Bragg. Lightweights will need to eat a very large breakfast! D'Arcy Sego said: "This ski is at home on its edges. The more you ask of the ski, the more it performs. You will not overpower it! Cadillac performance with a stable 1970s Pontiac Grand Am feel."
 VÖLKL ESSENZA ALLURA
$950†
LENGTHS: 144, 151, 158*, 165  *  SIDECUT: 125/75/96  *  RADIUS: 15.3 @ 158
BEST IN: EDGE GRIP
WOMEN:The Allura is a light ski with amazing power and strength. Although the intermediate skier will benefit most with this one, when you turn up the dial, it will not let you down. Heather Robilliard said, "A really smooth ride when tipped over and amazingly quick edge-to-edge. It's fun, trustworthy and stable. It performed well in both long and short turns."  Sandra Haziza "really liked the way it stayed on edge in all phases of the turn; it was easy to ski. Playful yet stable at higher speeds." A lighter, intermediate skier looking to improve would have fun on this ski.