---
Park & Pipe means abuse. From riding rails to landing kickers, these twintips operate equally
well on both steel and snow, they function forward and backward, are light enough to spin,
yet resilient to stick impossible landings. Here's a sampling of some of our favourites.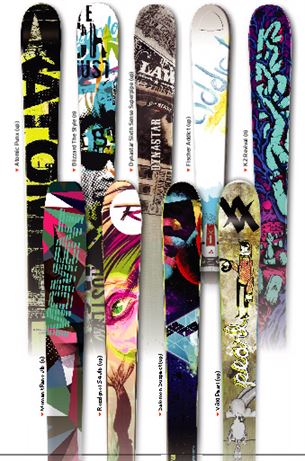 top row, left to right: Atomic Punx, Blizzard The Style, Dynastar Sixth Sense Superpipe, Fischer Addict, K2 Revival
bottom row, left to right: Moment Reno Jib, Rossignol S4 Jib, Salomon Suspect, Volkl Pearl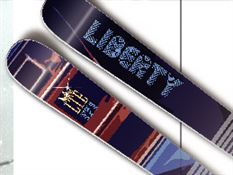 Team Player
The Liberty Team Edition, or LTE, is
Liberty's asymmetric park-plus board this
winter. Its bamboo core comes reinforced
with meaty UHMW whitewall sidewalls and
a durable, topsheet-protecting urethane
layer for smoothing out impacts. Flex has
been stiffened in the under-sole for edge
hold, while tips and tails are softer for turn
initiation and feature absorption. Women
can get Jinx, which sports the same core,
sidewalls and spirit.
Supreme Punx
Atomic's traditionally cambered symmetric Punx comes with an 82-mm waist in 155, 164, 173 and 182 cm lengths – tips and tails go from 105.5 to 112.5 mm, depending on size. The Austrian company's Slanted Sidewall Woodcore provides stability in landings, pipe kickers and rails. Junior skiers can also hop on the bandwagon with the Punx Jr, a cap fibre version of the adult ski with waist widths between 76 and 85 mm. Women ride Supreme, an all-new park stick with 87 mm of waist and stepdown sidewall technology.
Park to pow Revival
Revival (121/90/115) leads the season's
park-to-pow charge with K2's ABSorb Sidewalls, Jib Rocker -elevated tips and
tails with zero camber underfoot – and bi-directional
taper. The package works like a
dream with the quick-adjusting (forward/
backward) SchizoFrantic binding to give
jibbers a more balanced centre-mount feeling,
as well as increased pop and sweet landings
wherever and whenever you stick 'em.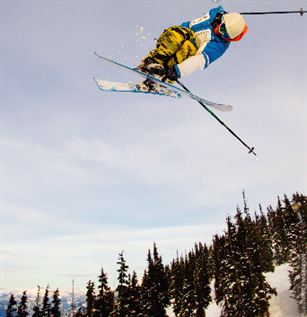 Skier Vincent Martin of Whistler doing 'a trusty old corked 5 with a mute'
Stepped up
Step Up follows the success of last year's Afterbang. Expect Line's impressive skate deck
construction – a unique, seven-ply rock maple
veneer construction that runs edge-to-edge, tip-to-
tail, giving it uncompromised strength and
resistance. The Step Up comes with double carbon
olliebands to create greater pop for hitting larger
park features. Benefits of this construction include
nods to the environment: 40 per cent less plastic
than a cap ski, 50 per cent less plastic than a
sidewall ski and 60 per cent less wood-waste.
Cock-a-doodle in the park
Expect rocker technology, bold graphics and
outstanding durability from Rossignol this year.
Its stylin' S4 Jib features a shock-absorbing
tip and sidewall built around a hand-milled
ash and poplar core. The French manufacturer's
WRS (Weight Reduction System)– essentially
a patented fibreglass sock design that reduces
density in tip and tail – maximizes durability while
minimizing weight. Switch pow riders looking for
rockered camber-free skis can turn to the S6.
Spin this ski
The name says it all – Moment's Rocker retains its hook-free moustache rocker. Carbon
stringers, sidewalls and durable bases give
the symmetrical ski (114/91/114 mm) more
performance.
Armada-ed and dangerous
This California-based manufacturer
launches skis like no other – no surprise
with company co-founders JP Auclair and
Tanner Hall leading the way. Park-specific
THall-named after the seven-time X-Game
gold medallist-comes Tanner designed.
The competition-ready Alpha 1 dominates
the park and is stiff enough to take to
the mountain, while Pipe Cleaner is all
superpipe. All positive camber sidewall skis
come tested by Armada's artillery and offer
abuse-loving oversize edges and wood cores
with reinforced carbon and Kevlar stringers
for extra snap and pop. Alpha 1 also comes
rockered for improved buttering and nose and
tail presses.
Twenty Twelve in twenty ten
So where do the backcountry and the
park merge? How about in Twenty Twelve?
Salomon's first twin rocker comes at a
versatile 91 mm underfoot. Expect great float
with 64 cm of true camber contact. Hitting
kickers in the backcountry or stunts in the
park? Use the forward mounting point. All-Mountain
skiers mount 2.5 cm back.
Click! for wider underfoot
From jibs to jumps to pipe, 4FRNT claims
its ski does it all. The traditionally cambered
twin Click! comes redesigned in five different
lengths (from 157 to 177 cm) with a lighter-weight
cap construction, wider underfoot
(from 84 to 88 mm) and a near symmetric
sidecut (118/86/113 at 167 cm).
New logo, less graphics

In a world where colour clash is cool, individuality
paramount and gender irrelevant, think minimalist
with gelato store-inspired Blueberry-Lemon park
boards. Head has even revamped the corporate
logo, now lower case and more badass on all Big
Mountain and Park boards. Bring your stickers and
Sharpies to its colourful topsheets. As Head says
aptly, Sometimes less is more.

Tags: Buyer's Guide 2011, Park & Pipe, terrain parks, twintips