---
Ski Canada's team of twintip testers played all over the mountain to show off this category's versatility.
by Ron Betts .. test co-ordinator Jeremy Cooper .. photos John Evely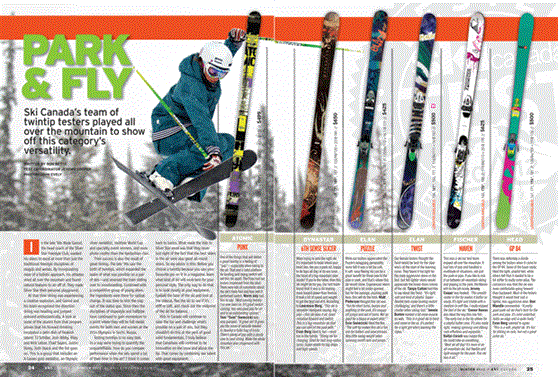 In the late '90s Wade Garrod, the head coach of the Silver Star Freestyle Club, wanted his skiers to excel at more than just the traditional freestyle disciplines of moguls and aerials. By incorporating more of a holistic approach, his athletes skied all over the mountain and found natural features to air off of. They made Silver Star their personal playground.
At that time skiing was experiencing a creative explosion, and Garrod and his team recognized the direction skiing was heading and jumped onboard enthusiastically. A look at some of the alumni from that program proves that his forward thinking incubated a petri dish of freakish talent: TJ Schiller, Josh Bibby, Riley and Nick Leboe, Chad Sayers, Justin Dorey, Josh Dueck and the list goes on. This is a group that includes an X-Games gold medallist, an Olympic silver medallist, multiple World Cup and specialty event winners, and more photo credits than the Kardashian clan.
Their success is also the result of great timing. The late '90s saw the birth of twintips, which expanded the realm of what was possible on a pair of skis—and reversed the train sliding over to snowboarding. Combined with a competitive group of young skiers, the ingredients were there for radical change. It was time to kick the crap out of the status quo. Since then the disciplines of slopestyle and halfpipe have continued to gain momentum to a point where they will be full medal events for both men and women at the 2014 Olympics in Sochi, Russia.
Testing twintips is no easy task. In a way we're trying to quantify the unquantifi able. How do you compare performance when the skis spend a lot of their time in the air? I think it comes back to basics. What made the kids in Silver Star excel was that they never lost sight of the fact that the best skiers in the air were also great all-round skiers. So my advice is this: Before you choose a twintip because you saw your
favourite pro on it in a magazine, learn what kind of ski will work best for your personal style. The only way to do that is to look closely at your equipment. Eyeball the base of the ski and look at the sidecut, flex the ski to see if it's stiff or soft, and check out the midpoint of the ski for balance.
Kids in Canada will continue to raise the bar and challenge what's possible on a pair of skis, but they shouldn't do this at the peril of good solid fundamentals. I truly believe that Canadians will continue to be
innovative on the snow and above the lip. That comes by combining raw talent with great equipment.
Lengths tested in bold.
ATOMIC PUNX
LENGTHS AVAILABLE: 155,164,173,182 // 111/82/111 >> 20@173 // $499
One of the things that will defi ne a great twintip is a feeling of "pop"—especially when taking to the air. That and a solid platform for landing and skiing switch will set this ski apart. The Punx had our testers impressed from the start. There were lots of comments about the ski's lively feel and how well it performed switch. Norm Joly had this to say: "Best carving twintip I've ever been on. It's great switch carving, has very good pop for air and is an outstanding spinner." Tom "Svin" Swiecicki was also pumped: "A great ski! It gives you the sense of security needed to develop a fuller bag of tricks. There's plenty of pop with a sturdy core to land strong. Make the whole mountain your playground with this ski."
DYNASTAR 6TH SENSE SLICER
LENGTHS AVAILABLE: 169, 175 *, 181, 187  // 132/ 98/ 120 » 23 @ 181 // $650
When trying to pick the right ski, it's important to know where your heart lies. Are you a park rat, happy to do laps all day, or do you have the heart of a big-mountain skier inside? If you're the latter, then this ski might be for you. Our test team found that it was a ski leaning more toward power than fi nesse. It took a bit of speed and weight to get the best out of it. According to Lawrence Berg, "This ski is versatile! Hardpack ripping, big pop—this ski does it all. Good initiation forward and switch. This is a big-mountain ski that you can still hit the park with." Evan Berg liked it, too—must run in the family: "Strong ski for charging. Good for fast long-radius turns. Super-stable for big drops and high speeds."
ELAN PUZZLE
LENGTHS AVAILABLE: 156,166,171,176,181 // 120/86/112 >> $425
While our testers appreciated the Puzzle's easygoing personality, some felt it was a bit too soft. A soft, easy-flexing ski can be a great benefi t for those new to the pipe or park, and that's where this ski would shine. Experienced skiers might feel a bit under-gunned, but for the average, aspiring park hero, this will do the trick. Matt Pederson thought this ski was "fun for short turns, bumps and anything in the park. It's snappy off jumps and out of turns. Not as good for a heavy or expert skier." Svin Swiecicki liked the flex: "The soft tip makes this ski a fun one for butters and nose presses. Very little swing weight when spinning on/off rails and jumps."
ELAN TWIST
LENGTHS AVAILABLE: 156,161,166,171 // 116/84/111 >> $500
Our female testers thought the Twist would be best for the skier who's at the start of the learning curve. They found it too light for the more aggressive skiers in the test, but felt lighter skiers would appreciate the toned-down nature of the ski. Tanya Callon had this to say about the Twist: "It's light, soft and kind of playful. Super-flexible tails make landing switch challenging, and there's a little chatter when skiing fast." Jennie Burton wanted a bit more muscle as well: "This is a great ski to twist and move in the air. It's perfect for a light girl who's learning the ropes."
FISCHER MAVEN
LENGTHS AVAILABLE: 160, 170 *, 180 // 119/ 88/ 112 » 20 @ 170 // $625
This was a ski our test team enjoyed all over the mountain. It had lots of pop and handled a multitude of situations, not just the park or pipe. If you like to mix it up between all-mountain skiing and playing in the park, the Maven will do the job nicely. Jeremy Cooper was hooked: "The smooth rocker in the tip makes it butter so easily. It's light and stable with a medium to soft flex. I really enjoyed the feel of the ski." Connor Reeves also liked the way this one felt: "The early rise in the tip allows for a playful butter zone. It's also really light, making spinning and jibbing rails effortless and enjoyable." Kaitlyn Corack was happy this ski could take on everything: "Best ski all day! It's more of an all-mountain ski, but flexible and light enough for the park. This ski has it all."
HEAD GP 84
LENGTHS AVAILABLE: 161, 171, 176 *, 181 // 120/ 84/ 109 » 19 @ 176 // $500
There was definitely a divide among the testers when it came to the GP 84. Some of the team really liked the light, playful feel, while others felt that it needed to be a bit stiffer to really come alive. The consensus was that the ski was more comfortable going forward than backward. Most of the testers thought it would best suit a lighter, less aggressive skier. Dan Mandle commented: "A pretty good park-rat ski that's best for the park and pipe. It's solid underfoot, holds an edge and is quite lively." Evan Berg seemed to agree: "This is a soft, playful ski. It's fun for jibbing on rails, but not a great jump ski."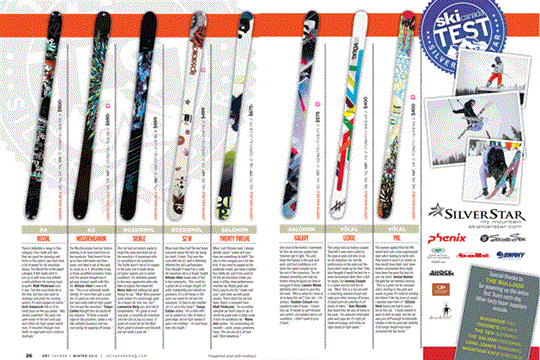 K2 RECOIL
LENGTHS AVAILABLE: 159, 164, 169, 174, 179 // 121/90/115 >> 20@179 // $900
There's definitely a range in this category, from really soft skis that are great for spinning and tricks in the park to skis that have a bit of power for all-mountain skiing. The Recoil fits in the power category. It felt really solid in cut-up or soft snow and offered a solid platform for coming back to earth. Matt Pederson said it was "not the most lively ski in the test, but was very solid on landings and great for cruising
switch. It's best enjoyed at centre." Svin Swiecicki felt as if he could push on the gas pedal: "Very stable underfoot! The early-rise park rocker in the tail adds pop and allows for high-speed switch runs. It smashes through crud, holds an edge well and is solid on landings."
K2 MISSDEMEANOR
LENGTHS AVAILABLE: 149, 159, 169 * // 121/ 90/ 115 » 15 @ 159 // $690
The MissDemeanor had our testers wanting to do more hard time on the mountain. They found it to be up to their skill levels and then some, and liked it out of the park as much as in it. Versatility is key in these unsettled economic times, and the women thought you'd get your money's worth with this ski. Allison Heal is now a K2 fan: "This is an extremely stable twintip. It's more than just a park ski; it's good on rails and jumps, but also really solid at high speed. Fun all over the mountain." Tanya Callon thought this ski would let you improve: "It holds a wicked edge on the groomers, slides a rail like nobody's business and has nice spring for popping off jumps."
ROSSIGNOL SICKLE
LENGTHS AVAILABLE: 174, 186 * // 140/ 110/ 133 » 21. 3 @ 186 // $699
This ski had our testers ready to forget the park and head out on the mountain. It impressed with its versatility in all conditions. The Sickle wasn't out of its league in the park, but it really shone at higher speeds and in varied conditions. It's definitely geared to the more aggressive skier who likes to explore the whole hill. Norm Joly had nothing but good things to say: "Wow! Best groomer/park combo. It's surprisingly agile for a larger ski. Fun, fun, fun!" Lawrence Berg was also full of compliments: "It's great in crud and pow, is versatile all-mountain and has lots of pop on jumps. A great all-round ski for the West that's good in powder and the park, but not really a pipe ski."
ROSSIGNOL  S2 W
LENGTHS AVAILABLE: 140,150,160,170 // 122/92/115 >> 20@170 // $499
When more than half the test team comment about the test ski being too short, I listen. That was the case with the S2, and it definitely affected the ski's performance. They thought it would be a solid all-mountain ski in a longer length. Allison Heal made note of this in her comments: "This could be a great ski at a longer length. It's solid, trustworthy and reliable on groomers. It's a bit heavy in the park, but sweet for all over the mountain. I'd love to add another 10-15 cm to this baby!" Tanya Callon added: "It's a little stiff; not as playful as I like. It holds a good edge, but at high speeds it gets a bit chattery—it could have been the length."
SALOMON TWENTY TWELVE
LENGTHS AVAILABLE: 163,171,179,186 // 123/91/116 >> 21.9@179 // $675
When I eat Chinese food, I always wonder about "sweet and sour." How can something be both? The skis in this category are a bit like that. If you want to appeal to the park/pipe crowd, you need a lighter, less beefy ski; and if you want to need ski. Really good skis find a way to mix the "sweet and sour" and come up with great results. That's what this ski has done. Here's a comment from Matt Pederson: "An incredibly versatile ski that's easy to ski. It would be great even in deep snow. A true all-conditions ski." Norm Joly agrees: "An outstanding all-rounder—park, jumps, groomers, trees. This ski can do it all and well. Total sweetness."
SALOMON GALAXY
LENGTHS AVAILABLE: 151, 161, 171 * // 122/ 86/ 115 » 17. 3 @ 171 // $575
One read of the testers' comments for this ski and you realize that Salomon got it right. The girls loved the Galaxy in the pipe and park, and had confidence in it when the speed ramped up on the rest of the mountain. The ski showed versatility and had our testers trying to figure out how to smuggle it home. Lauren Nolan definitely didn't want to give this ski back: "Who or what do I have to do to keep this ski?! Epic ski—I'm serious." Kaitlyn Corack also wanted to take it home: "I loved this ski. It moved so well forward and switch, and worked well in all conditions. I didn't want to give it back."
VÖLKL LEDGE
LENGTHS AVAILABLE: 148, 155, 162, 169 *, 176 // 111/ 84/ 111 » 18. 8 @ 169 // $400
The Ledge had our testers amped. They felt it was more suited to the pipe or park and less so as an all-mountain ski, but the performance in the park and the stunt ditch made up for that. They also thought it would be best for a more recreational skier than a full-on ripper, but Jeremy Cooper is a ripper and he had this to say: "Wow! This is a fun ski with a surprising amount of pop and edge grip when carving off jumps. A sweet park ski catering to all levels of riders." Dan Mandle also found this ski was at home in the park: "An awesome dedicated park-and-pipe ski. It's light yet lively and poppy, and holds an edge easily at high speed."
VÖLKL PRL
LENGTHS AVAILABLE: 148, 155, 162 *, 169 // 111/ 84/ 111 » 16. 9 @ 162 // $400
The women agreed that the PRL would best suit a less-experienced skier who's looking to build skill. They found it wasn't as stable as they would have liked, and some testers commented that might have been because the test ski was too short. Jennie Burton thought the ski showed promise: "This is a great ski for someone who's starting in the park and wants to grow. It's solid on landing, but doesn't like big turns or speed. I wanted more from it!" Allison Heal found she had to work a bit on this ski: "I really needed to work to hold an edge, but the ski was just stiff enough to eliminate chatter in the tip and add stability. A bit longer length may have increased the fun factor."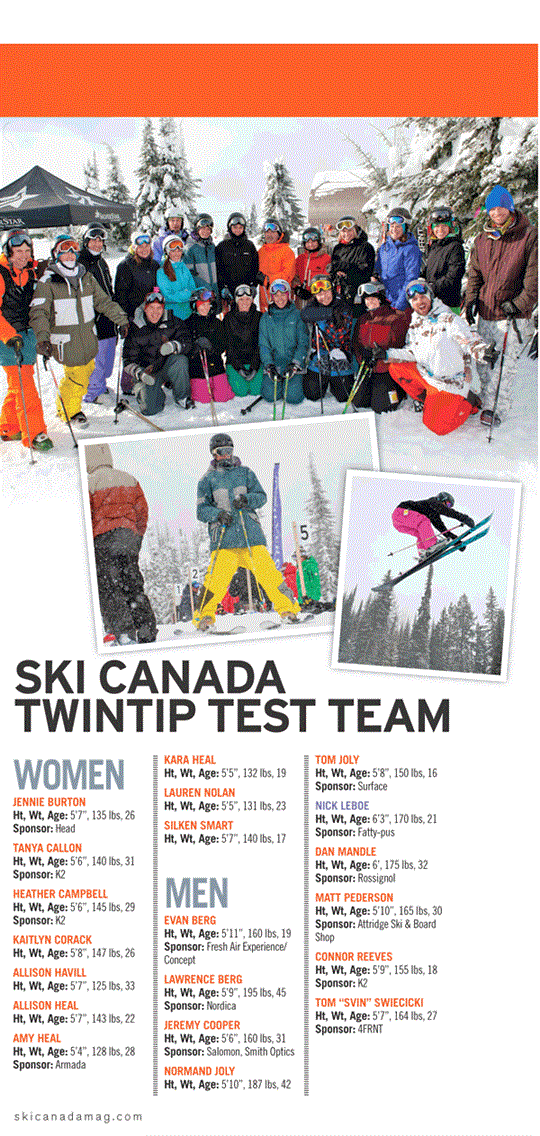 Tags: aerials, Atomic Punx, Chad Sayers, Dynastar 6th Sense Slicer, Elan Puzzle, Elan Twist, Featured, Fischer Maven, Head GP 84, Josh Bibby, Josh Dueck, Justin Dorey, K2 Missdemeanor, K2 Recoil, moguls, Nick Leboe, Park & Pipe, Riley Leboe, Rossignol S2 W, Rossignol Sickle, Salomon Galaxy, Salomon Twenty Twelve, Silver Star Freestyle Club, TJ Schiller, twintips, Volkl Ledge, Volkl PRL