And Then They Were One – Park City & The Canyons
---
Big things really started to happen when Vail Resorts teamed up Park City with The Canyons.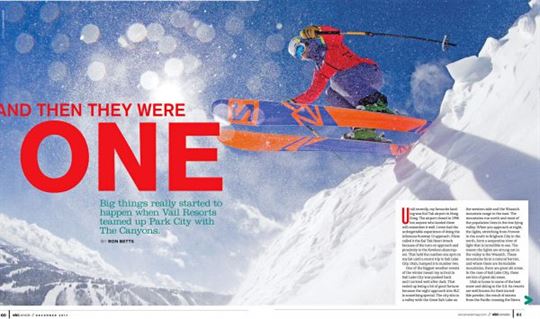 Until recently, my favourite landing was Kai Tak airport in Hong Kong. The airport closed in 1998 but anyone who landed there will remember it well. I even had the unforgettable experience of doing the infamous Runway 13 approach. Pilots called it the Kai Tak Heart Attack because of the turn on approach and proximity to the Kowloon skyscrapers. That held the number-one spot on my list until a recent trip to Salt Lake City, Utah, bumped it to number two.
One of the biggest weather events of the winter meant my arrival in Salt Lake City was pushed back and I arrived well after dark. That ended up being a bit of good fortune because the night approach into SLC is something special. The city sits in a valley with the Great Salt Lake on the western side and the Wasatch mountain range to the east. The mountains run north and most of the population lives in the low-lying valley. When you approach at night, the lights, stretching from Provost in the south to Brigham City in the north, form a serpentine river of light that is incredible to see. The reason the lights are strung out in the valley is the Wasatch. These mountains form a natural barrier, and where there are formidable mountains, there are great ski areas. In the case of Salt Lake City, there are lots of great ski areas.
''…it's either snowing, it's been snowing or it's about to snow. ''
Utah is home to some of the best snow and skiing in the U.S. Its resorts are well known for their incredible powder, the result of storms from the Pacific crossing the Sierra Nevada and the Great Basin. This journey pulls the moisture content out of the flakes, blanketing the mountains with famous Utah cold smoke. Others credit the lake effect from the Great Salt Lake, or a combo of both—it depends on which local you ask. One thing that all great ski towns have in common is a higher than average ratio of amateur meteorologists, and in Utah everyone is a weather person; it's either snowing, it's been snowing or it's about to snow. On this trip, I got to experience all three.
Anytime your travel plans are weather dependent, it's going to make you watch the weather channel more than an anxious bride before her wedding day. All last season I'd been watching and couldn't help but notice that Utah was having a bumper year. That's why my elation turned to deflation when, after collecting my bags, I exited the airport into a steady stream of…liquid pow.
On the short 45-minute drive up I-80 to Park City, I learned a couple of things from my local cabdriver. I learned about Mormon grand-pappy Brigham Young and how he and his followers came west looking for a mythical valley that Young had seen in a dream. I also learned to have faith in altitude. Turns out that my cabdriver was one of the best amateur theologians/meteorologists in the state. By the time we reached the town of Park City, the drops had turned to flakes and the theme for the week was set. Sometimes a little faith goes a long way.
I was here to explore Park City and The Canyons, both of which, on their own merit, offer some of the finest skiing and amenities anywhere. Combined, as they have been since Vail Resorts acquired Park City Mountain Resort in 2014, the two areas form the largest ski resort in the U.S. Think more than 3,000 hectares, 300+ runs and 41 lifts, including the recently completed Quicksilver Gondola that links the two areas. And then the history, luxury, convenience, and the terrain and snow are there to back it all up. Am I gushing? I feel like I might be gushing. I'd be lying if I said I wasn't impressed.
''I just kept thinking, "It can't get better!" Trust me, as the week went on, it got better. ''
From my first run, which was located steps from the Grand Summit Hotel, my home for the week, I could tell this was a resort that had things figured out, and it was going to take me more than one day to figure it out for myself. Luckily, I had a couple of excellent tour guides to show me around and shake off the travel day. Abby Hein, from Park City's owner Vail Resorts Inc., and Alex Fleet, ski pro extraordinaire, knew where to find the goods, and on day one I was too awestruck to pay much attention. I just kept thinking, "It can't get better!" Trust me, as the week went on, it got better.
While no doubt Vail Resorts has long-term goals for Park City and The Canyons and has already implemented many of the infrastructure and customer-service hallmarks for which it's famous, Abby didn't dwell on those. She was happy to answer all my questions…on the chairlift. When the safety bar went up and the goggles came down, Abby was off like Usain Bolt on Red Bull. While trying to keep up, I did ask her about Vail's future plans for the resort.
The Canyons and Park City, while geographically close to one another, have enough differences to make them unique. Vail Resorts' goal wasn't to change that. Rather, the company chose to invest a considerable amount of capital, US$50 million, the largest single-year investment in U.S. ski area history for the 2015-16 season, to create a mega-resort that flowed efficiently and made it easy for guests to move around. It also built a 500-seat restaurant, called Miner's Camp, at the Park City base of the Quicksilver Gondola. These improvements to the infrastructure were intended to make Park City feel more like a European resort in North America. The terrain flows and feels endless, you can ride a different lift on nearly every run, cover a wide amount of terrain and, when the time is right, there are some great on-mountain food options that will get you fed, watered and back at it in no time.
While we spent time talking about the resort, mostly we skied. Abby and Alex were in their glory, and between the two of them we managed to constantly be in the right place at the right time. We explored The Canyons side of Park City, which is not a one-day undertaking. The eastern-area boundary is serviced by the Super Condor quad. This prominent ridge feature has some great south-facing double-black runs that could keep you busy all day long, while the more northerly runs off the ridge were among my favourites. Steep, wide, groomed and perfect for getting on the gas and letting your skis run. Aplande, Devil's Friend and Kestrel were classic. Runs that are perfectly groomed and user-friendly, but on a powder day they go to a level above perfect. From the top of the Super Condor lift you also see the expanse of The Canyons, ridgeline after ridgeline, all with modern and well-positioned lifts waiting to burn out your legs. If you want to do Park City right, you might want to make good on that New Year's resolution—a little gym time before departure will go a long way here.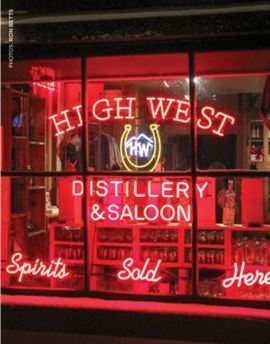 My first day at the resort was all about exploring the mountain; my first night was spent exploring Park City. There's no avoiding the rich silver mining history that Park City was founded on—there are more than 60 properties on Main Street alone that are listed in the National Register of Historic Places. Skiing replaced silver in the early '60s, and what remained were funky buildings with ski runs that ended on their doorsteps. In fact, at the end of the day you can ski to town, pop your skis off and be enjoying a highball from local distillery High West, all before unbuckling your boots.
Those historic properties now house an eclectic mix of restaurants, retail shops and boutique accommodation. There are also three works by the infamous street artist Banksy scattered throughout town, and finding them is a fun après activity in itself. With myriad choices in the downtown core, choosing a restaurant might be the hardest decision you make all day. I went with High West after a tour of its awesome whisky distillery. Luckily the food was as good as the whisky for which it's famous. After dinner and a walk on Main Street, the falling snow let me know it was time to get to bed. Tomorrow was going to be another epic day.
''His lift-line navigation and New York attitude ensured we never waited more than five minutes. ''
You know it's going to be a good day when you awake to the sound of the crew doing avalanche control on the upper mountain. There was no snooze button being pushed; the early bird gets the pow. Our posse was joined by Van Greenfield, a transplant from New York who has lived in the area long enough to know how to avoid tracks all day long. Van is a force of nature, a 12-year-old in a 72-year-old body. He's logged more heli-ski vertical than most ski guides and is the most psyched skier you'll meet. That became apparent when we encountered any lift lines. Let's just say you can take the boy out of New York, but you can't take New York out of the boy. His lift-line navigation and New York attitude ensured we never waited more than five minutes in any line. Our main target for the day was the highest lifted point on The Canyons side of the resort, the Ninety-Nine-Ninety Express.
Sometimes a little luck, a little bit of timing and a brash New Yorker are all you need. We bumped into one of the senior ski patrol just as they were about to drop ropes on Red Pine Bowl. Van, being Van, somehow convinced him that we needed a personal guide and away we went, with a ski patrol escort no less. Trust me, if you haven't experienced the euphoric feeling of being the first person to drop into an untracked bowl, quit your job, do whatever it takes, make it happen. We spent the rest of the day skiing steep lines, beautifully spaced glades and the odd perfect groomer for variety. Ski days don't get much better, or so I thought.
The best way to cap off a great ski day is with a great meal. Our venue for the evening was River Horse on Main, one of the top restaurants in town. On our way there we were entertained by another memorable driver, this time it was a screenwriter turned Uber driver who said he'd settled in Park City long before the billionaires came and chased away all the millionaires.
The snow had made the driving and walking treacherous and our driver commented, "Check out all these Frittatas. It's like they've never seen snow before."
I bit, "What's a Frittata?"
"It's a dish made with eggs," he quickly replied. "It's also what I call city people who have never seen snow."
I had to ask, "Is that a common term or something you made up?" I already knew the answer.
"That's all mine," he replied. "I'm my own best audience!" In a town built on silver, this guy's material was gold.
He did have a point, though. There's a level of luxury in Park City that's hard to miss. It is, after all, the playground of the rich and famous, who flock to town every year for the renowned Sundance Film Festival. Unfortunately, the only celebrity sightings on this trip were the magician Criss Angel and a decorative snowman on the deck of Will Smith's winter getaway property, which is in the exclusive Colony, a gated community that's home to some of Park City's most affluent residents.
The Colony was also the location of the most memorable morning of skiing I've had in a long time. It started with a 10:00 p.m. phone call from Van, who told me to meet him in the morning in front of the hotel, dressed and ready. When I walked out in the morning, Van and Alex were waiting. In B.C. when you go for morning pow missions, it usually involves pickup trucks and snowmobiles. In Park City it involved a jet-black Range Rover with Van's girlfriend at the wheel. As we approached the gatehouse, it was obvious the snowfall had wreaked havoc. There was a line of cars on the slight incline to the Colony going nowhere fast. We pulled into the opposite lane, passed all of them and proceeded to blow through the gate like the Dukes of Hazard trying to cross the county line. Our little coup put us at the bottom of the Iron Mountain lift, a chair that services the properties in the Colony. The snowfall meant that access to this lift was delayed from the main village while other lifts were being cleared. We had the place to ourselves for two hours, waist-deep cold smoke and only a handful of people. It just doesn't get any better.
The rest of the trip was spent exploring Park City with Van and his son, Shiloh. Shiloh is a budding little ripper who uses terrain like a playground. It was only a mix of sheer determination and stubbornness that let me keep up with him. It's like the old saying, "Old age and treachery beats youth and exuberance every time." We hiked a ridge from the midstation of the Quicksilver Gondola that put us into some really fun tree-skiing, and the double blacks off the top of Jupiter Peak and Jupiter Bowl are endless.
Park City is a town with a storied past and a bright future, the mix of historic and modern architecture is well balanced. There's no denying that Park City has an air of opulence, but at its core it really is a ski town. The Prada and Bogner suits are balanced by the number of locals sporting duct tape on their jackets. In town you might be judged by which designer's line you're wearing, but in the mountains the only lines that matter are the ones you leave or the ones you ski.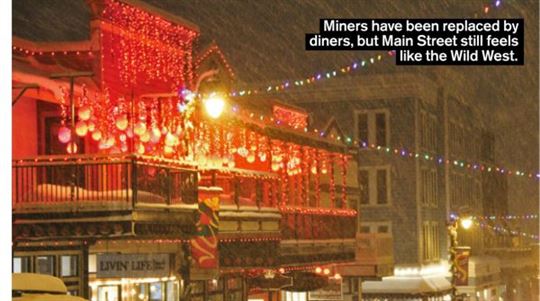 Ron's favourites
Best breakfast: Harvest on Main Street, healthy and yummy.

Best coffee: Campos Coffee, a bit of Australian coffee culture in Park City Village.

Best on-mountain restaurant: Lookout Cabin.

Most unique experience: A tie between paddleboard yoga
in a cavernous hot spring (parkcityyogaadventures.com) or mountaintop yurt dining (vikingyurt.com).

Favourite run: Too many, but if I had to pick, it would be Heavy Metal on Iron Mountain. Best resort powder ever!

Tags: Park City, powder, The Canyons, USA, Utah