---
Abuse is the name of the park-and-pipe game. And these skis take it in spades. This season we'll see lightened tips and tails for improved swing weight, resistant sidewalls and innovative strategies like Elan's Triple Base Technology (see below) for catch-free landings. With increased junior traffic in the field—they still have the knees—both Head and Rossignol offer tweener models with top-of- the-line technologies. As most are north of 85mm underfoot, many twins are meant to transition afield of the hardpacked terrain parks into the slack and beyond.
from Buyer's Guide 2013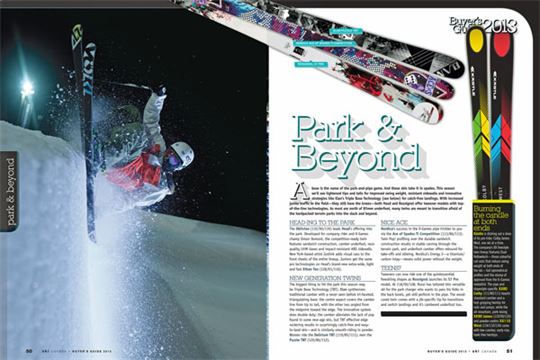 HEAD-ING TO THE PARK
The Oblivion (132/90/119) leads Head's offering into the park. Developed for company rider and X-Games champ Simon Dumont, the competition-ready twin features sandwich construction, camber underfoot, race-quality UHM bases and impact-resistant ABS sidewalls. New York-based artist Justink adds visual sass to the front sheets of the entire lineup. Juniors get the same pro technologies on Head's brand-new extra-wide, light and fast Ethan Too (128/91/116).
NEW GENERATION TWINS
The biggest thing to hit the park this season may be Triple Base Technology (TBT). Elan synthesizes traditional camber with a never seen before tri-faceted, triangulating base: the centre aspect covers the camber line from tip to tail, with the other two angled from the midpoint toward the edge. The innovative system does double duty: the camber alleviates the lack of pop found in some new-age skis, but TBT effective edge rockering results in surprisingly catch-free and easy-to-land skis—and is similarly smooth-riding in powder. Women ride the Delirium TBT (119/85/111); men the Puzzle TBT (120/86/112).
NICE ACE
Nordica's success in the X-Games pipe trickles to you via the Ace of Spades Ti Competition (113/86/113). Twin Pop! profiling over the durable sandwich construction results in stable carving through the terrain park, and underfoot camber offers rebound for take-offs and ollieing. Nordica's Energy 2—a titanium/carbon inlay—means solid power without the weight.
TEENS7
Tweeners can now ride one of the quintessential freeskiing shapes as Rossignol launches its S7 Pro model. At 118/90/108, Rossi has tailored this versatile ski for the park charger who wants to pass his folks in the back bowls, yet still perform in the pipe. The wood-cored twin comes with a jib-specific tip for transitions and switch landings and it's cambered underfoot too.
Burning the candle at both ends
Kästle is dishing out a dose of its pro rider, Colby James West, one ski at a time. The company's XX freestyle twin lineup features Dual Hollowtech—those colourful cut-outs that reduce swing weight at both ends of the ski—full symmetrical profiles and the stamp of approval from the X-Games medallist. The pipe and slopestyle-specific XX80 Colby (111/80/111) boasts
standard camber and a fast-gripping twintip for rails and jumps, while the all-mountain, park-loving XX90 James (120/90/120) and powder-centric XX110 West (134/110/134) come
with low-camber, early-rise, hook-free twintips.
2013 Alpine Ski Listings .. specs & prices for every model available in Canada
---
Tags: buyers guide, Dual Hollowtech, Elan Delerium TBT, Elan Puzzle TBT, Head Ethan Too, Head Oblivion, Kastle XX110 West, Kastle XX80 Colby, Kastle XX90 James, Nordica Ace of Spades Ti Competition, Nordica Energy 2, Park & Pipe, Rossignol S7 Pro, ski reviews, TBT, Triple Base Technology, tweener, Twin Pop!